Retirement Communities in Phoenix
...for over 55

Nice Selection of retirement communities in Phoenix and surrounding area. A lot of activity now with newly constructed communities.   The Phoenix area has three large, award-winning, master-planned developments: 
Eastmark in Mesa

Vistancia in Peoria

Verrado in Buckeye 
Golf is a popular activity with 300 courses in Arizona.  There is a senior center in Phoenix: The Helen Drake Senior Center - Address: 7600 N. 27th Ave - offering meals, health services, activities and programs.

Contents this Page
Northwest of Phoenix

Del Webb and Sun City

More new homes Northwest of Phoenix: Surprise, Litchfield, Peoria, Wickenburg

North of Phoenix Resales

Northeast of Phoenix: Scottsdale

Northeast Valley: Rio Verde

West of Phoenix: Goodyear, Buckeye

East of Phoenix: Mesa, Apache Junction

Southeast of Phoenix: Gilbert, Chandler, Sun Lakes, Queen Creek, Maricopa, Florence, Casa Grande, Eloy

Most Popular on this Page
Separate Pages:
Find Other Pages:
---
Current Temperature for Phoenix:
---
Northwest of Phoenix
Sun City in the Valley of the Sun
If you would like to know more about Sun City by Del Webb near Surprise, Az, a popular area with seniors, and the surrounding communities, go here for an overview and comparison:
---
More New Communities Northwest of Phoenix
Peoria
If you find Feng Shui design interesting, be sure to check out Shea Homes' Feng Shui floor plans they are designing for select Arizona homes.  Read about it on their blog.
Location:  Peoria
Feature:   Part of Vistancia master-planned community; golf
Contact:   27980 No. Trilogy Blvd., Peoria - 1-800-685-6494 - Open Daily
Price: $$-$$$ Part of master-planned community Vistancia in Peoria near Lake Pleasant in Northwest Phoenix. Named Best 55+ Community of the Year by NAHB.
Resort golf community with many luxury amenities.  This area is known for great golf and this community has a 5-star course. Shea Green Certified. Small to large home collections start $220's to $300's. 
No electric bill homes by Shea Xero.  Social activities and volunteer groups. Will have many unique features such as the lap pool that reduces waves from adjoining swimmers, athletic club and the popular Alvea spa. 
---
Surprise
Sun Village

 - Surprise - Gated resort-like community of 1382 homes and condominiums with large pool, par three "walking" golf, and many other amenities. 14300 W Bell Rd., Surprise - 1-623-584-6904
Wickenburg
Location:  Wickenburg
Feature:   Within master community; incorporates wild west ambience of area with golf course with scenic vistas
Contact:   3312 W. Maverick Dr., Wickenburg - Open Daily - (Please call 800-685-6494 for directions (GPS may be wrong due to newness of location) to 5 model homes and Welcome Center - (appointments recommended and always best to call first to make sure they are open.)
By Shea Homes in Sonoran Desert within Wickenburg Ranch master community - Resort lifestyle with Western touch - elevation of 2200SF makes evenings cooler than Phoenix - Medium to large homes from $199,900 to high $300's (verify pricing).  Championship golf.  Small town about 1 hour Northwest of Phoenix.  

---
Resales Northwest of Phoenix
Westbrook Village

 - Offers 3900 homes of a variety of types - 2 restaurants, 2 semi-private 18-hole golf courses, clubhouse, clubs and more.  Resale prices range from $100,000-$500,000's.
19281 N. Westbrook Parkway, Peoria - 623-561-0099
Corte Bella Golf Club

 - Phoenix - Sun City West - Fitness Club and day spa. Beyond basic aerobics, services include spa treatment rooms. Massages and facials can be arranged as additional services. Championship golf course by Greg Nash.  Upscale resort-styled.
22129 N. Mission Dr., Sun City West - 623-556-8951
Caletas at Blackstone - Peoria - not over 55 - gated community of spacious low maintenance luxury villas by Shea Homes within the gated Blackstone Country Club.  Duplex or triplex style.  Only 51 lots.  Started low $200's.  Appeals to those still working or for second homes.  See resales.  12055 Red Hawk Dr., Peoria
Arizona Traditions

 - Surprise, AZ - Large gated community of 1768 homes complete in 2013. Community Center, golf, 3 pools, tennis, softball field, pickle ball, walking trails and bocci ball.   Resales
Bell Road - 623-584-2520
---
Northeast of Phoenix
Scottsdale
Location:  Rio Verde
Feature:   Golf resort community
Contact:   17427 East Desert Vista Trail, Rio Verde - 800-685-6494 - Open Daily - Appointments Recommended
By Shea Homes.  Small to large homes Start very low $300's to $600's.  

As one knows, Scottsdale is a beautiful area with a cooler northern climate than the southern part of the state.   

Lifecare community in Scottsdale 
Westminster Village in Scottsdale

 -

Northeast of Phoenix - Apartment homes with active living and life care. Their prices are listed on their website. Lots of services and amenities included in entrance fee plus monthly fee.  
12000 No. 90th St., Scottsdale - 480-451-2001
---
New Communities in the Northeast Valley 
Rio Verde 

(east of Scottsdale)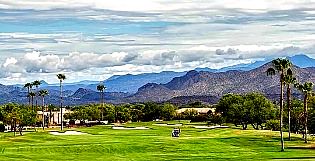 Location:  Rio Verde
Feature:   Golfing community
Contact:   Inquire at real estate office on site or in area. 18731 East Four Peaks Blvd., Rio Verde - 877-746-8373
Rio Verde is approx. 30 miles northeast of Scottsdale.  Resort-like with vacation rentals, seasonal rentals, year-round rentals and resale homes from mid-$100's to one million plus.  Grandkid friendly with special events.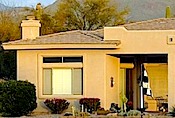 Rio Verde single home
---
Independent Living Communities
North of Phoenix
La Loma Village Litchfield Park - Independent living with lifecare. Beautiful scenery surrounds this community of activities and services. Casitas and apartments. Short stays also available.
---
West of Phoenix 
4 New Communities in Buckeye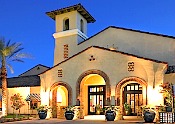 Location:  Buckeye
Feature:   Large Award-winning resort-style community
Contact:   26415 Desert Vista Blvd., Buckeye - 866-450-9322
By Del Webb -  2-bedroom, 2 or more bath ranch homes - 4 collections - Discover Tour: Stay in a villa with golfcart up to 3 nights - In the valley west of Phoenix. Price: $$-$$$ - Start $205,990. 3100 acres offering amenities with strong emphasis on health, wellness and personal enrichment.  Will have 7200 homes when closes.

---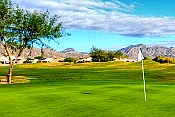 Location:  Buckeye
Feature:   Within master community of Sundance; golf
Contact:   22645 W. Gardenia, Buckeye - Homes  open daily
18-hole golf course, pools, community center and mountain vistas.  2-3 bedroom single homes with garage. Smaller to medium large square footage - start $160's.  

---
Also within Sundance:
 -  30 minutes west of Phoenix - Price: $-$$ green building practices designed to save on energy costs - Pool with chairlift - From $164,900. 
22626 Antelope Trail, Buckeye - Open Daily
---
2 Communities on Phoenix Magazine's "Ten Hottest Neighborhoods" list:
1) Victory at Verrado in Buckeye and
2) Eastmark in Mesa (See Encore at Eastmark for 55+ in Mesa, below)
Victory at Verrado

 Active Adult - Buckeye - desert terrain - walking trails - first 55+ active adult community in this popular master community.   There are 4 builders in Victory:  Lennar, David Weekley, Maracay, and CalAtlantic. They are

 building homes from low $200,000's to $500,000's.   

21029 W. Main St., Buckeye - 623-215-6000
LOCATION:  Buckeye - West Valley Area
FEATURE:   Within Victory at Verrado master community      
CONTACT:  20810 W. Pasadena Ave. - 602-285-4663 - Open Daily
Large, single family 2-bedroom homes - start very low $300's - Verrado Golf Club - 2l miles of trails - Some NextGen plans - Mountain views 
---
Goodyear
Pebble Creek by Robson

- by Robson Communities - Price: $$-$$$$ Retirement communities in Phoenix near Goodyear, Arizona. - Luxury single family homes and villas community near Phoenix.  Villas now available from $204's. 3003 No. 164th Ave., Goodyear - 623-935-6700

---
CantaMia at Estrella - Goodyear - 20 minutes from Phoenix where the pace slows - Sonoran Desert - Located within the master community of Estrella.  This is an award-winning green community. A variety of floor plans starting in mid $100's.  By AV Homes. 
Amenities include 2 pools, massage room, cooking kitchen, lifelong learning programs and more.  Also: gated golf cart community.  Discovery Days Program:  3 days and 2 nights to discover CantaMia for $129+ for 2 people until end of June (verify pricing and rules).
17700 W. Star Point Dr., Goodyear, AZ - 800-284-6637
What is a "golf cart community?"  This term usually refers to the fact that you can drive your golfcart anywhere in the community to get around not just for golf but for general purposes. But do verify where this would be as it may vary. Not all those with golf courses are considered a "golf cart community." 
---
New Homes East of Phoenix
New in Mesa
Photo by Sun Villa
Sun Villa Apartments Near Fountain of the Sun Retirement Community in Mesa. Renting at value prices.  Gated. Studios and 1 bedrooms. Pool, golf and more.
650 S. 80th St., Mesa - 866-484-5534
Las Palmas Grand

- Mesa - Price: $ - Start $50,000's - manufactured homes by Thesman - Resort retirement community.
2550 So. Ellsworth Rd., Mesa - 480-357-5000 - Open Daily
Sunland Springs Village

- Mesa - Farnsworth Development - homes, townhomes and condos on 900 acres - 27-hole golf course.  2 and 3-bedrooms starting upper $100's.  Small square footage townhomes start $166,900.  Condos start mid-$200's. There is a separate assisted living and memory care facility, The Summit at Sunland Springs, in this master community. 


2233 S. Springwood Blvd., Mesa - 888-709-5750
Location:  Mesa
Feature:   Large community for 55+ within master community Eastmark
Contact:    5620 South Encore, Mesa - 1-602-497-3570 - Open Daily
By AV Homes - Over a dozen Home Designs starting in the low $200s. Will have social activities within the larger Eastmark master community for active adults.  Contemporary design.  Voted in Top 10 in Phoenix Magazine.  Also, among John Burns Top Masters list.
40 golf courses within 30-minute drive.
There are all ages in other nearby developments so seniors can have their family members close by.
Will have approx. 900 homes at build out and its own 15,000 sq. ft. clubhouse, The Encore Center.  
News: There will be a new Apple Headquarters in Mesa--coming.
---
Resale East of Phoenix (Mesa and Apache Junction):
Mesa
Leisure World Arizona in Mesa

 - Many units start at age 45+ and others at 55+. Minutes from Phoenix. Large, gated community filled with activities and golf. Active adult community with resales in variety of price ranges from $100,000's.  Seasonal and long-term rentals listed on website also.
908 S. Power Rd., Mesa - 480-832-0003 ext 401 
Sunrise Village

 - Mesa - 24 hr gated community of manufactured homes by Thesman - Resale homes from $15,000's.
5402 E. McKellips Rd. - 480-985-0548
---
Apache Junction
Palmas del Sol

 - Apache Junction - By Thesman - resale manufactured homes from $35,000 - 24 hour gated.
3400 So. Ironwood Dr. - 480-983-4084 - Open daily 8-5
---
South of Phoenix
Chandler
New 

Del Webb at Lone Tree -  We often think of Del Webb communities as large and sprawling but this one will be different.  Only 72 homes!  Scaled down and more intimate. 



Convenient to Phoenix metro area and appropriate if you want to be near jobs and keep working.   Near Lindsay and Riggs Rd. in Chandler.  From upper $200's.  6080 S. Pinaleno Place, Chandler - 866-894-8424 - Open Daily
---
Eloy
Robson Ranch in Eloy - by Robson Communities - Price: $-$$ - Gated luxury community with champion golf course near Phoenix.  Eloy/Casa Grande area.  Away but near enough to city living for shopping, restaurants, health care facilities. 2 BR's with den. Starting  $160's to $500's.  5687 N. Robson Blvd., Eloy - Open Daily 

---
Florence
Sun City Anthem at Merrill Ranch - Florence - Price: $-$$ in Southeast valley of Phoenix. In multi-generational community. Start $185,990. - 3855 N. Sun City Blvd., Florence - 877-937-6396
---
Maricopa
Location:  Maricopa
Feature:  Gated with golf
Contact:  20930 N Province Pkwy, Maricopa - 877-275-6374 - Open Daily
By Meritage Homes in Maricopa - Price: $-$$ Previously by Engle Homes* - 30 minutes south of Phoenix. Guard-gated. From villas to estates - 175 acres of parks and lakes. Province was voted "Best Active Adult Community in America" by 50+ Housing Council of National Assoc. of Home Builders. Also a silver award in Best Clubhouse Design.  Medium to large single homes start $180's.

*After completion of hundreds of homes, Engle Homes went into bankruptcy during the height of the housing crisis and Meritage Homes is the current owner of Province with new plans and features.  
Villas of Province

- Small to medium 2-bedroom villas start $160's. Energy efficient homes within the Province gated community.  20930 N Province Pkwy, Maricopa - Open Daily
---
Casa Grande
Location:  Casa Grande
Feature:   Golf and recreation
Contact:   53 N. Alamosa Avenue, Casa Grande - 877-275-6374 - Open Daily
Between Phoenix and Tucson - Price: $ homes from $190's - Pool with chairlift - green building features.

---
Queen Creek/San Tan Valley
Location:  San Tan Valley
Feature:   Luxury golf cmmunity
Contact:   36460 N. Encanterra Dr., San Tan Valley - 800-685-6494 - Open Daily - Appts preferred (Appointments are suggested when Tour Centers may be very busy and you need to get your questions answered.)
A Trilogy luxury golf community.  Shea homes at Queen Creek, Southeast of Phoenix.  Price: $-$$$ Start high mid-$100's to high $200's. Feeling of a private club with 18-hole golf. It is part of the master community Encanterra which is non-age restricted.   Many clubs and activities and Alvea spa.  Popular rural area offering small town lifestyle with outdoor amenities.  A new club, the Algarve, is now open. 
Amenities include:
18-hole private golf
The Alvea Spa, named best clubhouse spa
4 Restaurants
3 pools including waveless lap pool and outdoor pool with cabanas
Tennis Center
---
South of Phoenix resale homes
Sun Lakes
Location:  Sun Lakes
Feature:   Age 40 and above manufactured and site built homes
Contact:   25601 N. Sun Lakes Blvd., Chandler AZ - 480-895-9270
Active adult community for age 40 and above in Sun Lakes 20 minutes from Phoenix and near Chandler. A Robson community located here but sold out. Resales. Vacation lifestyle and country club living. Miles of walking paths, stocked fishing lakes, clubhouse, pools, golf, tennis, health clubs and more.  
Manufactured and standard homes. Sun Lakes Country Club is the original community of three with 2139 homes on one square mile area.   Also of interest are the seasonal rentals as shown on website.
Iron Oaks at Sun Lakes

Enjoy Southwest architecture and an adult lifestyle near Chandler and Phoenix at Sun Lakes.  Golf community with all conveniences--post office, hardware, food, auto repair, medical and more shops and services. Intel Corp nearby and Arizona State University provide employment opps.  Country Club lifestyle with golf, pools, tennis and more.  Resales. 24218 S. Oakwood Blvd., Sun Lakes, AZ - 480-895-7275
Queen Creek/San Tan Valley
The San Tan Valley offers recreation, clean air and small town living.
---
Resales and Rentals in Gilbert
Trilogy at Power Ranch Homeowners Site

 by Shea Homes at Gilbert. Resort-style in Southeast Valley of Phoenix. See resales on site starting in $200,000's.

Rentals

also available listed on site.
Top of page
References:  A good resource AZCentral.com - Check out their new home section.
Most Popular 55+ Communities in Phoenix On This Page*
| Name | Location | Link |
| --- | --- | --- |
| 1. Sun City | Sun City | More |
| 2. Fountain of the Sun | Mesa | More |
| 3. Sun Lakes | Chandler | More |
*As determined by most click-thrus on this page in the last 3 months.
---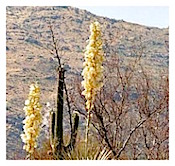 Don't Miss:   Southern Arizona near Tucson
---
More Options for Arizona Lifestyles:
---