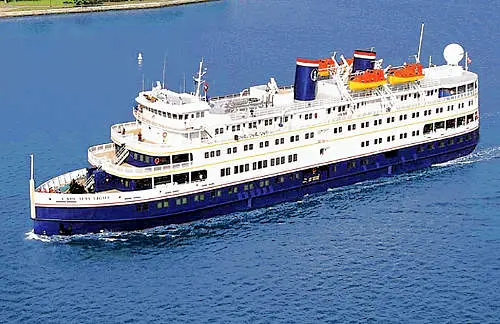 A cruise ship retirement may appeal to some. Living at sea is a wonderful experience. I know because I once owned a boat that I spent many hours on. It became my weekend getaway and my second home. I would cruise to different ports of call. It was one of the most wonderful experiences of my life. I used to dream of a day when I could live on my boat as so many did in the harbor. But I had a family at that time so put this dream off. However, now that my children are grown, this is something I could do. A residence at sea is an adventure.
If the sea calls to you and you love that fresh salty air, you can explore this retirement option further by reading the following article. The article is written by the co-author of "A New Retirement," the retirement book we recently reviewedThe New Retirement Book Review
Jan Cullinane is a wonderful writer and she explains how you can have a cruise ship retirement in her article reprinted with her permission.
Ship 'n Shore 'n Sun 'n Sea by retirement writer Jan Cullinane


Let's start with a few statistics: most (84%) people want to retire close to water; most (71%) people over 40 like to take cruises, and many (40%) of those surveyed cite climate as the most important consideration in choosing a retirement location. Is there a place where we can turn these statistics into one tidy and affordable package? How about living on a converted cruise ship? I had the opportunity to tour the "Alegria" (the working name of the ship meaning joy or happiness), which is undergoing its final transformation to a floating community before being docked in its permanent home, Cape Canaveral, Florida.
This is the concept: when you purchase one of the 100 staterooms (160 to 340 square feet), you also become a 1/100 owner of the ship. Prices range from $159,000 to $399,000 and there is also a monthly maintenance fee that entitles you to all meals on the ship, weekly housekeeping, local country club membership (golf and tennis), port fees and bus shuttles. Residents will determine the itinerary of the ship (monthly trips to the Bahamas, annual Central American and/or Caribbean cruises). The ship also offers 12 guest rooms (the staterooms that lack windows) for visitors – for free! – meals included. There will be a full-time nurse on board.
Is this type of lifestyle for everyone? The staterooms are compact, and although they may contain a microwave and/or small refrigerator, they will not have an oven or stove. So, if preparing your own meals is a passion, and you need lots of space in your residence, this won't be the place for you.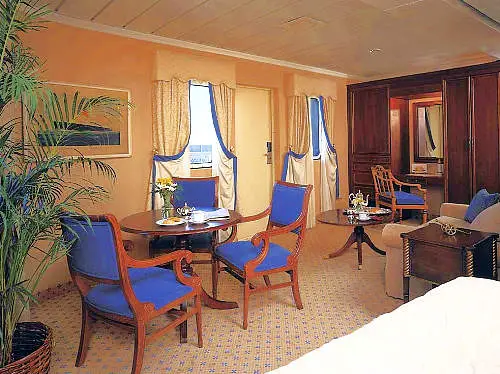 Cruise Ship Stateroom


But, if you'd be happy to eat almost every meal out, are looking for a ready-made social group (the set-up would be ideal for singles), and like the idea of living on the water at an affordable price with a wonderful climate and amenities close by, and not leaving home while you do some traveling, contact Mark Boyd. The number we currently have on file is 866-945-2789.
Please verify all information.
Update: This is meant to be an overview of a lifestyle at sea, however, we do not have the current status of the ship sales.
Here is a Fox News Video about the cruise ship:
---
More Cruise Ship Retirement News -- the Utopia
The luxury liner, the Utopia, is estimated to be available in 2013 for 190 spacious residences at sea. Starting price is said to be $3.7 million and up (please verify prices as they can change.) Besides the cruise lifestyle the Utopia will offer, a unique feature, the Philanthropy Concierge, to further philanthropic causes of the Utopia's residents.
Verify all information and prices for cruise ship retirement as it can change. Our information is for your convenience only--not our opinion or advice. We are not responsible for third party information. Please do thorough investigation and seek advice from legal and real estate experts.
Return from Cruise Ship Retirement to Home Page