Florida Golf
and golf in Orlando, Florida area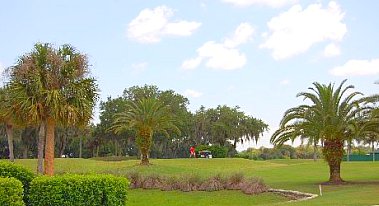 This interview/article on Florida Golf is a continuation of our Interview about Florida Retirement with:

Susan Melton, Sales Associate - Web site: www.thetropicalsunteam.com
Brokerage - Keller Williams Homestead
4124 Town Center Blvd.
Orlando, Florida 32837

Go here to read our interview on Florida Retirement

Florida Golf: Ridgewood Lakes Golf and Country Club
Susan and Joan: Ridgewood Lakes offers an 18-hole championship golf course with a Pro Shop, driving range, Grill, tennis courts, landscaped nature walks, and hundreds of acres of preserved (always verify this with builder) land.
The Ted McAnlis-designed golf course has been recognized as one of the most tropical settings in Central Florida. The fairways are surrounded by lush palm trees, tropical plants, natural lakes and colorful flowers. It is located just two miles south of Interstate 4 on U.S. Highway 27 which has been known as the "Active Adult Corridor".
Ridgewood Lakes is one of the finest master-planned communities in Central Florida and contains two over-55 retirement communities, Del Webb Orlando, formerly LaCresta, and High Vista.
The Ridgewood Lakes Golf and Country Club is convenient to everything you might need or want. There are endless shopping centers, malls, and local premium outlets.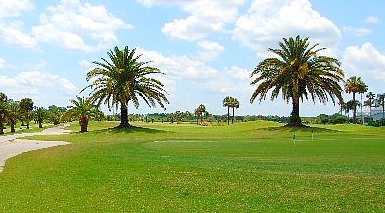 BestGuideRC: How often do people golf in Florida--is the course filled all year round - is it a golf community where you can drive your cart on streets - to town etc
Susan and Joan: Florida golf season is from October-May. The summer is not very busy because the snowbirds leave and only the regulars are playing. This time of year people generally play other Florida courses because the rates are cheaper. Both communities are golf cart friendly but you cannot go shopping in your cart. Golf carts are only used on the roads in Ridgewood Lakes master planned community.
Florida Golf: Unique Golf Course
Susan and Joan: Ridgewood Lakes Golf Course is a beautiful facility that meanders through the Ridgewood Lakes master community. Unlike most residential golf courses, this course does not have fairways that are squeezed between houses and condos. It was designed to be a most natural tropical setting with hundreds of palm trees, lakes, streams, and incredible wildlife, including gators, hawks, eagles, and an occasional otter.
Florida Golf: Snowbirds
Susan and Joan: There are about 40% to 50% of residents here at Ridgewood Lakes that are what we call "snow-birds." Meaning, of course, that they reside in Florida in the winter months only. I would say most are 6 and 6--6 months in Florida and 6 months up North. The course is wide open in the summer, and getting a tee-time is no problem at all. The winter months are a bit busier, but the men's and women's leagues guarantee tee-times for all members.
Golf Cart o Rama:
When in the work-a-day world, my husband always dreamed of owning his own golf cart. He talked about having his golf bag loaded on the cart and ready to go to the first tee.
We use our cart for golf, of course; and also to take evening rides, visit friends, and, eventually, to go to the clubhouse for tennis, pickleball, or the bocce ball courts. Our golf cart is Jerry's favorite vehicle. We can drive our golf cart throughout Ridgewood Lakes, but not on county or state roads. Carts must be "street ready" to legally drive on county or state roads.
BestGuideRC: Thank you, Susan, for giving us the story of your great experiences with Florida golf.
Please verify all information as it can change. We do not make recommendations or give advice. Please do your own investigations. This is an information only website.


From Florida Golf -- Return to Main Article "Florida Retirement"