Dear Newsletter Subscribers:
Our article on Texas Hill Country is now released. You can reach it by going to the Home Page and finding the link at the bottom or from the link posted here. If you have been wondering about Texas living, we hope this interview with Texas residents will reveal its secrets.
Texas Hill Country--what is it like
---
Some new over 55 communities we have added:
SienaWe have completed a community review. of this new community in New Jersey. For those who love visiting model homes, we have lots of beautiful photos in these reviews. For those interested in New Jersey, and particularly condominium communities, you will want to check this out. Siena, located close to Philadelphia, is a new community with pricing starting around $199,000.

El Viaje RV Retirement Retreat We interviewed the owners of this community in Texas for our article on the Texas Hill Country. you can get a good overview of this community in the article. This community is unique in that the owners are chefs and will have a large organic garden on the property and plans are to host monthly dinners using the produce from this garden.

Encore Atlantic Shores On Long Island - Not a new community but we have some information -- they have dropped prices to 2004 levels on the remaining homes. If you are interested in Long Island, NY, this is a beautiful community.
See our review Encore Atlantic Shores
There are a couple new communities added on Long Island listings: one new large one coming in 2009 to Shoreham called Tall Grass (on Long Island page). We understand it will have an over 55 community but haven't got the details yet. One new one called The Vineyards at Moriches by Ornstein Leyton Builders in The Hamptons (Moriches is not quite in The Hamptons but close enough). The Hamptons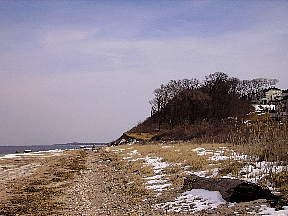 Long Island Beach--East End
Large builders are releasing fewer communities. For instance, Del Webb has only 3 new ones announced so far this year--one in Texas (Houston area), one in South Carolina (Reflections) and one in California (Stockton area. They need to sell some inventory before adding more communities. This is the case with most large builders.
We have added a separate page for New Jersey. As our site grows, more states will have their own page. We have put a video on this page we thought entertaining. It shows famous people from New Jersey. It really is amazing how many famous people were born in New Jersey--this video shows some of them--enjoy.
New Jersey Retirement Communities

Have a great day,
Carol Fena
Bestguide-Retirementcommunities.com
Contact Us