Living and Retiring in
the Texas Hill Country

We hear a lot about the Texas Hill Country.  Why is this area of Texas so special?  In this article we've tried to explain what seniors like about it.
U.S. News and other publications have recently rated San Antonio as one of the top ten affordable cities in the United States.  Seniors like that there is no state income tax (verify).  Texas has also been rated as the number two place in the country to retire surpassing California, Arizona and Florida.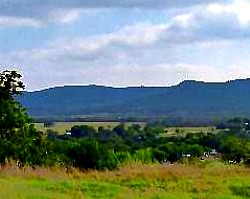 It was on the top ten list of places people are moving to. The fact that Texas did not become overvalued in the downturn as did other states has kept its prices more stable.
Areas:
The Texas Hill Country "officially" starts around Austin, Texas, which is about four hours South of Dallas. Heading West and South from Austin, the Texas Hill Country includes San Antonio and about a 300-mile wide area including small towns of Wimberley, Kerrville, New Braunfels, Fredericksburg, Dripping Springs, Blanco, Bandera and West to Uvalde. It includes the counties of Gillespie, Kerr, Bandera and Kendall.
View Larger Map
Climate
Climate in the Kerrville area can vary. Higher elevations (400 feet) with lovely hills tend to have cooler nights. You may want to have air conditioning during the day in summer, but may be able to open windows at night to enjoy the cooler (and healthier) outdoor air. The climate in Texas Hill Country is generally mild and dry.
The cities of Austin and San Antonio can be humid but less humid in the Kerrville/Fredericksburg area and in the small town of Medina. There can be 70 degree days in January which appeals to those who want to escape the cold north in the winter.
Characteristics
The area has beautiful scenery.  One could compare it to Napa Valley in California.  
While people think of Texas as being all country, Texans can also be sophisticated, especially in the cities like Austin and Dallas. In Medina and the small towns, however, it is pretty "laid-back." You can see this in their way of dressing: jeans for every day, fancier jeans for going into town, and really fancy jeans for "dressing up" for an event.
"The attitude is casual as well. I guess unpretentious is the word--and very friendly. Texans many times do business with a handshake. It's just very Texan."
Areas Seniors Would Like
The whole area is beautiful.  Which spot to choose depends on the individual. They should ask themselves "do we need a more quiet and rural setting; a small town like Medina is good for that.  For more activity, Kerrville is good, and San Antonio or Austin for a city lifestyle. However, Medina and other small towns are within an hour drive to San Antonio.

Texas Lakes
There is Lake Medina which feeds the main water supply to San Antonio, Lake Austin, Lake Georgetown and Lake Marble Falls. The major rivers in this part of the country are the Colorado River (the "mighty Colorado"), the Guadalupe River, and the Pedernales River, (President Lyndon Johnson's favorite river which runs through the area near his hometown.) Many people love boating and sailing on the lakes in the Texas Hill Country.  You can park your RV or camper by a lake and enjoy a few days by the water, particularly in the summertime.
Air and Water
The Texas Hill Country is very rich in limestone and it filters many of the streams and rivers to keep them clear. There is little smog in the rural areas. There is some smog near Austin, but Dallas and Houston, being a large cities, have much more.

City Life and Food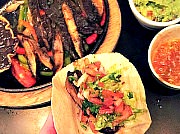 Tex Mex dinner in Austin
Residents go on a regular basis to cities for shopping, entertainment, restaurants and fantastic Mexican food.
San Antonio
Military Bases in the Area
San Antonio is home to three major air force bases and a large army base as well.  One-third of the population is military retirees.  One of the reasons ex-military retirees choose to live here is for the Veteran's Hospitals and availability to base exchanges in San Antonio.  Also, senior centers there, major medical research centers and many colleges and universities.
San Antonio Culture
If you like ballet and theatre, museums, the Alamo, the Riverwalk-- San Antonio offers that and more. The Riverwalk area is a fantastic area along the river running through downtown San Antonio...take a boat ride, shop, eat and just enjoy the atmosphere. San Antonio has many festivals with a diverse and colorful culture.
Austin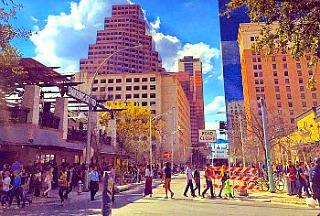 Austin - Photo by healthyhappylife.com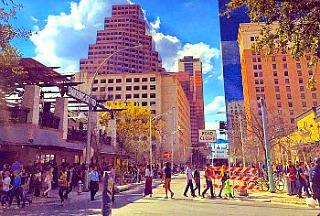 Austin - Photo by healthyhappylife.com
Austin is home to the University of Texas, the largest university in the South. There are miles of walking and running trails, surrounded by the scenic Hill Country; lifelong learning opportunities.  Affluent baby boomers are the largest part of the population in this area. The warm sunny climate allows for exercising year round (although summers are hot) and there is a large farmers market.  Austin is a large cosmopolitan city with a low cost of living.
Kerrville
Kerrville is the jewel of the area with a Western art museum, a theater with regular local productions, and numerous festivals all year.   Kerrville supports the arts and has a small local university (Schreiner University), charity events and many other functions. There are two country clubs, golf, local lakes, deer hunting and the Guadalupe River runs through it.  It has a gorgeous senior facility - the Dietert Senior Center offering programs every day and a restaurant.  There are libraries with internet access.  Kerrville has many apartment complexes designated for seniors as well.
Kerrville has two health food stores which do a booming business with herbs and organic products.
Bandera
Bandera is known as the "Cowboy Capital of Texas," and has more Western flair with "ropin' and ridin'" on the courthouse square most Saturdays. Medina (just 2 miles from Bandera) is the "Apple Capital of Texas," and Love Creek Orchards is located in Medina. An Apple Festival is held in the Fall with hayrides, pick your own apples and a pumpkin patch. There is a nice little restaurant with apple jelly, pies etc.
Due to the terrific weather, residents enjoy hiking and walking year round. Most people in South Texas are health-oriented and enjoy getting outside. Come summer, you will find roadside stands everywhere offering peaches, tomatoes, okra, green beans, zucchini, yellow squash, black-eyed peas, onions, watermelon, and much more.
---

Find Your over age 55 Texas community
Also find age 55 communities in Dallas
---