Encore Atlantic Shores by WCI
I visited Encore Atlantic Shores by WCIC (now sold out) when it first came out and found the model homes and gated retirement community for over 55 to be breathtaking.
There are probably resales. It's on the Eastern end of Long Island (Eastport) where the scenery becomes quite pastoral. It is very flat and dotted with farms. As if the community wasn't enough, it is really all about the area.
If I was retired and had my choice, this is the way I would want life to be. The beaches of the South Shore are very close, upscale restaurants nearby in the Hamptons, variety of things to do nearby without big traffic jams, occasional trips to New York City, and an exclusive and private ambience.
People come to this bucolic area for its beaches, parks and restaurants and leave dreaming of living here.
| | |
| --- | --- |
| Veranda near pool | Country Views |
| Light kitchen | Warm mahogany kitchen |
Upscale 2-BR Villa Homes


Design Showroom to select


Bath vanity with twin sinks


Fountain near clubhouse


Bath with separate shower


Clubhouse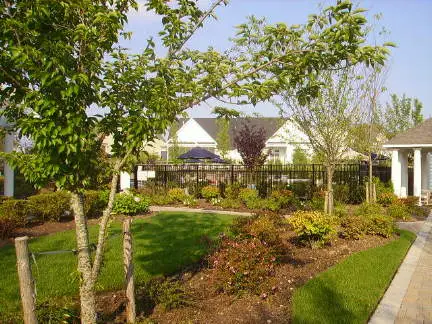 Fenced and well landscaped Pool Area

Encore Atlantic Shores is for those who can afford a luxury community. Everything is relative, and the price range does not reach anywhere near the millions that some properties close to The Hamptons are capable of receiving. So I guess you could call this a good value for this area, if you are in this price range. (Please seek current advice from local Realtors and do your own market analysis.)
When the community was new and we visited it had 6 models to view. The pool and clubhouse were finished and beautifully landscaped. We loved the community, the experienced builder, the location, and everything about it. Contact local Realtors for resales.