Retirement Communities at




Myrtle Beach


One of the most important
retirement destinations in the U.S.

This is a popular vacation destination plus the senior population has been increasing. The area has 3 hospitals, a Market Commons (combination of residences and retail), the ocean beaches, shopping, restaurants, abundant entertainment venues and more.  In other words, something for everyone.
Contents:
Review
Communities
Most Views
Surfside Beach
A look back at my first visit:
Driving down highway 40, I saw one billboard after another advertising retirement communities at Myrtle Beach and new homes.
Stand-out features of Myrtle Beach:
Everywhere in South Carolina are the tall dark-needled pines. They have always been there and probably always will be.  Also sprinkled among them are the palms which give a nice tropical feeling.
The sand at the beach is very soft and powdery and creamy white. I was surprised to find the water warm as a bath this June day. There was no chill upon going in. The sun gave off intense warmth and the morning walk along the beach was extremely energizing.
I also found roadside farm stands loaded with sweet and fresh local produce like peaches, cantaloupe, golden squash, tomatoes, sweet potatoes, and local honey.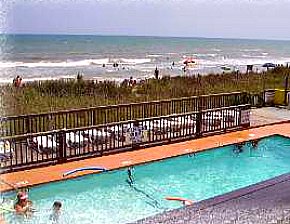 We were lucky to find a hotel at North Myrtle Beach steps to the sand at a reasonable price.
New home developments everywhere:
I went to Myrtle Beach with the purpose of finding retirement communities for over 55 and review the area. There is so much new home development going on right now at Myrtle Beach you would think there was going to be an invasion of baby boomers. (It turns out I was right about that!)

Before you even get to Myrtle Beach, there are developments. I found many along route 210. It looked like here you could find a lot for putting your single family manufactured home on.
There were also new communities that are great for retirement but not age restricted.  
Myrtle Beach started out as a small beach town some 50 years ago but it is very obviously now a large resort area, and still growing, with housing for seniors in every price range.
The Grand Strand:
Myrtle Beach, also known as the Grand Strand, is divided into 3 parts which are the northern end, the central part and the southern end. North Myrtle Beach is a little more quiet, relatively speaking, the center section has the large million dollar resorts and the southern end generally has some of the nicest residential areas including Murrells Inlet and Surfside Beach.
It is a 60-mile stretch filled with shopping, restaurants, golf, hotels and condominiums. The main road that goes along the Strand besides Ocean Blvd. is highway 17.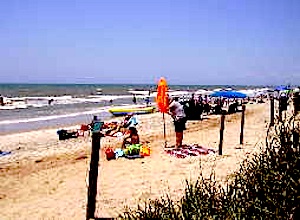 North Myrtle Beach in June
Tip: be sure to stop at the South Carolina Welcome Center located on highway 95 as you cross the state line from North Carolina. They were very friendly and helpful and gave me good advice on where to stay.
---
Communities at Myrtle Beach for over 55:
My route to see communities
New at Myrtle Beach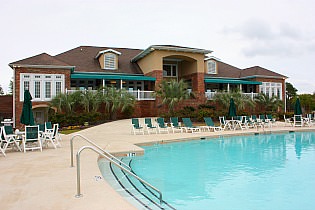 Clubhouse and Large Pool
Carillon at Tuscany  Carillon at Tuscany - New homes by D R Horton - 55 community of single family homes in master community Tuscany - 3 bedroom medium to large homes start in low $200's. Amenities include Clubhouse, Fitness, Pool, walking trails, fishing lakes and more.
4 different communities here - Carillon is for over 55.
4073 Belle Terre Blvd., Myrtle Beach - 843-903-7230 - Open Daily but appointments are recommended
The Market Common at Myrtle Beach is a Big Draw for Retirees and it is near Cresswind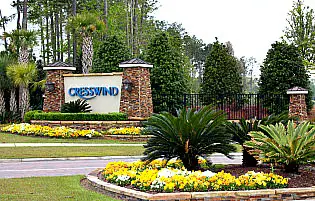 Entrance to Cresswind
Cresswind Myrtle Beach Cresswind Myrtle Beach By award-winning Kolter Homes - Resort-style community with 2- and 3-bedroom single homes and 2-car garages starting in the low $200's.  Not over 55 but there are  features active adults would enjoy.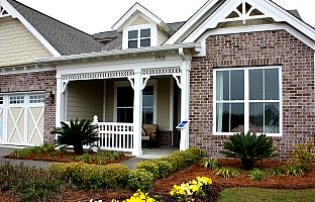 Area amenities include:
Near the airport, only about a mile to

The Market Common

with shops and restaurants, Myrtle Beach State Park, Grand Strand Regional Hospital and more. 
Very close to ocean amenities. 
Location: Farrow Pkwy and Cresswind Blvd - Myrtle Beach
For more information: 843-848-9988
---
North Myrtle Beach
Country Lakes  Country Lakes At Little River. This is one of the retirement communities at Myrtle Beach of manufactured homes by Jensen Residential Communities. Jensen's builds land lease manufactured home communities for over 55.This is a gated community. Another over 55 community of Jensen's is on the southern section of The Grand Strand. 4353 Erie Dr., Little River - See our review of Jensen Communities 
Eagle Crest Retirement Residence  Eagle Crest Retirement Residence -  Apartment Homes by Holiday - includes meals, housekeeping. 843-448-9300
Covenant Towers  Covenant Towers - Condominiums near Pine Lake Golf Course on 9 acres.  See Independent Living listing below.  
---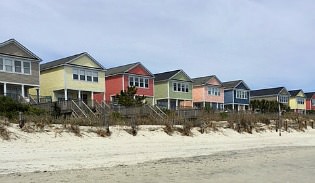 Homes overlooking ocean at Surfside Beach
Southern Grand Strand
Ocean Pines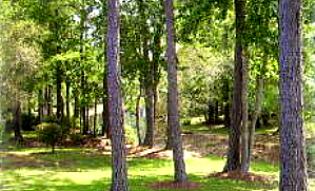 Ocean Pines By Jensen at Myrtle Beach Garden City Beach - I reviewed this manufactured homes community -- see review for an affordable and very nice community close to the beach and the famous Brook Green Gardens.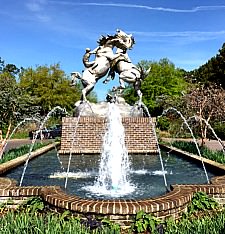 Ocean Pines is near the famous Brook Green Gardens and statues
See my on-site review of Ocean Pines here.

---
Seasons at Prince Creek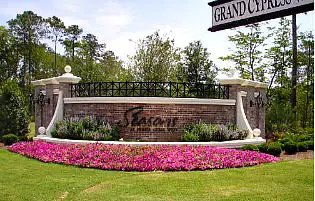 Entrance to Prince Creek at Murrells Inlet
Seasons at Prince Creek West Murrells Inlet - In the best location and close to ocean. This over 55 community offers homes with community amenities starting in just the low $200's.
 See our Review of Seasons at Prince Creek West
---
Conway-Myrtle Beach Area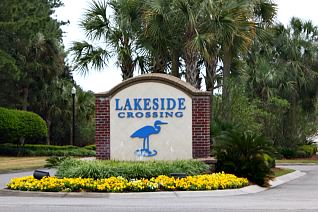 Lakeside Crossing  Lakeside Crossing Conway - Manufactured homes development. This location is further back from the beach between route 501 and 544, but still relatively close. Clubhouse, spa, social amenities, recreation and on-site social director. Priced from low $100's for home only.
144 Lakeside Crossing Dr., Conway -  Lakeside Crossing at Myrtle Beach
---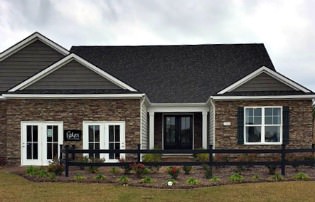 The Lakes at Myrtle Beach   The Lakes at Myrtle Beach - DR Horton - 3 and 4-bedroom single homes from the $220's.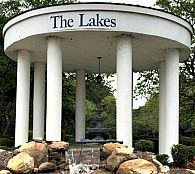 Entrance to The Lakes
1 home left but check back with the builder because the community may be expanded.
240 Wateree River Rd., Myrtle Beach - 843-646-2353

---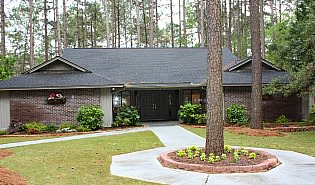 Myrtle Trace clubhouse
Myrtle Trace  Myrtle Trace - 518 homes - DR Horton - resales - 15 lakes - 2 and 3-bedroom single homes - Phase 1 began 1980 and last phase was in 2005.  Charming neighborhood.  Low homeowners.  Clubhouse, pool and more.  There is a hospital and outlet shops in Conway.  
101 Myrtle Trace Dr., Conway, SC
---
Murrells Inlet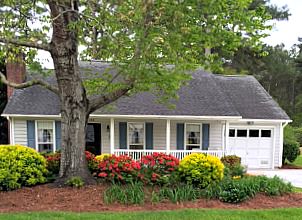 Woodlake Village  Woodlake Village - Murrells Inlet 13 miles south of Myrtle Beach on the Coast.  450 homes - resale.  Indian Wells  golf course adjacent.  Resort amenities.  Low homeowners fee.  Start $100's.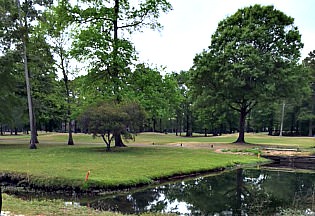 Indian Hills Golf adjacent to Woodlake Village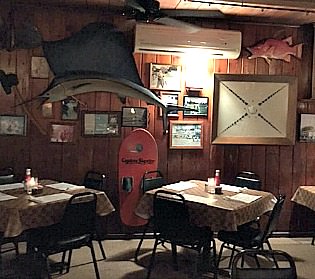 Many quaint seafood restaurants like this at Murrells Inlet (the "Seafood Capital")
"Seafood Capital of the World."

---
M

y Route to see Communities in the



Southern Portion of The Grand Strand
This is the order of communities and route I took starting at Murrells Inlet.  (Verify all information.)
Murrells Inlet:  Woodlake Village and the adjacent golf course.  Fox Sparrow Lane (homes surround golf course.)
Myrtle Beach:  The Lakes of Myrtle Beach, 240 Wateree River Rd.
Myrtle Beach:  Cresswind at Myrtle Beach, Farrow Parkway and Cresswind Blvd.
Myrtle Beach:  Carillon at Tuscany at 4073 Belle Terre Blvd.
Conway:  Myrtle Trace at 101 Myrtle Trace Dr.
Conway:  Lakeside Crossing at 144 Lakeside Crossing
---
Independent Living Apartments
Covenant Towers - Covenant Towers - There is a skilled nursing facility located on the campus - Adjacent to Pine Lakes County Club - Choose your apartment size from studios to 2 bedrooms with dens with balcony.  
5001 Little River Rd., Myrtle Beach - 843-449-2484
Magazine Resource for Myrtle Beach Grand Strand
I found a magazine, "Grand Strand New Home Guide," that markets many of these retirement communities at Myrtle Beach. I recommend that you pick up a copy. It is free and I found it very helpful. You can get it by going to their website at New Home Guides 
---
Most Views on this page:
| | | |
| --- | --- | --- |
| Jensen Country Lakes | Cresswind  | Lakeside Crossing |
Best Guide Home page

›
South Carolina 55
› Myrtle Beach