Washington State Retirement Communities for Ages 55+
Washington State retirement communities, (age-restricted to 55+), are mostly in the western part of the state near Seattle/Puget Sound to the Coast and the northern part near the Cascade Mountains.
The Seattle area can be literally a breath of fresh air--I have visited more than once but I still remember a springtime walk; I remember the stillness and freshness of the air the way it is after it rains. Spring in Seattle starts in March in this mild climate.
But there's more to this state than Seattle.  There are many opportunities for an active outdoor lifestyle.  Visit these communities to find out more.
South Hill/Puyallup area  
55+ Communities at Bonney Lake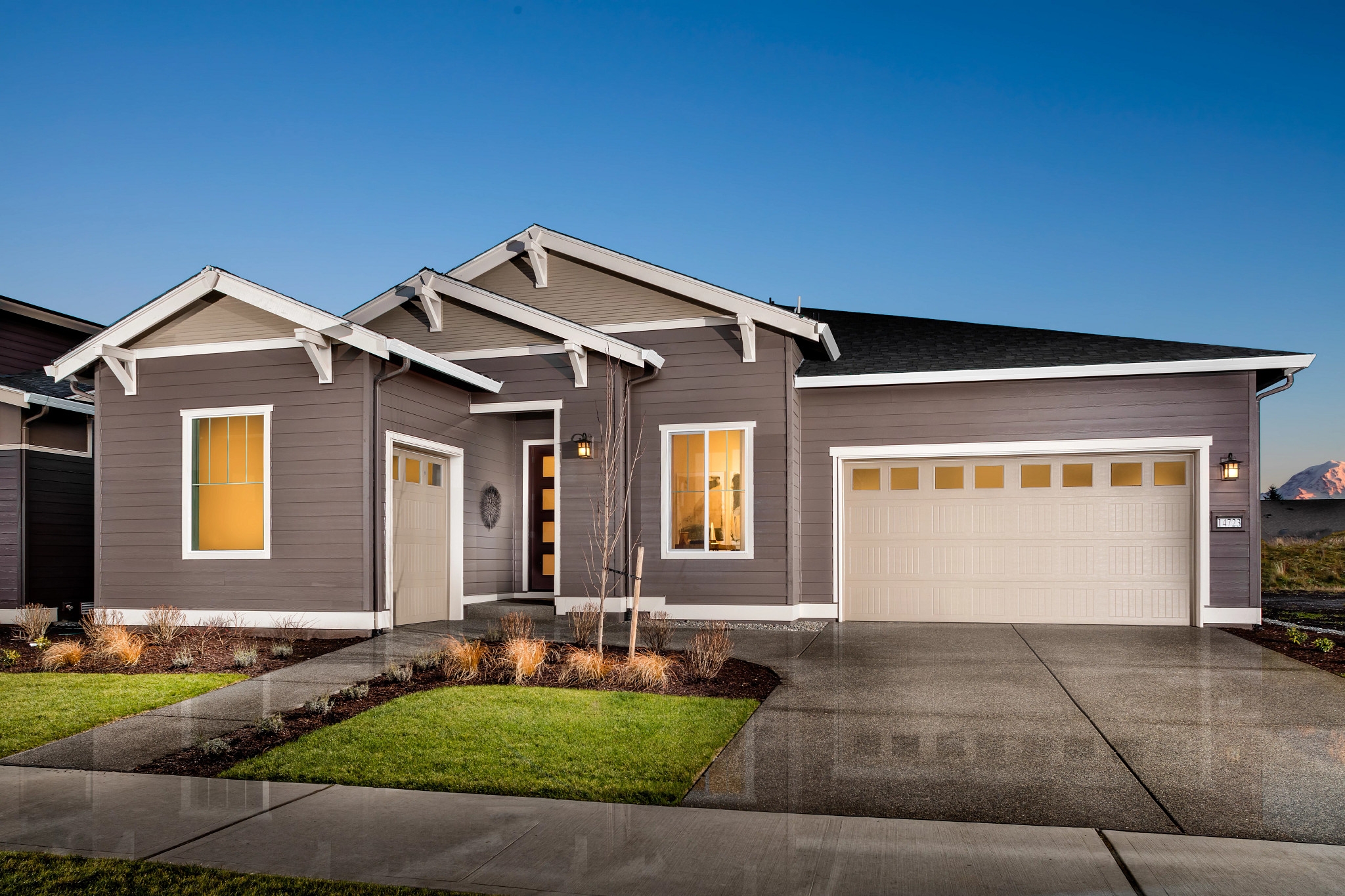 Photo by Trilogy® at Shea Homes
LOCATION:  Bonney Lake
FEATURE:   Resort community 39 miles to downtown Seattle
CONTACT:  14218 Knoll Park Dr. E, Bonney Lake - 800-685-6494
Trilogy® at Tehaleh® is a 55+ resort community located in Bonney Lake in the shadow of majestic Mt. Rainier.
In Pierce County southeast of Tacoma.  Seven Summits Lodge.  In addition to the community, the surrounding area is well suited to active living.  New homes from $500's.
resale 55+ manufactured homes communities in this area:
55+ Manufactured Homes in Graham
LOCATION:  Graham - Puyallup area
FEATURE:    Manufactured homes
CONTACT:  19525 100th Ave. CT East, Graham - See local Realtors
In South Hill/Puyallup - Gated active adult community in park-like setting at foot of Cascades Mountains close to Puget Sound.  Social activities.  RV storage.   
55+ Homes in Orting
LOCATION:  Orting
FEATURE:    Old city with views
CONTACT:   836 South Harmon Way, Orting - 425-941-8422 (Realtor)
Orting - Manufactured homes in a great location, single homes and beautiful views of Mt Rainier - Activities.

Kent, Washington 55+ Community

Kent - 11436 SE 208th, Kent - By Lakeshore Communities  Lots of activity - Clubhouse, pool and more.  See local Realtors for resales or representing realty Patina Realty. 
Resale 55+ Homes in Tacoma
Tacoma - Brooktree area (145th St. E)  - gated 55+ community of single ranch homes were from upper $200's (verify prices).   Many added luxury design features.   See local Realtors for resale homes. 
Northern Sound Area
Mount Vernon 55+ Communities
LOCATION:  Mount Vernon
FEATURE:   Large lots up to almost 1/4 acre
CONTACT:   502 Twin Brooks Dr., Mount Vernon 
Small community by Landed Gentry Homes - from $300's to mid-$500's (verify current prices). Northwest Alpine home designs - some basements - large lots - some homes can accommodate a 3-car garage.  Luxury home amenities.  Northwest feeling with stream buffer.  Hospital within 5 minutes.  Verify status.  
55+ Resales in the Northern Sound area:
Mount Vernon
Mount Vernon, Washington - North Sound area - By Landed Gentry Homes -  Craftsman style homes - Sold out.
Woodside

 

- Sold out -

 Mount Vernon - Craftsman style exteriors - 4880 E Division St.  Detached homes on single level started $400's (verify) - Convenient to downtown.  By Landed Gentry Homes.
Oak Harbour 55+ Resale Community
Oakmont Collection At Fairway Point is for 55+ -  adjacent to Whitbey Golf and Country Club - Started $299,900 - By Landed Gentry Homes.3305 SW Fairway Point Dr., Oak Harbour - See local Realtors for resales.
55+ Resale Communities in Redmond
In Redmond by Quadrant Homes - townhomes with maintained yards, garages started in $200's. Across from Golf Club at Redmond Ridge. Flexible floorplans. Several environmental and energy savings options.   Sold.  See local Realtors. 
By Shea Homes. In Redmond on Seattle's eastside near Bellevue. Less than 40 minutes drive to Seattle. Resales - see local Realtors. 

Mukilteo 55+ Community
Mukilteo is a small town; it was voted as a "best place to retire to" community in 2011 by Money Magazine; the community is known as a well-kept secret. Twenty-five miles north of Seattle and nearby Whidbey Island.

LOCATION:  Mukilteo
FEATURE:   Independent and assisted living amenities
CONTACT:   10200 Harbour Place - Mukilteo - 425-493-8555
Studio, 1, and 2-bedroom apartment homes with month/month rent in 4-story building (verify) -  coffee shop - activities - near golf and YMCA - Given a perfect score from Washington State Dept. of Social and Health Services.

Other similar communities by this developer:
In Anacortes - Cap Sante Corte, Fidalgo Island
In Mount Vernon - Logan Creek -
2311 East Division Street Mount Vernon, WA. - 360-428-0222

Bellingham Area Retirement Communities
Ferndale
LOCATION:  Ferndale near Bellingham
FEATURE:     Small gated community of 76 homes
CONTACT:    360-488-3727 - Open Wednesday-Saturday by appointment.
Medium to large single homes of 1-story or 1 1/2 story priced from $600's.  Craftsman-style detached homes feature open plans, step-in showers, and more. Community walking trails along woodland reserve. 
Issaquah 55+
LOCATION:  Issaquah
FEATURE:   In the Cascade Foothills
CONTACT:  4135 Providence Point Dr. SE, Issaquah - 425-392-9483  
Award-winning adult planned community overlooks nearby Lake Sammamish and the Issaquah Valley. Is located halfway between Seattle and the Cascade Mountains. A variety of home styles in 7 villages.

Condominiums. These are luxury homes in a low-rise building starting with a one-bedroom to a two-bedroom with den.  See local Realtors for resales. 
Resales in Bellingham

Gated condominium community since early 2000's.  Excellent air quality in this area.  360-671-9700 - See local Realtors or search online for resales.  North Bellingham.

Lacey/Olympia area  
LOCATION:   Lacey
FEATURES:     Some unique and creative social and recreational features; 2 clubhouses
CONTACT:    8929 36th Court SE, Lacey - 360-489-5818 - Open Daily by appointment only
Lacey -  2 and 3-bedroom single homes; prices starting in $500's. Extensive walking trails.  Amenity centers.  By Taylor Morrison. 

55+ Resales in Lacey/Olympia:
Another "Lakeshore Communities" in Lacey/Olympia area for manufactured homes. Gated community with clubhouse and near golf. Also RV storage.  Laurel Oaks is represented by Patina Realty--see them or local Realtors for resales.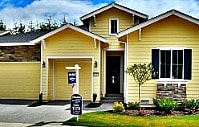 Jubilee - Sold out
Shea® 

Homes at Jubilee®

- Lacey - Resort community 57 miles to downtown Seattle.  Golf next door - Lacey, Wa -  55+ resort community located in Lacey.  Designer single homes (Were priced in $500's).   Article about Jubilee
Continuing Care Community in Lacey for 62+
In Lacey continuing care community for over age 62 - a wide variety of homes and apartments to choose from. Purchase of Life Lease and monthly fee. See community for details.  
Maple valley area
New

 Regency at Ten Trails  Toll Brothers - Black Diamond - In master planned community of Ten Trails - Vistas of Mt. Ranier - Planned 403 luxury single-family homes.   Resort amenities. Starting $700's (verify). 844-845-5263 (Online Sales Team)
New  Tammaron at Lake Sawyer 

- Shea Homes - Black Diamond - King County -    gated community of 34 small to medium duplex homes (verify) - clubhouse and amenities and near Maple Valley for shopping and dining - 1 mile to Lake Sawyer with water access - approximately 30 minutes to Seattle - Priced from $640's - 866-985-6967 for more information. 
Sold out in Maple Valley:
Meadow Ridge at Maple Center - Sold out - by Shea Homes - Maple Valley in King County - Scenic, area hiking - King County - planned clubhouse -  approx. 55 minutes to Seattle.  Small to medium 2-bedroom town homes.  See local Realtors for resales. 
Central areas and Eastern Washington
Spokane 55+

By Touchmark - luxury living on 16 acres in Spokane South Hill area. Gorgeous single homes in gated community. Small or large floor plans. Lots of area information on website. 1 hour to Seattle. 2929 S. Waterford Dr., Spokane  
A Life Plan community - A village-like community with many programs for life enrichment and fitness.  Various home styles and levels of care if needed.  2903 E. 25th Ave., Spokane - 509-536-6650

Resale in Spokane:

Spokane - Ideally located for active retired lifestyle in peaceful pastoral setting. Gated near 4 ski resorts, golf, fishing, hiking and horse stables. 150 lakes within 2 hours. 509-326-1311 

Yakima
In Yakima by Lakeshore Communities in South Central part of Washington.  Manufactured homes with higher pitched roof (higher pitched roofs makes manufactured homes appear site-built) on large lots - RV storage. Plans from 1299SF  Quail Run in Yakima 
Most Visited Communities on this page:
Harbour Pointe


Woods Point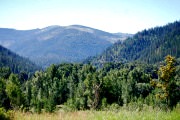 Northwest listings for more states in the Northwest

Washington State Over 55