New Hampshire Retirement Communities for 55+
...quaint New England towns
New Hampshire retirement communities for 55+ have a country feeling in many quaint, historic villages, rural woods, lake areas or coastal beach towns. There are also cities like Nashua rated one of Money Mag's top five places to live.
There are great tax advantages in New Hampshire.   Retirees come from nearby states in the Northeast to retire in New Hampshire and take advantage of them.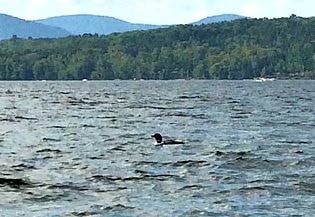 New Hampshire has beautiful, diversified scenery. Famous people from New Hampshire include Robert Frost, President Franklin Pierce, Supreme Court Justice David Souter, JD Salinger, who retreated to New Hampshire for privacy after writing Catcher in the Rye, Daniel Webster, Adam Sandler and more. It's motto is "Live Free or Die."
Best new New Hampshire Retirement Communities  
Atkinson: Atkinson Heights 
Exeter: The Village at Sterling Hill
Londonderry:  Cross Farm
Epping:  Canterbury Commons singles 
Auburn: The Cliffs at Evergreen (coming) 
Content 
View Larger Map
The New Hampshire Visitors Site (one of the best visitor's sites I've seen), Visit New Hampshire, lists 7 tourist regions in New Hampshire.
New Hampshire 55+ Communities for Commuting to Boston  
Want to live in New Hampshire and commute to Boston. Try these areas that are close enough for an easy drive to Boston:

Nashua (49 miles)
East Kingston (1 hour)
Amherst (93 miles)
Hudson (45 miles)
Milford (58 miles)
Nashua  
Nashua is the 2nd largest city in NH and one of Money Mag's Top Five Places to Live.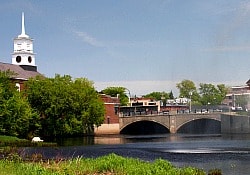 The Huntington at Nashua - Nashua - Life Plan community - apartments and spacious cottages on 52 wooded acres (the cottages are a very popular and unique feature) - Activities and amenities include indoor pool/spa, beauty salon/barber, library, garden areas and more.  Independent living community with entry fee and monthly rent. 
55 Kent Lane - 603-821-1200
Continuing care community in Nashua:

Hunt Community - Life Plan community with spacious studios to 2-bedroom apartments. Enjoy an independent lifestyle but assisted living and nursing care available if ever needed.  Social and activity calendar.   Entry fee and monthly fee.  10 Allds St., Nashua - 603-821-1200
Resales 
Resales in Amherst
Connor Court - Sold out.  See local Realtors for resaes.  Small luxury condo community of singles and duplexes 55+ - Started low $300's. 60 Merrimack Rd. (Benning Rd. and Merrimack Rd.), Amherst  
Summerfield of Amherst - 10 miles to Nashua - By Etchstone Properties - Spacious homes with many luxury features considered standard. Small historic country town.
77 Summerfield Way, Amherst
Resales in East Kingston
Also see Rockingham County on the coast, below.
Country Hills of East Kingston (Seacoast Area) - Resales - 50 minutes to Boston and twenty minutes to Portsmouth. The real New England in these quaint country towns of Southern New Hampshire. Single homes started low $300,000's. Autumn Lane (off Route 108)
Resales in Hudson
Mission Pointe - For 62+ Now sold out - luxury single homes in a former retreat property surrounded by woods.  By Etchstone.  200 Lowell Rd., Hudson
Abbies Landing
Hudson Meadows
Lexington Place
Oak Ridge Estates
Sparkling River
The Village at Reeds Brook
Westchester Place
See local Realtors for resales.
Resales in Nashua
Hayden Green - North Nashua - By Etchstone - singles, duplexes and condos. Clubhouse, fitness.  50 mi. to Boston and 10 mi. to Manchester Airport.  

Sold out.  

Concord St.
Cahill Place - Milford - Very affordable pricing for this area - senior 3-story elevator building - small condos started $79,500. Heat, water, snow removal included in condo fee (verify). There are some rental units.  Nashua is 8 miles.  See local Realtors.
The Paddock Condominium - Salem - 16 luxury condominiums - Walk to shopping and restaurants.  Were from $300's.  19 Pleasant St., Salem - 603-765-3367
Stonebridge Estates - Historic site - large 2-story, 2-bedroom homes with master on first floor started in $500's - 67 Pond St., Salem, NH - Marketed by Royal Country Homes
Riverwalk at Bedford - Homes sold out -10 minutes to Mall of New Hampshire. Walking paths have access to Heritage Trail on Merrimack River.   65 Hawthorne Dr.  
Lakes Region
Mid-state area around Lake Winnipesaukee.
Wolfeboro
Taylor Sugar Hill at Wolfeboro - Continuing care for life on Lake Winnipesauke - full of scenic natural beauty.   
83 Rolling Wood Dr. (off 109) - 603-366-1400
Gilford
Wesley Woods - Gilford - cottages near Lake Winnipesaukee for 62+ -  near banking, medical and shopping. Not a continuing care community but has an entry fee.  Lots and floorplans available to build your home.  18 Wesley Way, Gilford -  603-528-2555 
Lakes Region Visitor Association
RV Resort in Wolfeboro Falls
Lake Forest RV Resort

 - Wolfeboro Falls - visit or purchase park model - seasonal rentals - resort covers 100 acres.  Forest Meadows Executive Golf Course on property.
150 Dearborn Rd., East Wakefield -  603-522-3306  
Resales in Lake Region
Berry Hill Estates - Near Concord - Small community of medium to large new 2-bedroom homes. By Thibeault - Started low $300's. Near New England Heart Institute.  Options are extra.  Cherry Lane, Hooksett -  Contact Nancy at 603-472-1010
Merrimack Valley
(Also see Commute to Boston, above.)
Derry
Birch Heights by Holiday Small town of Derry NH - So much included in the rental fee - meals cooked from scratch. Low rise building. Independent living.
7 Kendall Pond Rd., Derry - 603-255-5021 - Open 7-7
Concord
Pleasant View Retirement

 Concord (state's capital) - No entrance fee at this independent apartment community with access to healthcare. 72 elegant apartments with restaurant, housekeeping beauty salon and more available. Beautiful low-rise building.  227 Pleasant St., Concord -  603-225-3970
resales merrimack valley
Brook Ridge - Hooksett - See NH manufactured homes


Stone gate - 34 homes on Mammoth Rd., Hooksett - Resales


Webster Woods - Ash St. off Rte 3 and S. Main St. in Hooksett
Bunker Estates - Sold out - Check with local Realtors - 55+  -  Residential area close to downtown. Started in low $200's.  Clubhouse lifestyle.  I-93 to Exit 4 Fordway St.
Mill Pine Village - Small low maintenance community of 38 single family modular homes started in $200's. Garages and basements. 100 North Rd., Chester
Stone Sled Farm - Bow, NH - Duplex units in central NH near Concord - affordable country living - new homes started $265,000.  Woodhill Hooksett Rd.  See local Realtors.  
Seacoast Region
Rockingham County and parts of Southern Strafford County:

Atkinson
New

Atkinson Heights by Lewis Builders along 17th fairway at Atkinson Resort and Country Club.  288 55+ small to large condominiums in 9 buildings and 4 floors with parking underneath. Start prices $400's. 45 minutes to Boston.  First building at 5 Longview Dr., Atkinson - 603-489-9449

Auburn
Coming

The Cliffs at Evergreen - Rockingham County - Small town feeling - 79 detached single condos - Amenities are planned for clubhouse, recreational activities, RV parking, access to Rockingham Rail Trail - 321 Hooksett Rd. - 603-817-7689
Brentwood
The Villages at Three Ponds - 4th phase now - Brentwood - Detached condominium single homes starting in high $400's.  146 North Rd., Brentwood - 603-817-3477 - Call for appointment to tour.
Epping
New

Canterbury Commons - by The Gove Group - 100 single detached condominium homes - Prices start high $400's - Amenities include clubhouse, pool and recreation.  6 minutes to highway 101.  49 Fogg Rd., Epping - 603-781-1420 (Realtor)
Hampstead
Winchester Heights - East Hampstead - 2-bedroom single level units in multi-unit buildings. RV and boat storage. Sign up from their website onto email list for updates. Prices start $400's.  41 Winchester Dr. - 603-489-9449 (Open daily except Friday by appointment only.) (One home remains)
Kingston and E. Kingston
Village at Granite Fields Condominiums - (verify status of community as there is no website) - Large 2-bedroom homes abutting golf course and were priced in $300's.  5 miles to Massachusetts border and approximately 1 hour drive to Boston.  7 Rte 125, Kingston (golf course)
(also see commute to Boston, above)
Londonderry
 Cross Farm - Note:  Hickory Woods is building a new condominium community called Cross Farm, just 2 miles away, which will be similar to Hickory Woods.  Single homes with an indoor/outdoor lifestyle start $600's. 2 October Lane, Londonderry - 603-421-0560 - models now open daily 12-4pm
Resales in Seacoast Region
See for resales - check with local Realtor:
Buttrick Village
Cohas Landing
Forest Hills
Harvest Village
Parrish Hills
Hampton Meadows in Hampton - 603-868-1262 (Property Manager)
Sawmill Ridge - Sold - Attached homes with low maintenance in rural area on acreage - Community Center, walking trails, RV parking, garden area and more.  Ranch and split levels started low $300's.  45 Cowbell Crossing, Atkinson  
Arbor Woods - Small to medium sized 2-bedroom single homes bordered by walking trails. Features include basements, attics, air conditioning, low maintenance, garages and community center with recreation. Cielo Dr., Dover (near Portsmouth)
Blackstone Reserve - 66 2-bedroom, 2-bath large detached condos - 2-car garage.  Amenities include walking trails, clubhouse, 20-minutes to Mall of New Hampshire and within 30 minutes from Seacoast (verify).  Starting price was $400's - 1 Blackstone Dr., Raymond
Riverside Landing - 2 bedroom/ 2 Bath waterfront condos.    Every unit has a boat slip and deep water dock (verify). Gardening. Location is excellent near the University of New Hampshire and Portsmouth.  Piscataqua Rd., Durham  
Sugarplum Hill Condos - Large 2 bedroom single homes  - low maintenance community  built 2008 - Approx. $300's - Contemporary style with Victorian design touches - Sugarplum La.  
The Nevins - Spacious 2 bedroom homes - approx. upper $300's - Low condo fees - Built in 2009 - clubhouse and pool and more (verify all information) on Nevins Dr., Londonderry
Mill Pond Crossing - Brentwood - Only 47 attached and detached condominiums in country area.  Approx. 16 miles to coastal beaches.  Clubhouse, walking trails, garden; homes feature gas fireplaces, granite kitchens.  Was priced in low to medium $200's.  Sold out.  GPS, use 430 South Rd., Brentwood, NH  
River's Edge - Near downtown Exeter - 20 detached ranch or 2-story condos with clubhouse. Started from mid-$300's. Pickpocket Rd., Brentwood - Sold - See local Realtors.
Riverwoods - Exeter - small town near Portsmouth on the Seacoast.  Continuing care community. Also a college town being the home of Phillips-Exeter Academy.  Entry fee and monthly fee.  Also, now offering direct admission to assisted living.   7 RiverWoods Dr., Exeter - 603-772-4700
The Village at Sterling Hill - Contemporary-styled building.  Started high $200's.  Low rise elevator building of 128 condo units.  Underground parking, clubhouse, and more. Near downtown. 6 Sterling Hill Lane, Exeter  
The Cottages at Sprucewood - Durham - near Univ. of NH - by Chinburg Builders. Over 55 community of single and duplex homes in community of Sprucewood. Were priced in mid-$300's.  Access train to Boston and Portland. Scenic trails.  Sold out.  2 miles to downtown Durham - 866-778-6400 (The Gove Group)
Leddy Fields Condos - Epping - 1 and 2-story codex-style (codex refers to duplex-verify) low-maintenance condominiums with clubhouse amenity. Small town is known for area cultural events, Leddy Center for the Performing Arts, stock car races and thriving pick your own veggies enterprises.  Low $200's.
1 Leddy Dr., Epping - 800-422-6212 
Village at Hampton Center - Hampton - 21 contemporary-styled condos in low level elevator building with garage parking.603-235-2345x119 (Mgr.)  CPManagement
The Vineyards at Stratham - Sold Out - Resale in $400's - wooded area - detached single level condominiums by The Gove Group. 
Vineyard Dr., Stratham (near Exeter)
Sea Glass Lane - Rye - For 62+ - 20 New England contemporary-styled single homes - 1.7 mi to seacoast - Prices started mid-$500's  511 Wallis Rd., Rye
Hickory Woods - Sold Out quickly - Spacious single homes in low maintenance community.  2 Bedrooms with 2-car garage, basements, vaulted ceilings (verify all information). Clubhouse, Tavern, recreation, tennis, bocce and more.
6 Tavern Hill Rd., Londonderry
Resale over 55 communities by Lewis builders (Seacoast Region):  
Lamplighter Estates Also by Lewis Builders in Kingston, NH - past project - resales only condominiums - 62+ age limit
Maplevale @ Cricket Hill East Kingston by LewisBuilders - 66 condominiums - There are also other communities in this Kingston area. Resales only. Maplevale
Sargent Woods  - Sold - By Lewis Builders in Newton - 80 2-bedroom single condo homes in rural area.  RV Storage - Community garden and more.  2 Nichols Dr., Newton, NH
Angle Pond Woods In rural Hampstead - by Lewis Builders - 116 condominiums - walking distance to shopping and restaurants.
Black Rocks Village 

- Fremont - By Lewis builders - ranch homes - condo community - Started high $100's.
162 Hall Rd., Fremont 
Governor's Forest - land leased manufactured single homes priced in upper $100's. Resales - Tarah Way, Fremont - see local Realtors 


Irongate Village - Single homes near the coast. Area is 45 minutes north of Boston. Historic town and village. W Rd., Hampstead
Hampton Meadows - Sold - Detached condos in rural area but near transportation - many amenities including pool
The Oaks at Ross Colony - small 1 and 2-bedroom condos in low $100's 2 miles to beach.  See local Realtors for resales.
Kings Landing - Sold out.  Forty-four single homesites near coast and also easy commute to Boston. By Trendezza Homes.  Starts upper $200's. Marshall Rd., Kingston
Dartmouth-Lake Sunapee Area
Hanover
Continuing Care Community
Kendal at Hanover - 2 miles to Dartmouth College - 65+ - residents have outstanding access to learning in a university-linked community - see detailed information on website.  Continuing care community. Small New Hampshire town with New England country ambiance.
80 Lyme Rd., Hanover - 603-643-8900    
Most Popular on this page (by number of views)
Huntington at Nashua
Arbor Woods - Dover
Connor Court - Amherst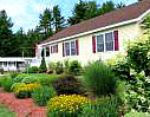 Jensen River Pines
Go here for Manufactured homes and see New Hampshire
---
New Hampshire 55+