Retirement Communities in Massachusetts
Jump to Content
Retirement Communities in Massachusetts are surrounded with history. They center on historic towns and activities that have endured through the centuries. Horseback riding centers,  Boston seafood restaurants, quaint towns, New England autumns, ponds, and famous universities. 
Retirement here can be citified or countrified--your choice--but some of the best offer both choices with towns located within 30 minutes to Boston.
Newest 55+ Communities in Massachusetts Chart
| NAME | Location/Start Price | Link |
| --- | --- | --- |
| 1. Regency at Glen Ellen | Millis/$500's | More |
| 2. Brooksmont | Holliston/$400's | More |
| 3. Seaside at Scituate | Scituate/$500's | More |
| 4. Regency at Emerald Pines | Metheun/$500's | More |
| 5. Lanterns | Ashland/$400's | More |
| 6. Sawyers Reach | Plymouth/$300's/$400's | More |
| 7. Riverside Woods | Andover/$300's | More |
| 8. Pennington Crossing | Walpole/$300's | More |
| 9. Upton Ridge | Upton/$300's | More |
More new communities in Massachusetts in Boston area:
Retirement communities in boston area
North of Boston
Andover - 23 miles to Boston
New Riverside Woods -  For age 62+ by Pulte - Elevator buildings with secured access - Wooded trails to Merrimack River.  Price range from $300's-$700's for small to large homes.  459 River Rd., Andover - 866-223-6258 - Open daily except Monday by appointment.
Metheun - 30 miles north of Boston
New 

Regency at Emerald Pines

 - Methuen - By Toll Brothers - ranch and 2-story homes with luxury amenities.  Large 2 and 3-bedroom homes.  Pricing starts low $500's. 
28 Pine Tree Dr., Methuen - 978-557-5511 - Open Daily
Topsfield
Rolling Green at Topsfield

- North Shore area - 30 large homes in 15 duplex buildings by CP Berry.  Homes feature fireplaces, master suite on first floor, and bedroom on second floor.  Open spaces, walking trails and gathering spots.  Near shopping, medical, Boston, Southern New Hampshire and Maine.  470 Boston St., Topsfield - Open Tues through Sunday 

Northwest of Boston
Acton - 25 miles  
Quail Ridge

Sold out - by Pulte - Price: $$$$$ - Spacious 2-bedroom single homes and townhomes (some 2-story floorplans) in historical location with country ambience.  Amenities include 9-hole golf adjacent, clubhouse, tennis, outdoor pool and more.  Starts: $500's  - 354 Great Rd., Acton - See local Realtors

Westminster - 53 miles northwest
The Village at Old Mill

 - 2 bedroom homes from upper $200's. Small to large floor plans.  Suburban community in a rural area of New England ambiance.  24 miles to Worcester.  2 Kimberly Lane, Westminster 

Southwest of Boston
Location:  Millis

Feature:    2 collections of townhomes and ranch and 2-story single homes

Contact:    4 Glen Ellen Blvd. 774-993-3030 - Open Daily 11-6

Fitness Activities:  Clubhouse, pool, bocce, pickleball, tennis; nearby golf

In Millis by Toll Brothers - Townhomes and single-family homes in a 55+ resort community - Two collections:
Start prices for townhomes are low $500's; start pricing for single homes is low $600's - 844-834-5263
Pennington Crossing - Walpole - 1 and 2-bedroom condos starting upper $300's.  Walk to MBTA for 20 minutes to Boston - By Pulte  
767 East St., Walpole - 888-422-6966 - Call for more info
North Hill

- Needham - 1 and 2 bedroom luxury condominiums in award-winning community 17 miles to Boston with many wellness programs - for age 65+ - Entry fee and monthly fees.
865 Central Ave., Needham - 781-444-9910
Commuter Special:
New

 

Brooksmont

by Pulte in Holliston - Small community of 66 attached medium to large luxury homes in great commute location.  Near 495, Route 9 and commuter train to Boston.  Garages and basements.  Walk trails, community garden.  $400-$500's. 
415 Concord St., Holliston - 866-254-8298 - Open Daily/Mon by Appt. It is recommended to call for appointments for popular communities.
West of Boston
ashland - 29 miles to boston
Chauncey Lake

- Westborough By Del Webb.  1 and 2-bedroom condos starting upper $200's.  170 Lyman St. - Open daily except Monday by appointment.
Stow - 29 miles to Boston
New

Regency at Stow

- Middlesex County - singles and townhomes by Toll Brothers.   Resort amenities.  From mid-$400's.
242 Boxboro Rd., Stow - 978-298-5548 - Open Daily 
Sudbury - 21 miles west 
New

Highcrest at Meadow Walk

- By Pulte in Sudbury - Commute to Boston 20 miles away - storied condo building with small to medium homes starting in upper $300's.  4 Farmstead Lane, Sudbury - 866-775-1991 (Monday by appointment-open other days)
Springhouse Pond Condominiums Sudbury - near quaint towncenter of Sudbury and easy commute to Boston - popular community of cluster townhomes - small upscale - Since 2002 - covered porches, open floorplans with great rooms.
Framingham - 23 mi. West
Coming - Former Marist Retreat Center property (518 Pleasant St., Framingham) being purchased by Brendon Homes for 55+ community in the future.  Planned to be townhouse (verify). Verify all information with Brendon Homes and see article.
Independent and assisted living
Brooksby Village

 at Peabody near Boston - by Erickson - 62+ age limit - 3 multi-million dollar clubhouses - Swimpool and fitness center - Woodwork Shop - TV Studio - 5 restaurants and cafes - Free shuttle system - Brooksby Village by Erickson
Springhouse

 Independent and Assisted Living in Boston area.
Boston area resale communities
Adams Farm - Check with local Realtors for resales - Shrewsbury 40 mi. west of Boston - 90 units - Brendon Properties - 508-485-3999 since 2005.   Gold Street and Memorial Drive (Route 140) Price: $$$$$

Autumn Ridge Farm - Ayer - Price: $$$ - Small to medium  homes with garage - maintenance-free community by Gillis Homes - Nearby commuter rail to Boston - Skiing in area - close to shopping and medical - Walk trails and pond on site - Open and spacious with views - Community Center - 502 Autumn Ridge Drive, Ayer (Groton area) 45 Minutes to Boston.
Beechwood Village - Marshfield Ma - 79 semi custom homes - Resales
Brierley Pond Village in Millbury - Near Auburn central Mass near Worcester - 43 miles to Boston - newer attached homes w/garages - Overlooks Brierley pond - townhouse-style units - wooded setting - within 15 minutes to Grafton MBTA station for commute into Boston.
18 Brierly Circle, Millbury
Canton Point - By Pulte - Spacious 2 BR/2.5 BA townhomes on a wooded waterfront - golf courses in area - Started $500's.  
475 Turnpike Rd., Canton. See Realtors for resales.
Carriage Hill Circle - 25 minutes west of Boston - Old Town, Southborough - near 9 hole golf course - Town named a top best place to live.  Phone: 508-686-5201


Dudley Brook Preserve - Sudbury - Award-winning 26 townhomes now sold. The Green Company - chefs kitchen. From $600's. Tall Pine Dr.  
English Commons at Topsfield  - 24 miles north Boston - 49 spacious luxurious condominium homes are 

sold out.

  Gated with traditionally styled architecture. Many amenities and extras.
12 Boston St., Topsfield - Phone: 978-887-3888
The Esplanade - Hudson - 140 condominiums in low rise buildings priced in upper $100's and up.  508-528-3500   
GreatBrook - Norton - Award-winning community of attached homes completed in 2005.  See local Realtors for resales.
Highland Meadows Weston - Upscale area and luxury home community of single-family and town homes on 44 acres of prior wooded estate. 

Modern construction is coupled with low maintenance for a fresh look with classic design and New England ambience. The area is serene and relaxed suburban very close to city of Boston and area attractions. Meetinghouse with all the amenities. Tennis and walking trails.  44 acres and planned 69 homes and town homes.  Views. 1846 Farmhouse restored on property.  See local Realtors.  Pine Summit Circle, Weston 

Mascuppic Village - Sold out - See local Realtors - Very close to New Hampshire and Nashua, NH - large villa attached homes with luxury features started $370's - 780 Nashua Rd., Dracut - 36 miles north of Boston
Patton Ridge - Hamilton by CP Berry Homes - Only 12 large homes on the historic Patton Homestead in Hamilton.  Also, an 

equestrian

 area.  978-887-
Pheasant Hill - 35 miles to Boston - 48 one and two-bedroom condominiums with hilltop views - Small to spacious floor plans in elevator building. 35 miles to Boston.  Priced in $300's.  Resales.
490 Main St., Northborough - 508-667-4696 (Realtor)
Red Mill Village Norton Ma By award-winning Thorndike Development - Village Green concept of Traditional Neighborhood Design offers charm just like a New England village of yesterday but with the most sought after interior and exterior features and options.
Preserved forest land is included in the 53 acres. 156 homes and condominiums. Spacious attached 2-bedroom homes started in low $300's and detached 3-bedroom homes started in the upper $400's. Winner of 8 NAHB awards.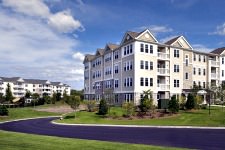 Reading Woods - Sold Out.  10 miles north of Boston - Small to medium size 1-2-bedroom homes in low rise buildings started in upper $300's. Clubhouse, fitness, underground garage and walk paths.  By Pulte.  55 Jacob Way  
Regency at Bolton by Toll Brothers - Townhomes in mid $300's - Toll Brothers Massachusetts luxury retirement home community. Resales
Regency at Methuen The Meadows collection - gated community of townhomes. By Toll Brothers - from low $300,000's - resales
Regency at Methuen-Villas Collection - about 30 miles to Boston - near new retail village "The Loop" - from mid $300's - Energy Star Certified (verify)
Rockland Glen Rockland - 22 miles southeast of Boston - 60 luxury medium and large condominium townhomes on 65 wooded acres by custom builder - 2 BR/2 1/2 baths with many luxury features such as gas stove - Price: $$$-$$$$ started in the upper $300,000's - low monthly condo fee - 2 miles to Rte 3 and 21 miles to Boston.  Marrocco Builders.  414 Hingham St. - 781-243-9262
Stone Castle Estates -  Sold out.  Gated upscale single homes in the Merrimack Valley in Methuen, 30 miles north of Boston - Low maintenance community. Ranches or two-stories. By Ronald W. MacLaren.  978-687-8484 
Spyglass Landing - See local Realtors
Village at Ames Pond Stoughton, Ma - suburban town 20 miles from Boston with access to commuter rails. Resales - see local Realtors.
Village at Maple Ridge by Applewood Construction - (28 miles to Boston and near New Hampshire border) 72 single-family spec homes and lots - high $300's - The development is on 100 acres and also includes estates (sold) and apartments  - Old Tyng Rd., Tyngsborough 

The Village at Raymond's Creek in Georgetown, Ma - 30 miles to Boston - Luxury homes By Gillis Homes - Off Rte 95 exit 54B  on Raymond Court.  See resales.
coastal areas
North shore / danvers area
ARIA at Hawthorne Hill

 - On the North Coast approx. 20 miles above Boston.  Townhouses start in upper $500's.  Luxury features and views. Clubhouse, pool, grandchildren's play area, walking paths  and more.  
100 Kirkbride Dr., Danvers - 978-927-1959 - Open Thurs-Sunday
plymouth/cape cod
Location:  Scituate in Plymouth County

Feature:   Townhomes; some with ocean views

Contact:   148 Hatherley Rd., Scituate - 844-834-5263/781-561-0850 (rep) - Open Daily 11-6

Fitness Activities:  Clubhouse, pool, Lifestyle coordinator, Fitness Center, Bocce Ball, Event Lawn
By Toll Brothers - Pricing starting in $600's for 55+ townhomes.  There is an all-age estate collection starting in $900's.

Summer Reach

 - By Thorndyke - Sold out - another great community of singles and attached homes were from mid $400's.  New England traditional design and one mile to Plymouth.  100 attached homes and 14 condominiums.  249 Summer St., Plymouth - See local Realtors

New

Sawyer's Reach

- By Thorndyke - Similar story to Summer Reach community.  Townhomes priced from $400's and condos from $300's.  Saltwater pool, walking trails on nearby conservation land, and more.  Homes have vaulted ceilings (verify all information.)  800 Colony Rd., Plymouth 
Open daily except Wed/Thurs by appointment only. 508-591-3150  
 

Toll Brothers at the Pinehills

 - Skipping Stone neighborhood - Plymouth - By Toll Brothers - Resort community of 40 award-winning single homes from low $500's.  Pinehills Golf Club.  Pools, tennis, walk paths and more.  Not 55+ but active living.
24 Skipping Stone, Plymouth - 508-209-2500
Seton Highlands at the Pinehills

 - The Pinehills - Spacious 2-bedroom homes by Design Housing in this master community from the low $600's.  The Seton Club amenities include recreation and pool.  63 Seton Highlands, Plymouth - 508-209-0620
cape cod/mashpee
Southport

 - Mashpee - Award-winning community of 2-bedroom, cape cod-styled attached homes.  New homes added.  Priced from $400's.  Over 90% sold.
10 Atlantic Court, Mashpee - 800-840-7775 - Open Daily 9-5
chatham/cape cod
Chatham House

 - By Wise Communities - 500-600SF 10 unit 1-BR co-op - elevator bldg. - monthly fee for services and amenities. Walk to quaint town and shops.  Dining room for chef-prepared meals.  On-call staff.  Rentals.
Park Place

 - By Wise Communities - 29 2-bedroom condominiums plus monthly fee for amenities.  Walk paths through gardens, exercise room and more. Chef prepared meals in dining room.  Priced in $400's.
Woods Hole
Coming

 The Nautilus at Woods Hole by Wise Communities - elevator condominiums. Will overlook Little Harbor and Vineyard Sound.
508-540-3700
middleborough
Oak Point - Hometown America manufactured homes in a country club lifestyle.  Two outdoor pools and indoor pool.  Clubhouse, tennis courts and social activities.
200 Oak Point Dr. - 508-923-0002
sold out in coastal area
Great Island at The Pinehills by Del Webb within master planned community of The Pinehills - At Plymouth surrounded by natural woodlands and premium lots with ocean vistas of Plymouth Bay. Variety of homeplans and 600 homes to be built. Fishable lake, Fitness Center, Game Rooms, water/marina, trails,boating, golf, outdoor heated pool, started from $277,900 and up. Price: $$-$$$ - 60 golf courses within this area. 15 minutes to Cape Cod and 40 minutes to Boston. 26 Valley Front, Plymouth -

Sold Out 
The Melrose of Harwich Port - 29 low maintenance 2 bedroom-2 bath condos in elevator building, some with garage parking. By Wise Living.  Rear courtyard. Chef prepared meals in dining room. Concierge.  Currently sold out.
601 Rte 28, West Harwich, Ma.
Orleans Place

 

- sold out

 

- By Wise Communities - Low maintenance community in elevator building. 41 condo residences on lower cape. Concierge.  Built in 2005. 

18 West Rd., Orleans
Village at West Gloucester  - Cape Ann - Luxury homes community near Wingaersheek Beach.  Beautiful New England architecture using shingle-style, common to New England coastal homes. Energy Star. Very large homes designed to accommodate your large furniture pieces collected over the years. Price: $$$$$$ Started at $599,000 and up. Tuscan arches, molding, eyebrow windows give 19th and early 20th century ambience.  Boston is a 45-minute drive or commuter rail ten minutes away.
Whitestone Village - Sold out - 100 small to medium condominium homes on 30 acres by Gillis Homes - Community Center  
central massachusetts (suburban and country)
holden
Village at Westminster Place

 - Holden, Ma - central Mass - blended family concept - One member 55+ - Single 3-4 bedroom, 2.5 bath homes - Price: $$$ - mid-$300's.  New England contemporary-styled.  North of Worcester between Salisbury St. and Rte 122A - 508-881-6662 

Leicester
Oakridge Estates Leicester - 3 phases planned - Emerson homes - Small to medium-sized homes - walk trails and open space - designed to be New England Village style.  See local Realtors for new and resale.  Priced in $300's (verify).  1B Swanson Rd., Auburn - Phone: (508) 450-4219
Upton Ridge

 -  

Upton - 2-bedroom townhomes - scenic area - Starting price upper $300's - 99 Hartford Ave. South - 800-665-4154 - Open daily except Monday by appointment



Resales in Central Massachusetts
Hudson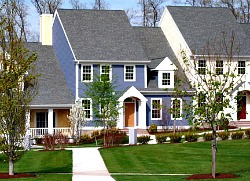 WestRidge
WestRidge - Hudson - Sold Out - Award-winning community by Thorndike Development - condominium community with Village Green - Metrowest intersection - 135 2 and 3 bedroom spacious attached and detached homes - attached homes started upper mid-$300's. 
Property is a traditional design neighborhood bordering Assabet River and open space. Many walk paths, clubhouse, pool and more.
WestRidge by Thorndike Development in Hudson
6 WestRidge Rd., Hudson - 978-567-9994; Open Daily 12-4 or by appt
Angell Brook Village - West Boylston near Worcester - mid-$200's price range - Senior amenities nearby. 2-bedroom homes with energy features and low condo fees.  
Blue Heron Pond

 - Lancaster (oldest town in Massachusetts) - townhomes with rural character in area of equestrian estates - golf course within 2 miles of community with "Senior Season Pass."
Country Club Acres - Worcester Start low $300,000's - 508-898-0055 (office) 508-326-0812 (cell) Ansari Builders (Boston Metrowest)
Salisbury Hill - Worcester - spacious homes - country club style with pool in midst of city of Worcester - enjoy a city life with a nature backdrop - 1 hour to Boston -  727 Salisbury St., Worcester - Resales
Summerfield at Foxboro - Foxboro - singles with that feeling of the past - 35 min to Boston Sold out. Summerfield Properties - Energy features
Summerfield at Grafton by Summerfield 55 and better homes Blackstone Valley - new - just 25 homes - Sold Out
Summerfield at Taft Hill - Uxbridge, Ma. - Summerfield Communities - 2 BR/2 Bath singles, 2-car garage with Energy Star features - classic small quaint New England town near Worcester - historic town offers country living with lots of open space for hiking, biking, hunting, horseback, fishing - 557 acres of land in town for activities - the large historic buildings in town are kept up by the Historic Society. Energy Star rated.  Priced in $300's.  See Realtors for resales.
Phone: 508-278-5005 
Seasons at Salisbury

Holden, Ma - Central location but close to Boston. 2 BR floorplans - only 91 homes.  See Realtors for resales  
The Residences at Robbins Brook Acton, Ma from $300's Resales
Trail Ridge at Harvard - Harvard, Ma - Not the university - another small country town in the heart of Massachusetts horse country (Central Massachusetts) - equestrian facility nearby - Price: $$$$ - From $400's - 40 acres of 52 homes - only 24 are age-restricted.

Twelve Oaks at Stafford Hills Leicester - Gated community of duplex homes, wooded ambience. Clubhouse, pool, walking trails, putting green. $200,000's--good value retirement homes. Sold out.
Farmers Row Adult Community Lunenburg, ma - This complex consists of only 18 units of 2 BR's/2 Baths on one level, condo development with garages, basements, decks on ten country acres. Resales
The Village at Meadowwood Chelmsford, ma 71 units near U of Mass, Lowell, Ma - resales only beautiful upscale home community.

 
More resale Retirement Communities in Central Massachusetts:
Meetinghouse at Stow 34 Meeting House Ln Stow,ma - (978) 823-0600 - 75 units - built 2004 - resales - 2br/2ba condos w garages - planned community activities near Bolton and Marlborough (near military bases)
Words for the Ages:..."And so, my fellow Americans: ask not what your country can do for you...ask what you can do for your country"...John F. Kennedy, Senator from Massachusetts and President of the United States.
Zain Ridge at Milford - 2 br detached condos of singles - check status of community with local Realtors - resales
Northbridge Condos on Spruce Street - Northbridge ma Attached condos in $200-300's range - 2BR ranch-style w/garages resales
Daniel Drive condos in Oxford - "only over 55 community in Oxford" - in $200's ranch-style attached w garage near Pine Ridge Country Club.
Highland Village Paxton - Ranch-style duplex homes wih garages, basements - in $200,000's range - Built in 2009 - Resales
Mark Circle Rutland 2 br/2ba ranch-style condos with garages newer small community of 22 units near Worcester central ma - In upper 100's kitchen appliances energy star rated (please verify for individual homes)nearby horse facilities (verify)
Orchard Meadow Shrewsbury, Ma - built 2004 in $300,000's range - resales - 2br 2 l/2 ba condos - spacious homes
The Villages at Crane Meadow 2 br 2 1.2 ba townhouse style newer condos in $200's w garage - Deerfield Run, Marlboro (bet Worcester&boston) Some upscale amenities available: gas fireplaces, hardwood floors,basements,front porches, cathedral ceilings.
Faxon Farm Shrewsbury near Stow - upscale - Wolf range and subzero in kitchen(verify) Very spacious 2 BR condos On Patriot Lane since 2005 Worcester County - resales
Crescent Gate Active Adult Community Fiskdale - large 2BR homes in $300's verify - resales
Kenneth Village Upton MA $359,900 - very small only 8 units - minutes to 495 route. Master suite with vaulted ceilings.
Juniper Hill Uxbridge Ma - 60 units neighborhood sensitive community - In $200,000's range
Concord Court Webster - duplexes
Hillside Village West Boylston - energy efficient features
Central Mass South Chamber of Commerce

independent/assisted living in central massachusetts
Meadows Estates

 - Marlborough - The Meadows CCRC community for independent living and New Horizons for assisted living on a 30-acre campus.  Adjacent to Marlborough Country Club and surrounded by conservation land (verify) - Indoor pool and more.  Low entry fee.
400 Hemenway St., Marlborough, Mass. -  508-460-5200
NewBridge on the Charles

- Dedham - Harvard Medical School affiliate - CCRC commute distance to Boston - various housing options and financial plans - choose rental and no entry fee or entry fee and monthly fee.  Beautiful 162-acre campus with many amenities for continuum of care. By Hebrew Senior Life.  A unique feature is for intergenerational experience - an elementary school is on campus where the senior residents can volunteer.
5000 Great Meadow Rd. (2nd driveway for Independent living) - 781-234-9020
Waterstone at Wellesley

- Independent and assisted living on the waterfront.




Gourmet dining, elegant residences, indoor pool, concierge, and more.   Urban environment - walk to restaurants, hospital. 1 and 2-bedroom apartments.




23 Washington St., Wellesley, MA. - 781-235-1614



Most visited on this page:
1. Regency at Stow
2. Mascuppic Village, Dracut
3. Red Mill, Norton
Back to top of page
Best guide home page

›
Northeast
› Massachusetts