Palm Springs Ca Over 55 Communities 
Palm Springs Ca over 55 communities are perfect for escaping the cold winters of northern states.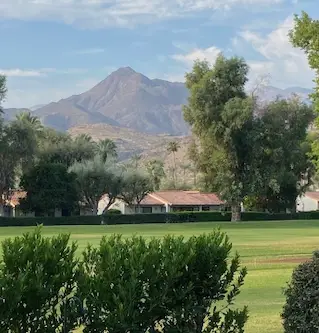 The Palm Springs area in the Coachella Valley of Riverside County is a popular snowbird area to easily get away from cold winters.  Canadians and residents of northern states flock to the desert communities from October to April.  The population decreases approximately 50% during the hottest summer months of June, July and August.  
One can visit and rent for awhile to try it out.  That is how many then decide to buy for vacation or year-round.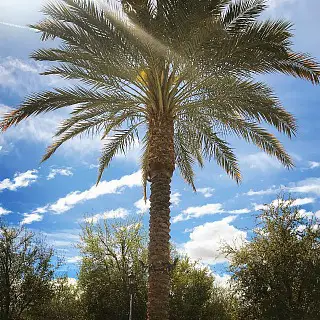 Palm Springs photo by K Patalsky
 Palm Springs Ca Over 55 Communities 
Content
Manufactured Homes Communities for 55+
Luxury 55+ Communities
Resale Luxury 55+ Communities
Separate Pages for 55+ Communities in Palm Springs: 
1) Are you looking for manufactured homes: Palm Springs 55+ Manufactured - 2) Newest luxury community: Review of Del Webb at Rancho Mirage 3) Review of "small homes" community (RV park models)
So much happening in Palm Springs for retirement
RV park models, RV lot leases, and luxury homes are all options in this area known as a health mecca.  The sunshine, the fresher air, the food, the relaxing mineral water tubs for soaking in, and exercising of all kinds combine to make this an area that is conducive to aiding good health.
Nothing is perfect so it does get very hot in the summer and you will need air conditioning.   Other options are to escape to nearby mountains for awhile or return to your main home if you are a snowbird.   
It's a good idea to visit to see if you'll like it
The 55 community I stayed at (see Caliente Springs) had a Discovery Tour where for $200. I could stay in a park model for 3 nights to try it out and I loved it!  This way I could travel around the area.  An RV Park Model is 400 square feet.  It is large enough to be comfortable and small enough for easy living.  They are now being referred to as "tiny homes."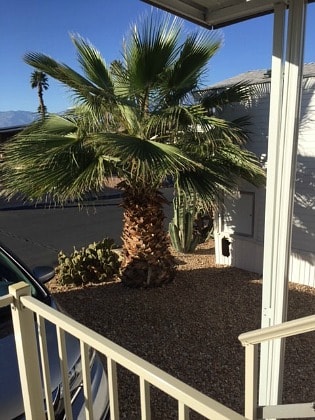 A beautiful day and view in February from an RV Park Model in the Palm Springs Ca area.
Desert Communities
There are 8 Desert Communities in the Coachella Valley area: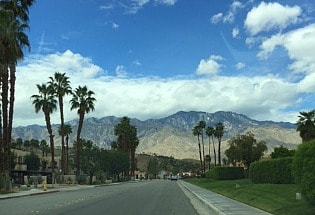 Palm Springs suburb street: the beautiful mountain views are everywhere in PS
While Palm Springs is the largest and best known community, there are 8 main Desert Communities.  They are:
1) Palm Springs with its upscale shopping, restaurants and entertainment with both luxury site-built homes and condos and affordable manufactured communities. 
2) Desert Hot Springs, an easy 20-minute drive north from Palm Springs and known for its mineral springs has many manufactured homes communities.  There are also a few condo communities. 
3) Rancho Mirage known for upscale communities and shopping.  There is a Del Webb luxury community here. 
4) Palm Desert for great shopping.  
5) Cathedral City - moderately-priced area next to Palm Springs with single homes and communities.
6) Indian Wells, often preferred by wealthy retirees and those wanting upscale retirement communities and homes.  
7) La Quinta - newly developing area of luxury communities.

8) Indio - known for dates and great Mexican food.  
Snowbirds come from Washington, Oregon, Utah, the midwest, Canada and more.  Canadians love Palm Springs and there are many of them here during the winter. The snow isn't the only reason to be a snowbird.  The Oregonians want to get away from the rain. 
Where are the 55+ Communities in the California desert?  Choose manufactured homes or site-built.
Palm Springs Over 55 Communities Ca of
Manufactured homes 
There are many manufactured homes communities in this area for those over age 55.  These include manufactured, mobile, rv and rv park models.  These age-restricted communities present an opportunity for an affordable lifestyle.  An RV park model is 400 SF and is now popularly referred to as a "tiny home."  There are also mobile and manufactured communities for 55+.
Perfect for "Snowbirds" (or anyone!)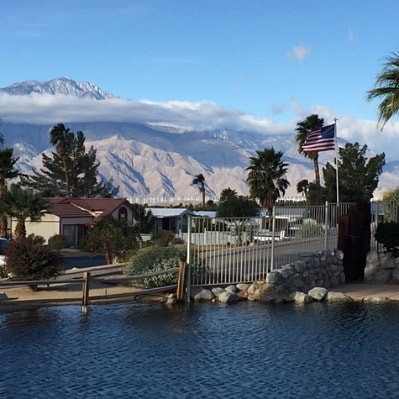 Caliente Springs 55+ Community in Desert Hot Springs for RV, RV park model and manufactured homes.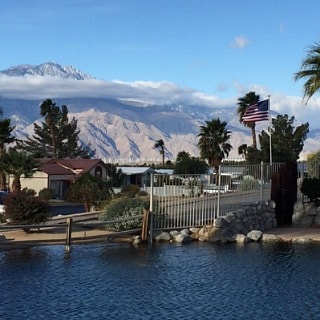 Caliente Springs 55+ Community in Desert Hot Springs
Caliente Springs RV Park -  One of the nicest land-lease parks in the area: Large pool area of natural hot springs pools and Jacuzzis, mineral showers and sauna.  Numerous amenities include social activities, 9-hole golf, driving range, tennis and so much more.  Purchase a new or resale park model "tiny home;" also RV sites or rent a park model. Very popular with snowbirds and year-round.  70200 Dillon Rd., Desert Hot Springs - 760-329-8400  
See the Review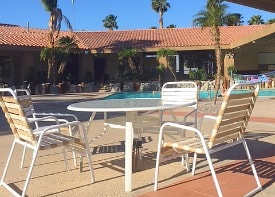 Caliente Springs large clubhouse, warm mineral pool and 3 mineral springs spas
---
Sparkling Waters MHP and RV - The perfect spot to spend those winters in your RV - The best part: heated mineral water pool - and so much more.  Also, large storage lot, rentals and sales.  17800 Langlois Rd. - 760-329-6551
See the complete list of manufactured homes communities in the Palm Springs area for seniors (separate page).
Site-Built 55 and Over Communities in Palm Springs
Luxury Homebuilders are here!

There are many premier builders in the Palm Springs area.  The newest large senior luxury community is in the city of Rancho Mirage by Del Webb, an award-winning 55+ builder.  

Del Webb at Rancho Mirage in the city of Rancho Mirage in Coachella Valley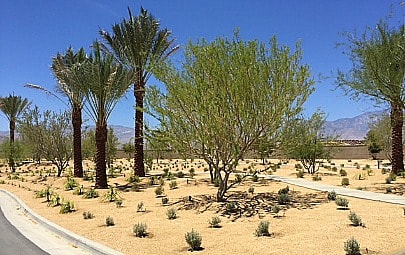 Del Webb Rancho Mirage desert landscaping at entrance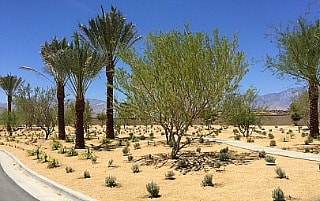 Del Webb Rancho Mirage desert landscaping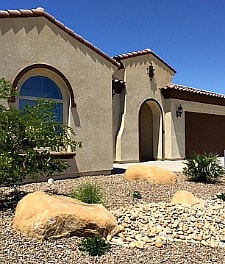 "Journey" model home at Del Webb Rancho Mirage
Del Webb at Rancho Mirage - 55+ community near downtown Palm Springs - guard-gated single ranch homes designed for indoor/outdoor lifestyle.  Focused on health and wellness.  Clubhouse, pool and second covered pool is planned.  From upper $300's.  10 models to view.
115 Claret, Rancho Mirage - 877-285-3285 (Directions:  Bob Hope exit off the ten and turn right onto Dinah Shore and look for entry on the right - take the long entrance driveway to left turn to models - or get your directions from their website.) 
See the Review of this community.
Palm Desert
New upscale apartments

  Avenida Palm Desert - stylish 1- and 2-bedroom 55+ apartments in a building worthy of the Palm Springs reputation for architecturally-inspired designs.  Resort lifestyle with their own 5 to ThriveTM calendar of monthly activities.  Many luxury amenities and features. Start $1950./month for 1-bedroom; $2550/month for 2-bedroom starting -  40445 Portola Dr., Palm Desert - 760-565-2978 - Open M-Sat/Sun by appt.
Enjoy life to its fullest!   

Villa Portofino -

 Gated

 Palm Desert - $$$ - 1 and 2-bedroom Italian-styled villas with tile roofs and mountain views.  The area has nearby stylish restaurants, golf, and shopping.  Clubhouse, pool, activities and more. Sold out but a new phase is being planned.
4001 Via Portofino - Ph: 760-340-5433 - Open daily
Domani -

Now selling

by the Rilington Group, builders specializing in the Palm Springs area - Single medium to spacious-sized luxury homes with Spanish architectural styling.  Gated resort community with clubhouse, pool and more.   Pricing in the $300's.
You can find Domani at 78937 Concerto Court (Avenue 40 and Adams St.), Palm Desert - 760-610-2903 - Models Open Daily 10-5
Indio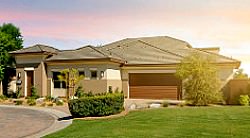 Photo by Trilogy® at Shea Homes - Trilogy® at the Polo Club
Trilogy® at the Polo Club - 

Gated

 New community by Shea Homes is located in the Palm Springs area near Eldorado and Empire Polo Clubs.   Resort Club with amenities.  New models now.  Priced from $200's-$400's.  51682 Hawthorne Court, Indio - Open Daily - hours vary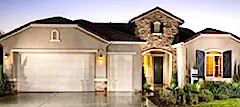 Four Seasons at Terra Lago - 

Gated

 - by K Hovnanian - Indio (easy 30 minute drive to Palm Springs) - Single homes up to 4-bedrooms - The Lodge clubhouse with such amenities available as beauty salon and massage, indoor pool, activities and more. Pool, tennis.   9 models open daily.  Energy Star rated.  Medium to large homes from mid-$200's to mid-$400's.  

84000 Terra Lago Pkwy, Indio - 760-347-2816  
---
Luxury Resale Communities in the Palm Springs Area:
Alta Verde Coral Mountain - 

Gated 

- La Quinta - the word "sleek" comes to mind when I look at the beautiful contemporary architecture of the award-winning Alta Verde Coral Mountain community.  I also visualize simple and streamlined.  Quartz countertops, lots of natural light, mountain views, high ceilings and more create an airy island-influenced design.
Only 70 homes built.  These homes sold in the high $600's and $800's. Near PGA West for golf and Santa Rosa Mountains.  Floor plans are called Zen, Retreat, and Modern Breeze.  
Four Seasons at Palm Springs - By K. Hovnanian. Price-$$ - Award-winning gated community of single-level spacious homes.   Amenities include The Lodge, a luxury recreational center; also, pool and spa, bistro, computer center, arts and crafts room and more.  

Del Webb's Palm Desert in Palm Desert 

Gated

 - golf community - Resales only - check with local Realtors.
Shadow Hills by Del Webb - at Indio - Sun City community in Palm Springs resorts area with 18-hole championship golf plus par 3 golf and putting course. Other amenities include pools and fitness Center. Though community started in low $200's. 81-346 Corte Compras, Indio
Trilogy at La Quinta - New Homes now sold out, but some resales are available.  Price: $$ By Shea Homes on Trilogy Parkway, La Quinta - Resort-style - Enjoy newer amenities as an aromatherapy hot stone massage available at their Coral Spa.  There is a gorgeous outdoor fireplace.  Ph: 800-685-6494. 

Heritage Palms in Indio 

Gated

 - Indio is a small town 23 miles to Palm Springs.  It is the date fruit capital of the U.S.  Huge date palms can be seen from the highway.  This is an older gated golf course community completed by Lennar in 2004.
Palm Springs Chamber of Commerce
Most popular on this page by # of visits to their websites:
Del Webb at Rancho Mirage

Trilogy® at Polo Club
Indio

Caliente Springs
Desert Hot Springs
---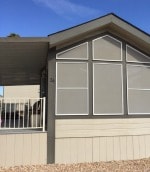 RV Park Model Manufactured Home
Also See The Complete List:  Manufactured 55+ Palm Springs
Palm Springs 55+