Northern California
Retirement Communities
for over age 55
...are you going to San Francisco?

Photo by K Patalsky
Northern California retirement communities on the coast are characterized by cool and fresh air rarely going over 80 degrees in the summer.  The state escapes the sticky climate of the East Coast.   The coastal area is Mediterranean, the inland areas can be hot but rarely humid, and the high mountains can be very cold with snow.  Northern California coastal towns can go for days or weeks in the summer with foggy cool days.  Most affected are San Francisco and Monterey.  All of California is a great place for retirement living.
contents on this page
San Jose-Silicon Valley-Bay Area

Santa Cruz-Coast: Santa Cruz, Scotts Valley, Watsonville

Los Banos-Inland from Watsonville

San Joaquin County: Tracy (coming)

Walnut Creek (resale)

Brentwood

Sacramento Area: El Dorado Hills, Sacramento, Elk Grove, Lincoln Hills, Roseville, Auburn, Rio Vista, Manteca

Sonoma County-Wine Country: Napa, Santa Rosa, Sonoma

Marin County: San Rafael

Chico

Find by Price/Location/Map

Most Popular on this Page
Newest Communities in Northern California Chart
Separate pages for No. California:
San Jose "Silicon Valley" "Bay Area"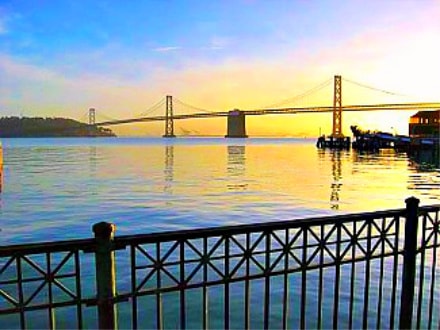 Oakland Bay Bridge
Inland from Santa Cruz located on the Pacific Ocean going East you cross the Santa Cruz Mountains into San Jose and the famous Silicon Valley.  The climate in this area differs from the coast with occasional very hot weeks in the summer.  See our article on California for more on climate.
The major cities in the Silicon Valley area (referred to as the Bay Area) are Sunnyvale, Mountain View, Palo Alto, San Mateo, Redwood City, upscale Los Altos Hills and Los Altos, Santa Clara, Campbell, Milpitas, Saratoga, Los Gatos, San Jose, and Fremont.  San Francisco and Oakland are also considered part of the Bay Area. The larger communities with lots of amenities are few due to how expensive land is in this area.
San Jose and the Bay Area listings, go here.
Santa Cruz County (On the Coast)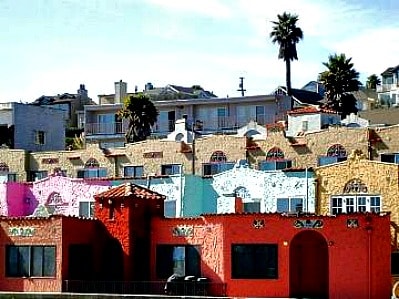 Capitola-By-The-Sea
Santa Cruz in Santa Cruz County is midway between San Francisco and Monterey on the Northern California coast and "over the hill" from San Jose.  The main cities in Santa Cruz County are:
Santa Cruz (college town for the University of California)
Scotts Valley
Capitola
Soquel
Aptos
Watsonville (more affordable area)
There are retirement communities, apartments and many mobile parks.
Dominican Oaks

  Apartment retirement living in Santa Cruz in quiet setting behind Dominican Hospital. Affordable month/month rent. Independent living while providing a service package. Nearby Pacific Ocean. Santa Cruz provides healthy living and is one of the best towns for Northern California Retirement Communities. Half hour drive to Monterey and Carmel.  Ph: 831-462-6257 - 3400 Paul Sweet Rd., Santa Cruz
Brookdale at Oak Tree Villa   Scotts Valley near Santa Cruz. Now owned by Brookdale Living Communities. Also offers assisted living as well as independent living. This is one of those communities where the surrounding environment is almost more important than the community because it offers so much. Ph: 831-438-7533 - 100 Lockewood La., Scotts Valley
Pajaro Village  800 small and mid-sized homes for over 55. Quiet, small-town feeling. Resales. Check with local Realtors. Watsonville area is a more affordable area 15 miles to Santa Cruz.  Always check California homes for any geologic hazards.  Ph:  1-831-761-3855 - 739 Bronte Ave., Watsonville  
Valley Heights Retirement apartments

  55+ apartments for over 65. Independent living apartment complex offers amenities including 2 meals/day, housekeeping, 24-hour security, market rate rents. Ph: 831-722-4884 - 925 Freedom Blvd., Watsonville
Piedmont Court  Historic Co-op building for over 55 - Prices vary. Contact local Realtors or contact me for recommendations of Realtors.  260 High St, Santa Cruz. 
There are a few unique manufactured home retirement communities in this area and many senior mobile home parks.
Resale in Los Banos
Going inland about an hour from Watsonville, in Santa Cruz County, is Los Banos.  Good location that is still close enough to San Jose to enjoy its amenities but far enough away for a country lifestyle.  Prices will be more economical as well in this area.
Four Seasons at Los Banos - Sold

- LOCATION:  Los Banos - FEATURE:   Country area approx. 1+ hour (80 mi.) from San Jose - CONTACT:  Auction Dr. and West H St.  Started from $200's by K Hovnanian.  Gated community of single homes with luxury amenities. Nice lower-priced area not too far from San Jose.
San Joaquin county:  Tracy
Coming

 Regency at Tracy Lakes - Tracy - Gated single homes in resort-styled 55+ community.  Join VIP List now for updates. Valpico & Corral Hollow Rd. - 844-790-5263 (agents)
Resale in Walnut Creek
Rossmoor

 Retirement Community

- LOCATION:  Walnut Creek - FEATURE:  Large Leisure World community - Resales - CONTACT:   Ph: 925-932-1162 (Realty) - 1641 Tice Valley Blvd., Walnut Creek - Just outside San Francisco. Beautiful area for a Northern California retirement community.  Easy drive to the wine country, San Francisco, or major Bay Area attractions.     
Brentwood (East Bay)
$800's

 Kindred and Balfour - LOCATION:  Brentwood - FEATURE:  Near Bay Area - CONTACT:  866-985-7906 and local is 925-574-8790 - Open Daily - Brentwood Golf Club next door - intimate community with amenities.  Single-family detached homes from low $800's.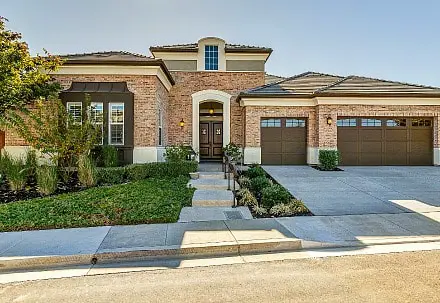 Trilogy® at the Vineyards model home
 

1 Mil 

 Trilogy® at the Vineyards - LOCATION:  Brentwood - FEATURE:   One hour to San Francisco - CONTACT:   Ph: 800-685-6494 - 1700 Trilogy Parkway, Brentwood - appts recommended for Fridays (open noon-5)  - Other days:  9-5 Brentwood - 481 acres. Single story homes, adjacent winery and golf. Unique features. East Bay foothills one hour from San Francisco. Now from high $1 Mil Plus.   Ask about Shea Green Certified Homes.
Sold in Brentwood
Barcelona - Now sold out - LOCATION:  Brentwood - FEATURE:  Attached homes with loft  - 1511 Spumante Lane, Brentwood  - Small to spacious duplex homes - homes are approximately one hour from San Francisco - clubhouse, pool and more.  See local Realtors.
Sonoma County - The Wine Country
Highly recommended area for great climate, clean air and water, country ambience, wineries and gourmet dining. Luther Burbank, who resided in Santa Rosa, said of Sonoma County, "the chosen spot of all earth."

The Meadows of Napa Valley

 - LOCATION:  Napa - FEATURE:    In wine country with great Northern California climate - CONTACT:    Ph:  1-888-327-8111 - 1800 Atrium Pkwy., Napa - In the midst of the wine country.  Rental apartments plan or community care plan with deposit and monthly fee.  Contemporary style with Mediterranean influence.  More recently, adding fine dining venue, Aquatic Center, 92 large apartments.  Ten new apartments being added.  Note: See by Appointment 1-707-320-2207
Oakmont Village in Santa Rosa

 - LOCATION:  Santa Rosa - FEATURE:   Sonoma Wine country - Resales - CONTACT:   6391 Pine Valley Dr., Santa Rosa - Open 11-5 Daily - 707-539-1611 - 3 days notice to schedule a resident tour or call local Realtor - 30 minutes to Pacific Ocean - one hour to San Francisco in the wine country of Sonoma County. North of Napa. Approximately 3000 homes - 35 years community for over 55. 3200+ homes.  Newest part of the community is now under construction and will be the last neighborhood built on Oakmont's 1255 acres.
The Orchard at Oakmont Over 55 Community in Santa Rosa

- consists of 167 homes (80% free-standing homes and others are multi-units). Two golf courses (Oakmont Golf Club memberships).  

Sold out now.

 6575 Oakmont Dr., Santa Rosa
The Meadows of Oakmont

- Prices ranged from $500,000-$800,00. 1 1/2 miles from The Orchard at Oakmont. Only 36 single homes - homes sold fast.  Willow glen Homes.

Oakmont Gardens

- Independent and assisted living at Oakmont Retirement Village.  Also respite program.  

301 White Oak Dr., Santa Rosa - 707-861-0075
Sonoma Hills Retirement Center

 - LOCATION:  Sonoma - FEATURE:   Meals and housekeeping included in rent - CONTACT:   Ph: 707-939-7856 -  405 West MacArthur St., Sonoma - 80-unit apartment complex in this beautiful area. So many community amenities yet is on a month-to-month rental basis.      Also, 2nd person fee.  Includes meals, housekeeping and more.  There is an on-site Activity Director.
MARIN COUNTY - UPSCALE AND JUST OVER THE GOLDEN GATE BRIDGE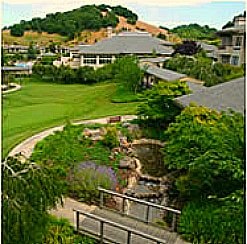 Photo by Smith Ranch Homes
Smith Ranch Homes

 - LOCATION:  San Rafael - FEATURE:    Near San Francisco in wine country; Resales - CONTACT:    Ph: 800-772-6264 - 400 Deer Valley Rd., San Rafael - 15 miles north of Golden Gate Bridge and an easy drive to the wine country.  Beautiful and upscale area in California. On 30 acres - Luxury resale condominiums and villas - Wellness Program - Own your home and monthly fee for outstanding services and amenities - Concierge, Clubhouse and much more. 
New in Sacramento Area
Dixon
Extra Suite Homes with optional kitchen
$500's

Pre-selling

 Four Seasons at Homestead - Dixon - Gated resort-styled 55+ community with single homes and some with extra suite floor plan with private entry for multi-generation living (think aging parents, returning adult children, visitors) - Amenities include pool and spa, walk trails, dog park, pickle ball and more.  Join Interest List for updates - West A St and Evans Rd - 888-807-0811
Elk Grove
Coming Esplanade at Madeira Ranch - Elk Grove - If you're interested in updates, you may sign onto the Interest List from their website now. Resort-styled 55+ community with planned 600 homes.  Elk Grove is a pretty, country-like area.
Lincoln
Coming

Trilogy® Bickford - Lincoln near Sacramento - planned resort lifestyle 30 minutes to Sacramento - Join Interest List today from website - Single detached homes - Not priced yet - 866-969-5194
$600's

 New Esplanade at Turkey Creek - Lincoln - Resort-styled 55 gated community with amenities planned for clubhouse, indoor and outdoor pool, Jacuzzi, pickle ball courts, spa, fitness center, full service restaurant and bar, recreation and more.  30 minutes to downtown Sacramento. Starting $600's. By Taylor Morrison.  1007 Lodge Way, Lincoln - 916-589-6632 - Open 10-5 Daily or make appointment from their website.
Manteca
$500's

 Venture at The Collective - LOCATION:  Manteca in San Joaquin County - FEATURE:    In master community The Collective - CONTACT:   1106 Crescent Ave. - 209-454-1337; Open 10-7 (verify) - By Taylor Morrison in Manteca - single medium to spacious 2-bedroom homes.  Start $500's. (verify)  Resort amenities.  Final opportunities.
Eldorado Hills
$1 Mil

Heritage El Dorado Hills

 - 

LOCATION: El Dorado Hills - FEATURE: 1 1/2 hours to Lake Tahoe  - CONTACT:  2968 Calypso Circle, El Dorado Hills - You can call for more information to:  877-368-8464 - Shown by appointment - El Dorado Hills north of Sacramento - By Lennar -  Small town feeling yet close to Sacramento. (approx. 1 1/2 hours drive to Lake Tahoe)   3 Collections - now priced from $1 Mil
Estates - Large single homes  
Legends at Heritage El Dorado Hills -  spacious singles  
Mosaic  
Roseville
$500's

Heritage Placer Vineyards - Roseville - By Lennar - Single ranch homes - Amenities include pool, clubhouse, gated, recreation, pickle ball courts - Near healthcare and hospitals - Call and talk to a consultant daily 9-5 for info.  916-304-9711
$500's

  Solaire - LOCATION:  Roseville - FEATURE:  Gated  493 single homes comprised of 3 communities - CONTACT:  4073 Afterlight Lane, Roseville - 916-905-1615 - Open Daily - From small to large square footage homes by Lennar in 3 neighborhoods.  Pricing starts $500's.  
Folsom
$500's

 

 

Regency at Folsom Ranch:

  Toll Brothers - Folsom - Duets start $500's. Clubhouse, fitness, pools, dog park, sport courts and more. Golf at Empire Bay Golf.  Preserved open areas.  844-849-5263
Sacramento has been popular for "boomers" to get away from urban areas like the Bay Area.  Lake Tahoe is a mere 2 hours drive away. Being so close to the mountains, Lake Tahoe and Yosemite is what makes Northern California communities so great.


Lake Tahoe shoreline
Resales in Sacramento Area
Destinations at Vineyard Point - Sacramento - By national homebuilder Lennar - gated resort-styled community of 2- and 3-bedroom smaller homes started at mid-$100's - a private clubhouse for over 55's - 7501 Chevelle Way
Glenbrooke - By Del Webb at Elk Grove near Sacramento. Elk Grove has beautiful countryside and farms.  Started from $200's to $400's. 2 and 3-bedroom homes with amenities. Offers free day pass.  9985 Westminster Way, Elk Grove
Four Seasons at Westshore - Sacramento - Gated community by K Hovnanian - California-styled architecture. 26-acre lake. Started mid-$200,000. Pool, spa, outdoor fireplace, and barbeques, bocce and much more.  Please check with local Realtors for resales. 
Four Seasons Winter at Westshore - 

Sacramento - Gated resort community of small to spacious single homes started low $300's - Known for miles of walking trails - 6-acre lake - walking trails - Natomas area.  By K Hovnanian.  4021 Del Arco Lane  
Four Seasons Spring at Westshore - Sacramento - Large ranch homes - Started at upper $300's - resort-style living.   4021 Del Arco Lane, Sacramento   
Heritage at Vineyard Creek

- Sacramento - 

By Lennar - Large singles in gated community were priced from $500's. Newest design features and some with casita.  7463 Golden Stars Way
Del Webb's Sun City at Lincoln Hills - Single-story living condominium homes, villas and single-family homes. Four mild seasons. Lake and pier fishing. Massage rooms. Halfway between Lake Tahoe and San Francisco.  Check with local Realtors for resales.  Ph: 916-625-4000 (H/O) - 965 Orchard Creek Lane, Lincoln, Ca.
Apartments at Roseville (North of Sacramento):
Sierra Regency

 - Roseville -  So many retirement community amenities and on a month-to-month basis. Fee includes meals, housekeeping, community amenities and more.  Indoor heated pool.  Ph: 916-786-3173 - 1015 Madden La., Roseville
The Club – Roseville near Sacramento - By Del Webb - 2- and 3-bedroom homes started at $271,990. Amenities for those seniors still working such as on-site concierge, 24-hr fitness center, wi-fi hot spots.  2159 Langtree Dr., Roseville
Sun City Roseville 

- Sun City is an older over 55 community developed by Del Webb now with resales only. 1200 acres of single family homes from 900 to 2600SF. 27 holes of championship golf, Timber Creek Lodge (clubhouse) is center of activity. Restaurant and sports bar, library, indoor and outdoor pools.  Ph: 916-774-3880 - 7050 Del Webb Blvd., Roseville
Auburn (North of Sacramento)
Between Sacramento and Lake Tahoe-Sierra foothills area is very popular with seniors. It is warmer than living in the higher elevation mountains in the winter yet close to mountains for lakes, fishing trips and other outdoor activities.

Holiday Retirement Corp. - Auburn is in the Sierra foothills and easy drive to Lake Tahoe. Apartment homes for rent with services.
Ph: 530-392-4090 - 3250 Blue Oaks Dr., Auburn
New Homes at Rio Vista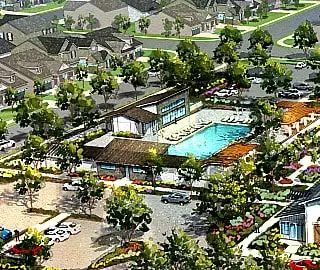 Summit at Liberty aerial view
Summit at Liberty by LGI Homes - LOCATION:   Rio Vista - FEATURE:  Amenity-rich for 55+ in the East Bay; starting $500's - CONTACT:    2079 Stars Dr. - 877-899-1091 - Open 8:30-8:00 - Luxury single homes in the East Bay, and 51 miles to Sacramento, with resort amenities:
Club Liberty and pool
Fitness
Gated
Community garden
Ranch House
Bocce, Raquet Center, Pickleball
Cafe
Dog Park and more
Resales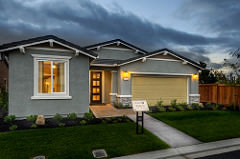 Photo Credit: Trilogy® at Shea Homes - Rio Vista
Trilogy® at Rio Vista by Shea Homes

 - Rio Vista.  Luxury Golf resort community started mid-$300's -  222 Summerset Dr., Rio Vista - Sold Out  
East of San Francisco - Gated resort community near Sacramento-San Joaquin River Delta.  Explore their Center for Higher Learning. Some of the possible subjects are: computers/internet, digital photography, foreign languages, pottery.  The Golf Vista Club features facilities for pool, indoor running track, aerobics, cardio equipment, weight training machines, personal instructions and Fitness Studios for classes. 
Woodbridge by Del Webb in Manteca - Sold - In Manteca, country area between Sacramento and Bay Area.  Large luxury homes South of Sacramento.  Two and three-bedroom homes started low $300's.  Community has gorgeous clubhouse, pools, many more amenities and 18-hole putting course.  1451 Americana St., Manteca
Four Seasons at El Dorado Hills (North of San Francisco) - By K. Hovnanian - gated community in Sierra foothills - within 90 minutes to Lake Tahoe.  Four Seasons Drive.
Chico
(2 hours north of Sacramento)
View Larger Map
The town of Chico is in a beautiful location north of Sacramento and 1 1/2 hours from Lassen National Volcanic Park known for beautiful scenery, area hunting, and fishing.
Sycamore Glen

 - Chico - This retirement community could be listed in our apartment category since it is on a month-to-month lease basis but has so many community amenities. Included in monthly rate is all-day restaurant-style dining.  Also offering weekly housekeeping, laundry facilities, utilities except phone, 24-hour staff available, emergency response system. Amenities include a library, beauty shop, exercise room, theater, and cozy area with fireplace. Studio and one-bedroom units. Their website lists the rates.  Ph: 530-894-0384 - 1199 Diablo Ave., Chico
Most Popular 55+ Communities on this Page*
1. Smith Ranch Homes - Marin County Resales
2. Rossmoor (Walnut Creek)
3. Oakmont
Guide
Find by Location:

View
Northern California
in a larger map
San Jose, Santa Cruz, Watsonville
Walnut Creek, San Rafael, Sonoma, Santa Rosa, Napa
Brentwood, Elk Grove, Roseville, Auburn, Lincoln, Rio Vista, Eldorado Hills, Manteca, Sacramento
Chico

Find by Price:

Key to Starting Prices:

 $ -Under $100,000 
$$ - $100,000 to $200,000 - $$$ - $200,000-$300,000
$$$$ - $400,000-$500,000
$$$$$ - above $500,000

$$ - Pajaro Village | Valley Heights | Rossmoor | Destinations at Vineyard Point | Smith Ranch Homes (up to $$$$$)   |   Four Seasons at Los Banos
$$$ - Glenbrooke | Four Seasons at Westshore | The Club Roseville | Woodbridge   |   Heritage at El Dorado Hills  | Four Seasons Winter   |   Four Seasons at Beaumont  |  Summit at Liberty
$$$$ - Trilogy at the Vineyards  |   Heritage at El Dorado Hills   |   Meadows at Oakmont   |   Solaria  |  Venture at The Collective
Lower-priced areas are:
Areas around Sacramento  
Los Banos
Newest 55+ Communities in Northern California Chart
| NAME | Location/Start Price | Link |
| --- | --- | --- |
| 1. Four Seasons at Homestead | Dixon/$500's | See More |
| 2. Heritage at Placer Vineyards | Roseville/$500's | See More |
| 3. Esplanade at Turkey Creek | Lincoln/$600's | See More |
| 4. Esplanade at Madeira Ranch | Elk Grove/$Coming | See More |
| 5. Kindred and Balfour | Brentwood/$800's | See More |
Northern California Update Notes
---Changed Status to New from Coming:  12/8/21 Heritage Placer Vineyards; Regency at Folsom Ranch Duets
---Name Change: Trilogy® Bickford Ranch to Trilogy® Bickford
---Added Coming 4/2022: Regency at Tracy Lakes (Coming); 4/25/22:  Coming Esplanade at Madeira Ranch in Elk Grove 
---Added to Sold Out list in November 2021:  Barcelona; 4/22 Heritage at Vineyard Creek sold
---Prices Changed:  12/8/21 Heritage Solaire - now start price is high $400's; Folsom Ranch $500's
---Events broadcast: Trilogy® Bickford 
Also See:
Manufactured Homes in California