Move to Hawaii
...how I did it!

by Joanne Foxxe
Would you like to move to Hawaii. Many people have this dream but never actually realize it. Read on to see how my Realtor friend, Joanne Foxxe, actually did move to Hawaii; how she did it, the lifestyle, and her tips for you if you are thinking of living and retiring in Hawaii.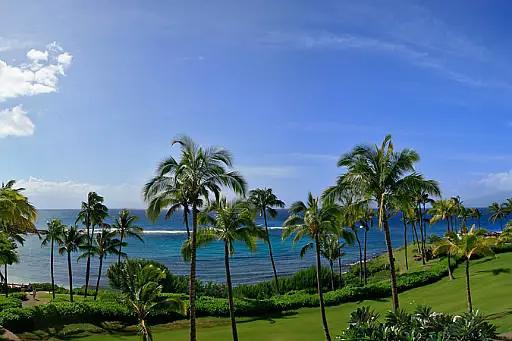 Photos on this page by Joanne Foxxe
If there is a more beautiful place than Hawaii, I have never seen it--it is paradise as this photo shows.  The map below pinpoints Maui where the author of this article now lives and actively works as a Realtor.  
View Larger Map
Joanne and I used to work as Realtors at David Lyng & Associates in California several years ago.   I told her I was envious that she was now a Realtor in such a beautiful place as Hawaii...Joanne said there are many people who retire in Hawaii and she would be happy to tell us the story of how she and her husband moved there. 
I wondered how easy that would be to do. I wondered what type of housing is available for seniors.  Joanne is a Senior Real Estate Specialist in Hawaii and I suggest you give her a call if you have any questions about relocating there.  
I began asking her a lot of questions about how she managed the move.  Joanne wrote the following unique article for Best Guide to help people understand more about what it would be like to move and retire to Hawaii.
Joanne's Move to Hawaii..
The Challenge
Moving to Hawaii is definitely a challenge--I think you have to have strong motivation to do it. Overcoming the moving expenses and the higher cost of living once you are there is not an easy task. In my case, my husband had some disabilities from his job and felt better when we visited Hawaii. For him, it was an easy decision to move to Hawaii. For me it was more difficult and we talked about it for years before actually doing it.

Our move to Hawaii was not an overnight decision. I was hesitant and he was determined. My husband and I traveled to Maui as one of our first trips we ever took together. I had been to Maui in the 70's after graduating college, and it felt like I belonged there. I lived in beautiful Santa Cruz, Ca. for over 25 years before moving to Hawaii.
My girlfriend, a Realtor from California, moved to Maui first and sold real estate there. So I had some connections there and that helped when I moved. I knew someone who had done it.
In the 70's real estate in Hawaii wasn't as expensive. Richard and I purchased 2 vacation rentals together. They were priced in the low $100's, and we spent some money spiffing them up to today's standards. They were inexpensive studios, like hotel rooms with kitchens, but right on the water with views of Molokai and Lanai on the west side of Maui which we loved. So the location was great. In real estate location is important and this was a good purchase.
Today these same units would cost over $400,000.
We were renting the units for income. However, my husband and I began spending alot of time in Hawaii whenever there was a vacancy in our unit.
My husband fears flying so at first that was a problem but he liked Hawaii so much he tried to overcome this. It is about a 5- hour flight to Maui from Santa Cruz, Ca.
Finally after several years, we began to talk about spending more time in Maui. He was talking about a permanent move to Hawaii which at first produced a feeling of resistance in me. I had a successful business in Santa Cruz, California--all I could see was the challenge. We weren't ready to retire.
---
The Dream...Live and Retire in Hawaii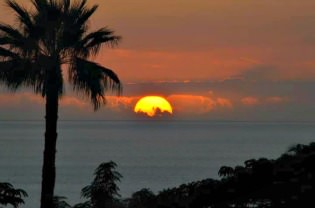 How would this come about. My husband was more determined than I was to move to Hawaii. Years of talking went by then one day he said he wanted to move there because the climate made him feel better. I gave in, still with a strange feeling about a move to Hawaii. I flew over there by myself and found a house (with help of my Realtor friend). My husband was now retired.
Ohanas
The house I found had what is called an "ohana," an in-law unit. As you'll see, this helped to make the transition easier.
The culture of Hawaii is that the seniors often move in with the children when they are old so the ohana is a popular feature found throughout Hawaii. We sold our condos to make the purchase of the house. The move to Hawaii finally came about in 2006. All of this came about after much discussion about a move to Hawaii over a long period of time, but now we are both happy about our decision and have no regrets. I have started a new real estate business in Hawaii. What a beautiful place to live.
---
Finally making the move...
Selling our Old Home
As part of the move to Hawaii we needed time to sell our home and prepare. I adjusted my attitude and considered it as a challenge. It helped that The owners of the house rented back from us for eight months, and my husband had the guest unit in which to live. This gave me time to do all the things back in California that had to be done.
I had to sell our California house. I had to pack, sell furniture, giving many items to family and friends. I had our house professionally packed since I am not very good at this chore.
Furnishing our New House in Hawaii
Our island house was a completely different look from our California house, so we re-furnished it in the Island-style. This style uses lots of rattan furniture, like beachy Tommy Bahama. I wanted everything to be new and island-style, and it blended well with some antique pieces I flew over from California. It is not necessary to do, but for me, I wanted to start afresh, with a new life and a new look. I was ready for a change.
Friends and Relatives Visiting Hawaii
When the previous owners vacated, we had the opportunity to re-paint, etc. My parents came and stayed in the guest unit on a visit after we moved into the house. Our children are all grown and on their own. We have a guest suite when they visit.  My husband has children, and he is okay living here. It is only 5 hours flying to California, which is doable. Of course, everyone wants to come and visit you too!
Moving Costs
The moving costs are anywhere between $8,000 and $20,000, depending on where you live and how much you are moving. But please verify this and have an estimate done to get the actual costs for your circumstances and distance. We also shipped over 2 cars, which moving cost was about $1000 each.  (verify costs.)
Cost of Living and Lifestyle
Food
The cost of living in Maui is very expensive. Eating out is a small fortune. Restaurants here that are very good are not mid-priced. They average $25-50 an entree. A mid-priced dinner for two would cost around $70.00. For an inexpensive meal, you can get away with $40.
There are a few places that serve great food that are not expensive. The less expensive restaurants that are gems are Hawaiian places that serve "plate" lunch or dinner, BBQ with rice, and macaroni salad, a local favorite. I just ask everyone to find those hidden gems and please let me know about them. There are also Chinese food and fast food restaurants.
Shopping at the grocery store is expensive as well. For instance a dozen eggs is about $3.99, 1/2 gallon of milk $4.99, a bag of lettuce, $5.49, a brick of cheese about $4.99--more expensive than the mainland. I hear a Whole Foods store is coming soon which we are very excited about.There is also a Costco and Walmart on Maui--the best bargains.
We have Farmer's Markets, year-round, and they are great sources of fresh fruits and vegetables, and more economical. Many people here have small gardens also. Our growing season is year-round. Everything grows so easily in this soil and climate.
There isn't the wide variety of foods as in California, especially fruits. Some fruit trees need to get cold to produce fruit. We import many of these items. However, Our pineapple, papaya and mangoes can't be beat as they are grown here and very fresh.
Utilities
You don't have to worry about heating your home. Many homes have air conditioning. Upcountry where it is cooler they do have fireplaces and heat. At the beach the temperature is pretty constant. We turn on our air maybe for a week a year. Electricity is expensive. Our house is 3700 square feet, and our bill averages $200. Our neighbor does not conserve as we do and pays close to $500/month.
The temperature doesn't vary more than 10 degrees all year and there are not many storms here, as in say Florida. We are usually in the mid 70's range. The trade winds keep us cool and the air moving. It is wonderful.
Clothes
Clothes shopping is minimal and you can save money on this since the temperature doesn't vary much. Our lifestyle is so casual. Everyone wears "slippers" which I call flip flops.
Exercise
I enjoy a walk by the beach almost daily and get in the water as much as I can--a couple times a week from April to November. I still enjoy keeping active at my job. My husband can go every day to the beach.
The Hawaiians have preserved their culture and love to share it with people who move here. For example, tomorrow is May 1, which is May day, the Festival of Flowers. We will have hula, lei making contests, artisan displays, ukelele music, vintage Aloha shirts, Maui gold Pineapple samples and Roselani ice cream to taste.
A Move to Hawaii Pros and Cons
If someone is thinking of moving here, I recommend coming first on vacation, doing your homework, and then seeing if it is feasible. Many people move here and change their minds--they don't want to be far from their families, grandchildren especially. I hear that frequently. They change their mind and move back to their old area. Many people also live here 6 months and go to their mainland home for 6 months.  That works well for some.
Healthcare
As far as healthcare, it can be challenging, so this is one thing to check out to make sure it meets your needs. There is a Kaiser here, which is a great system. However, the atmosphere here is one of health and enjoying the outdoors, which I believe adds to your longevity. (Hawaii is often quoted as the #1 healthiest place to live in the U.S.)
Housing
If you live in California, you will not think it is expensive here because the costs of living are similar. If you come from any other state, it may seem expensive. $200,000 will buy you a studio apartment on the water. $300,000 will also buy you a very small condo. (Verify prices.)
Our homes start at $400,000, but they will need work and not be in a great area. The median price on the West side, Lahaina, is $650,000 for housing.  Note:  Call Joanne for the latest pricing updates.
Our values have adjusted down with this economy, but not enough to make it more affordable for most people. It is a great time to buy here, however. We have more inventory than ever and sellers are getting more motivated to sell since there are fewer buyers.  (This is dated information.)
Latest real estate price information:  Check Joanne's website for regular updates on the status of real estate sales in Hawaii.
We cannot compete with Florida home prices, especially in this market.  Nor do we need to compete--I feel Hawaii is a special place to live.  I have spent a lot of time in Florida, and Hawaii has many unique and beneficial features that Florida does not.  
We have mountains, beautiful uncrowded beaches close at hand, culture beyond compare, lush tropical jungles with waterfalls, pools, and natural plantings and so much more.  It is beautiful beyond compare. There are also fewer bugs, snakes or other creatures on Hawaii--and we do have beautiful birds.
Retirement Communities in Hawaii
Kalama Heights in Maui
We do have one retirement community in Kihei, Maui by Holiday Retirement. These are apartment-styled homes that are for rent. It is called Kalama Heights. Holiday also has a retirement community in Honolulu called Hawaii Kai.

Kalama Heights has studios for one person starting around $3200/mo. (Please verify as rent rates change.) There are also 1 and 2-bedrooms.  This includes 3 meals/day, housekeeping, their transportation schedule, free wifi in common areas (verify) and more.  It is 5 minutes to the beach!   Phone them at 808-518-4987.  Also, the facility in Honolulu, Hawaii Kai, is at 808-395-9599. The Hawaii Kai facility also includes assisted living.
There is also a snowbird lease for one month.  Lease terms are month- to-month.  There may be a required 3-month stay at other times of the year. If you need furniture they may be able to lend it for 6 weeks depending on availability.
We do not have active adult communities in the style of Del Webb, but we do have a lot of private communities with golf.  We are a golfers heaven on Maui.
In addition to the independent living retirement communities, above, there are facilities for independent and assisted living for the elderly:
Hale Makua

Home Health Senior Apartments
1520 Lower Main St, Wailuku, Hi  

Kahala Nui

 (life care community - deposit required)
4389 Malia St, Honolulu, Hi 
'Ilima at Leihano Senior Apartments by Kisco Senior Living
891 Kama'aha Ave, Suite 101, Kapolei, Hi 

Kaneohe Elderly Apts

.  
45-457 Meli Pl, Kaneohe, Hi

Manoa Cottage Care Home

Senior Apartments (assisted living and  nursing)
2035 Kamehameha Ave, Honolulu, Hi

Oceanside Hawaii Assisted Living

Apartments (assisted, memory care and also nursing)   
53-594 Kamehameha Hwy, Hauula, Hi        
Pauahi Elderly Housing Senior Apartments
167 N Pauahi St Fl 1, Honolulu, Hi  

Plaza Assisted Living At Punchbowl

 (Independent and assisted living with memory care and respite programs-137 residents)
918 Lunalilo St, Honolulu, Hi

Plaza at Mililani

  (opened 2010 - assisted living and memory care)

Plaza at Moanalua

(opened 2012) - Independent, assisted living, memory care - Near Kaiser - 160 residents)

Plaza at Pearl City

- Opened 2014 - Independent, assisted living and memory care - 158 residents)
Plaza at

Gateway to Waikiki

- Now Open - (independent, assisted living and memory care) 1812 Kalakaua Ave., Honolulu
I am a Realtor with Kapalua Realty located in the Kapalua resort.
The resort is the home of the first PGA golf tournament of the year, at our Plantation Course. In October, we host the LPGA women's tournament at the Bay course. Both courses are just fabulous. We have tennis, kayaking, snorkeling zip lines, hiking, and gyms for a total workout.
I live near Kapalua, and love it--very little traffic. I have views of Lanai and Molokai, 2 islands, from the "upper road." It is heaven for me to be living here.
---
Period of Adjustment to Hawaiian Lifestyle
It did take me a bit of time to adjust to living in a new place after our move to Hawaii, but I have no regrets. I have a partner in my business in Santa Cruz, California, and I am building my real estate business here on Maui.

Choosing an Area to Live In
I have been to all the islands, and chose MAUI as the best for us. I can't speak for others who live on various islands. The Big Island has active volcanoes, and sulphuric acid in the air. It is more affordable than Maui. Oahu has Honolulu, a huge city, and more people, which many like. Kauai, the "garden island," is the northern most island, very beautiful, but it receives the most rainfall.
Each island has their own personality. They are all so beautiful in their own ways. There is also Molokai and Lanai, which are smaller islands. Molokai has a population of a little over 7,000, and they want to keep it that way.
Lanai is privately owned, and houses two Four Season Resorts and golf courses. They are both beautiful. One is a beach resort, the other a mountain resort, with a shuttle connecting the two. Four Seasons Resort will connect you to those hotels.  
If you have any questions about your move to Hawaii, please give me a call at the numbers listed below. I feel very fortunate to live in such a beautiful state.
Mahalo, Joanne
Hotels on Maui
My Note on hotels: When I visited Hawaii, I very much enjoyed my stay at the Hyatt Regency on Maui.   My daughter has stayed at the Fairmont Kea Lani.  (The Fairmont has a vegan friendly menu and also "caters to diet dependent conditions."  One would think this would be of special interest to seniors.)  Here is a vacation review of Maui with beautiful photos.

You may also like Northern or Southern California retirement listings