Maryland Retirement Communities for over age 55
..some of the finest 55+ communities anywhere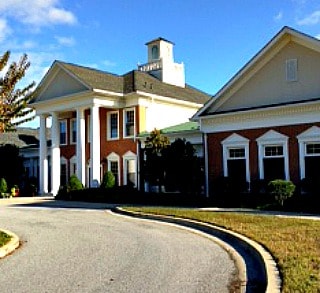 Colonial Charles clubhouse
Pros and Cons of Retiring in Maryland
Marylanders in the DC suburbs sometimes have a difficult time deciding if they want to retire in Maryland.   Maryland retirement communities have:  
Long cold winters
Humidity in summer
Snow 
Higher prices
And traffic in metropolitan areas 
Weather and traffic have long been the least desirable features of the metropolitan area and suburbs of DC.
Some reasons for staying are usually:
Friends and family in the area
To be near a great cultural city like DC with museums, world-class entertainment, airports, world cuisines and more.
Lots to do
Short getaways to ocean and beaches
Enjoying the change of seasons
Many seniors become snowbirds and leave their retirement communities in Maryland for warmer states during the long cold winters. Many exit Maryland 55+ communities beginning Nov. 1 and  return back in May.  Southern Florida and the Carolinas are frequent choices.     
There are great classic retirement communities here, many filled with professionals who have enjoyed interesting government careers and desire to continue an active lifestyle in retirement.  Clubs of all kinds and variety, golf, card groups, and travel clubs are popular activities in Maryland over 55 communities. 
The options for retirement homes in 55+ communities in Maryland are luxury single homes, condos,  CCRC's, market-rate apartments for 55+ and Maryland low income apartments. 
Urban living in Maryland
You may consider apartment-styled communities located in urban areas.  Although not designated over 55, are very walkable to shopping and services, which may be what you are looking for.  They are plentiful in the DC-MD-VA metropolitan area.  
---
Retirement Communities for 55+ in Montgomery County
The affluent county of Montgomery County is a suburb of DC and includes Silver Spring, Rockville, Gaithersburg, and the upscale communities of Bethesda, Chevy Chase and Potomac.
RESALE 55+ COMMUNITIES IN MONTGOMERY COUNTY
Clarksburg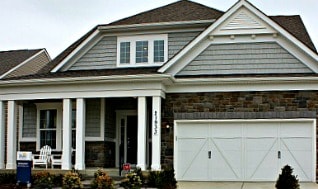 Courts of Clarksburg
Courts of Clarksburg
LOCATION:  Clarksburg 
FEATURE:    Part of Clarksburg Village master community 

CONTACT:   21937 Boneset Way, Clarksburg - (Ridge Rd. and Snowden Farm Parkway)  

Picturesque community 5 miles from Montgomery Village (Gaithersburg) shopping - medium to large single homes started in $500's -  Country views. Clubhouse.  Pool is Clarksburg Village pool.  Close to lots of shopping.  By Pulte.
Read the Review of Courts of Clarksburg
Senior apartment community in Clarksburg Village
The Elms at Clarksburg Village Encore - Apartments for 55+ - Part of the Village of Clarksburg.  Rental prices started $1600's (verify as rents can change.)  Walk to shopping and more.
22800 Sweet Shrub Dr., Clarksburg - 301-515-4799 - Leasing office is located at 12200 Elm Forest Court.
Silver Spring/Olney Classic 55+ communities
Leisure World of Maryland - large age-restricted retirement community for over age 55
Leisure World of Maryland - A large 55+ guard-gated community of over 9000 residents.  See our review which lists some of the numerous clubs at this community.
You will think you entered another world away from traffic congestion yet full of seniors over 55 enjoying an active lifestyle. Tennis, 3 pools, indoor and outdoor, (the outdoor pool is now free to residents), spa, 3 restaurants on-site, 18-hole golf and pro shop, bocce, ping pong, computer center, woodshop, jewelry making workshop, garden plots, clubhouse for special speakers and events, movie theater, groups, organizations and clubs of all kinds, two churches and medical center.  
The village-like Leisure World Shopping Plaza featuring a Giant Food store is next door to Leisure World and is walkable for most residents. There is also a Sunrise assisted living community adjacent.
Several housing types are available: Co-ops, condos, singles, duplexes and villas.  There are only resales at this time.  There are older buildings and very recent ones as they were developed at different times.  Rentals can be found by private owners at reasonable prices.    (See our review.)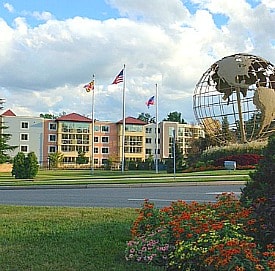 Entry at Leisure World of Maryland
Address of Leisure World: 
3701 Rossmoor Blvd., Silver Spring, MD 20906
(off Georgia Avenue)  301-598-1044 (Front Gate).  Wheaton exit off Highway 200.
Riderwood CCRC in Silver Spring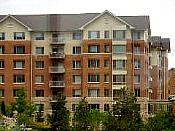 Erickson Continuing Care Communities  Apartment homes for age 62+. Large community features pool, spa, shuttle, guest accommodations, indoor outdoor corridors, many activities and more.  Erickson states Riderwood is "sold out" but recommends getting on the wait list.  3140 Gracefield Rd. - 301-719-5659
(Be cautious when purchasing a continuing care apartment and check the finances of the community as large deposits are often required.)      
The Review of Riderwood in Silver Spring
Rockville Retirement Community
Ingleside at King Farm in Rockville
Ingleside at King Farm - Rockville, MD - Active adult continuing care community in Montgomery County, MD, suburb of Washington, DC. Also, has assisted services. Walk to shops and restaurants. (verify) Part of award-winning King Farm. Best way to see this community is to Sign up for a scheduled event or call.
701 King Farm Blvd., Rockville - 240-499-9019 

Gaithersburg
Asbury Methodist Village in Gaithersburg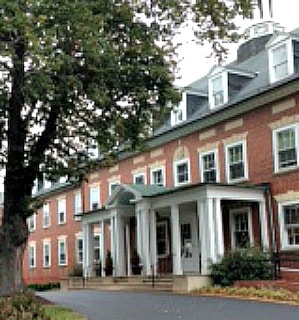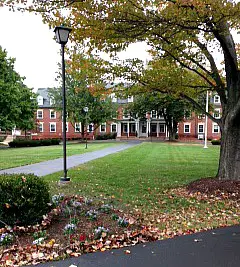 Asbury Methodist Village  - Gaithersburg - Another large, popular continuing care community with amenities, services and activities. Residences can be homes, villas or apartments (entry fee and monthly fee) for many living options.
Gaithersburg is a popular area of employment centers, residential neighborhoods, and activity in Montgomery County. Government and college and university employment centers are located here.
201 Russell Ave., Rockville - Visit Weekdays Mon-Fri 8:30-5PM or Visit Saturdays at 9-4 at 201 Odendhal Ave. - Sundays and other times: By Appt. - Phone: 301-216-4001  
Prince Georges County Resale 55+ Communities
Prince Georges County is another large county which is a suburb of DC. and easy access to government employment.  Some beautiful communities for seniors have come out in recent years and sold or rented out quickly.  See the following:
Laurel
Victoria Falls - luxury apartment buildings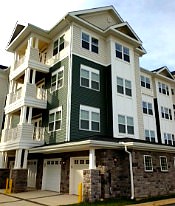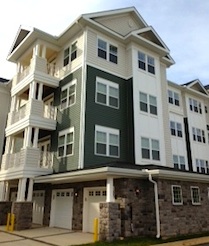 The Willows at Victoria Falls - 55+ luxury apartments in resort atmosphere -   Indoor and outdoor salt water pools, tennis, Fitness, walking trails and more. 4 floorplans of 2 bedroom, 2 bath homes. Smoke-free buildings.  14401 Belle Chasse Blvd., Laurel - 301-317-7701
Retirement Communities in Laurel-Resales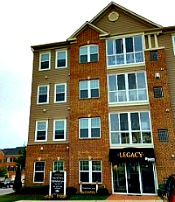 Legacy at Cherry Tree - Laurel - 2 BR, 2 BA  elevator condos were priced from $240's.  See builder for county information as this may be in Howard County.  See Baltimore on our site for Howard County homes. Ryan Homes.   8460 Ice Crystal Dr., Laurel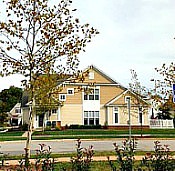 Central Parke at Victoria Falls in Laurel. Resort communities by Central Parke. Slenker Communities. Award-winning community of 609 condos, villas and homes.  One mile to Laurel-Beltsville Hospital and minutes to rail transportation to DC and Baltimore.  25 minutes to BWI airport.  Resort clubhouse and Lifestyle Director.
Belle Chasse Blvd. and Contee Rd., Laurel
Upper Marlboro
Cameron Grove Resort Center
Cameron Grove - Sold Out - Upper Marlboro is the county seat of PG County - Resort community of homes   - See the luxurious Resort Center - The cottage homes (attached homes) are sold out.  Stavrou Associates.
12919 Fox Bow Dr. - 301-249-5900  - 3 miles off Exit 15-A off I-95 - Now by appointment only for one remaining home

Fort Washington 55+ apartments and condos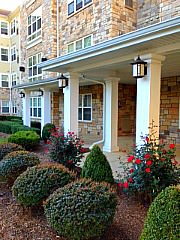 Chestnut Oaks - Fort Washington. For 62+ luxury active adult condos. 1 and 2 bedrooms and 2 BR with den. 15 floor plans (verify).  Also rentals from $1350's (verify as rents can change) and rent-to-own program - Near the new National Harbor, urban waterfront development in Prince Georges County.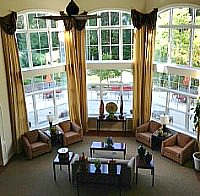 Chestnut Oaks elegant lobby
Stacked washer/dryers in units. Elevators.  Amenities include sauna, low maintenance lifestyle, spa, game room, beauty salon, exercise room, arts and crafts, business center and more.   
1800 Palmer Rd., Fort Washington - 240-766-1676 - not open Sundays
National Harbor
National Harbor  The new development of National Harbor is not for over 55 but many baby boomers who are seeking urban energy are taking an interest in exploring this development that has many scenic views of the Potomac River and waterfront shopping and restaurants. Marina.
165 Waterfront St., National Harbor, MD - 301-203-4150  
Resale PG County:
Legacy at Regent Park

Mitchellville - Ryan Homes - Resales
Legacy at Manning Village by Ryan Homes

- Southern Prince Georges County in Accokeek - Ryan Homes - $$ - Start $220's - villas up to 3 bedrooms - Clubhouse, pool, bocce courts, walk trails.  Sold out. 
Please Note: Even if a community has sold out, we leave it on our website because there are usually resales.
Tip: If you are traveling a great distance to see a community, be sure and verify the days and times open before going. To be extra sure, make an appointment.  If you are working with another Realtor, be sure to inform development when making appointment. 
Western Maryland
New and Resales in Frederick 
Urbana
New  

The Woodlands Villas - by Ryan Homes - Condos from upper $300's - Resort-like community near Frederick.  Urbana, Md. - 9254 Starlight Mews South, Frederick County - Call to see models 240-249-8275 - Open Daily by appointment
Villas at Boxwood - Sold - By NV Homes - In master community Villages of Urbana 7 miles to Frederick and an hour's drive (approx.) to DC.  Large luxury villas and homes with community amenities were from $400's.  9206 Bealls Farm Rd., Urbana 

If you are wanting the country life and fresher air, then go out Highway 270 towards Frederick and Hagerstown, areas further out from DC that offer less expensive housing and cleaner air. This desirable area is experiencing tremendous growth in recent years with new retirement communities.
See our Review of 2 Frederick Area Retirement Communities (Resales only)
Legacy at Greenview

Singles and Villas - In New Market - Price-$$-$$$ - By Ryan Homes - single family homes up to 4 bedrooms and 3 1/2 baths and villas. Many home options such as morning room, sunroom and more. Near quaint shops and restaurants. Pool, clubhouse, tennis and many other amenities. Now sold out.  See Review.
Village at Freedom Hills  By Admar Custom Homes - New Villa homes from low $200's.  YMCA nearby.
13982 Patriot Way, Hagerstown - 301-694-4600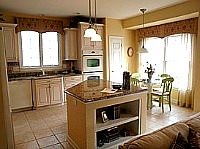 Sold out - Village at Foxfield - Middletown Valley near Frederick - by Admar Custom Homes - Scenic views - golf courses nearby - award-winning one and two-level homes started lower $300's.
Check with local Realtors.  Layla Drive 240-490-7566  See our Review.   
Southern Maryland
Resale Communities in Southern Maryland:
Colonial Charles villas and homes in Waldorf: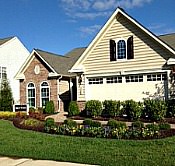 Colonial Charles Villas - Sold out - Waldorf by Ryan Homes - Townhomes with first-floor suite were from $260's. - Also, single family homes from $270's.
Ryan took over this development from previous builder and is now building single homes and villas.  Ryan also redid the clubhouse.   

Low maintenance lifestyle 3-bedroom floor plans with 2-car garage in both singles and villas. Energy star certified. Prices started $240's for villas and $280's for singles.  3226 Shadow Park Lane, Waldorf, MD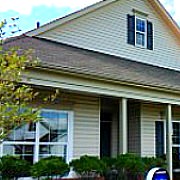 Heritage at St Charles by Lennar   Sold out - One-level 2, 3 and 4 bedroom spacious single homes with 2-car garage started from low $300's - Also, villa homes now for resale.  Commuter train nearby to DC.  Low homeowners fees.  Clubhouse, tennis, inside pool and more.  Charles County.  11171 Commanders Lane, White Plains 
See our Review of Heritage St. Charles.
Bayside at Ocean City

- Berlin - Worcester County - by Toll Brothers 
Central Parke 

at Colonial Charles - Waldorf in Charles County. Slenker Communities - Luxury condominiums, villas. Also single-family homes.
Lifecare Communities
Top 3 Most viewed on this page:
| | | |
| --- | --- | --- |
| Courts of Clarksburg | Victoria Falls | Leisure World of Md |
---
See Separate Pages for Maryland: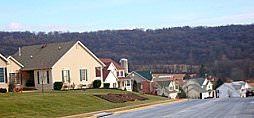 You may also like:  Virginia Retirement Communities for 55+
Maryland