San Diego Retirement Communities
..communities for over 55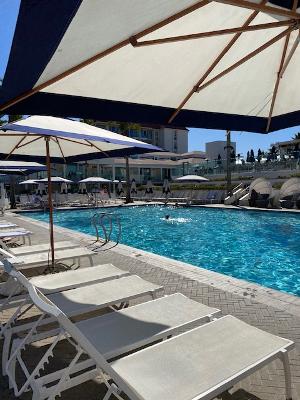 Hotel Del Coronado in Coronado, San Diego -best pool ever!
Most of our San Diego Retirement Communities are older with only resales.
San Diego has a near perfect climate averaging in the high 70's year-round. You can enjoy outdoor dining, sports and ocean amenities.
Due to the high percentage of seniors in San Diego County, there are many local senior centers in San Diego County and supportive services.

Manufactured homes in this area represent good value.

Kayaking is popular as well as biking, swimming and hiking in this year-round outdoors mediterranean-like dry climate.
Enjoy Mexican food outdoors patio-style in San Diego's "old town." Enjoy the night life activity downtown. Or simply sit and enjoy the ocean breezes.
Contents
Oceanside
Carlsbad
Encinitas
La Jolla
City of San Diego
Coronado
Chula Vista
Inland Areas
Rancho Bernardo
Mobile communities
Most Popular
Oceanside - the most northern part of
san diego county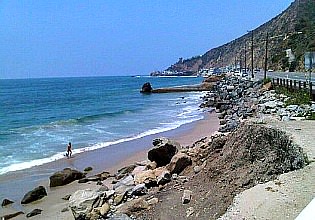 Beach by Pacific Coast Highway
See the cities for San Diego County on the map:
View
San Diego Retirement Communities
in a larger map
Resale communities in Oceanside
Oceanside is a tri-city area/known for fishing. Official Website for the City of Oceanside
Ocean Hills Country Club 

Oceanside - Clubhouse, pool and spa, 18-hole golf, tennis and more - fully gated premier retirement community with 24 hour patrol - Resales from $300's-$800's (verify with local Realtors - 4600 Leisure Village Way, Oceanside, Ca. 760-758-7080
Resale communities in Oceanside with low H/O Fees:
Emerald Lake Village

-

Newer gated manufactured homes built in 90's (verify) - community 7 miles to ocean - clubhouse, pool, spa - Emerald Dr., Oceanside
Peacock Hills

 834 to 1255 Sq ft homes - approx. $300's (verify pricing with local Realtors) - Oceanside Senior Citizens Center 4 1/2 miles - 5 miles to coast - manufactured homes incl cost of land - built 1977-1980 - 900+ homes. 1525 Peacock Blvd., Oceanside - 760-708-3036 (Board) 
Newer Resale Homes in Oceanside:
Villa Trieste

 - Rancho del Oro Rd. area of Oceanside - newer community built in 90's - condominiums and duplexes ; Clubhouse, pool, spa, bocce ball, walk path - upscale appearance - condos may have fireplace - homeowner's fees pays for gate, insurance, sewer, trash, exterior building maintenance (verify) - close to ocean amenities. 100+ homes.  
Oceana

In Oceanside - 4-6 miles from coast. 5 condominium communities built from 1964-1986 - each community has a clubhouse, pool, spa - some with RV parking  

Original Oceana Community Association Website for more information

 Oceana is a village of five retirement communities with very moderated climate due to their locations 4 to 6 miles from the cool coastline breezes.
Pilgrim Creek Estates

- Oceanside - Gated community of detached manufactured homes built in 1980's. 760-967-6254
Resale Community Near Camp Pendleton in Oceanside
Pacifica

- Oceanside - 1970's detached homes and duplexes. Clubhouse, pool, tennis and 5 miles to ocean amenities. Near Camp Pendleton. 760-967-6254
Just South of Oceanside:

Carlsbad on the Coast
Carlsbad by the Sea

- Front Porch continuing care community. Provides meals and services. Over 3 acres on the ocean. From studios to 3 bedrooms. Pool, spa, art studio and more.  They feature a retail art gallery. Entrance fee and monthly fees - 2855 Carlsbad Blvd
Camino Hills

 Gated manufactured homes community built late 80's - just 3 miles to Coast.
Lakeshore Gardens

manufactured homes Carlsbad
Solamar

manufactured homes - Across from South Carlsbad State Beach - clubhouse, pool - some homes with ocean view. 
Tavarua by Meta Housing - 50 affordable housing apartments  across from senior center - some with ocean views.  Smoke-free, community center, Fitness.  
3568 Harding St., Carlsbad - 310-575-3543
Note:  For Golfers: Resident Rates in Carlsbad:
Residents of Carlsbad can enjoy resident rates at The Crossings Municipal Championship Golf Course (verify) The Crossings Golf
Encinitas
South of Carlsbad:
High Country Villas

- Attached homes and 2-story condos.  9- hole golf, clubhouse, bocce ball, walk trails, pools and spa. 3 miles to Scripps Memorial Hospital.
La Jolla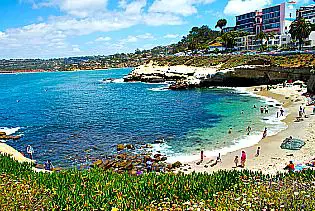 LaJolla Cove photo by K Patalsky
Casa de 

Mañana - La Jolla - Senior apartments by Front Porch - ocean amenities nearby - 14 miles to San Diego city - independent and assisted living in an elegant community - shop and dine at LaJolla Village.  Starting rents in $4000's/mo. - Includes some services. 849 Coast Blvd., La Jolla - 800-959-7010

Vi Living at La Jolla

 - La Jolla - now Vi at La Jolla - Independent and assisted continuing care community in the Golden Triangle of San Diego.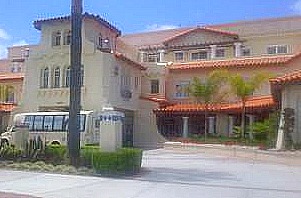 Independent living in LaJolla
Pacific Regent

 - La Jolla - Independent lifestyle - condo home purchase - near coastline by 

Watermark.

  - Luxury amenities include:  concierge, heated pool and spa, tennis court, gated entry, valet parking, gourmet restaurant and more.  3890 Nobel Dr., San Diego -  858-768-2153
City of San Diego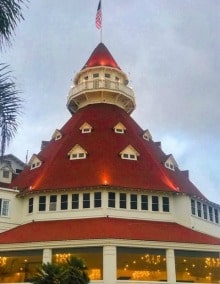 Hotel Del Coronado in San Diego by KPatalsky
Independent Living:
Wesley Palms

 - San Diego - offers another option for your retirement - rental independent and assisted living that provides meals, housekeeping and more in a convenient San Diego location. No entrance fee - monthly rates Includes dining, housekeeping, utilities, scheduled transportation, and more (please verify). 
Patio homes with monthly rent includes many amenities and services.  Saltwater pool (verify) - 2404 Loring St. - 858-274-4110
Paradise Village National City 1/4 mile to San Diego city line - Independent and assisted living - there is also a seasonal stay program - good way to "try out" the San Diego area.
Coronado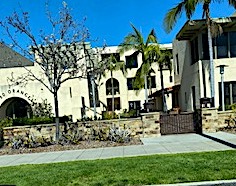 55+ Community in Coronado
Coronado Seniors at 550 Orange Ave., Coronado.  Please see more senior communities on the Coronado government website.
Chula Vista
Fredericka Manor - Chula Vista - No entrance fee - Variety of home styles. Monthly fees include meals and housekeeping.  2 and 3- bedrooms, studios and cottages. Alongside the beach area with shopping and outdoor cafes. There is also a skilled nursing center.  183 3rd Ave., Chula Vista - 800-310-4696
Avante del Sur - By Lennar - 119 attached solar-powered condos - clubhouse, pool, fitness and more - up to 3 bedrooms - elevators in some 2-story plans -  upgraded features - Were from upper $600's 16750 Coyote Bush Dr., San Diego - See local Realtors
New 55+ Homes coming soon to Chula Vista
 Haddington: A New 55+ Community by Cal West Homes in Chula Vista
coming soon
Haddington at Cota Vera  by Cal West Homes is located in the master community of Cota Vera in Chula Vista, California, south of San Diego. It is scheduled to open by the end of 2023 and should be exciting news for anyone wanting to purchase in a new 55+ community in the San Diego area.
Location and Housing of Haddington
Haddington at Cota Vera is planned to be a gated community that features a mix of single-family homes and 2-story paired homes.  With its location only about ten miles south of San Diego, you can visit the world-class City in 10 minutes to a half hour drive approximately depending on traffic (verify).   

Whether you want to be retired or not, the range of sizes and layouts aim to fit a variety of lifestyles.  The homes will have:
2-3 bedrooms 
Medium to large sizes 
2-car garages, and yards 
Planned clubhouse
Planned Pool
Additional amenities are in the Cota Vera master community such as Bark Park, shops, outdoor concerts, art walks, classes, Waywell Lifestyle Program, and more.  Their website explains their emphasis is on healthy living.
Approximately 70% of the homes in Haddington will be single family, which should give you desirable privacy and space for your retirement years. The current estimated starting price for Haddington at Cota Vera homes has been stated on the Cal West website to be high $600,000., making them relatively affordable for anyone looking for quality homes in this location.  (Verify pricing as it can change before the community is offered.)
Additional Information about Cota Vera apartments
I thought some may be interested in knowing there will be affordable housing apartments at Cota Vera coming soon called Encelia.  Please note these are not for seniors only but if you qualify it may be a good choice for those who are looking for apartments in this location.
Is Chula Vista in San Diego? 
Chula Vista is in San Diego County and is a suburb of San Diego with a large population. It is near the border with Mexico about 8 miles away (verify).   
Inland areas of San Diego County
Inland from Encinitas
Auberge at Del Sur by CalAtlantic Homes - Within the master community of Del Sur - Resort amenities.  Gated community of small to large homes on single level. Some with 2-story option.  Clubhouse, pool, spa, fitness, recreation and social activities.
San Diego Retirement Communities at San Marcos
Las Brisas

- Mobile and manufactured homes with tiled roofs --very southern California. Being close to coast brings cool breezes - detached homes.   Electronic gate.  Clubhouse, pool and spa.
Lake San Marcos

 - Not over 55 for most of the homes in this large community but the Chateau Lake San Marcos community here consists of independent living with assisted living available, if needed. Independent living provides meals and housekeeping. It's a non-smoking community. 2 or 3 story buildings. There is a pull-cord emergency system. Amenities include a clubhouse, pool, spa. Unlike Lake San Marcos, this community for seniors is gated. Monthly homeowners fees.  
Chateau Lake San Marcos

- Apartment-like homes for purchase in multi-storied buildings.  Gated entrance, fitness amenities - services - restaurant - refined luxury living.  760-471-0083   
Fallbrook
Fallbrook is a country area near Camp Pendleton one hour to San Diego and 1 1/2 hour to Los Angeles.
East Ridge

 - Fallbrook - gated community of custom homes.  See local Realtors. 
Rancho Monserate

-  Fallbrook - mobile and manufactured homes on 96 acres (mobile homes are those built before 6/15/76-they are called manufactured homes if built after that date) Golf course, tennis, heated pool and spa - resident-owned lot.
Santee
Meadowbrook Mobile Homes - 2 miles from Carlton Oaks Golf Course - pool and recreation - 8301 Mission Gorge Rd.

 
Retirement communities at Rancho Bernardo
Very popular Rancho Bernardo is known to have one of lowest crime rates (please verify). 24 miles to city of San Diego. 
Oaks North

 55 community in Rancho San Bernardo. Many facilities for every interest, pool and spa.  
Seven Oaks

 13 miles to coastline - First started in 60's - attached and detached singles of variety of sizes.  Very active with many clubs and activities as listed on their website.  
The Remington Club

 

Also has Seasonal Stays

 - Rancho Bernardo luxury independent and assisted living community.
Warner Springs
Stone Ridge Estates - Warner Springs near Temecula - approx. 2 hours to Los Angeles - resale manufactured homes in hills of San Diego County with pool/spa, clubhouse, on-site manager, RV storage and more.  See local Realtors.
35109 Highway 79 South - Ph: 800-649-8028 
Mobile/Manufactured community in Valley Center
---
Most popular on this page:
| | | |
| --- | --- | --- |
| Ocean Hills CC | Skyline Ranch | Peacock Hills |
---
Please verify all information and prices for San Diego Retirement Communities as they can change. We make no recommendations for Realtors or communities. Please seek advice from local Realtors and do your own thorough investigations.  We are not associated with the communities reviewed.

Return to Southern California Retirement Communities
Return to Bestguide-Retirementcommunities home page