... Find retirement communities
... And where to retire

...helping you find retirement communities to make your dream of retirement a reality...
The senior or retirement years can be a time of great enjoyment as you explore, play, and learn.

Communities are located in the best places ...whether coastal, urban, country...
Our goal is to help you find cities and towns and the communities in them. Read our descriptions and visit them to determine if they are right for you.
Looking for Over 55 communities only? Although we have all types of retirement communities, age-restricted, assisted, apartments, resort, non-age-restricted, independent and more, we do not mix them all together. Find them in separate categories.

How to use this site:
If you wish to know all the communities in an area, you must go to separate categories as we do not mix them. Example: for the Lacey, Washington, area, check the following: over 55 communities, manufactured homes, mobiles, and apartments.
Find over 55 by Region or popular states on the side bar, or go here:
AL   |   AZ |  AR  |   N CAL  |   S CAL  |  CO  |  CT  |   DE  |   FL  | GA  |  HI  |   ID  |  IL  |   IND  |  IA  |   KS  |  KY  |  LA  |  ME  | MD  |  MA  |  MI  |  MN  |  MS  |  MO  |  MT  |  NE  |  NV  |  NH  | NJ  |  NM  |  NY |  NY-Long Island  |  NC  |   ND  |   OH  |  OK  | OR  |  PA  |  RI  |   SC  |  SD  |  TN  |  TX  |  UT  |  VT  |  VA  |  WA State  |  WV  |  WI  |  WY  |
Custom Search
---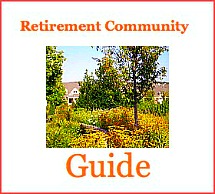 Select the right lifestyle for you:
Active Lifestyle:
For over 55

-

Sometimes called age-restricted. They are rich with amenities for active seniors.

Senior Apartments

-

Rental apartments for seniors with many or few amenities.

Active Adult

-

Geared toward amenities and rules desirable for senior or retired lifestyle but not necessarily age-restricted.

Independent -

Combination of active and assisted living.  May be age-restricted to 55 or 62.
If you are interested in Assisted Living, see our new Assisted Living site.
Manufactured homes:

Popular now:
| | |
| --- | --- |
| | See more categories on the side bar or go to Site Map. |
| | |
| --- | --- |
| | choose your lifestyle..condominiums, villas, single homes, townhomes, apartments and more--and locale..ocean, lakes, mountains, urban, college and small town.. |
Bestguide's interviews with some of the best experts:
We believe we have some of the most authoritative articles that you will find.
| | |
| --- | --- |
| | Newest article: Maine Living by Will Honan, Marketing Director of Highland Green Community in Portland, Maine. |
"RV Park Life--What is it Like" 


This is our most popular article and of interest to snowbirds and those interested in mobile home life. Our guest is an owner and developer of mobile home parks.

| | |
| --- | --- |
| | Our guest is a long-time resident in the Hill Country and co-owner of a mobile home park there. |
See More--our own original Interviews with some of the best experts graciously contributed at our request.
Newsletter signup:
News
The big news of the past year is that prices moved up slightly nationwide.  The West had the largest increase.   
We have been adjusting prices but have not had time to do them all.  This is not intended to be hype but we are alerting you to the facts we have recently noted for your information.
This is not for all markets so consult with local Realtors of the area you are interested in and for advice.  Also check with communities for the most recent pricing.
Inventories of foreclosures continuing to rapidly decline and less builder inventory available increases prices.  
March Update:  It's been a cold, snowy winter in northern areas, but soon it will come to an end.  Try to beat the rush to buy that comes with warmer weather.  We have seen more slightly increased prices. Fortunately, for now, interest rates continue low.  Generally, homes are selling faster.
We have received an email from a builder stating they will be raising prices on their homes this Spring.

We have reviews ...
Low interest rates and prices continue ... Can you believe the prices you are seeing; combined with still low interest rates, it may be a good time to go look.  You might see something you can't resist.
Read our

blog

for tips on the latest.
Florida, Nevada, California and Arizona are "on sale" now and home prices are lower since 2006.  
Update: The NAR reports statistics monthly. They recently reported on the year end price increases.  
Please consult with Realtors how this relates to the local market you are interested in and for advice.   
Overlapping Searches Overlapping occurs when your search fits more than one category.  This happens a lot so please check more than one category to find what you are looking for. For instance, mobile homes can be found in the mobile home, RV and manufactured categories as well as state categories.
We have a lot to view for just one visit--we hope you'll Bookmark us so you'll come back for more as our site constantly changes.
So let's get started..
Top of Page
and thank you for visiting.
---
© 2006-2014 All rights reserved.
Disclaimer: This is an information only website. Information here is not to be considered as advice or even opinion. Consult with local Realtors or professionals especially before making any purchases. You are given links for your convenience only.
We are not responsible for third party purchases or information.
Please verify prices and information seen here as they can change. What you do with any information is solely your responsibility.
Disclosure: All interviews and reviews are unpaid and unsolicited unless otherwise noted. If it is an advertisement, it will be so noted. See Privacy Policy for more information.
Privacy: Your personal information, if provided to this website, is never disclosed to any third parties. See our privacy policy.
If you have a question or have found a great place, please Let us know.
About Me | Contact Us | Advertise | Privacy Policy | Disclosure | Disclaimer