West Coast Florida
Retirement Communities for 55+ (48)

The West Coast Florida retirement communities page covers the southwest region of Florida and is the most popular area for retirees.  There are more seniors in this area than the state's average.  It is not as crowded as some other areas of Florida.  Those coming from the midwest states flock to Florida during snowbird season.  Visitors from the western states generally prefer the west coast of Florida.     
The county with the largest land mass is Collier County while the most populous are Sarasota and Lee counties.      
The west coast of Florida lifestyle, which is also "laid back," attracts those coming from California.  One finds the white sand beaches beautiful and fascinating.  
The climate of the West Coast of Florida varies depending on where one is, and may determine where one lives.  It varies from subtropical in the north to tropical in the Naples area on the West Coast of Florida. 
Sarasota County
Sarasota/
Manatee
Venice
North Port
Longboat Key
Lakewood Ranch
Lakewood Ranch
Lakewood Ranch is #2 in list of Top 50 master-planned communities by John Burns. with 250,000 acres of villages and amenities and has a golf club membership with fee which is optional, polo fields, sport courts, town center, and more.  There are currently two gated 55 plus communities.
Cresswind Lakewood Ranch by Kolter Homes
LOCATION:   Lakewood Ranch, Sarasota
FEATURE:     Within Master Community; large homes; gated 
CONTACT:    5063 Simons Court -  941-217-7980 - Open 10-6 Daily; You can schedule a tour
10 designer-decorated models.  Cresswind's resort-style living is about fitness, nutrition, and relationships.  Single large to very large ranch homes starting in upper $300's to $500's features estate-looking architecture.  250 acres of amenities; a dog park divided for large and small dogs, a resident clubhouse with a full-time Lifestyle Director, fitness center, event plaza, large resort-style pool and spa with plenty of seating areas, tennis, pickle ball and much more.
LOCATION:  Lakewood Ranch
FEATURE:    In master community; gated 
CONTACT:    6805 Del Webb Blvd. - 800-954-9578 - Open Daily 9:30-5:30; Sunday 12-5 
The location, convenient to Sarasota and in Sarasota and Manatee counties, is ideal.  Planned 1300 home sites for single-family homes and possibly some villas.  A wide range of floor plans including smaller ones to large. Resort living with amenities galore and on-site Social Director.   Small to large homes from high $330's.

Resales in Sarasota
Lakeridge Falls

 - Sarasota - 4200 Lakeridge Blvd. - Price: $$ - Gated, low maintenance, community built in 2003 characterized by tile roofs.  Three  communities comprise Lakeridge Falls.   Stirling Falls contains 151 spacious individual homes.  Victoria Falls is 110 duplex villas.  Sandstone Falls is 138 garden villas.  All this on 170 acres.
Some amenities include clubhouse, heated pool, spa, card rooms, bocce ball and more.  This community is just minutes to downtown Sarasota and 15 minutes to beaches of Lido and Siesta Keys.
4200 Lakeridge Blvd., Sarasota - Contact local Realtors for resales.
Cascades

- Price: $$-$$$ - luxury single homes in the guard-gated community featuring tile roofs and large clubhouse; indoor and outdoor pools, large tennis complex, fitness, activities and more.  
Address: Lockwood Ridge Rd. just north of Sarasota County
Bent Tree

- Price: Varies - This is a mature, gated condominium championship golf community of single homes built around 

Bent Tree Country Club

  - Optional golf - Heated pool - social activities - some over 55 neighborhoods in development.   
Forest Pines

- Grand Blvd. - Price: $ - older single-level condos in a maintenance-free community - amenities include pool, recreation facilities.  
Sarasota Harbor

- John Ringling Blvd. - Price: $$-$$$ - This is a waterfront community with marina slips, when they are available.  It is an older community in a great location because some have Bay views. 
Siesta Harbor

- Portofino Dr. - This is a boating community, in Siesta Key area, of condos in mid-rise buildings. - Price: $$ - It has beach access, deep water harbor, fishing pier, pool, spa, and other recreational amenities.
Strathmore Riverside

- Off Riverbluff Pkwy - Marina community of 70's detached villas. Price: $-$$  - It has a pool and recreational facilities. 
Venice
Resales in
Venice
Venetian Falls

- Price-$, Size-Medium - Garden villas, single-family homes and paired villas by Centex - resort style in Venice. Villas were from upper $100's
Ph: 

 941-492-6913 (clubhouse)

 - Center and Jackson Rds., Venice - Resales
Independent Living in Venice
Aston Gardens at Pelican Pointe - You can rent a luxury apartment or purchase a villa.  Independent senior living with assisted living available. Well landscaped grounds with walking paths. Minutes from downtown Venice. 
Ph: 941-257-4484 - 1000 Aston Gardens Dr., Venice
North Port

New and Resale Homes in North Port
LOCATION:  North Port
FEATURE:    In master community The Woodlands
CONTACT:    Phone: 866-741-7262 - 2564 Arugula Dr., North Port - Now showing by appointment only.
Price-$, Attached villas $300's - Size-Medium - gated - Resort amenities - North Port, FL paired villas and single family homes by Del Webb. 


Charlotte County
Port Charlotte
Punta Gorda
Grove City
Resale in Port Charlotte
Kings Gate

 - Port Charlotte - If a person likes large gated communities with golf, this may be the right place.  Some of the many amenities include a particularly large swim pool and 18-hole executive golf (open to public) with tropical resort feeling.  Also, rentals are available at the real estate office on the site. There is a large selection of differing home sizes. Prices started in mid-$100's.
Ph: 800-466-1155 - 24297 West Gate Blvd., Port Charlotte

55+ in Lee County 
Cape Coral
Fort Myers
North Ft Myers
Estero
Alva
Pine Island
Bonita Springs
Southwest Florida retirement communities are popular for tropical climate and beautiful beaches. It is also less crowded than other areas of Florida, making it attractive for retirees.   The Ft. Myers area in Lee County is known for more affordable communities. 
Bonita Springs
Valencia Bonita 55+- Photo by GL Homes
LOCATION: Bonita Springs
FEATURE:  Resort Amenities
CONTACT:  28382 Turin Ct. - 239-308-4600 - Open Daily
By GL Homes - From $500's - Social clubs, luxurious clubhouse, pools, cabanas, spa, fire pits, clay tennis courts; attached and detached home collections. Some luxury interior features are standard.
Cordova at Spanish Wells

- see local realtors
LOCATION:  Bonita Springs
FEATURE:    In Spanish Wells Golf and Country Club
CONTACT:    28474 Tasca Dr., Spanish Wells - 239-908-3638 - Open Daily
Luxury homes by Toll Bros. Not over 55 but a private, gated community in great location.  Social membership to Spanish Wells Golf and Country Club and Tarpon Cove Yacht and Racquet Club.  Amenities include first-floor master suites, tennis, championship golf and 15 minutes to Gulf beaches.  Were from $400's.  Resales.
Estero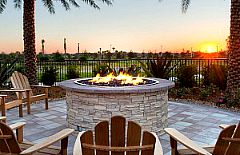 LOCATION:  Estero
FEATURE:    Resort amenities
CONTACT:    20110 Tavernier Dr., Estero - 866-239-1744 - Open Daily
By Del Webb - Where is Estero?  Approximately 14-15 miles to either Fort Myers or Cape Coral and 26 miles to Naples.  So you have your choice of nearby beaches.  Amenities include:
Clubhouse, Resort pool and spa
Fitness Center and Movement Studio
Outdoor barefoot bar
Lifestyle Director
Firepit and barbeque grill
Social Director for activities
From upper $300's (temporarily sold out).   
fort myers
LOCATION:  North Ft Myers
FEATURE:    Homes with personalization; resort amenities
CONTACT:   Off Bayshore Rd. 1 mile west of I-75, North Ft. Myers; 239-356-0417
Gated community of single homes with a variety of designs starting at $300's.  Resort amenities with Lifestyle Director (verify).  Join VIP List on their website today.
LOCATION:  Alva (Fort Myers)
FEATURE:    In master community River Hall; waterfront; golf
CONTACT:   239-689-8790 - 2960 Apple Blossom Dr. - Open daily 11-5
By DR Horton - Brand new medium to large homes start from mid- $200's.   Within the River Hall master community with many amenities including golf, tennis, and waterfront views.   

Resale in Fort Myers
Cinnamon Cove Retirement Community

 - Ft. Myers - Beaches nearby - More than 700 condominiums, singles and villas in this gated community - Clubhouse, Fitness Center and more.  - They note:  View this gated community only with a prior appointment with Realtor or resident of the community.  

11620 Cinnamon Cove Blvd., Fort Myers - Resales
Cascades at Estero

- Estero is south of Ft Myers - Located off Estero Pkwy - Price: $-$$$$ - Elegant entry greets one at this luxury community of large single homes.  Amenities include clubhouse, pools, tennis and much more.  Many floorplans. 9400 Cascades Isle Blvd., Estero - Property manager: 239-495-7937 - Resales
Pelican Point

- This is a condominium boating community located in Cape Coral on Viceroy Street.  Amenities include pool.  Resales
Pelican Preserve

- By WCI Communities (Now part of the Lennar family of homes) - Elegant community of single homes, villas, carriage homes with 27-hole golf course, social activities, recreation and much more. 38 acres of preserve (verify).  Large started in $200's.  Popular community.  10571 Veneto Drive - Fort Myers - Resales 
River Towers

- Cape Coral - high rise condos with dock space and fishing pier on the river - amenities include pool, shuffleboard and more.  4280 SE 20th Place - On Beach Parkway - Resales
Seven Lakes

- South Ft. Myers - golf and tennis gated community of 1000+ medium-rise condos and villas. Play 18-hole golf at no extra cost since included in H/O fee (verify).  Other amenities include pool, wood shop and more.  Prices started in very low $100's.  U.S. 41 North of Daniels Pkwy.  Resales

Low-priced condos in Fort Myers/Cape Coral-bargain-priced

(prices listed are old prices--check with local realtors for resales.)
Avalon Place Condos - 6th Place, Cape Coral - 2-bedroom/2 bath garden condos - canal frontage, nearby fishing areas and boat docks.
Brandywine 

- South Ft. Myers - gated low-rise condos and attached villas in an area known for golf courses.  Amenities include clubhouse, 2 pools, spa, tennis, social activities and more.  Gulf access.  Resales from low $100's to $200's.
Del Prado Park Townhouses - Cape Coral - 70's condo of 2 BR/2 1/2 Ba  in 2-story building - Amenities include clubhouse and pool - no pets (verify) - outdoor parking - priced below $100's.
Pine Ridge of Fort Myers - On Lakeside Club Blvd.  Gated 2 and 3-BR villa condos with pool, tennis, lake, walking path and more.  Price: under $100,000.  Also rentals listed on the website.  
Seven Lakes - Cypress Lake Dr in Fort Myers - 2-bedroom condos with golf - Golf fees are included in condo fee so that residents can use 18-hole golf as often as they want.  Price: Under $100,000 and up.  Pool, tennis, woodworking shop and more.
Terrace Condo Village at Cross Creek - This is an active adult neighborhood within the gated Cross Creek Country Club development of 905 homes.  Popular golf course community recognized for its value and amenities.  Good opportunities among higher-priced homes.
Cross Creek Blvd. and Daniels in the southern part of Ft. Myers.
The Anchorage - Cape Coral - 2 bedroom/2 bath low-rise condos from the 70's.  Clubhouse, pool, docking for boats.  Water views from balconies and Gulf access.  Prices in medium $100's.  19th Ave.  See local Realtors for resales. 
Tropic Terrace Gardens -  condo villas in North Fort Myers on Pangola Dr. - priced under $100,000. 
Windsong Condos - Cape Coral - 2 bedroom/2 bath low-rise on canal with views.Priced in low $100's.  46th St. and Del Prado on canal. Built 1979 (verify).   
Other areas:
Village Green of Bradenton - 2-bedroom villas - Village Green Parkway - 10 minutes to Anna Maria Island beaches. Pool - Low H/O - Built in 70's - hovering around the $100,000 mark and higher.  See Realtor for resales.

Collier County
Naples
North Naples
East Naples
Golden Gate
Lely
Naples Manor
Naples
LOCATION:  Naples
FEATURE:    Surrounded by nature; gated
CONTACT:   11256 Daphne Ct; 239-262-4000; Open Daily 9-5
By GL Homes - Gorgeous entrance with gatehouse. Some amenities are: 43000 SF Clubhouse; Whirlpool Spa; Lap pool; recreation; trails; dog park; fitness center; nail salon (verify); outdoor bar; sophisticated home designs and more.
LOCATION:  Ave Maria
FEATURE:    At Ave Maria master community; Golf 
CONTACT:   866-451-9322 - 6055 Anthem Pkwy, Naples - Open Daily
Price-$ to $$, Size-Medium.  It is in a master planned community in Collier County of small to medium carriage, villa and single-family homes.  2 and 3-bedroom/2 Baths.  Some amenities include outdoor heated pool, restaurant, and 18-holes championship golf. Prices start $229's.  36 miles to Naples on the coast.

Sold Out in Naples
La Morada

- 2183 Antigua Lane, Naples - Gated community with lakefront clubhouse.  2- and 3-bedrooms with flex rooms and first-floor living.  Carriage homes designed to live like single family homes.  Started from $300's By Lennar.
Regatta Landing

in Windstar on Naples Bay - LOCATION: Naples - Small, gated, community with luxury amenities. 1700 Windstar Blvd.  Gated community by CalAtlantic (part of Lennar) of 64 2 and 3-bedroom luxury condos in a waterfront area.  Many amenities including private beach, pool with cabanas, golf, tennis, convenient to downtown and more.  Started from low $600's.  Resales

Verona Walk

by DiVosta in Naples - Price $$-$$$$ - Development began in 2003 and projected 1984 homes built in phases.  Two and three-bedroom single-family homes and townhomes. It is guard-gated and has a resort pool, tennis courts, and much more.  Not active adult.  7676 Collier Blvd.  Resales only. 
independent living and life plan communities in naples
Moorings Park

- Continuing care in Naples - Services include Independent living, assisted living if necessary, memory care, and skilled nursing.  Amenities, social activities and much more.  Entrance fee and monthly fee.  Many housing types. 120 Moorings Park Dr., Naples - 239-317-8649 - Call for tour - Office open M-F
Pelican Marsh at Naples - Price-$$ - Size-Large - An Aston Gardens community. These are upscale purchase villas or rental apartments in an independent living community.  It has assisted living suites with services.   Enjoy a country club lifestyle with golf. Upscale rentals listed on site.
Ph: 239-449-8234 - 4800 Aston Gardens Way, Naples


Older Resale Condos - lower Priced in Naples
See your local Naples Realtors for resale listings.  (Prices listed here are old prices.)
Courtwood - Palm River development in North Naples of low-rise condos built in 80's.  Amenities include pool and lake.  No RV parking.
Executive Club - at the Moorings - boating community of condos in $400's.
Fairways Naples - Start under $100's - pool, golf, medium-rise condos of small square footage - rentals allowed, clubhouse, pool.
Forest Lakes - condos and single family homes - golf, prices start $100's - 6 miles to "Old Naples"
Imperial Club - Co-op condos - low-rise building
Ixora Court - Priced in $300's.
Park Shores - Garden-style condos priced in $200's - pool, carports, neat landscaping - West of Highway 41
Park Place - Seagate neighborhood from $200's to over $1 Mil - single homes.
Valley Stream - Lely area of East Naples - garden style priced in $100's - good location near "Old Naples."
Villa Versailles - condos near "Old Naples."  Pool.

panhandle
LOCATION:  Watersound (Panama City)
FEATURE:     Margaritaville concept
CONTACT:  9201 Highway 79, Panama City Beach; 866-464-4753; Open Daily
By Minto Communities.  They have 2 other Latitude communities in Florida. You can sign up for Minto Community updates on their website.  Start mid-$200's.

Best 55+ Communities with Golf in Southwest Florida (Please verify prices as they can change)
| NAME | Location | Start Price/Description |
| --- | --- | --- |
| 1. Bent Tree | Sarasota | $100's; resale |
| 2. Pelican Preserve | Ft. Myers | $200's; 27-hole |
| 3. Cascades at River Hall | Alva (Ft. Myers) | $200's |
| 4. Seven Lakes | Ft. Myers | $100's; 18-hole; resale |
| 5. Terrace Condo Village at Cross Creek | Ft. Myers | $100's; resale |
| 6. Regatta Landing | Naples | $500's |
| 7. Del Webb Naples | Naples | $200's; 18-hole |
| 8. Pelican Marsh | Naples | Independent Living |
| 9. Fairways Naples | Naples | $100's; resale |
| 10. Lakewood Ranch | Lakewood Ranch | $200's-optional golf membership |
most popular on this page:
Cresswind Lakewood Ranch - Sarasota
Kings Gate - Port Charlotte

Cypress Falls at The Woodlands - North Port
Newest on this page:
Cresswind Lakewood Ranch (Sarasota)
Valencia Bonita (Bonita Springs)
Latitude at Margaritaville (Panama City)
Valencia Trails (Naples)
Del Webb Oak Creek-Coming (North Ft Myers)
My Notes
---Added New in 8/30/21:   Added new Valencia Trails in Naples
---Added to Coming 8/30/21: Del Webb Oak Creek - North Ft Myers - Coming mid- 2022
---Prices Changed: Del Webb Naples from $201's to $229's; Cresswind Lakewood Ranch from low $300's to high $300's; Del Wood Lakewood Ranch from high $200's to $330's; Cypress Falls from mid-$200's to $290's 
Related pages for Florida
Page 1 - East Coast Florida Listings
Page 2 - South Florida Listings
Page 3 -West Coast Florida Listings - This page

Also find retirement communities in:
Westcoast Florida 55+