Connecticut Retirement Communities
55 and Over Communities in Connecticut (40)

newest 55+ communities in connecticut chart
NAME
Location/Starting Price
Link
1. The Links at Oxford Greens
Oxford/$400's
See More
2. Regency at Woodbridge
Woodbridge/$Coming
See More
New Haven County

-

Over 55

 

Connecticut  Communities 
Woodbridge
Resort-styled Communities in Connecticut
A luxury active adult community designed for the 55+ crowd by Toll Brothers. - Luxury carriage-style townhomes with up to 3 bedrooms and 2.5 baths are available at 50 Bradley Road in Woodbridge, Connecticut 06525 from the upper $500,000's.
  This beautiful community, located in the heart of Woodbridge, offers a range of stunning homes and exceptional amenities designed for the 55+ crowd.
One of the most notable aspects of Regency at Woodbridge is its impressive selection of home designs.   Each home is designed with the needs of active adults in mind, featuring first-floor master suites, open floor plans, and modern finishes throughout.
Select from Toll Brothers award-winning Design Gallery to design features like a spacious kitchen, home office, a tech niche as well as first-floor owner suites.
Beyond the elegant homes, Regency at Woodbridge offers  amenities designed to support an active and social lifestyle. The community features a beautiful clubhouse, complete with a fitness center and outdoor pool.
 Join the VIP list for more information and updates on availability for this senior living community. These townhomes are located in a country setting and residents can enjoy a low maintenance lifestyle and nearby parks for more recreational opportunities.
The homes also feature bathrooms with spa-like amenities and a first-floor flex room that can be used as a home office. The location is just 20 minutes from Yale University and 6 miles from New Haven.
Video about Woodbridge (there's a small section about schools. You can skip over that and then you'll have some excellent information about this town in Connecticut):
Beacon Falls
EG Homes at Chatfield Farms

 - They are now into close-out. There are three large detached floor plans priced  from $400's to $500's.  Enjoy the charming country ambience and air.  
This is a low maintenance community on 140 acres with a clubhouse, pool, hot tub, fitness, three miles of walking trails, social activities and more.  
41 Fieldstone Lane, Beacon Falls - 203-714-6622 - Open Daily by appointment 
Oxford 55+ Communities
Golf Course Communities in Connecticut
Single Homes

Golf Course

Luxury Community (clubhouse, pools)

Flex Room

Over 2-bedroom plans with optional loft

Ski resorts in area

 Single detached homes by Del Webb in Oxford.  Pricing starts $400's.  This community has a public 18-hole golf course,  clubhouse, two pools (indoors and outdoors), social activities and more.  642 Championship Dr. - 203-533-0602 - Open 10-5 Daily or make appointment.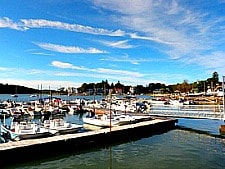 Stony Creek Harbor in Branford near Riverwalk Community-sold out.
The Connecticut shoreline consists of numerous coves and harbors--this is just one in Stony Creek. View a map of the Connecticut shoreline.
On our visit, we found it amazingly peaceful. None of these boats are yachts--just small pleasure boats in seasonal slips. Seniors were out strolling or in their small motorboats.
There are many 55+ communities located throughout Connecticut, offering a range of housing options and amenities for seniors.  
New Haven County - 55+ apartments
Bella Vista - New Haven apartments with an active lifestyle. Large apartment complex in Connecticut since 1971.  Phases 1, 2, and 3 - On New Haven bus line.
=========================
Hartford County

- New
Newington
Bidwell Village -  There is only one home left in a small 55+ community located in Coventry, with single homes and duplex homes available. The community is situated just 5 minutes away from the University of Connecticut, and prices for these homes start at $400,000.  By appointment only.  94 Stonehouse Rd., Coventry - 860-748-1821 (Sales)

New London County
Colchester
North Woods of Colchester - The neighborhood is comprised of 140 detached homes built on individual lots, occupying a 78-acre site with 37 acres dedicated to open space preservation. 
The community is has been very popular and is currently completing its 5th and final phase, featuring small to medium-sized detached homes with award-winning designs.
Located in Southeast Connecticut, the community is only 25 miles from Hartford and easily accessible via route 2. It is also a convenient 30-minute drive to both Hartford and the Connecticut shoreline. Prices for these homes start at $299,000.  351 Lebanon Ave., Colchester - 860-537-5338 - Open Daily for appointments.
---
55+ Resales in Connecticut - see local realtors
Resales in New Haven county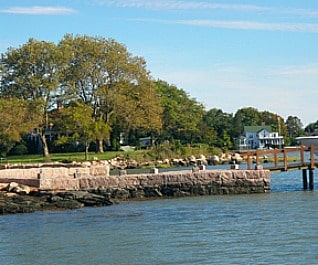 Stony Brook Harbor
Beecher Walk at Orange - The property features a dock on Indian Lake and walking trails, and consists of villas.   100 South Orange Center Rd., Orange
Breakwater Bay - New Haven - This is not for over 55 but is a waterfront condo development with water views  that were priced from $200's.  Good for commute. 150 Harbour Close Rd.  - Check with Realtors for resales.
Castle Heights

 in Cheshire - Community of spacious upscale single homes. Very new designs and home features.  (I love the bathrooms.) New Haven County by Carrier Homes. Started upper $400's. 141 Victoria Dr., Cheshire
Fairview at Oxford Greens - 642 Championship Dr. - The community features carriage homes by Del Webb 
These New England-styled medium to large homes are conveniently located near New Haven and the Merritt Parkway, and boast a clubhouse with amenities and activities. With many floor plan options available, the community has received a HOBI Award for its quality and attention to detail.   1025 Grassy Hill Road
County Walk Village

- East Haven - These condo ranches were priced under $200,000 and located in a desirable area near shore.   County Walk Lane, East Haven - Contact your Realtors to see.
Golf Crest

-  Single ranch homes are a good option for downsizing, and those interested in purchasing should consult with local Realtors for resales, while verifying all information as accuracy cannot be guaranteed.  These homes often include garages and basements, and feature upscale interior amenities.  Pinehurst Dr., East Haven
Quail Run

by Calcagni in North Haven - condominiums.
Hamden Farms in Hamden

by Calcagni - attached 1 and 2 bedroom homes with garage. 2620 Whitney Avenue 
Pond View

North Haven by Calcagni - duplex styled homes were priced in $200's. See local Realtors for resales.
 Near East Coast gaming centers, this facility offers many activities including garden plots, wood working, photo lab, pottery workshop, stained glass, computer lab, and gym, as well as a tennis court and four pools. Additionally, there is an 18-hole golf course nearby.  1 Heritage Way, Southbury 
Preston Woods

 in Meriden - Just 13 detached condo homes built on a cul-de-sac and were priced from upper mid-$200's.   By Preston Woods.
Regency at Prospect - Sold out. New Haven by Toll Brothers - townhouse gated community was from $290's. This 55+ community offered a range of single-family homes, villas, and condos. It features a clubhouse, fitness center, outdoor pool, and other amenities.  36 golf courses in the area. Near Waterbury and I-84. 

120 Scott Rd., Prospect, CT
Richmond Glen

- Cheshire in New Haven county -  large single new homes were priced in $400's -  small maintenance-free community of 41 one and two-story homes on 32 acres. Brodach Builders -  Wiese Rd. - Check with local Realtors for resales.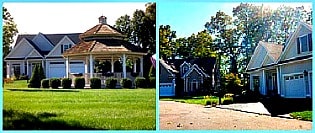 Riverwalk 55+
Riverwalk

- Branford - Check with local Realtors -

Donmar Development Corp. New England-styled small to large 2-bedroom homes started low $400's. Near train station for commute to Boston or New York, Yale University and YMCA. A shore community on the Long Island Sound. 287 E. Main St.   (203-464-0125 Realtor - We do not recommend Realtors-the number is given for your convenience.)
Simpson Village

 - Wallingford - live in town and be near YMCA, parks, tennis, dining and more. Energy Star homes started from low $250's. By Simpson Development.  Some luxury features were included in price.  701 Center St., Wallingford
Resales in Fairfield county
Maple Oak Reserve

- Sold Out - Coastal Town -  Just 42 large 3 bedroom, 2 1/2 bath single homes featuring front porches, kitchens with center island, basements, and more were available and started from the $490's. These homes are located near Long Island Sound and offer access to a clubhouse and fitness facilities.  Stratford, CT
Newtown Woods -  The luxury single level condos and 2-bedroom townhomes by Toll Brothers in Newtown are sold out. The condos started at the low $300's, while the townhomes started at the upper $300's and featured an outdoor pool, fitness center, and clubhouse. The location is near Danbury, with nearby public golf available at the Richter Park Memorial golf course, and convenient access to I-84.  176 Mount Pleasant Road, Newtown - See local Realtors
Oronoque Village - Sold - North Stratford - The 900+ condos in this community have a unique design, resembling a combination of chalet and cottage styles. Many of these homes boast great features, such as cathedral ceilings, 1-car garages, and ample storage space. While some of the homes are detached, most are attached. Community amenities include three pools, tennis courts, vegetable gardens, a community center, and access to a nearby golf club. Library activities are also available. 600 North Trail, Stratford. 
Rivington - The Enclave Collection - SOLD By Toll Brothers - this is the 55+ community within the master community of Rivington with 2 and 3-bedroom carriage homes. The homes location is on the New York-Connecticut border with excellent shopping and views.  Prices started $500's.  Winner of 2018 HOBI Award for best 55+ community.  300 Center Meadow Lane, Danbury 
The Summit at Bethel - Bethel -  This award-winning community, which will have 232 townhomes in two collections upon completion, is located near a train station that provides convenient access for commuters traveling to New York, Stamford, and Norwalk. Both age-restricted and non-age-restricted options are available within the community.   By Toll Brothers -  started from $500's.  10 Great Hill Dr., Bethel 
Resales in Hartford county
Autumn Estates - Farmington by Carrier Inc. medium to large homes. 1 Hazelnut Dr. - Now sold out - check with local Realtors.
Chimney Hill Estates - Farmington by Carrier Home Builders Inc -  Single homes near upscale dining and golf and country clubs. Spacious homes in small luxury community.   Now sold out.
Newington Ridge Preserve - By My CT Dream Home - 10 minutes to Hartford - small community of 2-3 bedroom detached homes and 5 floorplans.  Started mid-$300's -  Deming St., Newington, CT
Orchard Hill - Bristol between Waterbury and Hartford. Featuring upscale contemporary single homes in 55+ community priced in mid-$300's plus with pond and country views. Townhomes were built in a later phase.
Kari Court - Windsor - Cape Cod style homes with 1 garage.
Regency at Berlin - Toll Brothers - 50+ - between Hartford and New Haven. townhomes started in $200's - sold out - Bannan La., Berlin
Phillips Farm - East Hartford - Phillips Farm Rd - single condos were priced in high $100's.  See Realtors for resales.
Fairfield Village - Glastonbury - 2 bedroom contemporary ranch condominiums with 2-car garages were priced in upper $200's.
Oxbow Ridge - Canton - northwest ct - Resales built 2003-06 - 96 spacious singles or townhomes were priced in the $300's.
Hunt Glen - Granby - small community of contemporary-styled 2-bedroom homes were priced in $300's. Granby is a small town of approx. 10,000 pop.
River Park Crossing -

Rocky Hill - Rocky Hill is on the Connecticut River.  2-4 bedroom homes started at the $300's.  By Rocky Hill Enterprises.  Dividend Rd., Rocky Hill
Silver Ridge - Located in

Rocky Hill, CT

.  Silver Ridge is a smaller 55+ community offering single-family homes and attached villas. It features a clubhouse, fitness center, and other amenities.
The Orchards at Southington - This community is located in Southington, CT, and offers independent living in a range of apartment sizes.  34 Hobart St.
Litchfield County
Tall Oaks - New Milford - Detached homes.
Middlesex county 55+ resales
Mystique Lane - Old West St., Cromwell.  Twenty-six detached condos were from $249,900.  Now sold out by J.D. Bender Homes.   Phone Real Estate rep: 203-265-1821
North Cove Crossing - Old Saybrook - small community of detached spacious homes near the shore. Watch the sailboats flit by. Homeowners association information: phone - 860-388-3623 at 81 Coulter St. #3 or see Realtors for resales.
Del Webb at Southridge - This community is located in Middletown, CT, and offers a range of homes and condos for active adults. It features a clubhouse, fitness center, indoor and outdoor pools, and other amenities.  See local Realtors.
Most Popular 55+ Communities in Connecticut*
| Name | Location | Link |
| --- | --- | --- |
| 1. Beecher Walk | Orange | More |
| 2. Bidwell Village | Coventry | More |
| 3. EG Homes at Chatfield Farms | Beacon Falls | More |
*As determined by most click-thrus on this page in the last 3 months.
55+ Connecticut