Retirement Communities at
Myrtle Beach for over 55

Myrtle Beach is an important retirement destination with many 55+ communities in Myrtle Beach for every price range.  The senior population here is increasing.  The area has 3 hospitals, a Market Commons (combination of residences and retail), the ocean beaches, shopping, restaurants, abundant entertainment venues and more.  In other words, something for everyone.
It is also a popular vacation destination along the
Grand Strand.
Cities mentioned on this page: Myrtle Beach, North Myrtle Beach, Murrells Inlet, Conway, Surfside Beach, Little River
Contents:
Review of Myrtle Beach
List of Over 55 Communities at Myrtle Beach
Most Views on this Page
A suggested route to see retirement communities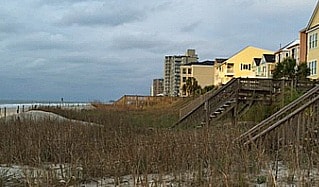 New

55+ Communities at Myrtle Beach

 
Del Webb at Grande Dunes Myrtle Beach

 - In the master community of Grande Dunes - Medium to large homes with resort amenities including 2 golf courses.  This area is out of the congested areas but convenient to all the restaurants, beaches, and activities associated with Myrtle Beach.   Beach access.  Some plans have private suites for guests (verify).  Price starts in $300's.  Open daily except holidays.  1150 62nd Avenue North, Myrtle Beach -  843-547-9768
Coming Soon -

Del Webb North Myrtle Beach - Less than a mile to beach - Sign onto VIP List now for updates on this 55+ community with planned outstanding amenities.  Prices start in $300's (verify).  Call for info. 843-594-1458  
Coming

Villas at Sandridge - Little River (Myrtle Beach area) - By H&H Homes - not over 55 but these are types of properties seniors like for retirement.  South Carolina is in huge demand now. You might want to check these out. Sign up for VIP List to get updates on pricing, timeframes, etc.
resale

55+ communities at myrtle beach-See local realtors

Cresswind Myrtle Beach - By award-winning Kolter Homes.  Named one of the "top 50 Best Master-Planned Communities" in the United States by Where to Retire magazine.  It ranked as the best active adult community in Myrtle Beach in 2017.  Resort-style community with 2- and 3-bedroom detached single homes and 2-car garages started $300's. 

Near the airport, only about a mile to The Market Common with shops and restaurants, Myrtle Beach State Park, Grand Strand Regional Hospital and more. Very close to ocean amenities. 1947 Cresswind Blvd. (Farrow Pkwy and Cresswind Blvd) - Myrtle Beach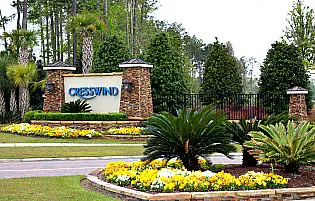 Entrance to Cresswind
Carrilon at Tuscany
Carillon at Tuscany - Sold Out - By D R Horton - 55 community of single family homes in master community Tuscany - 3 bedroom medium to large homes started in low $200's. Amenities include Clubhouse, Fitness, Pool, walking trails, fishing lakes and more.  4 different communities here - 4073 Belle Terre Blvd., Myrtle Beach - See local Realtors

Waters Edge - In North Myrtle Beach by Freedom Homes - Gated over 55 community of single homes started in mid-$260's.
1130 Inlet View Dr., North Myrtle Beach  
Manufactured Home Community at Myrtle Beach:
Country Lakes - Country Lakes At Little River. This is one of the retirement communities at Myrtle Beach of manufactured homes by Jensen Residential Communities.  Jensen's builds land lease manufactured home communities for over 55.  This is a gated community.  Another over 55 community by Jensen is on the southern section of The Grand Strand. 4353 Erie Dr., Little River -  Jensen Communities are now listed with Sun Communities. 
Senior Apartments at Myrtle Beach:
Eagle Crest Retirement Residence -  Apartment Homes by Holiday - includes meals, housekeeping. 843-448-9300
Condos 55 and older:
Covenant Towers - Condominiums near Pine Lake Golf Course on 9 acres.  See Independent Living listing below.  
Southern Grand Strand area-Resale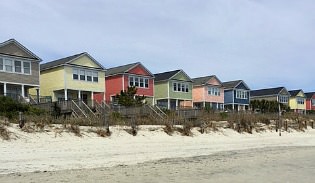 Row of houses alongside ocean at Surfside Beach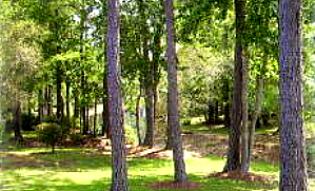 55+ community in Ocean Pines
Ocean Pines/Magnolia Grove -  By Jensen at Myrtle Beach Garden City Beach (No longer sold under the jensen banner--is now Sun Communities) - I reviewed this manufactured homes community -- see review for an affordable and very nice community close to the beach and the famous Brook Green Gardens.  3196 Moonshadow Lane, Garden City Beach near The Grand Strand. There is an office on site but best to call first. Contact Sun at their website or phone 888-757-8749.  My Review.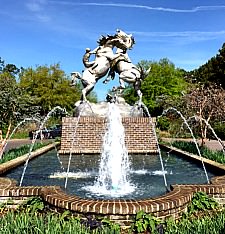 Brook Green Gardens statue at Myrtle Beach SC
See my on-site review of Ocean Pines here.

Murrells Inlet Over 55 Resort Living:
Entrance to Prince Creek at Murrells Inlet
Seasons at Prince Creek West - Murrells Inlet - Sold Out - In the best location and close to ocean. This over 55 community offers homes with community amenities -  started in the $200's.  See local Realtors for resale.  136 Grand Cypress Way, Murrells Inlet   See our Review of Seasons at Prince Creek West
Belle Mer - Sold Out - Medium to large homes started $260's. Clubhouse, pool, social activities.   Low country and craftsman-styled.  Bill Clark Homes are not designated as age restricted but may be focused on seniors (verify).  Between Surfside Beach and main Myrtle Beach areas.  See local Realtors.  
1045 Beaver Run Blvd., Hwy 17 and Coventry Rd.

Conway-Myrtle Beach Area-Resales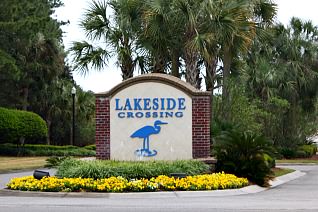 Lakeside Crossing-55+ manufactured homes community
Lakeside Crossing  - Conway - Manufactured homes development. This location is further back from the beach between route 501 and 544, but still relatively close. Clubhouse, spa, social amenities, recreation and on-site social director. Were priced from $100's for home only (verify).  144 Lakeside Crossing Dr., Conway - See Sun Communities or local Realtors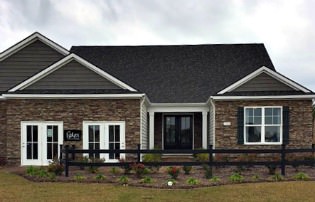 The Lakes model home
The Lakes at Myrtle Beach - Sold Out - DR Horton - 3 and 4-bedroom single homes were from low $200's. Check back with the builder for any community expansions. 240 Wateree River Rd., Myrtle Beach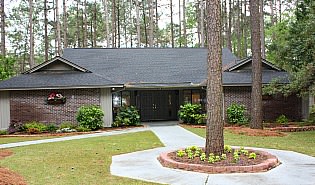 Myrtle Trace clubhouse
Myrtle Trace - 518 homes - DR Horton - resales - 15 lakes - 2 and 3-bedroom single homes - Phase 1 began 1980 and last phase was in 2005. Charming neighborhood with serene ambience.  Low homeowners. Clubhouse, pool and more.  There is a hospital and outlet shops in Conway. Verify all information.  101 Myrtle Trace Dr., Conway, SC 

Arrowhead Grand - 15 minutes to ocean and near Intracoastal Waterway - Large Mediterranean-styled homes in gated community within the larger Arrowhead golf course community (verify) - included features - Bill Clark Homes-not age-restricted but senior-focused (verify).  Abcaw Blvd. off Hwy 501, Myrtle Beach 
Cottages at Shaftesbury - Conway - Golf course community by H&H Homes with clubhouse, pool, dock, Pro Shop, bar and grill, free golf and more (verify).  Small to spacious homes started $180's.  583 Shaftesbury Lane, Conway 
Reflections - Over 55 gated community in Conway of single homes by Freedom Homes - Medium to spacious homes started in upper $100's.  Amenities include clubhouse, pool and park area.  Hardee Ave., Conway 

Murrells Inlet
Woodlake Village
Woodlake Village - Murrells Inlet 13 miles south of Myrtle Beach on the Coast.  450 homes - resale.  Indian Wells  golf course adjacent.  Resort amenities.  Low homeowners fee.  Started $100's.  See local Realtors.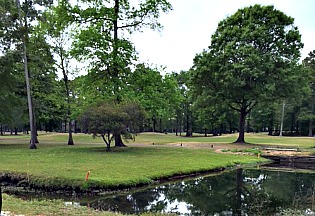 Indian Hills Golf adjacent to Woodlake Village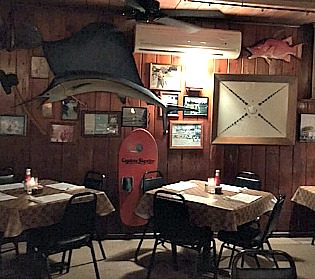 Many quaint seafood restaurants like this at Murrells Inlet (the "Seafood Capital")
"Seafood Capital of the World."

2 Communities by Bill Clark Homes
in Murrell's Inlet Area 
Bill Clark Homes does not classify their communities as age-restricted but, depending on the community, the majority of residents at their Myrtle Beach area communities are over 55 (please verify with the community.) See their website for all Bill Clark Homes.
Pheasant Run at Collins Creek - Between Murrell's Inlet and Surfside Beach off Rte 707 at Pheasant Run Dr. - By Bill Clark Homes.  79 spacious homes on wooded and lake view lots - started in $240's.  11157 SC 707, Murrel's Inlet  
Surfside Beach Club - Sold out - Large homes in gated community started $300's.  6 miles to International Airport - l.7 miles to beach. Off Highway 17 Bypass.  See local Realtors for resales.

My Route to View 55+ Homes and Communities
This is the order of communities and route I took starting at Murrells Inlet.  (Verify all information.)
Murrells Inlet:  Woodlake Village and the adjacent golf course.  Fox Sparrow Lane (homes surround golf course.)
Myrtle Beach:  The Lakes of Myrtle Beach, 240 Wateree River Rd.
Myrtle Beach:  Cresswind at Myrtle Beach, Farrow Parkway and Cresswind Blvd.
Myrtle Beach:  Carillon at Tuscany at 4073 Belle Terre Blvd.
Conway:  Myrtle Trace at 101 Myrtle Trace Dr.
Conway:  Lakeside Crossing at 144 Lakeside Crossing
Independent Living
Apartments and Homes
Covenant Towers - There is a skilled nursing facility located on the campus - Adjacent to Pine Lakes County Club - Choose your apartment size from studios to 2 bedrooms with dens with balcony.  
5001 Little River Rd., Myrtle Beach - 843-449-2484
Brightwater - This is a continuum of care community for independent, assisted living, memory care and more.  Some may prefer this style of community.  For independent living, there are cottage homes starting in the $!00's.  There are also villa homes starting in the $75,000.  Occupancy fee. Call for details 843-353-6440 - 101 Brightwater Dr.

Review of Myrtle Beach
Myrtle Beach started out as a small beach town some 50 years ago but it is very obviously now a large resort area, and still growing, with housing for seniors in every price range.
Driving down highway 40 I saw one billboard after another advertising retirement communities at Myrtle Beach and new homes. Everywhere in South Carolina are the tall dark-needled pines. They have always been there and probably always will be.  Also sprinkled among them are the palms which give a nice tropical feeling.
The sand at the beach is very soft and powdery and creamy white. I was surprised to find the water warm as a bath this June day. There was no chill upon going in. The sun gave off intense warmth and the morning walk along the beach was extremely energizing.
I also found roadside farm stands loaded with sweet and fresh local produce like peaches, cantaloupe, golden squash, tomatoes, sweet potatoes, and local honey.
The Grand Strand
Myrtle Beach, also known as the Grand Strand, is divided into 3 parts which are the northern end, the central part and the southern end. North Myrtle Beach is a little more quiet, relatively speaking, the center section has the large million dollar resorts and the southern end generally has some of the nicest residential areas including Murrells Inlet and Surfside Beach.
It is a 60-mile stretch filled with shopping, restaurants, golf, hotels and condominiums. The main road that goes along the Strand besides Ocean Blvd. is highway 17.
Tip:   Be sure to stop at the South Carolina Welcome Center located on highway 95 as you cross the state line from North Carolina. They were very friendly and helpful and gave me good advice on where to stay.
Magazine Resource for Myrtle Beach Grand Strand
I found a magazine, "Grand Strand New Home Guide," that markets many of these retirement communities at Myrtle Beach. I recommend that you pick up a copy. It is free and I found it very helpful. You can get it by going to their website at New Home Guides 
Most Views on this page:
Cresswind
Myrtle Beach


Woodlake
Murrells Inlet


Carillon
Myrtle Beach

My Notes
---Added to Coming in 8/21: 
Del Webb at North Myrtle Beach 
Villas at Sandridge at Little River  
---Prices Changed:  Del Webb at Grand Dunes 8/21  
Myrtle Beach 55+