Retirement Communities
In the Northwest
Retirement communities in the Northwest are primarily in Washington State and Oregon. This page also includes Idaho and Montana, states that have less population and cleaner air.

View Larger Map
Washington State Retirement Communities
Retirement communities in Washington state are mostly in the western part of the state near Seattle/Puget Sound to the Coast and the northern part near the Cascade Mountains.

Go here for retirement communities in Washington State.

Oregon
This idyllic state for retirement has beautiful scenery and is one of the less populated states.  Ashland and Portland are top cities for retirement.   While the Coastal area can be rainy, the inland areas, such as Bend, another popular choice, are sunny and dry.

Portland, Oregon Retirement Communities:
This is an urban walkable city.  See more about Portland in our Expert Interview.  
Mirabella

 Portland

 Pacific Retirement Services affiliated - Upscale Continuing care community - there is one also in Seattle - beautiful high rise building in downtown South Waterfront area with all healthcare services and focus on wellness - streetcar near entry to building for all downtown  amenities.
3550 SW Bond Ave., Portland - 503-245-4742
Touchmark in the West Hills - Rental cottages, garden homes and apartments with view of the West Hills. Also, licensed care is located in Building 2.  The 14-acre site includes vineyards and winery.  Walking trails and lakes.  Clubhouse, pool and fitness.  3 miles to downtown Portland.  Fee includes meals, etc. (verify).
Barnes and Leahy Roads, Portland - 503-389-5320
Southern Oregon
Eugene Oregon Retirement Community
Terpening Terrace in Eugene

    Apartment homes for independent living - month to month leases. Many amenities and services. 
50 Ruby Ave., Eugene - 541-689-0619
Medford and Ashland
Fountain Plaza - An Omega community in Medford - studio, 1 and 2 bedroom apartment homes with services. Also personal services plan. 1441 Morrow Rd., Medford - 541-772-6005
Horton Plaza - in foothills of Medford. - Omega community.
1122 Spring St., Medford - 541-770-1122
Twin Creeks

 Central Point in Southern Oregon near Medford. 120 studio, 1 and 2 bedroom senior apartment homes and many amenities and activities.  
888 Twin Creeks Crossing, Central Point - 541-664-8880 
The Springs at Anna Maria - Medford - 10 miles from Ashland - An Omega community. Near natural beauty of Siskiyou Mountains. Luxury apartment homes with services. 
822 Golf View Dr., Medford - 541-326-0065 
Mountain Meadows

 - Award winning over 55 community in Ashland, small town and home to Oregon Shakespeare Festival and Southern Oregon University. Temperate 4-season climate. Variety of home styles and prices. Craftsman architectual style. Full ownership of homes and longer-term rentals available to "try-out" your retirement.
857 Mountain Meadows Dr., Ashland - 800-337-1301
Central Oregon Retirement Communities-Bend, Oregon
The Falls at Eagle Crest Resort - Located minutes from Bend and Redmond. Single family homes. Championship golf, miles of scenic walking, unlimited recreational activities in area. Lots and homes. Also fractional ownership at resort.  See local Realtors for resales.
541-548-9300 (office hours) 
Touchmark at Mt. Bachelor Village - Bend - On 25 acres. Near ski resort and golf clubs. Central Oregon is not rainy like the coast. 4-season climate and sunny days that are great for golfers.  Assisted services also available. 
19800 SW Touchmark Way, Bend - 541-316-8445

Idaho
See our article on Idaho Retirement
Northern Idaho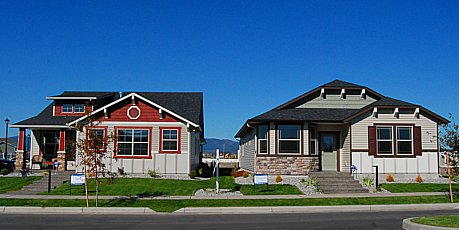 (photos by Syringa Gardens)

Syringa Gardens street
The Village at Syringa Gardens

- Sold -

 North Idaho - Almost to the Washington state Western border in Post Falls, Idaho. Gated over-55 master-planned community by Viking Homes. Golf courses nearby. Single homes 2-car garages. Originally from mid-$100's.  

Sold Out. 

 2601 North Reddington Way, Post Falls.  See our review.
Meadow Ranch - Sold - Coeur d'Alene - Award-winning green community with small cottage style single homes in the Craftsman design.  Adjacent to huge shopping complex yet in a rural country setting.  Started low $100's.  LEED certified.  Active West Builders - Ph: 208-755-1648
Golden Spike Estates

 Rathdrum - 15 minutes to Coeur d'Alene and 25 minutes to Spokane, Washington - Award-winning community of manufactured homes and lot lease. Resort area of lakes and golf courses yet close to shopping amenities. Heated driveways. Were from $100,000's - Age in place features and many activities and amenities. 
Riviera Walk - Sold - Coeur d'Alene in Village of Riverstone community  - Focus on energy-efficient homes and green building - Contemporary design in gated senior enclave of medium to large homes.  Walk to restaurants and conveniences.  Active West Builders: 208-755-1648

More from award-winning Active West Builders:
The Reserve at Hayden - Sold - gated 2BR-2BA medium to large townhomes - views of Canfield Mountain - contemporary design - near public lake access, Hayden Lake Country Club, restaurants, etc.

Riviera Court - Sold - (across from Riviera Walk - small to spacious 1 and 2-story homes - 208-755-6857
Circuit @ Seltice - Sold - small to spacious 1 and 2-story contemporary styled homes - urban infill - access to public golf and Droc Community Center.
Riviera Place at Riverstone - small to spacious 2 BR/2 BA singles in Coeur d'Alene
The Gee - 14 co-op units - sold - 817 E. Nora Ave., Spokane

Southern Idaho
LOCATION:  Kuna (20 miles to Boise) 
FEATURE:    Resort-style by Trilogy
CONTACT:   1198 S Cloverdale Rd., Kuna (no access until open) - 866-956-0421
Not open yet. Sign up for updates or call. Starting $400's for single homes. Duplexes not priced yet.
---
Cadence

- (Cadence at Paramount is sold out but see Cadence at Century Farm) -  Gated community of 55+ homes.  Builder is Brighton Corp.   - Clubhouse, indoor pool, walk paths.  Century Farm model home:  3720 W. Sunny Cove Lane, Meridien - Closed Sunday and Monday. Tuesday by appointment only - 208-203-9424 (sales rep for Cadence at Century Farm) - You can also schedule a phone meeting online from their website.

Touchmark at Meadow Lake Village - Meridien (near Boise) - cottages and lodge apartments on 100 acres. Near Sun Valley for skiing. Assisted services available if ever needed. Next to St. Luke's Meridien Medical Center.
4037 East Clocktower Lane - 208-789-0064
Montana
Touchmark on Saddle Drive - Helena - This also has assisted living and other care services.  Apartments and cottages. Wellness program. Monthly rental fee includes meals and other amenities for independent living (approx. $2500/mo. for studio but verify as rents change. Larger apartments, of course, cost more.)  
915 Saddle Dr., Helena - 406-204-3773