Arlington Senior Subsidized Apartments..in Arlington County
Photo: Culpepper Garden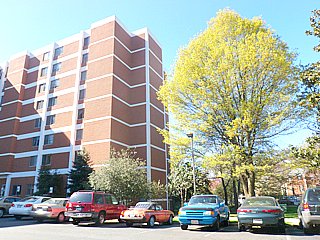 Arlington Senior subsidized apartments in Northern Virginia in Arlington County offer Arlington's seniors many opportunities for great senior living.

Map of Senior Complexes in Arlington

:


Arlington is a walkable city with good transportation and many restaurants.   Below is a map to all the Arlington Senior subsidized apartment complexes.  Some are for 55+ and some for 62+.  Some include assisted living.  Click on the blue markers for addresses and descriptions.

View

Low Income senior properties in Arlington County, VA.

in a larger map

Here is a list of the complexes. Be sure to check in with them early as many have wait lists. You can tour them in the order given:
Arlington Subsidized Senior Apartment Communities
| | |
| --- | --- |
| Claridge House - 300 one-bedroom units nearby Pentagon and Crystal City - also close to Costco and a 7 Eleven convenience store is attached. Large multi-storied building with social activities amenities. Some residents qualify for evening meal and home care. 1500 So Fern St. - 703-521-9100 | |
Culpepper Garden - Arlington - 273 apartments with social activities and dining room - gardening beds - close to Glebe Rd. and shopping - shuttle (verify)
4435 N Pershing Dr - 703-528-0162
Lockwood House -  600 No Madison St  - 99 units -  Call 703-538-6000 
Elmwood House -  550 No Madison St - walk to Upton Park - 703-538-6000
Woodland Hills  610 Carlin Springs Rd - 235 apts -  Call 703-931-5700 
Lenox Club  401 S 12th st -  Call 703-418-0130 
Affordable rental apartments: 

| | |
| --- | --- |
| The Carlin - 4300 N Carlin Springs Rd Arlington - 162 units for active seniors 55 and better. Personal services optional. 703-243-4300 | |
All have income limits to qualify. You may call the apartment community directly for more information, rates, and appointments to visit. They usually have the paperwork to apply or to get on the waiting list. Or you may drive by and visit.
Arlington County is the hub of Northern Virginia.  It is located across the Potomac River from DC.  It is high density apartments.    
Also for Low to Moderate Subsidized Communities for Elderly with assisted help programs:
Arlington Manor -  2619 no 10th st  Call 703-525-1470 
Oak Springs - 2000 So 5th st Call 703-685-0606 
Sunrise of Arlington -  2000 No Glebe rd Call 703-524-5300 
Sunrise at Bluemont Park -  5900 Wilson Blvd 40-50 asst living units and 125 independent units Call 703-536-1070 
Visiting Relatives: When choosing from assisted living communities, it may be advisable to choose a community close to family or friends so that it is convenient for them to visit.

Continuing Care Community:
The Jefferson
900 no Taylor st 703-516-9455 For more information on other programs you can go to Arlington's website:
Arlington County Senior Housing
Other Rental Assistance When Residing in Private Housing Units:

Section 8 Housing 228-8338 (wait list) Housing Grants from Dept of Human Services 228-5620
Arlington County Dept of Planning
Or visit the
Dept of planning
2100 Clarendon Blvd. suite 701, Arlington, VA.
Arlington County Guide

We'd like to also refer you to an incredible 55+ Arlington County Guide. This lists reasonably priced programs and activities for seniors of which there are many. I believe many do not know about these programs for seniors. Be sure to take a look.
Arlington County 55+ Guide
Arlington's seniors also have access to excellent transportation and senior centers. For instance, person's over 55 who qualify can purchase a coupon book for taxi service that is a value of $20. for $10.00.
There are 7 metro stations.
There are too many benefits for seniors to mention here. See the county's website for more information:
Arlington County website
Return to Senior Low Income Housing for other Virginia low income Housing
Also see Virginia Retirement Communities