Equestrian communities
Equestrian communities for retirement are trendy. You don't have to own a horse or ride to enjoy these equestrian retirement communities.  Surveys show only 30% of residents actually do--the others enjoy the open space and scenic views.  
Here is a list of equestrian communities or ones with equestrian amenities.  Some areas cater more to equestrians than others.  It is said there are about 250 horse communities in the U.S. and many more on the planning boards.  Our list focuses on those appropriate for seniors or in senior enclaves.  Not all are designated for over 55, but most are oriented toward a retirement lifestyle at an equestrian community.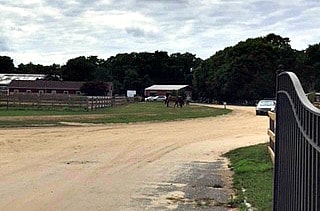 Equestrian ranch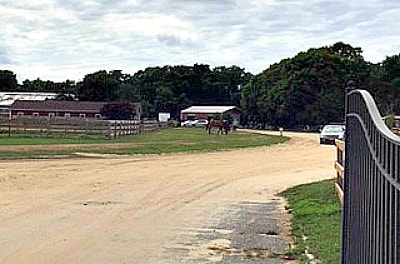 Equestrian ranch
---
Florida Equestrian Communities



Lake City - Northern Florida
The Oaks of Lake City - Lake City, Fl - Northern Florida location. This is the first of "branded equestrian communities." Compare with branded golf communities--this is a new idea applied to equestrian communities. People will have more trust in a community with an equestrian authority's name on it.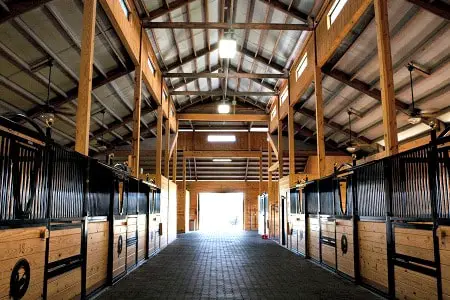 The Oaks stables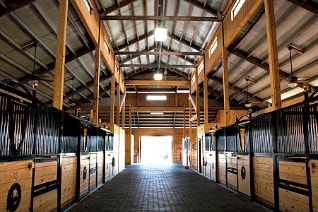 The Oaks stables
This one is Olympian David O'Connor's signature community. O'Connor-trained and certified groomers and stable hands await you after your ride to assist you (verify). Enjoy refreshments at an adjacent covered arena.  Best equestrian facilities.
Small lots and farmettes. Whether you ride or not, you may enjoy the lifestyle on the 1222 acres.  There are smaller 1-2 acre parcels for those who do not own horses.
Homesites Start $34,900 and Equestrian estate sites start: $79,900 
211 SW Theodore OConnor Circle, Lake City, Fl - Ph: 800-545-3501
Central Florida
The Villages Florida
New   Chatham Acres - New 55+ community in The Villages.  The Villages is the largest retirement community in Florida.  This is a horse community.  Only 7 homes each on 5 acres (verify).  Up to 4 horses. Enjoy The Villages amenities.  Prices around $500,000 (verify). 
Southeast Florida
Jupiter
New Reynolds Ranch at Jupiter Farms - Not restricted to over 55 but for equestrians. By K Hovnanian. Equestrian trails near the ocean in Palm Beach area.  30 large estate homes on 1 1/2 acre lots.  From $800's.
16133 Jupiter Farms Rd., Jupiter - 561-290-1777   
Wellington - popular Florida equestrian region
Wellington has a 12-week long Equestrian Winter Festival. More than 5000 horses are from areas around the world.

View Larger Map
Castellina by DiVosta - Wellington, Fl in Palm Beach County by DiVosta  - Price: $$-$$$$$ - Gated community in a town known for more than 50 miles of horse trails - lush folliage and lake views - 2 to 4 bedroom homes - low maintenance lifestyle but not exclusive to seniors - 25 minutes to beaches. Wellington is known for being an international equestrian area. Resales
2900 Florence St., Wellington

West Coast Florida
The Nature Coast - Citrus County
65 miles north of Tampa in the "natural" part of the state
Pineridge Estates  Equestrian center with miles and miles of trails. Also biking and hiking trails. Comfortable country environment. 1-5 acre parcels. 800-853-2363

Sarasota
View Larger Map
Lakewood Ranch - Sarasota - Start price: $$ (low $200's) This is a large master community which contains the Sarasota Polo Club amenity.  There  are village communities and a Del Webb 55+ community is here. 

6220 University Pkwy - Lakewood Ranch
Ph: 800-954-9578 or

New Mexico



Rodeo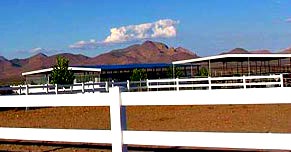 Photo by Caballos de las Estrellas
Caballos de las Estrellas - Equestrian Center - There is a Guest House on the property if you wish to rent.  Outstanding views - high desert - not over 55 but many persons over 55 reside with horses - also hiking, gardening, birding and much more to do on 1000 acres (verify).  Lot sales with electric provided to lot (verify).  Model home, shopping and recreation coming.
Rodeo, New Mexico - Call for more information - 575-545-5426

Ruidoso

View Larger Map
Montaraz - High-end equestrian development 15 miles northeast of Ruidoso in New Mexico. Themed community for second homes and retirement. First-class equestrian amenities. See local Realtors to view. Clubhouse and underground utilities. Trails.

Arizona 
Rio Verde

View Larger Map
Rio Verde In Rio Verde east of Scottsdale - over 55 community with fabulous mountain views and 50 minutes to Phoenix - Saddle Club for riding and boarding among the many amenities.  18731 East Four Peaks Blvd. - 877-746-8373

Prescott

View Larger Map
Prescott American Ranch - Prescott  - Not a senior community but worth noting for the equestrian amenities and location beside Prescott National Forest - homesteads one to five acres each. 602-386-1325 

Prescott Lakes Golf and Country Club Prescott -This is a senior community with Equestrian facilities nearby. 602-386-1325
Coming Wickenburg Ranch by M3 Companies - less than an hour from Phoenix - golf course community with planned equestrian facilities (verify) on 2000+ acre ranch.
Sun City West
Sun City West - Sun City Saddle Club - Large well-known community of a variety of types of homes - many recreational pursuits including trails for riding and places to keep a horse (verify).  Also golf, tennis, pools.  RV storage. Near Luke AFB.
13823 Camino del Sol, Sun City West, AZ (Visitors Center) - 623-214-8629
Massachusetts
Bedford

View Larger Map
Huckins Farm - 15 miles northwest of Boston. Stand-alone and attached homes. Resales. Would you like a New England yesteryear ambience surrounded by nature. 
Nearly 70% of Huckins Farm is protected status. Miles of trails for walking and horse riding. Very open and borders Great Meadows Wildlife Refuge. Bedford, Mass. - 781-275-3974
On-site Equestrian Center with barn and paddocks.  Resort lifestyle with clubhouse, tennis, pool, spa and more.

Harvard, Mass.

View Larger Map
Trail Ridge at Harvard - small country town close to 495 and commuter rail to Boston. Of 56 homes, 24 are age-restricted. Near equestrian facilities and protected land. Floor plans are named Belmont and Derby. Dual master bedroom designs and full basements. From $400's. Trail Ridge Way, Harvard, Ma. 978-877-0026 - See local Realtors for resales.

Maryland
View Larger Map
Marlborough Ridge -  Although most of the homes are large, there are some town homes starting in mid-  $300's. Not an over 55 community but will have great equestrian amenities. By Toll Brothers.  4101 Ritchie Marlboro Rd., Upper Marlboro (Prince Georges County) (Visitor Center) 301-780-3200 - Open Daily

Virginia
Between Richmond and Williamsburg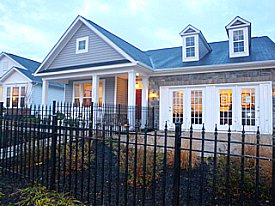 Four Seasons at New Kent Vineyards for Over 55 - $$-$$$ An ideal countryside location between Richmond and historic Williamsburg on I-64 - By K Hovnanian - In master-planned community of New Kent Vineyards featuring golf, vineyards and a winery, Equestrian Center and Polo fields. (check status). This is the active adult community at New Kent Vineyards. Single homes start low $200's for 2 BRs, 2 baths and 2-car garage. Also 3 BR's.
Ph: 866-407-3811 - 7723 Rockbridge Run Place - Open Daily

California
Laguna Woods

View Larger Map
Laguna Woods Equestrian Center -  Southern California - Large gated community with Equestrian Center as one of many amenities - hourly riding or boarding for residents horses - condos, co-ops and high rises. Sign up for tour of the community or see local Realtors. 597-4275

North Carolina 
Clayton
Portofino - By Mattamy Homes - Raleigh area - Large single homes with a mix of home styles and prices beginning in the $300's with miles of trails for hiking.  Equestrian Center, beach-entry pool, residence center and more amenities. Shown by appointment.  29 Del Corso Court, Clayton
919-373-3897

Tryon

There are plans for an international equestrian area in Tryon. The Green Creek Equestrian Park, with the Tryon Riding and Hunt Club, is also located here.

View Larger Map
White Oak Golf and Equestrian - Tryon, North Carolina - Nestled in the foothills of the Blue Ridge Mountains - 45 miles to Greenville-Spartanburg area. Recently purchased by a new owner with plans to make this a premier international Tryon equestrian area.

West End, NC - 73 miles to Raleigh

View Larger Map
McLendon Hills - West End North Carolina - (73 miles to Raleigh) In Moore County, home of Moore Regional Hospital. Equestrian center. Lakefront, vista and mini-farm tracts. State of the art Equestrian center.
275 McLendon Hills Drive 
910-673-4951

Waynesville, NC

Wolf Creek Ranch in North Carolina Waynesville, NC adjacent to Pisgah National Forest, Appalachian Mountains, and 45 minutes to Asheville - Gateway to explore hundreds of miles of trails on and off property. New equestrian facility. Resales - see local Realtors. 
Lenoir
The Coves Mountain River Ranch - Full Service Equestrian facility - 13 miles of horse trails - all skill levels - Equestrian Director.  Homes and homesites listed on their site when available.  Community gardens.
2002 Johns Ridge Parkway, Lenoir, NC - 828-754-0700
Tennessee 
Knoxville

The Farm at Tralee - Near Knoxville, Tennessee - Holrob Communities is developer - Premier gated community in foothills of Great Smokies - Resort and retirement amenities - maintenance-free farm setting - 40 home sites on 200 acres for plenty of space. State of the art equestrian facilities. One million plus.
Vonore

Rarity Bay Equestrian Center - Vonore TN - On Lake Tellico homes and condos - equestrian center - East Tennessee near Knoxville.  New homes, rentals and resales in the foothills of the Smokies.
Ph: 423-884-3000
Kingston

The Highland Reserve - Kingston, TN - Equestrian-friendly gated community in Watts Bar Lake - Small lots to estates.  See local Realtors.
Ph: 865-803-2044

Alabama
Hampton Cove - Huntsville - Not a strictly equestrian community but within  a mile of Equestrian Center for boarding and riding lessons.  The barn features a hospitality room, lockers, lighted grooming stalls, and hot and cold wash racks.
Colorado 
High Prairie International Polo Club - 1000 acres in Douglas County, Colorado. 60 luxury semi-custom homes. Near Colorado Horse Park.  See local Realtors for more information.

Utah 
Woodland

Wolf Creek Ranch - Woodland - Utah is a beautiful state and this is probably one of the nicest areas for an active retirement. Lease a horse program.  Million dollar estates and lots for sale. It is located near Park City and Deer Valley for outstanding skiing and resort towns in winter.  Verify equestrian facilities.  20 minutes from Park City.
St. George
Lava Bluffs - In Southern Utah near The Ledges community.  Considered by many to be the finest in Southern Utah.  Horse training, boarding, facility.  Hwy 18 East Side, St. George, Utah - 435-668-2046
South Carolina horse country 
Aiken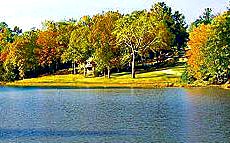 Photo by Chukker Creek
The Ridge at Chukker Creek - Aiken - By JR Homes. Surrounded by horse farms, gentle hills and spring fed pond. Additional features are conservation planning and green design.  New phase of homes starting in low $200's.
2502 Chukker Creek Rd., Aiken - 803-502-1130 (office) Open Daily but hours vary.

Brigadoon Equestrian Community - Aiken, South Carolina - horses and open space - Polo field.

Woodside Plantation - Aiken - Within Reserve at Woodside Plantation - Not an equestrian community but Aiken - South Carolina - is known for it's entrenched equestrian culture. Active adult community with golf. Nearby polo fields. From $300's (verify).  Woodside Plantation offers a great guide to Aiken on their website.  Visit tour available.  
1419 Silver Bluff Rd., Aiken - 800-648-3052
A video about Aiken equestrian venues:
More South Carolina Equestrian:
Spring Island near Savannah/Bluffton/Lake Greenwood

Spring Island - Spring Island, South Carolina - Between Beaufort and Savannah - 20 acre Equestrian center and 35 miles of trails - from cottages to multi-million dollar estates.
Rose Hill Plantation - Bluffton - Large community of over 960 estate homes on over 2000 acres in the Low Country - complete equestrian center, 50 acres of pasture and much more - also golf, fishing etc.
Grand Harbor Golf and Yacht Club Equestrian Center - On Lake Greenwood - Equestrian Center at this large community of homes packed with amenities - has stable, paddock and open area.  Private lessons available. Trails next door on private land.
200 Grand Harbor Blvd., Ninety Six, SC - 877-401-6330

Revenel 
The Landing at Poplar Grove  at Revenel - Not over 55 but has Equestrian facilities including stables and trails.  It also has a boat dock and deepwater access.  12 miles to downtown Charleston. Open Daily except Thurs/Fri by appt.  Single-family homes from mid-$300's. 3962 Berberis Lane, Revenel - 843-530-0755
Texas 
North Houston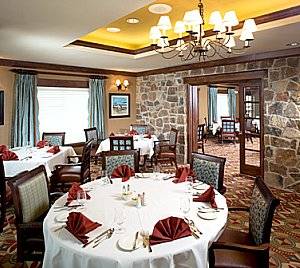 Photo by Gleannloch Farms
Gleannoch Farms - North Houston, Texas, at Spring - Within the master planned community of Gleannloch Farms - Some unique features offered are Equestrian Center, Championship Golf, lakeside athletic complex, hiking and walk trails on 25 acres. Independent, assisted and continuum of care community.   

Magnolia

Saddle Creek Forest - Magnolia, Texas - near Houston - 1-5 acre lots - 8 mile riding trails, stables and arena. Very natural living yet near big city area amenities. Now sold out.  Check for resales.  

Boerne near San Antonio
Cordillera Ranch - not over 55 but amenities for retirement and Equestrian Club.  Boarding or renting horses available.  Miles of natural trails.   Other clubs include social, fishing, tennis and swim and more. Nicklaus golf club and course rated #1 in Texas.  Homes and villas.
1092 Clubs Dr., Boerne, TX - 830-336-9000 (clubs phone)
Top of Page
Most Popular on this page:
* As determined by most click throughs to page.
Equestrian communities