Retirement Condo Community -
Best Tips
By
Carol Fena
You want to downsize from your large home to a retirement condo community. But you have your concerns.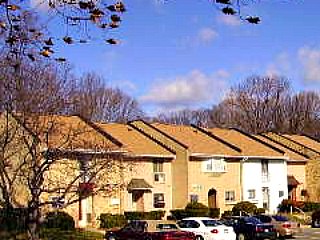 Row Townhomes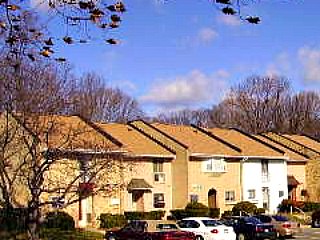 Row Townhouse
Close Neighbors
---
You like your large space and privacy. When you purchase a retirement condo there will be tradeoffs.
The pluses:
• In a retirement community you won't have yard maintenance and in most cases you won't have to shovel your own snow (Check to make sure these amenities are included.)
• Friendly neighbors nearby for socialization and sometimes support
The Minuses:
• You will have close neighbors.
• You may have a smaller space to live in.
• Infrequent in a retirement community but possible is an objectionable neighbor.  Check the written rules of the community. 
You are concerned about what it will be like and will you like it. 
Characteristics of Condo Communities
---
Retirement usually refers to people not having a job anymore after years of working.  It is not completely accurate to call 55+ communities retirement communities, although we do, because, on average, half of the residents are not fully retired.  A condominium community offers an easier lifestyle, which can be an aid as we get older to keep working.
More people over 55 are still working:  An active adult retirement condo community for over age 55 is not really a retirement community.  In a condominium community the seniors are active and most (averaging 50%) still have jobs.

Few children or outside guests: They aren't geared for families since children have grown and moved out. They do have some regulations that allow your college child to come home for the summer or grand kids to visit for a certain number of days in the year.

Every community has different rules about visitors so check with the individual community. In an over-55 retirement condo community, regulations do not allow children under 18 to live there except for short periods of time according to the community policy. Always check with the condominium community for any exceptions. Pets are usually allowed but there are rules and restrictions.

More time for activities you enjoy and freedom from heavy expenses of caring for a large home:


You will feel like you're on vacation all the time when the kids are grown and move out. You will have more leisure time in a retirement condo community and you will have opportunities to easily make new friends.
You may live in a smaller space in a retirement condo community. However, that can be an advantage because you will also feel a new sense of freedom. You will find you have more leisure time to travel and for hobbies. You aren't spending all day taking care of a house in a retirement condo community.

Lower utility bills and maintenance costs are possible.
You will sense the presence of people around you 
Whether you are a baby boomer or an aging senior, having neighbors close by can be a good thing. You will have more social contacts with people your own age which studies show may increase longevity. If you need help in an emergency, its good to have people close at hand. You may feel the presence of people or hear steps from neighbors above you. Condominium life is more like a close community. People are friendly.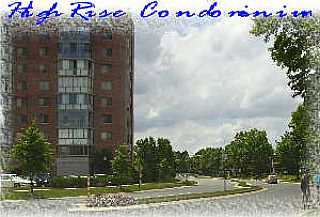 High Rise Condominium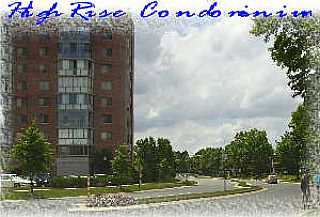 High Rise Condominium
Security Becomes More Important as you Age
You have previously been an owner of a large home and felt a lot of privacy and sense of ownership of the land under you. But think about this: You also had less security.
You never knew when a less than desirable neighbor may move next door or you may have to put up with the neighbor's wild teenage sons. You didn't have a security guard looking out for your property 24 hours a day. (Not all communities have this amenity. Please check.)
Rules and Restrictions
On the negative side, your life will be somewhat regulated in a retirement condo community because there will be rules and restrictions.
But these will also see to it that your property values are more protected by not allowing someone to paint their home purple for instance or being loud after certain hours.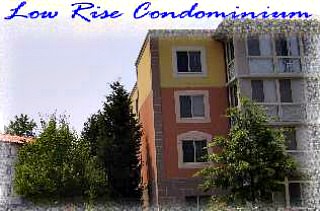 A condominium community has rules and regulations.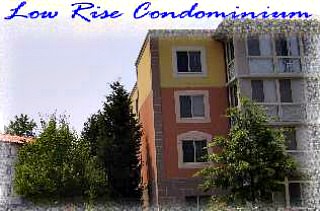 A condominium community has rules and regulations.
The following is a general definition of a condominium for information only.
(For legal advice always seek the services of a competent professional.)

A condominium is the ownership of the airspace of a unit in a multiunit building and an interest in the common elements owned with other condo owners.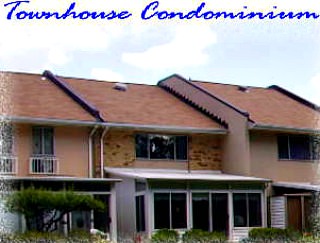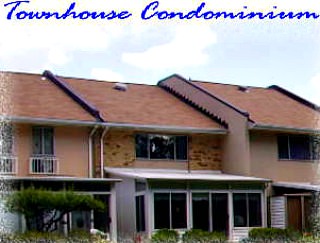 Checklist Before Purchasing (Not a complete list)
---

There are things you should take the time to thoroughly check before buying a retirement condo. 
• Appearance: Review the retirement condo community property to see that it is well maintained.

• Budget Reserves: Review the retirement condo community Budget to see if there are reserves to cover such things as snow shoveling.

• Budget Management: Is the budget well managed.. always over budget or under budget. A well managed community should not be constantly over budgeted and the reserve budget should be strong.

• Value: Check if it is a good value for the long term. How have units been selling. Do they sell quickly. Are the prices of homes increasing every year.

• Amenities that add value: What amenities are there in your retirement condo community and will you use those amenities since you are paying for them. If you don't golf or play tennis, will you pay less homeowners fees if you purchase in a community without these features. Of course, the amenities may help with resale values overall so check that out also.

• Final Homeowner fees: H/O fees in a new community may be lower than what they will be when the builder finishes and leaves and the community takes over later. Expect the costs may go up when the community board takes control. What the salesperson in a new community tells you may not be the actual fees when you move in. Also, there may be annual increases.

• Why are the community fees low: In a resale community, if there is deferred maintenance, it may be because the community fees are low. If the fees have been low for a long while and the community then decides to perform some heavy maintenance, the fees could suddenly have a substantial increase.

• How much for utilities? Compare what you currently pay in your home for utilities and find out what you will expect to pay for utilities in your condominium to see if there are savings. For sound is there an air space between common walls and for energy saving how is the insulation. Newer amenities may have more savings.

• Who will pay for what? If there are amenities, make sure they are being paid for by the builder not the community. Make sure these amenities have been built before the builder leaves. Anything built after the builder leaves is paid for by the community. See what amenities are already there when you purchase. Don't just take what the builder says but do your own inspection.

• Read all documents thoroughly before signing final papers that are available such as By Laws, association Rules, etc.

• In a buyers market, (check with your Realtor for your specific area), many things are negotiable.  Incentives are common.  Builders are anxious to get the homes sold. If you feel something would make your life easier, just negotiate for it and see what they say.  In a seller's market, the owner is not as negotiable but you can still ask and see what happens. Price is usually not a negotiable item in a new community.

• Buyers Agents: You may wish to have a buyers agent represent your interests instead of the on-site salesperson. Find an agent who deals with over-55 condo communities and who can inform and protect you. These are often called certified Senior Residential Specialists.

Condo Visit
---
When you visit a condominium community, usually the first thing the agent wants you to do is sign in.  You don't have to register your name with the rep unless you want to.  Take a look around if you like, but give no one your name if you intend to have a buyers agent represent you later.  Some new communities have different policies.  If this is important to you, call first and ask the policies of the community regarding representation.

If you like the property and want to purchase there, you can come back with your buyers agent and register at the community with your agent so your agent will be paid.
Builders usually have a reserve fund to pay buyers agents from but you must be registered with your agent and not with the sales agent on the property.  Do not sign the register if you wish to protect your personal agent's commission.

Retirement Condo Community Decisions
---
• Cost:  Consider how much you will need to retire.
• Snow Removal:  Is there a good snow removal plan in effect.

Maintenance:  Not all over-55 communities include exterior maintenance. You need to ask what low maintenance items are included.  Often, lawn care is not included.  The appearance of the community may be sub-par if lawn care is left up to the individual homeowner.
• "Security:  " What type of "security" features are there. A gated bar going across the entrance really isn't very much security.  
A 24-hour manned entrance is best but even better:  a manned entrance with a 24-hour roving patrol.
• Shuttle Service:  Is there shuttle service to shopping or is shopping nearby?  Many communities have an adjacent shopping area.

• Fire Prevention:  In the event of a fire, can a firetruck get close to the building and easily access your unit? Check with your local fire department as some very tall buildings may be unreachable.  Also, where is the fire department located.

• Property Taxes:  Property Taxes are based on the price you pay for your home so your taxes may go up when moving.  Check with the individual area regarding taxes.

• Modifications:   If you want changes from standard features, ask what they will cost you.  Remember, all options are at extra cost to you.  Model homes may include many options that are not included in the price, while other communities will only have standard items in their model home.  Clarify what is standard and what is at extra cost.  

• Take your time:   Don't rush - read your contract thoroughly.  Think through everything to make sure you are getting what you want before you sign anything.

• Deposits:   Make sure any deposit you make is fully refundable. There are actually contracts that say your deposit is not refundable if you cancel.  Read the fine print.

• Square footage:   Do not rely on marketing materials for square footage. Ask for the site documents from the builder.

• Protected Status:   Read your contract and don't take the verbal statement of a salesperson that surrounding land will not be built upon.

• Views or no views:  Views and lake frontage will increase the price of the home.  Notice how much more you will pay for these locations. Do you need a view?

• Timing of Move-In:  If your builder operates rental property, see if you can get a good rate if your home will not be ready and you have already sold your current home.

• Amenities:  If amenities haven't been built, you may wish to wait until they are if it is very important to you. In some cases, amenities have not been built or they are delayed.  Check with your builder and read your contract regarding amenities; the type, how many, can they be left out, etc.

• Final Walkthrough:   When you have your inspection walkthrough, take your time. If you find something unsatisfactory, say so because it might be difficult to get it fixed later after you move in. Take photos or put in writing your concerns. Check what warranties come with the property.

• Insulation and Energy Features:  Check the insulation by feeling the walls and floors. Inspect everything one wall at a time and then the ceilings and floors, cabinetry, plumbing.  Make sure everything works correctly, especially before your warranty period ends.
These are some of the many things to carefully consider when purchasing a condominium. (This is not intended to be a complete list.)
Check with your Realtor and other professionals. Hopefully your Realtor will be informed on all of the above.

Latest Tips
---
Your over 55 retirement condo community may be all condos or in a community of a mix of styles.
The single-family homes can be more expensive than the smaller condos yet you will have access to most of the same amenities as the more expensive single-family homes while paying less.
If it is a mixed community, usually the condominiums are built last after the single-family homes and they usually sell the fastest due to their lower price range so you have to be ready to buy when they finally arrive on the market.
A well-located condo community such as one near work commute routes or stations, may sell out quickly in today's market.
Many newer condo communities are locating near commute lines for easier access to work centers and jobs.
Enjoy the serenity that people of the same age living together can bring.

---
Return back to Bestguide-Retirement communities home page