Retirement Floor Plans
the latest in design tips and trends
Retirement floor plans are carefully designed to meet the buyers needs and the needs of aging.  Builders use methods like surveys to discover what buyers want.  
If I could only use one word to describe today's retirement floor plans, that word would be "open." Kitchens open into the living rooms. Cozy dining areas are in the kitchen. Living rooms are practically non-existent, instead they are "great rooms." Formal dining rooms open into living rooms.
But here are the most important tips:
Master Bedrooms -
| | |
| --- | --- |
| Master bedrooms are usually on the main level. I recommend this, if only for resale value. Most people in retirement prefer their bedroom on the first floor or a ranch home. This is also one of the criteria for an "aging in place" floorplan.  | |
Kitchens -
| | |
| --- | --- |
| Next, kitchens are extremely open--opening into the living or "great" room (usually referring to the living, family and kitchen rooms as one room.) Granite counter tops are still in as well as chrome fixtures. A new trend is to nickel fixtures in the kitchen or bath for an upscale style. An upscale look is what today's retirees look for. | Granite countertops are still popular  -- smooth and shiny black granite is a recent trend.  This is often paired with cherry cabinetry and stainless steel appliances. |
Baths -
| | |
| --- | --- |
| Bathrooms are more luxurious with upscale fixtures, sinks, and tiles.   Showers are separated from tubs for soaking.  Showers have seats. Bathrooms are substantial and airy with large  windows and may use glass block. Add double sinks and upscale lighting fixtures, bowls and mirrors. Make your bathroom spa-like--reminiscent of luxury hotel bathrooms in the islands.  | |
Casual Dining -
| | |
| --- | --- |
| A cozy and casual dining spot for 2 to 4 is usually within the kitchen or off the kitchen and can replace the formal dining room. Any spot will do. It is open and flows with the floorplan. The formal dining room can be smaller.  | |
Living and Dining Rooms -
| | |
| --- | --- |
| "Great rooms" are replacing separate rooms. They are more open and flowing. Picture the kitchen opening into your living and family rooms.  This makes an easier living environment for seniors. For easy maintenance, flooring would be tiles, hardwood and the new stain resist carpets.  | |
Formal Dining Rooms -
| | |
| --- | --- |
| Elegant formal dining rooms are opening into hallways or living areas.  | |
Bonus Rooms -
| | |
| --- | --- |
| Second floor bonus rooms are good for guests or an office. One may have an option for the following: sky basement (for a storage area) or upstairs bonus room.  The Bonus room for guests is good when your home is not near family and friends, and guests want to stay longer. They will be comfortable away from the main living areas.  Sometimes there is an option to combine bonus and storage areas.  | |
Sunrooms -
| | |
| --- | --- |
| Add a Sunroom -- usually in the rear of the home off the main living area. You may have an option to have a screen porch instead.  | |
Covered Patio -
| | |
| --- | --- |
| Covered Patio -- Even if one has a sunroom or screen porch, you may also want an outdoor covered patio for dining or gardening.  The covered patio usually is off the sunroom or screened porch.    | |
Laundry Room -
Retirement floorplans should make every day tasks easier and close at hand.

Plan a laundry room in a convenient place. Plan how you will take your trash out and how far from the kitchen it is. 
Other design tips:
You can include some or all of these:
Cathedral Ceilings

Kitchen islands and extra counter space

Ceiling fans

Larger windows

Interesting ceiling treatments

Crown molding
See universal design, a design concept that helps you stay in your home longer as you age.  Some features are:
wider doorways 
 stepless entries
 lower light switches 
 raised dishwashers  
Please consult with your design experts for the best retirement floorplans.
These tips are for information only and no guarantee on how they will work in your retirement home. Floorplans and options that are available at your community may vary greatly from this information.
Newest Evolving Home Designs and Materials Trends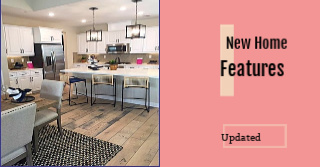 The world of home design is always evolving.  Builders are using new materials as standard or options.  Technology in homes that save on electric and water bills are becoming popular. 

Countertops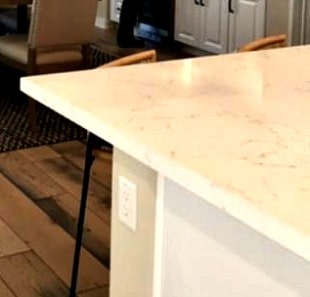 Quartz Countertop
Although granite counter tops are still in demand, this hot trend for 20+ years shows signs of slowing.  Instead quartz counter tops in bathrooms and kitchens are increasingly taking its place.  Quartz is a very hard material that lasts a long time plus it's beautiful.  It has a smooth and shiny look.

Flooring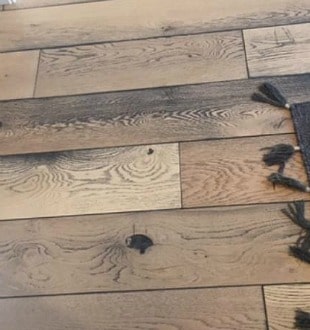 Vinyl Not Wood Floors
The modern "Smart" movement extends to flooring.  Not wood floors but a wood or tile look in vinyl.  Sometimes you cant tell the difference in real or imitation.  Also big now is engineered wood flooring.  Wood floors in general are in demand.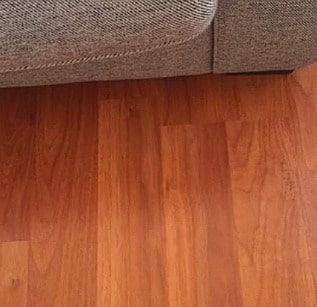 "Engineered" Wood Floor - comes in many wood looks and colors
Technology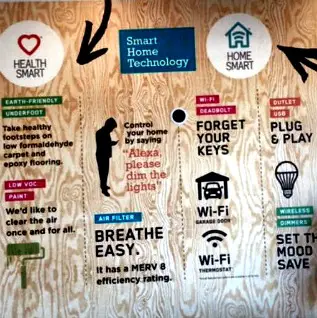 Poster on wood not wood board as seen in Pardee Homes model home
These smart home features were included (some as options) in Pardee Homes community "Altis."  Pardee Homes is a leading builder in green and "smart" technology living.  There are so many new "things" coming out to make homes healthier and a more convenient lifestyle.  Energy-saving appliances is just one small part of this evolving trend.