rv retirement parks (50)

55+ for snowbirds, temp, or permanent lifestyle community
Jump to Index for all Manufactured Categories.
Some people have a passion for RVing and love RV retirement parks. If you can remember what it was like to go camping; waking up to mountain, lake or other scenic beauty; when foods smell fresher and appetite is keener; perhaps a swim or hike just beyond your front door, you may be thinking of the RV life or you may already be enjoying it.
If you already have an RV you can rent a space on a temporary or permanent basis depending on what the park allows. 
If not, read this article written for us about tips on buying an RV.
RV Retirement Parks in Arizona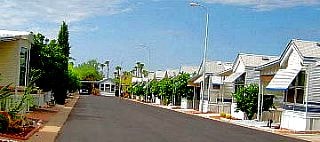 55+ RV Park Models in Arizona
Go Here for RV Retirement Parks in Arizona
---
RV Parks in California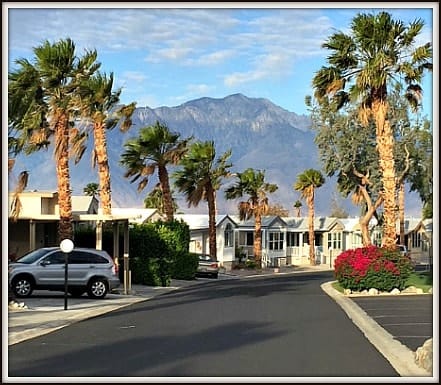 RV park model community in Southern California
Southern California
Borrego Springs  |  Needles  |  Salton Sea  |  Indio   |  Desert Hot Springs  |  Hemet  |  Loma Linda  |  San Jacinto

Borrego Springs in Southern California
Area Amenities: Anza Borrego Desert State Park
Shops nearby: 1 Mile
Unique Features: mineral baths, astronomy park, state park nearby, golf, tennis, massage, Wellness Center
The Springs at Borrego - This is not over 55 but many good features seniors may enjoy.  Luxury RV resort in heart of Anza-Borrego Desert State Park. Spacious pullthru sites with mountain views.  9-hole golfcourse.

2255 DiGeorgio Rd - Phone: 760-767-0004
Needles, Ca.
Area Amenities: Desert, Colorado River 
Shops nearby: Outlets
Unique Features: golfing, boating, fishing, outlet shopping, casino, Havasu wildlife national refuge nearby, Indian artifacts, quiet ambience
Calizona RV Park - 5 miles south of Needles at 95 -  Seniors only Oct.-March. - 117 miles to Las Vegas.  Pull-thrus and full hookups.  Wi-fi - Low rates.  Area Amenities: Desert, Colorado River - Shops nearby: Outlets

Unique Features: golfing, boating, fishing, outlet shopping, casino, Havasu wildlife national refuge nearby, Indian artifacts, quiet ambience
1902 Five Mile Rd, Needles  - Phone: 760-326-5679
Niland-Salton Sea Area
Area Amenities: Desert, Salton Sea, 3 hrs to Palm Springs   
Shops nearby: Yes
Unique Features: mineral springs, mineral spa, steam rooms, massage, large community with many snowbird activities, casino trips, rental or purchase park models.
Fountain of Youth Spa - Near Salton Sea and hour to Mexico border.  This is not an over 55 rv resort, however, it does have senior activities and is a very popular rv park  for snowbirds with plenty of activities that seniors and boomers will like. 835 full hookup sites. Cheap dry camp rates.  No reservations necessary for dry camp but always best to call.

1500 Spa Rd, Niland - Ph: 888-800-0772
Indio (near Palm Springs)
Class A Only - Permanent Owned Sites - high end resort:
Outdoor Resort - Beautifully landscaped, with mountain views, luxury resort for Class A RV's (See All Rules for this resort) - Owned, permanent sites.  Golf course, resales and rentals.  HOA.

80-348 Avenue 48, Indio - 800-892-2992
Desert Hot Springs -

best parks for mineral hot springs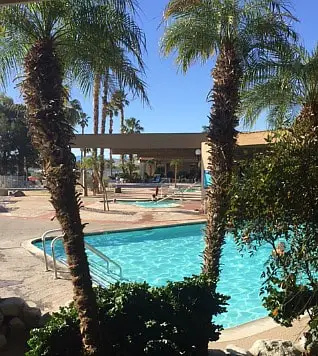 Caliente Springs
Caliente Springs RV Park - Sky Valley resorts Palm Springs area.  Natural hot springs.  Vacation rentals, RV sites, or purchase home.
70200 Dillon Rd., Desert Hot Springs - 760-329-8400
See the Review of Caliente Springs 55+ RV Resort 
Sparkling Waters MHP and RV - The perfect spot to spend those winters in your RV - The best part: heated mineral water pool - and so much more.  Also, large storage lot, rentals and sales.
760-329-6551 - 17800 Langlois Rd.
Hemet  
Hemet Desert Sky - RV park and retirement community - Spaces rent $300-$400 (verify) - Furnished park models rent $400-$500 (verify) see details on site - Dog park and shaded solar panel spaces (coming) - If you don't mind a drive (1 hour), Hemet is about 42 miles from Palm Springs and is a lower cost area than Palm Springs for year-round or snowbird lifestyle. Laid-back area of shopping, medical, golf in town.
1190 North Palm Ave., Hemet - 909-498-2040 (On-site Manager)

Golden Village Palms RV Resort - Hemet
Ph: 866-225-6320 - 3600 W Florida Avenue, Hemet 

Rio Bend RV & Golf Resort - Pull-thru's available - Also, rental cabins and tents; recreational activities; restaurant, golf, tennis, spa, pool, clubhouse; nearby beaches, fishing.  Ph: 800-545-6481 - 1589 Drew Rd., El Centro 
Heritage Ranch - Your RV on your own lot.  Amenities galore and views of the San Jacinto mountains.  Listings of lots for your park models, fifth wheels or motorhome for sale or rent on their website.  80 miles east of Los Angeles when you want the city life and shopping.  951-654-3366 - 800 W Community College Dr., San Jacinto
Northern California 
San Francisco   |  Seacliff (Santa Cruz)  |  Redding

San Francisco
Treasure Island RV Park South San Francisco - not over 55 but RV parks are so rare in San Francisco we are listing it--check it out. Overnight or long-term rental spaces. Space rental only. 
Seacliff (Santa Cruz area)
Seacliff Center RV Park - Aptos, 7 miles to Santa Cruz - This is what RV'ing is all about - you are right on the sand at the Pacific Ocean. This popular spot is a gem - reservations required.  Only 34 spaces.  And the entire area is resort-like. 831-688-3813  
Redding, Northern California
Premier RV Resorts This is a chain of RV parks not over age 55 but the one in Redding, CA, has an adult lounge and activities. Also, they give free morning paper and free daily continental breakfast.  Also, concierge service, hi-speed wi-fi, and satellite TV.
RV Parks in Florida (part 1)
Western Florida 
Bay Bayou in Tampa had the most views on this page:
Tampa
Bay Bayou RV Resort - Tampa - year-round camping with country ambience and riverside. 55+; also, rental cabins, tents okay; pool, spa, tennis, boat docks, fishing, golf, playground for grandkids, fitness room, BBQ, clubhouse.  13622 Memorial Highway, Tampa - Ph: 888-692-2968
Arcadia
Crosscreek Retirement RV Resort  Heated pool, jacuzzi. Gated 24-hour security, mailboxes, Cable TV. 90% of sites are rented annually for a non-transient feeling.  Awarded the 5 "W" rating. 65 miles to Tampa.

Largo (5 miles to Clearwater)
Rainbow Village  - Largo - 307 sites in the Tampa Bay Area - special rate on now (verify as can change) - Pool and more.  11911 66th St. - Ph: 844-728-1782

Ruskin
River Oaks RV Park Ruskin - docks and boat storage - fishing pier - 4 miles by boat to Tampa Bay - easy-going community consists of full-time, seasonal and temporary residents. Activities.

Hudson
Three Lakes RV Resort Adult gated park in Hudson Western Florida. 45 minutes North of Tampa. Cottages or hookup. 
Royal Palms RV - Clubhouse - walking and biking space. 
Ph: 352-595-3779
Bradenton
Horseshoe Cove - Now by Sun RV Resorts
5100 60th St E - Ph: 844-727-3715
Pleasant Lake - By Sun RV Resorts
6633 53rd Ave E., Bradenton - Ph:  844-728-1779
25-acre lake and boat launch, pool and more.  Rates start $29/night (verify)   
Punta Gorda (Near Port Charlotte)
Shell Creek  - RV Resort and Marina
Ph: 844-728-4710 - Washington Loop Rd, Punta Gorda

Western Central Florida 
Webster
Sunshine Village Manufactured Homes and RV Resort - For short or long-term RV camping - an hour from Disney Resorts and ocean amenities. Can accommodate the largest rigs in spacious lots. You can even rent a fully-furnished home. Community Center for social events.  
Ph: 352-793-8626 - 10129 SE 22nd Path, Webster, FL 

Bushnell
Red Oaks -  On 130 acres - 1000 full-hookup sites - also tent spaces - fishing, clubhouse, hot tub - Rates start $35/night (verify) -
Ph: 844-728-3611 - 5551 SW 18th Terrace, Bushnell 

Central Florida 
Ocala
Ben's Hitching Post Campground  - Silver Springs - Adult park from 9/15 to 4/1 - In Ocala National Forest - Resort lifestyle with pool, spa, many activities. Surrounding area also provides many things to do. For vacation or full-time.  352-625-4213

Royal Palm RV Park- Adult park. 18 miles north of Ocala. Clubhouse. Boat and trailer parking. 
Ph: 352-595-3779.
Zephyr Hills (approx. 20 miles to Tampa)
Waters Edge park by Sun RV Resorts
I like the old-fashioned sound of the amenities at this rv resort: group singalongs, BBQ's, dances, pancake breakfasts, campfires, bingo and more.  Enjoy a heated swim pool, on-site pond and more.  Low rates and specials. Nearby shopping, dining, medical, golf. Disney 1 1/2 hrs.
Ph: 844-729-0723 - 39146 Otis Allen Rd 

Sweetwater by Sun RV Resorts- Quiet, no fuss retreat 20 miles from Tampa. Many of the casual restaurants in the area deliver to your door. Accommodates up to 40 ft. Of the many social and recreational activities: horseshoes, billiards, shuffleboard, pool and more. Rentals when available.
Ph: 844-729-0696 - 37647 Chancey Rd, Zephyrhills

Southern Charm by Sun RV Resorts - 497 sites incl patio and picnic table - many social activities - amenities include pool, hot tub, water gazebo and recreation - Rally Central for events.  Area amenities include golf, bike trails, shopping and more.
Ph: 844-728-4791 - 37811 Chancey Rd., Zephyrhills

Settler's Rest by Sun RV Resorts - 379 full hookups and spacious sites on 25 acres - 25 miles to Tampa and 60 mi to Orlando - Amenities on site such as pool and recreation. Near shopping, dining and medical.
Ph: 844-728-4614 - 37549 Chancey Rd, Zephyrhills 

Rainbow Village of Zephyrhills - by Sun RV Resorts - 382 full hookup sites with pool, BBQ, pet area, and recreational activities. 
844-728-1780 - 4150 Lane Rd., Zephyrhills
Frostproof
Lily Lake Golf Resort Frostproof - great central Florida location one hour and twenty minutes to Orlando - Resident-owned lots - rentals - RV ports - resort-like with golf, lake, pool and more. 

Sebring
Buttonwood Bay RV -  Manufactured home community and RV park in Sebring by Sun Communities.

Dundee
Greenfield Village RV Park - 93 permanent park model sites. 30 minutes to Disney World. 
Ph: 863-439-7409 - 1015 State Road 542 W 

Labelle
Whisper Creek RV Resort
Ph: 855-675-6888 - 1887 N State Rd 29
Southwest Florida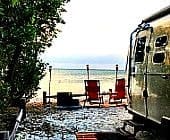 photo courtesy of Riveted-blog.com
Fort Myers
Indian Creek RV by Sun Communities. Affordable 55+ living in RV resorts with many resort amenities.  RV sites, including long-term stays, and homes for sale or rent.  Land lease.  Nearby Ft. Myers Beach.
17340 San Carlos Blvd., Fort Myers Beach888-726-6358 - Closed Sundays
Siesta Bay RV - Ft. Myers - A 55+ RV resort by Sun Communities with many outstanding amenities.  Rentals, RV spaces, vacation homes or year round.
19333 Summerlin Rd., Fort Myers - 877-817-5710
Cypress Woods RV - Gated resort community for Class A motor homes and fifth wheels - Purchase your lot or rental lots. New waterfront lots available.
Ph: 239-694-2191 - 5551 Luckett Rd., Fort Myers
Naples
Crystal Lake RV Resort - Naples - own or rent - park models - cash/checks only for rentals - beautiful resort with 2 heated pools and 3 spas - lush tropical landscaping and lake views.
Ph: 239-348-0017 - 14960 Collier Blvd., Naples 

Parks in Georgia
Valdosta
River Park RV Park  -  Valdosta - Annual affordable rates. Not over 55 park but has extended stay and also medical facilties nearby.  1407 St. Augustine Rd., Valdosta - 229-560-6352 (closed Sunday)
Arkansas
Hot Springs Village - Hot Springs, Ark. - This is a popular retirement community - Among its many amenities is a small RV Park called Coronado RV Park - only ten spaces so reservations are required.  Year round but no bathroom facilities.   Many social and recreational activities and golf.  Nearby State Park.   501-922-5050
Texas
Kerrville Area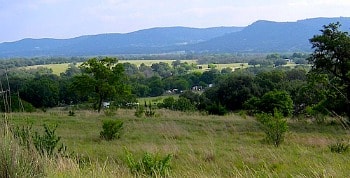 The Hill Country is a very scenic area often mentioned as one of the best places to retire. 
 
Mobile Village RV Park  - Aransas, Tx - 361-758-8367 - small 55+ community near Corpus Christi good for fishing.

Take It Easy RV - Kerrville - Near VA hospital - daily/weekly/monthly. Pool and spa.  703 Junction Highway, Kerrville - 1-800-828-6984
East texas  
tyler
Tyler is known as the rose capital and has an annual festival in October.

Piney Ridge RV 55 Community Tyler - Newer gated park with large sites for motor coaches, 5th wheels and Class A's. Site rentals and extended stay. Selected sites with carports and hobby building. Laundry building, gated, satellite TV and wi-fi hot spot. Medical facilities, shopping, Barnes and Nobles, golf and more nearby.  Rates listed on website.

South Texas 
Donna
Victoria Palms RV and Mobile Home Park - Donna, TX - Premier 55 RV resort in Rio Grande. Also cottages (park models) and hotel. All the recreational fun for the wintering Texan. Pool, spa, golf and more. Rates published on their website for full or part-time.
There are park models for rent or you can also purchase. See the new Champion Homes models.
Harlingen
Park Place Estates RV - Mobiles, RV and park models.  Also, 10 rentals. Gated with pool, 3 spas, some nice amenities include recreation, woodworking, and more.  Over 800 spaces.  Wilder RV Resorts.  5401 Bus. 83, Harlingen - 956-428-4414
Mission (Rio Grande Valley)
Bentsen Grove Resort - Lots of snowbird activities - 2 heated pools and spa, pool tables, ping pong, putting green, tennis and more.  Ideal for long stays.  If you have no RV, you can enjoy one of their resort furnished apartment rentals.  Check for availability.  This is a mobile home/RV park.
Ph: 956-585-7011 - 810 Bentsen Palm Dr.  
Blue Bonnet RV - Gated, Indoor heated pool, recreation and social activities.  Affordable rates.  Storage also available (verify).  Wilder RV Resorts.
3366 North Bentsen Palm Dr., Mission - 956-585-7630
Pharr, Tx
Texas Trails - So many amenities: Indoor and outdoor heated pools, shuffleboard and more recreation and Activity Director. Over 800 sites.
501 Owassa Rd., Pharr, Tx - 956-787-6538
Tip 'O Texas RV Resort - Gated and less than an hour to the waters of the Gulf.  101 East Sioux Rd., Pharr - 956-787-9959
New Mexico
Sunny Acres RV Park - Las Cruces - Nightly, weekly, monthly, annual and 6 months - start $39.90/nightly (verify) - no pull-thrus on monthly basis. No tents.  40 foot wide - good for large.  Areas for groups.  Pets not tied outside (see rules for pets).  595 North Valley - 877-800-1716
New Hampshire
Danforth bay
Danforth Bay - The Bluffs - The Bluffs is the adult section of Danforth Bay. Natural area with wildlife - 1/2 mile of lake frontage. Rent boats, canoes and kayaks.
Lake Forest RV Resort - East Wakefield near Wolfboro - for age 50+ - on 100 acres of woods - own or lease. 
Pennsylvania
Hatfield, North of Philadelphia
Village Scene Manufactured and RV Park - Hatfield - 30 miles north of Philadelphia - small park with daily, weekly and monthly rates.  Part of manufactured homes community there.  Good Sam discount.  2151 Koffel Rd., Hatfield - 215-362-6030 - Cash or check only. Rail station to Philly nearby.
Missouri
Sedalia
Countryside Adult and Senior RV Park - Park is for seniors.  Campers, RV, and travel trailers. 50 sites. Ph: 817-564-3036 - 5464 S Limit Ave., Sedalia  
federal lands
The government site can provide additional information about reserving sites on federal lands. 
rv communities with rv ports
Communities listed throughout this site will note if there is RV parking, however, there are a few new concepts for senior communities.  These new communities market RV parking as a main feature not a side line.  Here are just a few:
Reunion Pointe - By Bella Terra.  Just 45 homes, all with RV ports - targeting baby boomers - There is a visit program to "try out" the community.  Between Mobile and Pensacola near the Gulf in Foley.
Valencia Lakes in Tampa - By GL Homes - On-site boat and RV parking lot.  This was so in demand that there is now a wait list for the 50 spots.  
Valley View at Sunrise Hills - Ft Mojave, Arizona - entire community with RV garages.
guide
Interesting to Note (verify all information):
If you own an RV and use it regularly, it may be considered a second home for tax purposes but please verify this information.
RV's average 8 to 10 miles per gallon of gas on average. Therefore, more people are staying longer at parks and parks are adding more amenities.
Seniors with disabilities can find rv's with added amenities such as a wheelchair lift. Active adults may enjoy adding raised toilet seat, widened doorways and hallways, electric beds and roll-in showers--all available now with the aging population.
There are directories for rv'ers to find medical facilities while on the road.
There are currently over eleven million RV households in the U.S.  
RV sales have been increasing in recent years.  
Prices for new RV's have been increasing in recent years in part due to labor shortage.  
There will be changes in fuel types allowed in coming years so be aware of any new laws.
Baby boomers age 55 to 64 have the highest ownership rates.
Annual Space Leases

RV Class A2
Some parks have annual space leases for people who want to rent long-term.  People lease the space annually and when they return, they can see the same people who become their "neighbors."   Some people live there on a permanent basis, and may eventually like the community enough to buy or rent long-term.  RV'ers going to the next great place may eventually find a community they want to stay in or come back to every year.

Renting an RV
Some parks have annual space leases for people who want to rent long-term.  People lease the space annually and when they return, they can see the same people who become their "neighbors."   Some people live there on a permanent basis, and may eventually like the community enough to buy or rent long-term.  RV'ers going to the next great place may eventually find a community they want to stay in or come back to every year.

Parks have different regulations and rules--read carefully

Be sure to read them carefully before going. Also, some parks only allow certain types of RV's. This is important to know.
Always check thoroughly any park agreements and rules whether renting or purchasing.
There are many types of RV parks: campgrounds, campgrounds with RV and cabin rentals; park model communities for snowbirds or permanent with RV spaces with land ownership or land-lease, and other variations.  We have included all types and noted what kind they are; and, of course, all of our RV retirement parks are 55 communities.  (I have listed a couple exceptions to the age rule and it is so noted.)

most viewed on this page
Bay Bayou RV 
13622 Memorial Hwy, Tampa - 888-692-2968

Crosscreek 
6837 NE Cubitus Ave., Arcadia 863-494-7300

Piney Ridge
20250 Hwy 69 So., Tyler, TX
903-594-8484
learn more about rv's
Snowbird Getaway
RV Park Models in Arizona

Have RV, will travel: tips for RV owners and future owners
Go to Top of page
You are here:
55+ RV parks