California Retirement Communities
By
Carol Fena
...descriptions of the best regions for your retirement in California
Contents:

Climate

Relocating

Healthfulness

Affordable areas

Best Towns and Cities



View Larger Map
Northern and Southern California
have different climates 

When considering California retirement communities, one of the best things is the climate. However, the north is very different from the south and the coastal areas vary from inland areas.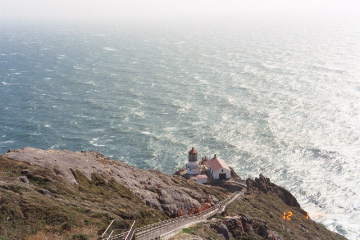 Big Sur - Northern California
The north is greener, higher rainfall, more storms and varying temperatures. The air on the coast is a high quality. The south has consistently beautiful weather nearly every day and only occasional storms.  There are smoggy areas around Los Angeles.
Choose by Climate -
The Northern Coast's Unique Climate
Northern California climate along the coast is dry but sometimes cool and damp.  It has this unique climate that happens when the fog rolls in.  It gets sunless and cold.
This happens when the inland areas get very hot in summer and this air meets the cooler coastal air.   This makes fog which cools everything off along the northern coast.  Days rarely go above 80 degrees on the coast.  The occasional fog can be undesirable if you like your summers consistently hot.   San Francisco can require coats mid-summer.
Along the coast spring and fall are considered to have the best weather.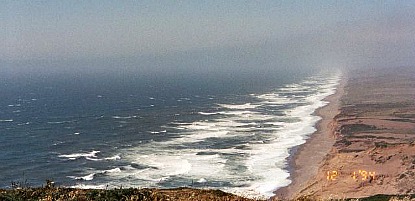 Point Reyes National Seashore
All of these areas have very good to excellent air quality which is what I moved there for. Cities: San Francisco, Santa Cruz (not as much summer fog as San Francisco), Monterey.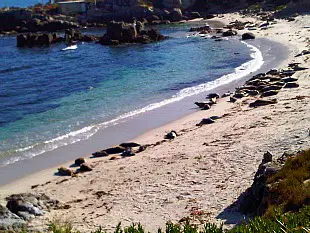 Sea otters sunning at Monterey Bay
Northern Inland Weather
Inland, the weather is very different from coastal areas. Year-round pleasant and mild with some very hot days in summer.
Cities: San Jose area (Silicon Valley), Santa Rosa/Napa Valley, Chico, Sacramento/Lake Tahoe, Stockton/Lodi.
Northern Mountain Areas
The mountain areas around Lake Tahoe and Yosemite get very heavy snow in winter--great for skiing.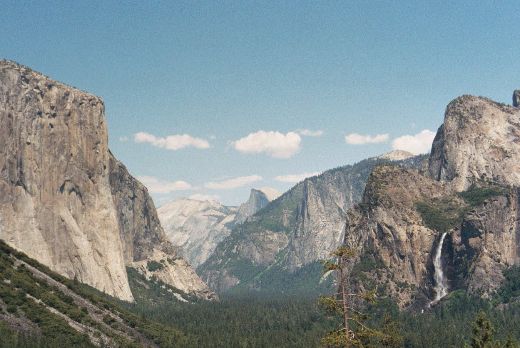 Yosemite National Park
"I hope that my work will encourage self expression in others and stimulate the search for beauty and creative excitement in the great world around us." Ansel Adams
Southern California..you will think you live in paradise with an even climate and year-round sub-tropical days
This Mediterranean climate will be ideal--not too hot and not too cool.  Some people even get tired of every day being so perfect; this is true if you are inclined to like stormy days or change of seasons. Not much change here.
The Southern California coastal areas are most pleasant with ocean breezes. Unfortunately, some areas around Los Angeles have a problem with smog.
Relocating -
California may be harder to make friends unless you are in a retirement community with many social activities.   Although very friendly, Californians are so busy with the tremendous variety of places to go that they aren't around much. You can get outdoors year-round, and they do.   In many cases, you may need to adjust to a more independent lifestyle and establish your own group of friends. This may take time but once you relax and accept this fact, you will be happier.
Some areas of California have higher populations of seniors than others.

Healthfulness -
Areas of Northern California near the Coast have excellent air quality due to breezes coming directly off the ocean most of the time.
All of California offers great climate, the freshest produce available all year, a casual lifestyle, plentiful recreation and scenic beauty.  Ocean fish is also abundant and less costly than other areas of the U.S.
Population Density
Density of population can affect your stress level in retirement. Most people want something different from their high-stress suburban lifestyles during their working years.
Here is a sampling of populations for some California cities:
1-4 million (approx.)
Los Angeles
San Diego
San Jose
500,000 - 1 million:
San Franciso
Sacramento
Smaller towns surrounding big cities may be a better choice for retirement if you are looking for a slower pace. Here is just a sampling of some towns around cities:
100,000-200,000 pop.
Huntington Beach
LaJolla
Santa Rosa
Oceanside
Elk Grove
Sunnyvale
Pasadena
Escondido
Simi Valley
Carlsbad
Santa Cruz
and even smaller and further away from large cities:
San Luis Obispo
You can easily check populations and densities of areas you are interested in. The area density is important for judging how crowded you will feel. For instance, Los Angeles has a density of over 8000 people per square mile according to the 2010 Census. You may have reasons for wanting to live in large cities like Los Angeles for it's urban sophistication.
Home prices and affordable areas -
Here is a sampling of the more affordable areas in California:
Northern California: Areas further away from the Bay Area such as the far Northern region or Central Valley.
Southern California: Central Coast, Riverside and San Bernardino Counties.
More expensive areas:
Northern California: San Jose, San Francisco, Napa Valley
Southern California: Los Angeles, San Diego
Towns and Cities -
Northern California:
Bay Area-Silicon Valley: At the center of the Bay Area is Silicon Valley comprising several cities. It is an easy drive from there to the San Jose foothills and up to San Francisco and then down the Coast to Santa Cruz. You can then go on to Monterey/Carmel a half hour away from Santa Cruz or you can go from San Francisco a half hour up to Napa Valley. You can go from mountains, to ocean, to vineyards in one to two hours.
Coastal Areas: Santa Cruz County, San Francisco or Monterey Coastal Areas - This area is good for those who want to be near the ocean and like a cooler climate (never goes much above 80 degrees).  
Sonoma County and Napa Valley: This area is good for "foodies" and wine lovers; mineral springs and spas and hiking.
Sacramento Area: Close to Lake Tahoe and other outstanding lakes for camping, hiking, swimming, skiing, casinos, boating, fishing etc. Beautiful scenery.
Lake Tahoe: Smaller laid-back towns include Placerville and Davis, a top college town, and is a more affordable area. Near lakes, fishing, hiking and skiing.
Northern Coast above San Francisco: Great for the rugged outdoors life. Includes towns of Redding, Eureka, Chico, Paradise. Activities include fishing, hiking, scenic lakes, redwood forests and outdoors lifestyle.
Central Valley: Includes towns of Lodi and Stockton and is a more affordable area. Small town feeling.
Southern California:
San Luis Obispo: This laid back area is for those who love the beach - right on the Coast with great seafood especially oysters and clams.  Dig for your own.
Los Angeles/Orange County Area: The traffic in Los Angeles was too much for me but maybe you would like the fast-paced excitement.  Try parking your car (or doing without the car) and take the bus or trolley.  Santa Monica has an excellent bus system or you can walk to the beach and most everyday needs and attractions.  
The climate is wonderful in the Los Angeles area.  Excitement is in the air with the film companies always in the area shooting for upcoming movies. Premieres are frequent on the red carpet.   Relaxed urban sophistication, beaches, college town. Great shopping and restaurants.
Orange County is below Los Angeles County and has the same great climate.  There is   a large retirement community called Leisure World in Seal Beach.
San Bernardino Area:  Close to Palm Springs desert areas but not as hot. Hemet is a very affordable area with lots of new active adult communities and not as pricey as Palm Springs.
Palm Springs area:
Great area for massage, hot springs, and being "away from it all." Take the tour bus to celebrities' homes. Enjoy inexpensive Mexican dining. Desert Hot Springs which is adjacent to Palm Springs has hotels with pools fed the wonderful mineral water (verify).

If you go in summer, the main part of the day is very hot so be prepared to stay inside with air conditioning or take a warm mineral water swim to cool off.
San Diego:
San Diego Area: The climate is perfect - lots of Mexican influence especially in the cuisine since you are so close to the Mexican border and Tijuana.  Visit the Old Town historical district for great Mexican food and sidewalk cafes.
All of the above places are the best areas for active adult communities since they offer so much that seniors can enjoy in their retirement.
I love California and think you will too if you decide to retire there.