Celebrate by Del Webb in Fredericksburg, VA. for over 55
..standing on a windy Hill at Celebrate by Del Webb, looking down on the first newly built homes at this over 55 community, feeling like a bird soaring above..
Address: 201 Castle Hill Dr., Frederickburg, VA
Phone: 888-231-3598
Information Center is Open Daily 10-5, Sat 10-6

This pale rainy day in December didn't dampen the warming effect "Celebrate" by Del Webb had on me. Coming away after the tour I had a definitely enhanced view of what this community was all about.
It's a long drive to the community for me and I was hesitant--would it be worth it, I wondered. I was impressed. It was.
After viewing the models, lingering with me was the beauty of palest apple greens, blues, beiges, bright whites and aqua. The room scents of spices and crisp fruit were still in my memory. Waving pampas grass, pomegranate red umbrellas on wind swept hills that day was dramatic and exciting.
Celebrate is a community in Virginia in Fredericksburg. They have built a long winding road to its entrance called Celebrate Virginia Parkway. This road builds anticipation as you eagerly look for the "Discovery Center" to view the model homes.
Your gaze is of hundreds of acres of surrounding land with nothing on it but trees away in the distance (much of this land will be preserved--please verify with builders and contracts).
When you arrive, you feel transported in time to another era as from a hill you gaze down at the 250 acres with 125 of them preserved for future generations  (verify) to enjoy their woodsy views almost completely surrounding you.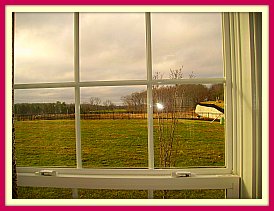 Celebrate has 3 categories of homes: Premier, Classic and their villas, which weren't available when I did this review. 
The Classic Series: Starting from $240,990

(in addition to the following, some new floor plans have been added since this review)
| | | |
| --- | --- | --- |
| The Madison (one of smallest models) | The Jefferson | The Washington and Washington with loft |
The Premier Series:  Starting at $299,990

(more floor plans have been added since this review)
| | | |
| --- | --- | --- |
| The Harrison--kitchen view | The Wilson-foyer view and Wilson with loft | The Zachary and Zachary with loft model (largest model) |
The Villas:

 (Attached homes starting at $189,990 - 4 floor plans of 2 BR, 2 BA with 1-car garage)
Please verify all pricing, square footage and other information for Celebrate by Del Webb, as it can change. There may be options shown in the photos that are not included in base pricing.  
Area:
It's already a thriving area with lots of shopping (and a very large Wegman's grocery store nearby), a delightful historic downtown in Fredericksburg (7.6 miles)and many large shopping centers. I've been to the historic Fredricksburg and it is one of the nicest historic downtowns I've seen.
Be sure to ask the agent for the handout of Area Information--very comprehensive and useful--you can make a full weekend (or week) visiting the area and enjoying the many attractions in especially outdoor ones and historic museums.  Six pages (small print) of area things to do. 
Activities:
  Celebrate by Del Webb already has a very busy Lifestyle Activity Calendar.   You receive a sample calendar after the tour.  A quick look showed pot lucks, body conditioning class, happy hour, social hours, cookie exchange, bowling, and New Year's Bash, to name a few. And they are just getting started.I wished I had time to make the hike along the trail to the river--not far away.
There also is a public golf course, Cannon Ridge Golf Club, par 71, in the area that I did not see--voted among the top ten in Virginia.
There is a park, Motts Run, for additional boating, hiking and fishing not too far away, although you can boat on the Rappahannock right from the property. Celebrate by Del Webb has a partnership with the golf course allowing you to drive your cart from the community to the golf course and receive preferred pricing for residents. There is a natural waterfall on the property that the agent said was "just beautiful."
Commuters:
About 50% of residents at retirement communities in general still work.  I asked the agent why people would want to move so far from the DC area since she stated many of the residents were still working and commuting.  She gave some excellent reasons.
First, the quiet, the lack of congestion of traffic (unless you are doing the daily commute to Washington then the main roads to DC get crowded). 

The other reason being the price--nearly $100,000 lower than like communities near DC. 

And, of course, the Del Webb lifestyle and beauty of the area. Yes, I found it was worth the long drive but leave lots of time because you won't want to rush through these beautiful model homes.
The Homes:
Walkout basements are optional, finished or unfinished.  Here are the interior photos.  If you want to see them in gallery form, click on the first photo:
Walls of windows are a design feature gaining popularity.  Here is the Madison living room with that feature.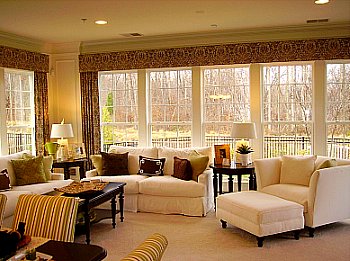 Madison breakfast bar, kitchen and dining area: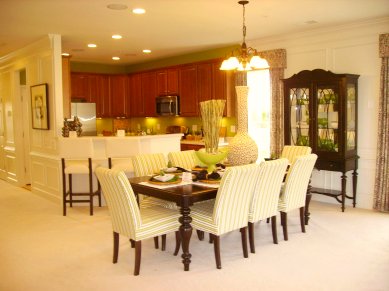 Working at home is featured with lots of desks; this one in the Madison (fireplace shown in photo is optional pricing--verify):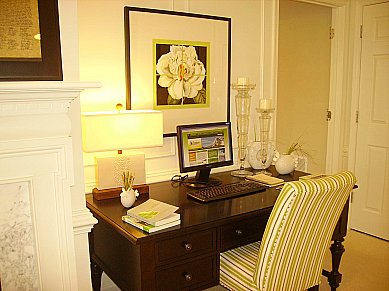 The Washington model's loft area (can be guest suite, office, bedroom):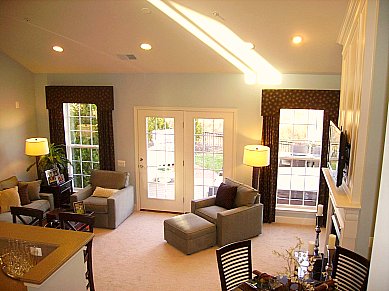 Areas for hobbies: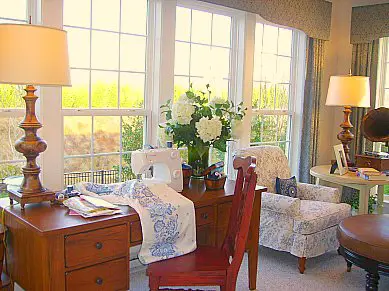 Larger rooms in the Premier series: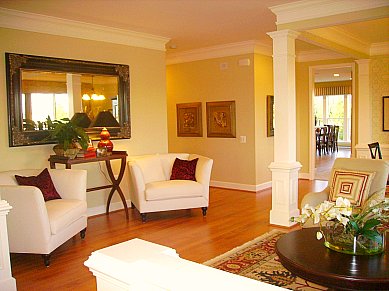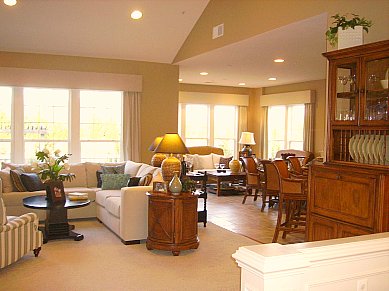 Zachary bath with separate walk-in shower: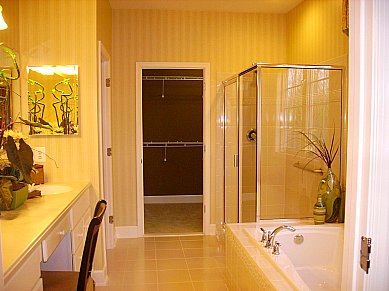 Zachary model den with French doors: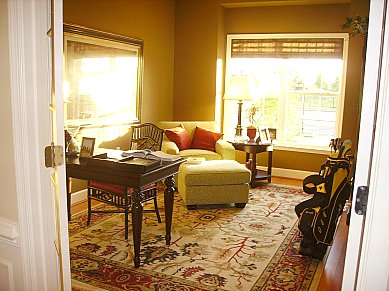 Some additional outstanding features:
NAHB Certified Green Home
Energy Star Certified
Sidewalks
Disclaimer: We are not affiliated with Celebrate by Del Webb or their communities in any way. All reviews are unpaid and are our honest feelings about what we see. Please verify all information and prices. We are not responsible for third party sites. We do not give opinion or recommendations--this website is for information only. Please seek advice from your local Realtors and professionals.Verify all information including square footage, options, incentives and pricing as it can change. 

Return from Celebrate by Del Webb to Virginia Retirement Communities 
Return to Southeast Retirement Communities 
To see Review of Potomac Green by Del Webb in Ashburn, VA 
For more retirement community Reviews