Ithaca Retirement-Review
A trip to Ithaca in Upstate New York reveals a surprisingly good small town for retirement and seniors.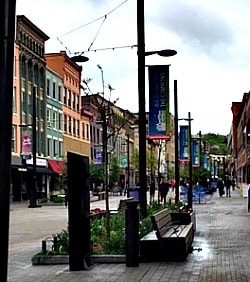 The Commons-Downtown Ithaca - A collection of shops and restaurants in a village-like atmosphere
An Ithaca retirement would be great.  That was my conclusion on a recent visit to Ithaca and Cornell University in Ithaca.  This is a small town with big-city amenities.   Review where to stay, how to visit Ithaca, and why I like Ithaca for retirement. 

Elements of a Retirement Town:
You wouldn't expect this to be a retirement town because it is in a colder climate.  But it has all the ingredients:
An excellent transportation system
A university town with an Ivy-League college
Free entertainment programs
A village-like environment 
Huge number of restaurants for a variety of tastes
Wineries
Outdoor recreation
Beautiful scenery
Active lifestyle
Lifelong learning activities
Local farm markets
Medical Center 
Yes!  Ithaca has all of this and more.  
Cons:  It does have a very cold winter climate.
Where to Stay in Ithaca
We stayed at The Hampton Inn on Elmira, located about a mile to downtown.  We were told there was an excellent bus system in Ithaca and we could take the bus from the hotel to downtown or Cornell.   
We liked this hotel because it had comfortable beds with a high quality breakfast and a fresh coffee bar included.  There were eggs, cereal, fresh fruit, buns and muffins, whole fruit, hardboiled eggs and more.  It also has a pool, fitness, and friendly service.  There is a room for handicap on the first floor.
There is also lodging in downtown including a new Marriott.  This is convenient if shopping and dining in downtown is your main objective.
You can find an extensive list of accommodations on the visitithaca.com website, the official Travel Guide.  You can order a Visit Ithaca Travel Guide to plan your trip.
Healthful Aging
The Milken Institute recently released its list of top cities for healthful aging and Ithaca is number 7 on the list for Top Ten Small Cities!  
Ithaca's strongest scoring points were education, transportation and convenience, and employment.  It's lowest scores were in the cost of living category. 
Hospital 
A rural location will not have medical services equivalent to a large city.     According to a recent article In the Ithaca Times, in general, rural areas have more trouble recruiting doctors.  This is a national problem.
Cayuga Medical Center, however, has ongoing doctor recruitment programs to alleviate this problem.  For information on healthcare and facilities, contact Cayuga Medical Center.
There is also a large CCRC in Ithaca:  Kendal at Ithaca.  Call them to tour and find out more about their life care program. 800-253-6325
Newspaper and Sources for Further Information
Ithaca Times - Newspaper for area comprehensive news, articles and information.
VisitIthaca.com - Official Travel Guide to Ithaca and Tompkins County
Guide to Downtown - downtownithaca.com
Events - IthacaEvents.com
Ithacajournal.com - Local and national news stories and articles
So Much To Do in Ithaca
Visit Cornell University - Ivy League School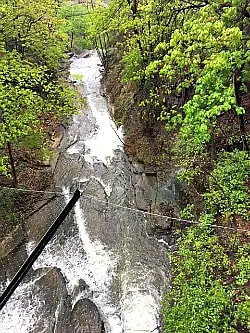 View of stream from bridge on Cornell University campus
Ithaca is home to Cornell University.  The 2000-acre campus is unique with large waterfalls and streams located on the campus and bridges for crossing.  The gorgeous campus is at the southern end of the Finger Lakes Region and Cayuga Lake.
I watched the students going to classes crossing these magnificent viewspots and envied that they got to do that every day.
Waterfalls on Cornell University Campus: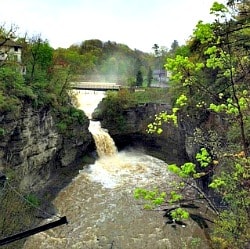 One of the waterfalls on the campus of Cornell University in Ithaca, NY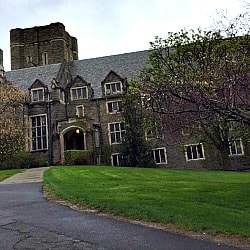 The architecture is both historical and modern dating from the 19th century.
I think the architecture on college campuses is the most cutting-edge to be found anywhere.   From the oldest buildings to the newest contemporary styles, they are works of art.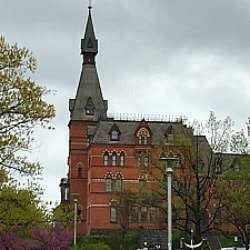 Cornell's Gem Museum in the Snee Building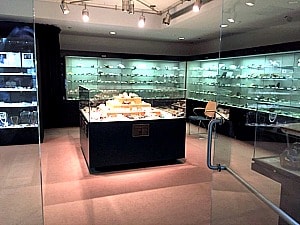 The Gem Museum at Cornell
Don't miss Cornell University's Gem Collection.  Since I was short of time, this was the only museum I had time to see.  There are also others on campus open weekdays. There is a science museum, art museum and Cornell Botanic Gardens to name a few.  Check for days they are open.  There are parking garages on campus and also excellent bus transportation to and from downtown for shopping and dining.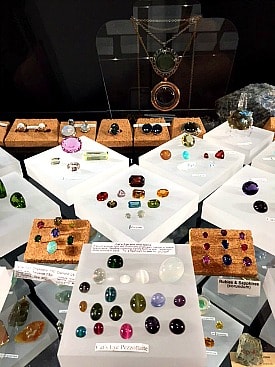 A small sample of the huge collection of gems and minerals in the Snee Building on the Cornell campus.
I had time to visit the beautiful gem collection in the Snee building (open weekdays).  I spent 2 hours viewing the crystals, minerals, rocks and gems in the extensive collection.  This is a Don't Miss for anyone interested.  
How to See Cornell University
You can take a bus or taxi from your hotel or you can drive onto the campus.  From downtown, you can even walk if you don't mind an uphill hike. 
There are public parking garages on campus if you drive.  I suggest you get a campus map at the entrance.  This very detailed map will be invaluable as you walk around.
My route through campus:  From Collegetown (the shopping and eating area adjacent to campus on College Ave.) I walked up College Avenue to Snee Hall where I saw the Gem Museum.  Afterwards, I chose to walk, taking a right turn onto Campus Rd. and then a left on East Avenue and followed this to the waterfalls and bridges area.  The map will make it all very clear.
(You need to be in somewhat good shape to walk this route since it is a hilly climb.)  Your route will depend on what you are interested in seeing.  Even if you choose to just walk around a bit, it will be worth it for the views.   You can get help at the information booth at the entrance or take a tour of the campus.
Downtown Ithaca: The Commons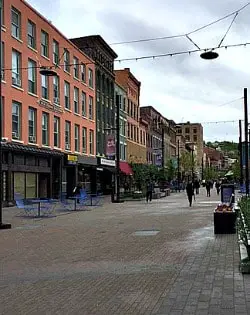 The Commons is a collection of over 100 boutique shops for local crafts and restaurants.   For instance, you like wine, there is a wine shop for that; like hand work, there are shops for that.  There are bike shops, running and triathlon gear, activewear, gourmet foods, antique galleries, craft stores, locally-made jewelry, art galleries, museums and much more.  
Shopping
A mecca for shoppers!  Downtown Ithaca is a quaint shopping area with stores filled with quality local items.  The breadth and quality of its products rival larger city areas. 
If you like to shop and dine, Ithaca is the gem of the Finger Lakes area, and I do mean gem.  There are at least 3 stores with local designer jewelry.  It seems this area holds a special place for crystals and gems.

To name a few where you can purchase jewelry or mineral specimens:

Millenial Minerals
15 Steps
The Jewel Box
Handmade Local Crafts
This is big in Ithaca.  Downtown Ithaca takes pride in having crafts of the highest quality.   I only had two days to explore and it wasn't nearly enough.  To name just a few of the craft galleries:

15 Steps
American Crafts
Sunny Days
Numerous craft stores at Dewitt Mall 
Housing
Any señior residential housing close to downtown would be a convenient place to live in the senior years.  See our 55+ website for listings of senior housing in Ithaca.  There is also a highly rated CCRC.  The excellent Ithaca bus service is a plus for seniors.   

Activities in Downtown:
Consider just some of the activities. 
The current schedule of Special Events looks like this:
May:  Herb and Wine Festival
Summer outdoor concert series
September: Annual Apple harvest festival
October: Holloween in Downtown/Wizarding Weekend with Harry Potter
November: Ithaca Brunch Fest - The downtown becomes one big brunch
Once a month:

Science Cabaret on Tuesdays - talk with scientists on various topics
First Fridays:

Gallery Night Ithaca - Galleries and Art Houses host 
Dec 3: Santa's arrival to Ithaca
Dec 8 - Ithaca Ice Festival
Dec 10 - Annual Chowder Cook-Off
For more information on special events see Downtownithaca.com
Downtown Classes:
Continue education in Downtown in several areas:
art lessons
yoga
acting
fitness
sewing
The Falls - Hiking and Swimming
The Visitors Guide gives details on 11 falls in and around Ithaca.  Some waterfalls have lifeguarded areas for swimming.  There are also three State Parks for hiking with easy to strenuous trails. (The Visitors Guide gives detailed information on the falls and which ones allow swimming.)
Biking is also popular in Ithaca and Tompkins counties.  There are even bike rentals.
The lakes, parks and falls offer incredible recreational experiences such as kayaking, boating, hiking, swimming or just taking leisurely strolls in the fresh air amidst natural scenic beauty.
The visitithaca.com travel guide lists all of the trails and waterfalls as well as extensive lists of the wineries, restaurants, shops, etc.  904 East Shore Dr., Ithaca - 607-272-1313  
Top Tours in Ithaca
Waterfall Tour - experiencefingerlakes.com
Winery Tour - The Cayuga Lake Wine trail features 16 top wineries. Named one of the top ten winery tours in the US by TripAdvisor. cayugawinetrail.com.  There is also a Finger Lakes Beer Trail and a Cheese Trail.  
Ithaca Wine and Waterfalls Tour
Cascadilla Gorge Trail connects with Cornell Botanic Gardens.
Herbert F Johnson Museum of Art - One of the best collections of art in New York, located on the Cornell campus.
The Sciencenter
Don't miss the Sciencenter - a museum with hands-on exhibits. Discover the solar system on a tour of the Carl Sagan Planet Walk.  Closed Mondays (verify hours and days).  Admission fee.
601 First St. - 607-272-0600
Ithaca Dining
There is dining downtown, in the college area, along the lake, and in nearby towns.
The dining venues are too numerous to mention.  Moosehead Restaurant, a downtown Ithaca restaurant, comes to mind because I like vegetarian food and this is rated one of the best in the United States.  There is everything from American cuisine, Asian, seafood, French, Korean, Ethiopian, Irish pub, Indian, Tibetan, Thai, Tapas, pizza, barbecue to Collegetown Bagels and more.
Ithaca Farmer's Market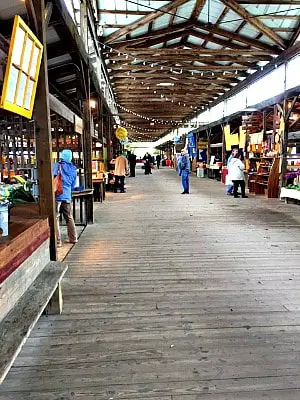 Ithaca Farmers Market
We did manage to get to the Ithaca Farmer's Market which is ranked in the Top Ten of farmers markets in the US.   Open weekends.   Only the finest produce, food, and crafts are displayed.  Locally-made leather purses, jewelry, hand-made country rag rugs, to mention just a few of the craft shops; bakery goods (the large chocolate-covered macaroons were the best we ever had). Not to mention the incredible produce.  We also bought fresh-baked crusty bread, brie cheese with herbs, and local wine.
This is a small sample of what you can do in Ithaca.  Pick up a copy of the Visitors Guide, go visit, and discover that Ithaca is a place filled with a variety of activities that can keep you busy in retirement.    

Back to New York