Maine Living 
...I see Maine differently


by Will Honan

 
Maine is more than a summer tourist town.  For residents who retire here, winter is the best season.
"Winter is the hidden gem," says Will Honan.  Fluffy snow covers the evergreens,  and there is abundant wildlife.  There is cross country skiing, ice skating and snowshoeing.
Maine's energy-efficient homes make it cozy inside after a refreshing day spent in the cold outdoors.
At Highland Green in Topsham Maine, only 15% of the residents are "snowbirds," meaning they go somewhere else in winter.   The reverse is true in Midcoast Maine, and they are more likely to have summer homes elsewhere.  Things are more active here in winter than any other season with many social gatherings at the community center.
This is the hub of social, volunteer and fitness activities.  We have lobster bakes, bean suppers (Maine is home to B&M Baked Beans since 1867), book discussions, dance parties, quilting clubs, bridge groups and more.
It may be surprising to hear that the vast majority of retirees moving to Maine choose to live here year-round.   With beautiful summers, glorious fall foliage, spectacular New England winters and the joy of spring, most folks who love Maine are those who love four seasons.
Best Foodie City -
Downtown Portland
Outdoor sports are not the only thing that make us famous.  We have some of the most sumptuous dining anywhere.
Go to Portland, a city with a metropolitan area of 500,000 and only 30 minutes from Topsham, and one will find restaurants that rival anywhere.  Two restaurants have been rated in the top 20 American Restaurants: Fore Street and Hugo's.  
More than lobster and chowder houses, Portland has an international food panorama that rivals anywhere, and adding to the food landscape are scores of restaurants of Vietnamese, Thai, Indian, Italian, Salvadoran, Ethiopian, Chinese, Polish, and Mexican cuisine.
The New York Times has recognized Portland as a food destination as well as Bon Appetit magazine and others in the foodie world.
Sperling's ranks it as one of the Best American Foodies Cities.
Fresh seafood can be purchased along the wharf and a number of bakeries bake fresh bread every day.  There are movements for vegetarian restaurants and organic food.
Often mentioned as a top city for empty nesters by many prominent magazines.
Art and Music -
In Midcoast Maine, there is the Portland Symphony Orchestra in Portland and the Maine State Music Theater in Brunswick.  The art district in downtown Portland  has the Portland Museum of Art and smaller art galleries and art studios.
Colleges -
 There are top colleges like Bowdoin in Brunswick, just a couple miles away from Highland Green.  Also, Bates and Colby colleges are in the area. 

Retired educators, Deke and Nancy Smith, moved from the other Portland in Oregon to Highland Green in 2011 (Portland Oregon was named after Portland Maine).  "We wanted to be on the East Coast, near a college town with plenty of art and fine dining opportunities, and have interaction with diverse groups of interesting people.   "Moving to Midcoast Maine has offered us everything that we had ever wanted, and we have never looked back."
The Smiths have enjoyed auditing classes three miles away at Bowdoin College in Brunswick.
As connoisseurs of superb dining, they have also taken advantage of the diverse culinary offerings of a college town like Brunswick.
The Midcoast as the Best Coast -
The Midcoast area stretching roughly from Brunswick to Camden is an exceptionally popular retirement destination.   It consists of Maine's legendary coastline.  The areas to the south are more densely populated, but it is easy to access them.   It is not so far north or "Downeast" to be secluded from significant medical, cultural and educational opportunities.
Customers have come  from 24 different states. In the last two years alone, new people have relocated here from Maine, Massachusetts, Connecticut, New York, New Jersey, Maryland, Pennsylvania, Ohio, Utah, Nevada and Oregon.
Quintessential coastal villages abound in the Midcoast.   Bold oceanfront, antique homes, art galleries and restaurants are familiar scenes here, and a small town sense of community abounds.  Numerous retirees who live in these places, or those relocating "from away," are seeking additional benefits that leave them freer to enjoy life.  Many choose to live in planned communities of one kind or another.
The Preserve at Highland Green -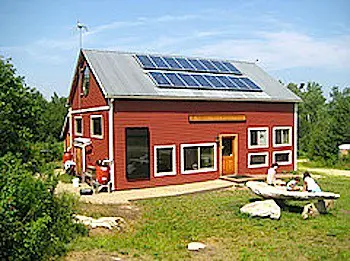 Ecology Center at Highland Green
By placing 235 of the 635-acre campus of Highland Green in a conservation trust, we have provided permanent open space right within the security of one's planned community.   We find that this land, known as the Cathance River Nature Preserve, provides an opportunity for residents to enjoy a year-round outdoor Maine lifestyle, with miles of trails for walking, hiking, cross-country skiing, and foliage viewing.
Seven miles of trails meander through woodland, past small vernal pools, teeming with life, and the Cathance River, known for gorges, rapids and wide placid bends.
Many of the organized, resident-driven, activities at Highland Green surround the topics of conservation and nature.   For instance, a fledgling bird-watching group has formed.  The 50-acre Heath Sanctuary in the middle of Highland Green is a well know attraction to myriad birds.
The nature programs are a microcosm of the larger natural treasure that Maine is.   Highland Green residents and the public find it a forum to connect with nature.
Wildflower scavenger hunts, nature-photography exhibits, conservation lectures, and bird walks are just some of the programs available through CREA.
Shopping -
Who has not heard of L.L. Bean, an American company founded in 1912 for clothing and outdoor recreation equipment located in Freeport, 15 minutes from Brunswick and Topsham?   There are also  scores of shopping outlets in Freeport.
Highland Green Community -
Photos from Highland Green
Add to all of the above clean air and fabulous people and one thinks of Maine as the way life should be.
---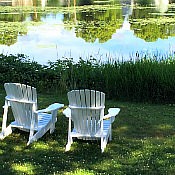 Also, read more about our vacation to the Rangeley Lakes area of Maine on our Blog 
---
We are not affiliated with Highland Green nor is this a sponsored ad.  It is a gracious voluntary contribution.  We do not recommend communities.  Always do your own thorough investigations.  
Home

›

Maine

›

Maine Living