Moving Tips
Start Early

The best of all moving tips is to start early cleaning out your house. Think of all the years you have lived there and the amount of things accumulated.
You now need to make decisions about what you want to:
move 

give away 

dispose of

Some of these moving decisions will be difficult.  If certain objects hold sentimental attachment for you, you will have to decide if you want to move them.
The moving process is easier when you think of it as a way to get your house cleaned out after living in it for many years instead of a headache.   Leave yourself at least two to three months to do this.   It is sometimes hard to find someone to take that worn couch at the last minute.
Tips
The following moving tips are broken down into stages so as not to be overwhelming.  Selling your home seems like the highest priority, however, don't ignore the moving task til the last minute.  Prepare your home for sale by cleaning it out and getting ready to move. This may even encourage a sale by getting rid of your things so the new buyer can "mentally move in."
During the pre-sale of your home:
1) Interview moving companies. Don't make this a low priority or a rush-at-the-last-minute detail. This is an important task. Choosing the right moving company is important to avoid problems later on. Ask the moving companies questions and get answers to all your concerns. Get a thorough understanding of the costs and what happens if something is lost or damaged.
2) Begin sorting out all items you don't want and dispose of them now. This will take weeks if not months. Disposal by:
a) Garage sales
b) Call local charities that will pick up
c) Trash pickup
d) To friends and relatives
3) Start gathering moving boxes - purchasing boxes at the last minute can be quite expensive. You may want to get price estimates on moving and packing boxes.
After Your House Is Sold:
1) Keep cleaning out
2) When you obtain a move-out date, call utilities and tell them your last day so they will take you off the billing and disconnect. Give them your forwarding address for last bill.
3) Notify your credit cards and anyone else who bills you.
4) Schedule your mover.
5) Put a change of address form in with post office.
6) Stop newspaper delivery.
7) Return any phone or cable equipment
8) Find utility companies at your new address and call to tell them your move-in date.
Near to Time of Actual Move, check this Moving Tips again, and:
1) Pack your travel bags
2) Keep packing your belongings and cleaning house
3) Reserve elevator for moving day if you are in high-rise.
4) Make an inventory list
5) Reconfirm moving date with movers
6) Hire a cleaning service to clean your house for new residents, if necessary.
Day of moving:
(1) Before movers leave, check house and yard thoroughly to make sure they got everything. (I once left an antique table behind because the movers didn't see it and I didn't check all the rooms.)
(2) Clean house for new residents. This also should have been started previously.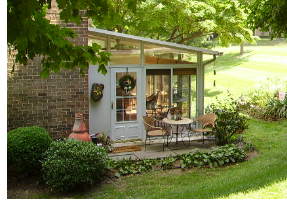 You may find your new retirement home is smaller and easier to maintain .. and provides an opportunity to be creative...
Or, of course, you may find your new home is larger and more luxurious .. either way, it will be your retirement dream home.
(3) Be at new residence when movers arrive and check inventory.
Moving Tips: You may need a helper on moving day and maybe before to pack and do miscellaneous things. See if the moving company has a packing service or you can pay a relative's teenage son or ask a family member or your adult children. Decide if you will need help and then you can arrange it.
Once in your new home, you can take your time unpacking and arranging everything until it feels like home again.
The above Moving Tips is not to be considered a complete list of everything you need to do when you move.