Retirement Communities in
Virginia Beach

To find retirement communities at Virginia Beach you will want to travel on the main road, Atlantic Avenue, to get a feel for the area.  It runs next to the ocean for miles.  Its wide beaches are a major focus in the area. 
There is a lot of building construction of new homes and remodeling. It will seem congested. While the directional signs in Virginia Beach are good, you will need a map at hand if you want to get around the area easily and with less stress.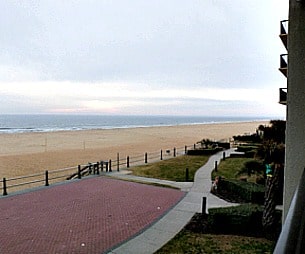 Outstanding view from the oceanfront room at the Wyndham Hotel.
Large and small hotels are located along the booming Atlantic Avenue among the homes and construction projects.  We stayed at The Wyndham located on the sand, the Atlantic Ocean nearly at our door.

It's a great place to be inspired by nature at the confluence of the Chesapeake Bay and the Atlantic Ocean. 

The famous Edgar Cayce compound on Atlantic Avenue was very interesting.  The massage services are some of the best and the library is full of books about healthy eating and living.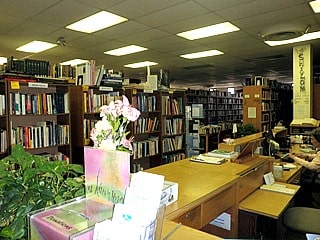 The main cities in the area are:
Norfolk,

Virginia Beach,

Newport News,

Chesapeake,

Suffolk,

Smithfield,

and Hampton.  

Virginia Beach is bordered with military bases with occasional noise from the jets overhead.

Virginia Beach:
West Neck communities (Sold out - See local Realtors):
West Neck - Virginia Beach - Features Arnold Palmer golf course and Clubhouse for fine dining. Bike and walking trails. Near beaches, shopping and Williamsburg's Busch Gardens. Outer Banks, NC, is only one and one-half hour away. 
See over 55 communities listed below at West Neck: The Grove at West neck Virginia Beach - Chesapeake Homes - 3 bedroom, 2 bath spacious singles started from $400's near West Neck Golf Course by Chesapeake homes - sold out.
Rosecrest at West Neck - 2912 Elegance Lane, Virginia Beach - By Chesapeake Homes - 2 and 3 bedroom cottage-style homes started from $300's.  3057 Cadence Way, Virginia Beach

Monthly fee includes services such as housekeeping, utilities and more. On-site dining. So many extra amenities such as indoor pool and woodworking shop etc.
Harbourway, a separate 53-unit assisted living building, also including a memory care unit, is now available.
             Phone: 757-716-2000 - 1200 Atlantic Shores Dr., Va Beach - Call for tour.
Lifecare Community in Virginia Beach
Westminster Canterbury at Chesapeake Bay

- High-rise apartments on Chesapeake Bay - Requires deposit and monthly fee - Services include independent living, assisted living, memory care, at home care, at home health care, skilled nursing, rehab and hospice.  Call them for more information and to tour.    800-753-2918
Chesapeake:
The Retreat at Greenbriar

 - Sold - By Weldenfield - large upscale 3-bedroom single family homes, 2 BR/2BA quadriplexes and 2 and 3 BR townhomes - clubhouse by the lake, pool pavilion, garden plots, stocked fishing lakes and more.  Social activities.  Near mall.  Sold - See local Realtors


1503 Carrolton Way, Chesapeake VA 

Eagle Pointe

at Cahoon Plantation - Priced from $260's - Cahoon Plantation golf course is around the community - 3 bedroom collections - Cedar Rd. between No Battlefield and Dominion Blvd.  Across from Tidewater Community College.  Open Daily - Nearing close-out.

Suffolk:
The Retreat at Bennett's Creek - Northern Suffolk with access to Chesapeake Bay. From $400's.  By WeldenField & Rowe, Developers.  5700 Lees Farm Rd., Suffolk

Smithfield:
Church Square

- Smithfield - Gated duplexes, quads and townhomes by Atlantic Homes were from the $260's.  Jane, Abbitt Realty, at 757-593-4433.

 

Also:  You may like other cities in the Southern Virginia area: Richmond/Williamsburg 55+ communities