Come to Spring Hill by Pulte
..the condominiums for over 55
Come to Spring Hill by Pulte…in Northern Va
Update:  Both the villas and condos are now sold out--Check with local Realtors for resales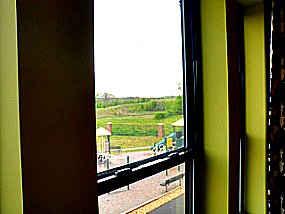 View of green hills from model window and tot lot for grandchildren..
Spring Hill over 55 community in Lorton, Virginia, expresses the colorfulness and playfulness of springtime
..from the colors of the models, lime green, peach and aqua
to the flowering spring bulbs of daffodils and tulips outside,
to the fresh appeal of the contemporary design,
you can feel the freshness of spring
…outdoors meets indoors…the walls of the model
match the lime green hills outside the window..
For Commuters: this community is near I-95, Lorton VRE Station and Amtrak.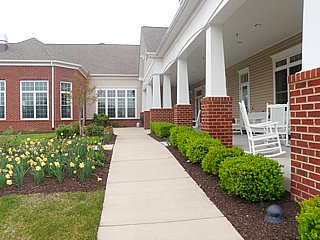 Clubhouse veranda..indoor pool and spa
I love the contemporary architectural style of the buildings. The elevator buildings will be five when completed..4 levels for each.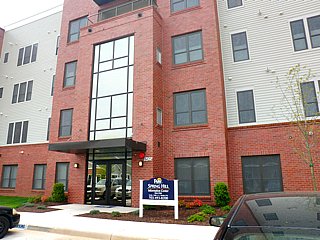 .. photo of the 2nd building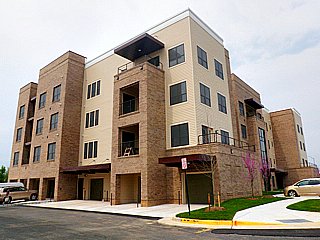 There are 25 2-bedroom/2 bath units per building. Some 2-bedroom units have an extra den. There are garages on the side which are included in the price but add to the cost of the unit if includes garage.
There is also surface parking.  Prices ranged from low $209,000's to $321,990 (verify) depending on square footage, options included and location or view.There are locked entries and an electronic gate at the entrance.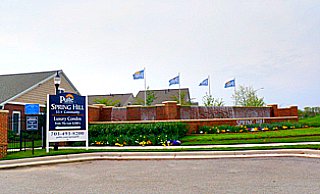 ..beautiful waterfall entry with electronic gate
The clubhouse contains a beautiful indoor pool and spa area and more. There are outdoor tennis courts and a lovely covered veranda with rocking chairs.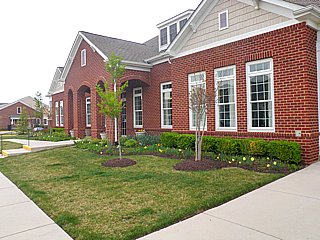 Clubhouse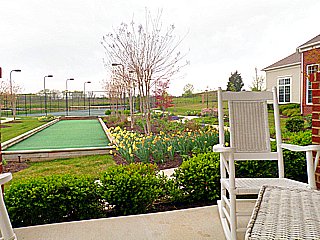 The community has single-family homes and villas that were built in 2006, now sold out; the current collection of condominiums were started in 2010. Walking around the community we found nice wide streets and sidewalks for comfortable walking.
Spring Hill by Pulte Financing and Incentives
..like everything else, so refreshing .. the minimum downpayment you can choose is only $15,000 for whatever plan you purchase (of course you have to qualify for the monthly payment). There are incentives such as $6000 toward closing costs (when using Pulte's mortgage company.) Verify all information as it can change at any time.
There are 5 models from 890SF to 1621SF - but please always verify sq ft with builder as it can change. Here are the 3 largest floorplans that we reviewed:
(Many options are included in the sales price but there may be options in the photos, below, that are not included in the sales price such as fireplace, some flooring or soak tub and more.)
---
Anthem Floorplan:
The Anthem - on levels 2,3 and 4 I like this floorplan because you can choose either a sunroom or balcony. The kitchen has a nice nook for eating, reading, or even working. Many other features. Was priced in the $300,000's.
Note: A new trend: having a workspace in the kitchen
| | |
| --- | --- |
| Sunroom | kitchen |
| | |
| --- | --- |
| Kitchen nook | Living room |
---
The Davenport Model On levels 2,3,4 - In addition to 2 bedrooms, this plan has a den (verify) and a very large walk-in closet in the master bedroom. More options included. Started in the low $300,000's.
| | |
| --- | --- |
| Living room | Davenport kitchen |
---
The Clarion Model - on levels 2,3,4 The largest model and started in mid-$300,000's. The large Kitchen features a kitchen island and there are 2 balconies (verify). Many other features.
| | |
| --- | --- |
| Living room | Dining area |
| | |
| --- | --- |
| Clarion bath | Balcony |
Spring Hill by Pulte Address: 8425 Peace Lily Court #111 - Lorton Virginia
Now Sold out - See Realtors for Resales

Article written By Carol Fena
Since this is an older article, please verify all information for Spring Hill by Pulte as prices, terms, availabilties and information can change at any time. We are not affiliated with Pulte in any way.
This review is unpaid and for information only. We do not recommend communities or give opinions. Please make your own thorough inspections and consult with real estate experts for advice.