Altis 55+ Community
by Pardee Homes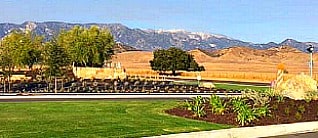 1555 Skystone Way, Beaumont, California 92223
951-474-0957 - Guard-gated 55+ Community - Exit 96 off I-10 Freeway to N. Highland Springs Ave. and look for Skystone Way.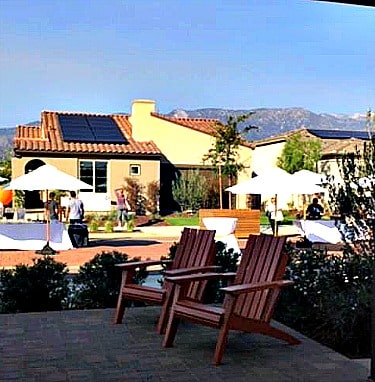 A review of 55+ community Altis by Pardee Homes.  I attended the Grand Opening billed as "epic" and it was.  One of the best GO's I have attended. 
There was great food, live music, events and a smiling hostess. Starting off right by being greeted by the Social Director just seconds after I entered the crowded clubhouse.    
She warmly pointed out to me all the venues from the map and party guide.  She pointed to the vast stretch of green immediately in front of us.  "That big lawn where people are in line, that's the Event Lawn," she said.  A vast stretch of green, with a backdrop of mountain views of the San Gorgonio and San Jacinto Mountains was where party attendees were waiting for a lunch of sirloin or chicken burgers.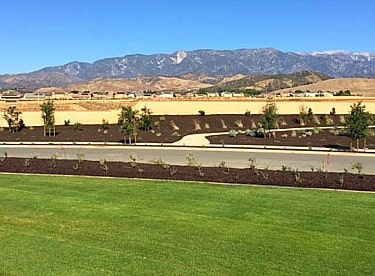 The Event Lawn with mountain backdrop
There were also free cocktails, mocktails, beer stands with pretzels or gourmet coffee.  Everything was thought through and managed well. 
She pointed out on the map where all the displays were and how to get there via the golf cart rides and buses from the parking lot.  So off I went feeling much more comfortable. 
The Clubhouse called The VuePoint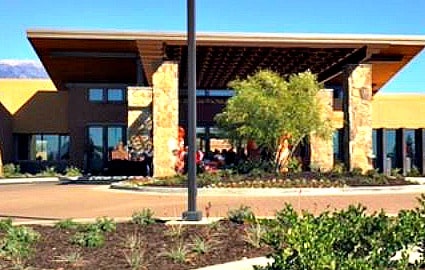 The clubhouse "The VuePoint," from front entrance.
There was a structure to this party, a theme, and a carefully worded idea:  The future is modern and its here now at Altis.  Everything explored that idea from the modern architecture to the "smart home" displays and home features.  
The Grand Opening Party Offerings:
At The grand opening party to familiarize oneself with Altis and the 55+ modern lifestyle that Pardee Homes has envisioned for this community there was: 
Live 80's band and Karaoke for nostalgia

Free drinks at the VuePoint drink counter, beer tasting and hot pretzels, gourmet coffee bar, and simple burgers at the Event Lawn's outdoor kitchen.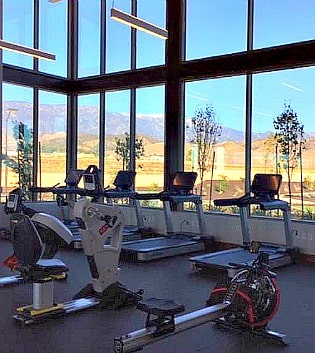 Altis Fitness Club inside The VuePoint with spectacular mountain views. Q&A with Welness Specialist.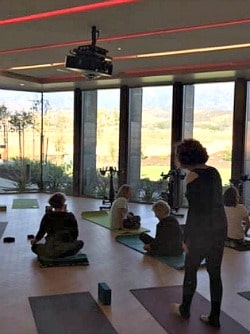 20-minute yoga demos at the Flow Studio made for pilates, yoga, and meditation classes.  
Free mini massages to sample the Wellness Room
Pickle ball lessons at the Pickleball court
Beer tasting and pretzel bites
Outdoors displays included succulent exhibits and designing your free succulent pots. 
Master Gardeners sessions on drought tolerant plants and composting.  Only plants right for the environment and water-saving were used throughout the Altis landscape.
Lots more party fun--even a dessert bar
The Smart Home poster display pointing out Smart Home Features available now on the market and some included features in the homes.
Other amenities include:
The pools and spa, 
Walking trails  
Social clubs  
Golf courses in area
Pop-Up Dinner in the Park (verify)
Happy Hours
Trips
Hiking, biking, golfing trips
Other Lifelong Learning (verify) 
and much more
This is the short list.  There are more possibilities.  Please verify all information as it can change.
Altis Modern Home Design
4 Collections:
4 Exterior Designs with options and 12 models (varies per collection):
Modern Spanish
New Century Modern
Modern Prairie
Modern California
Here is a sample of the modern designs.  (There may be options in photos.)  Visit to see all 12 models.  There are 3 models for each collection.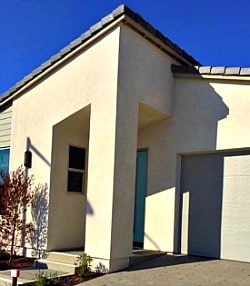 Vita Model-New Century Modern design (verify)
Lowest starting price is in the Vita Collection in low $300's - 3 models to see -  Medium-sized floorplans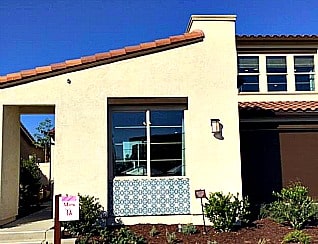 One of the 3 Mira models-Modern Spanish (verify)
Mira model home with the Modern Spanish design - please verify all information - Mira is a large floorplan priced in upper $300's.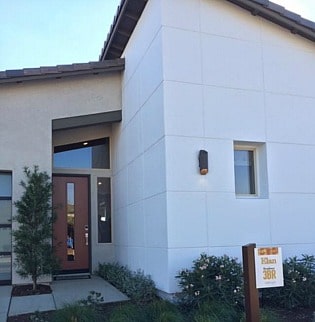 Elan model - New Century Modern design
Elan Collection has the largest floorplans - Starting price in the $400's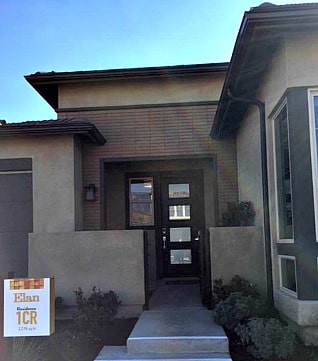 Elan Collection - Modern Prairie design
Another design, Modern Prairie, in the Elan Collection - Elan Collection starts in the low $400's
The Beaumont Area
96 miles to Los Angeles - about 30 miles to Palm Springs (easy drive down I-10)
Climate can get hot in summer (up to 100 some days) but is 8-12 degrees cooler than Palm Springs area (which is over 100 most days in summer).  Above the smog line -  Magnificent Mt. Gorgonio and San Jacinto Mountains views from community.
Area is expanding population - limited shopping but growing.  There is the popular Cabazon Outlets 10 miles away.   
Many things to do in area.  With major builders of 55+ communities already here, and others coming into the area now, this is a relatively new upcoming area to watch.    Population is still under 100K for Beaumont. 

The Builder
Pardee Homes is an award-winning builder 96 years in California.
The Altis Modern Homes
Guard-gated community with four modern-style home collections with 2-4 bedrooms, medium to very large creative floor plans, single and two-story options; Pricing from $300's-$400's.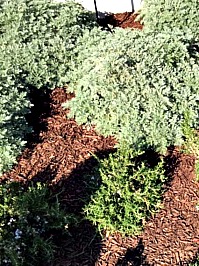 Wood chips and drought-tolerant plants
California is known for its outdoor lifestyle.  When browsing the Altis collections what stood out for me were the many options to inculcate outdoor living spaces into the floorplans.  There were covered patios, solarium like rooms, cozy courtyards and more.  All of these were accented with drought-tolerant plants inside and out. 
In these spaces one can enjoy moments of privacy, meditation, enjoy cool breezes, commune up close with drought-tolerant plantings, and feel the touch of scattered sunlight.  Fountains for tranquil sounds, restful seating, firepits, outdoor cooking, gardening were all on display.
"Smart" Features (preliminary list so please verify information)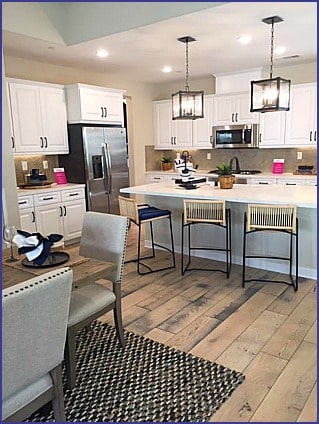 Mira model kitchen
Schlage Connect hardware
Ring Video Doorbell Pro
Wi-Fi enabled Automatic door opener
Earth-friendly carpet
Quartz countertops in select areas
WaterSense plumbing fixtures in baths
Low VOC interior paint
Recycling Center
Energy Star dishwasher
USB Charging Station
This list is not complete.  There are more special features.  Please verify all information with builder as it can change.
Visit today and see Altis for yourself!  The Grand Opening party is over but there are 12 models and the VuePoint to see.  Exit 96 off I-10 freeway and then to N. Highland Springs Ave. and look for Skystone Way in Beaumont.  951-291-0635 (agent); 951-951-8182; 951-432-5072
Please Note:  We are not affiliated with Pardee Homes or Altis in any way.  This is an independent review for your convenience.  Please verify all information and pricing as it can change without notice.  There may be options in photos.