Hidden Harbor Estates ... a boating community for seniors over 55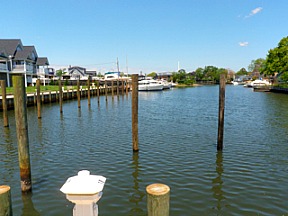 Your boat slip is included in the price of your Hidden Harbor Estates home.  If you've ever owned a boat and lived the lifestyle, you know a harbor can be one of the most peaceful of places.  Just strolling around this community was a pleasant experience.
Of course, it isn't a requirement to have a boat, but you might just decide to get one. And those who are part of the boating community are usually very friendly, happy people, from my experience as a previous boat owner.

The harbor is in Copiague in the Town of Babylon on Great Neck Creek which goes into the Great South Bay (verify) in Suffolk County.  This is a great area for shopping, boating and plentiful seafood restaurants.

A Small Over 55 Community

This is a small community of 38 condominiums. There is a North Building and a South Building.  The North Building has the larger ones priced in the $400's.(price at time of offering) (16 units).   This community is now sold out.  There are a few high-end rentals.
The South Building  is now also sold out. 
There are 4 plans, 2 for the upstairs and 2 for the downstairs for North and South buildings.
There are plans to have the community gated (verify).
The North building has water views.  The South building does not, except possibly from the balconies.  However, you are just a skip away from the clubhouse which sits facing the water view.
The clubhouse faces Great Neck Creek with a Party Room, a Card and Rec Room, kitchen and Common Area and Portico.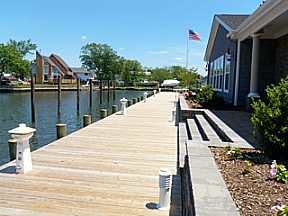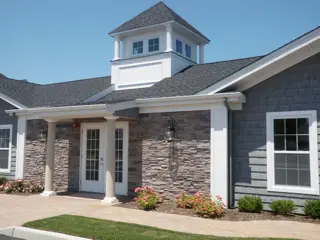 The Boat Slips are Included in the Price:
As already mentioned, the boat slips are included in the price.  However, there is a monthly homeowner's fee for such things as lawn mowing, snow shoveling, etc. Check with the builder about what is included. Verify size of boat slips.  Agent said they were 8 foot. Please verify accurate sizes with the builder.

4 units to each Atrium: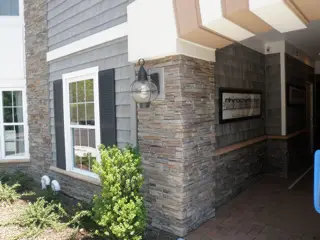 This is the entrance to the atrium that goes into an inner courtyard in the North Bldg.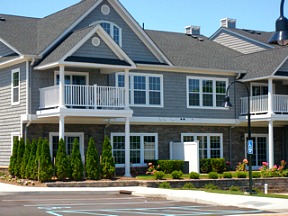 View of the homes in the North Building that looks over the harbor with water views.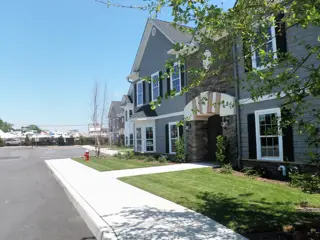 This is the front of the North Building overlooking the parking lot side for resident and guest parking.  The homes in the North Bldg. are larger than   in the South Bldg.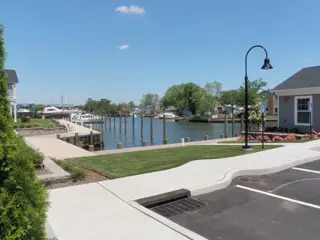 Nice overview of the community showing corner of clubhouse, landscaping, and creek.

| | |
| --- | --- |
| Bedroom has recessed ceiling, bay window (verify all information). | Living area is great room with kitchen bar overlooking dining area (this model). |
| Large kitchen with plenty of counter tops. (Credit for appliances-please verify this information.) | This large separate walk-in shower is a nice amenity.  There is also a separate tub. (verify all information.) |
There are currently some high-end rentals at Hidden Harbor offered.  
We are not associated with Hidden Harbor in any way.  This review is for your convenience only.  Please verify all information as it can change.  We do not recommend any communities.

Return back to Long Island main page.