International
Retirement Communities
The United States has set the standard but now international retirement communities are becoming more frequent especially with over 90 million retiring or soon retiring baby boomers in the U.S. and many more internationally.
Canada probably has the most after the United States. Japan has sent representatives over to see how we do things at our retirement communities. Asian countries already have them in places you would never think of. Europe has a sprinkling as well, especially in Britain. The UK is starting to support the active retirement communities concept like we have here in the U.S. Some Italian developers are exploring the concept.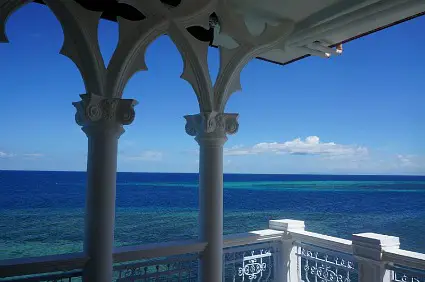 Cebu, Philippines - Photo by Ocean Palace

Some international retirement communities are easier for Americans to retire to than others. A good information source on international retirement is International Living.  This is a magazine, newsletter and site for retiring internationally.  They also have a travel agency that gives tours of retirement places.  Since I wasn't seriously interested in retiring to another country, I only had the newsletter for a couple of years, but in that time I enjoyed the information. They consistently review certain favorite countries--ones that are easiest for Americans to retire to.  Ecuador is a country they review often.

Also consider Ireland, England, Portugal, Thailand, Japan, Argentina, Philippines, Malaysia, Brazil, Caribbean and Puerto Rico.  Get current information since economic conditions affect whether these places are more or less expensive than they used to be. 

Reasons for retirement in another country would include the same reasons as for why we choose some states over others: climate, cost of living as well as learning about other cultures, educational, a new experience, or following relatives or friends.

With an aging population, the need for low-cost assisted living services is increasing, and, unfortunately, may be too expensive in the U.S for many people. Overseas retirement may provide an answer for many seeking lower costs for assisted living and memory care services. See our listings in the Philippines.

As more international retirement communities are built, retiring to different countries may become more popular for Americans especially when Americans are sought after and welcomed by the communities and country.

England
Retirement Villages - 14 locations in the UK - Variety of types of housing - Independent living, assisted living.  They list their villages on their website.  Cottages, bungalows and apartments.  
Phone: 01372 383950
International Retirement Communities-
Costa Rica
Panama/Central America Retirement Communities
Central America and the Panama area is booming now, and easy to retire in with modern retirement communities located here.
Nicaragua -

Rancho Santana - Gigante, Nicaragua - Southwest coast - This is a resort for vacation or permanent living. Several developments in the area for retirement or vacation. The town situated next to the ocean has shopping, restaurants with local seafood, and bars. Rancho Santana
Mexico -

Mexico, one of the most popular countries for Americans, has not been popular lately because of their increasing crime problems. Some of the most luxurious and newest communities are located there. Mexico is one of the easiest countries for Americans to retire in.
Some good articles on areas in Mexico on this realty website.
More Mexican community descriptions on Elements of Mexico Realty website
Cancun and south of Cancun is very popular:
Luma Condominiums

- Puerto Vallarta - Low $400's - see their getaway package for discount hotel. Award-winning, American built, full ownership active adult beachfront community in Mexico. Luma Living
Retirement Communities in Japan -

Sun City Tsukaguchi - Osaka - Won NAHB award for best large CCRC over 200 units. BAR Architects - Independent Living project near Osaka, 285 apartments, library, dining rooms, social club, atelier, ballroom, pool pavilion, and fitness room/spa. 
Sun City Palace Showa Kinen Koen - Tokyo - Also, award-winning CCRC with over 200 units.  Serene and beautiful by Bar Architects
Sun City Machida - Luxury Independent living near Tokyo by a senior housing developer. 215 apartments with library, dining rooms, social club, ballroom, pool, and fitness room/spa - Overlooks the outdoor sports lawn. 
Sun City Takarazuka - Osaka - Elegant independent living - 285 apartments including pool, spa, fitness, and dining.  
Kobe Tower - Kobe - Mostly independent living with some assisted living units available - beautiful architecture with variety of amenities for seniors including social activities, pool, spa, exercise rooms and massage and much more. 
Hadano - Kanagawa - 400 units in mid-size building for independent living.  A luxury feeling pervades with Mt. Fuji views from courtyards. Amenities and social activities.
New Zealand -

3 Retirement Villages by Retirement Assets Ltd:
The Russley Village

- Christchurch - 2 BR villas, apartments, and also serviced apartments - resort-like with many amenities - on 8 acres with gardens of former iconic hotel The Russley Village
Pacific Coast Village

- Near Papamoa - Across from beach - resort-like - This is a new lifecare community with villas and apartments. Pacific Coast Village
Ranfurly Village

- Being developed by Retirement Assets
For more New Zealand retirement villages from Retirement Village Association of New Zealand
Malaysia -

Malaysia is definitely one to consider. The country's people are warm and friendly and they welcome Americans to buy there. The country is prospering and development is surging. Sophisticated high-rise buildings with beautiful coastal views are being developed. See local real estate experts for current information and advice.
Philippines -

Ocean Palace Retirement Center
Brgy. Guiwang, 6023 Alcoy, Cebu. Philippines
Phone +63 32 4838764 / mobile + 63 9194206793
New elevator building with 32 units and 16 facing the ocean views and coral reef.   Luxurious independent living with assisted living options including nursing.  Air conditioned suites, restaurant for meals, recreation and more.
Philippine Retirement Authority
If you are vegan or vegetarian or in need of assisted living, you will find many more overseas retirement communities catering to this lifestyle than in the U.S. Here are some that offer an economical way of life and healthful vegetarian diets.
Indang Village
Wellness Place

Balai Isabel - Talisay, Batangas, Philippines - Eco Village providing for vegans, vegetarians and organic food devotees. 
Canyon Woods Retirement
The Elysium
La Finca