Long Island Water Recreation
On Long Island, Water Recreation Opportunities Abound!


by Carol Fena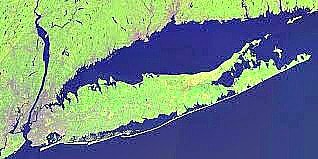 Many people forget that Long Island is, in fact, an island, and not simply a sprawling suburb of the New York metropolitan area.
Indeed, Long Islanders love that they are surrounded by water of all kinds, and this water offers endless possibilities for recreation, whether you want to take a tame ferry ride out to fire island, kayak on a freshwater river or brackish inlet, swim in the relatively calm waters of the Long Island Sound or challenge yourself against the crashing waves of the Atlantic Ocean. 

In fact, many people who live on Long Island are willing to pay higher property taxes simply because of the proximity to so many water recreation opportunities. If you love water of all kinds, Long Island has endless possibilities for exploration.
Long Island is also quite a large place and takes up 1,400 square miles. Driving west to east, from NYC to the easternmost point at Montauk, is approximately 100 miles, but takes a good 2.5 to 3 hours depending on traffic and route.  Driving from north to south varies, but on average the island is approximately 15 miles from north to south, and, depending on traffic, might take 25 to 45 minutes to transverse.  Living on one part of Long Island, therefore, does not necessarily guarantee easy access to another part. So, for example, living in Lake Grove at the center of the island, means a driving trip of about an hour (or more) to access the beaches at the Hamptons.  However, Long Islanders take pleasure in the fact that no matter where you live or what your budget, you are bound to be within a 20-minute drive of some form of satisfying water recreation.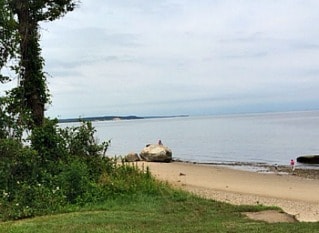 A short drive and then a 20-minute hike through dense woods and we were rewarded with this view. We ambled down the short cliff to the beach below to sit in the sun and hunt for shells.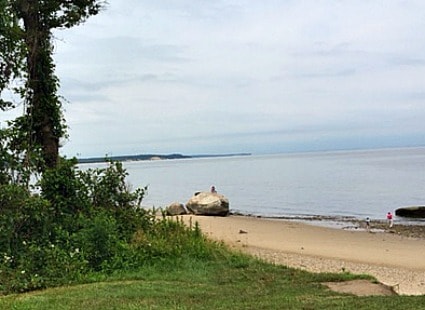 A short drive and then a 20-minute hike through dense woods and we were rewarded with this view. We ambled down the short cliff to the beach below to sit in the sun and hunt for shells.
 =================== 
South Shore Beaches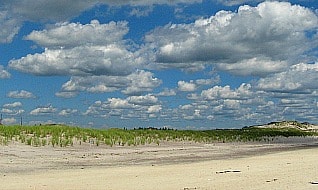 Robert Moses State Park on Fire Island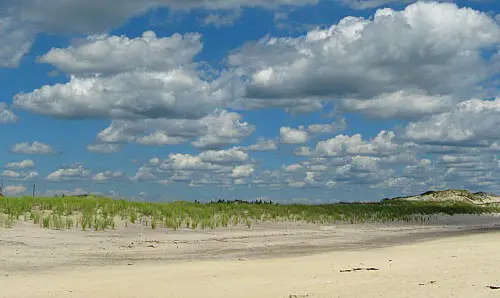 Robert Moses State Park on Fire Island
The south shore of Long Island is home to its most famous and most popular beaches along the Atlantic Ocean. The images of white sand, crashing waves, and pale green grasses waving in the wind amongst fading sand dunes are all from south shore locations. Many of these locations are not actually on Long Island itself, but on long barrier islands, such as Long Beach, Jones Beach Island, and Fire Island, which beach-goers access via bridge or ferry.  From west to east, some of the most famous Atlantic Ocean beaches on Long Island are:
Coney Island (in the NYC borough of Brooklyn) with its historic boardwalk and amusements 
and 
The famed south fork of the "east end" including all of "the Hamptons" and the numerous state parks and recreation options near Montauk Point 
All of these areas are similar in that they offer year round access to the Atlantic Ocean, whether you are after a solitary walk bundled up amongst the winter wind, or a little strip of sand upon which to place your towel and lie down in the hot summer sun.  Some of the beaches require a fee (the state parks, for example, require an access fee during peak months and peak hours), but there are also some places where you can find free parking at or near the beach, depending on where you are and what time of year it is.
These beaches all feature waves and currents that can be quite strong, and are not ideal for swimming if you are afraid or unaccustomed to the ocean. However, there are calm days, there are lifeguards during the summer months who set rules about which areas are safe for swimming, and, no matter what, it's always fun to let the waves wash over your feet.  If you are accustomed to swimming the ocean, however, the water is lovely and the waves are actually not as large as many waves on Pacific Coast beaches.  Water temperature in the Atlantic Ocean along the south shore can be as high as 75-80 degrees (F) during the summer months, and as cold as 35-40 degrees (F) in the winter months. Depending on the day and the time of year, the waves can be large enough for some satisfying surfing, but not so large that swimming is overly intimidating.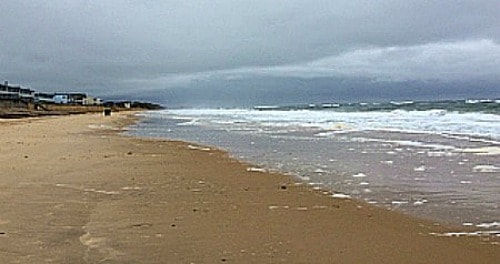 Beach at Montauk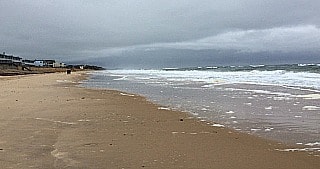 Beach at Montauk
If swimming in the ocean is not your cup of tea, you might prefer to read a book in the warm sun, look for seashells (clams, scallops, channeled whelks, and moonsnails abound if you are there at the right time), walk on boardwalks and feel the coastal breeze, dig in the sand, or take a tour through a historic coastal building or museum, such as the beloved Fire Island Lighthouse.  The scenery and wildlife viewing along the south shore can be spectacular, and you can access it at peak times, when the crowds can be enormous, or during daytime hours during the school year, when you can have the whole beach to yourself on a beautiful spring or fall day.   In October, birders gather at the Robert Moses raptor viewing platform to count raptors as they fly over during migration. And in the summer, Osprey nesting posts abound and you can always find a mother feeding her chick(s) fresh fish on the top of tall poles.
Seal Walks at Montauk
In winter, the local state park staff host seal walks along the beach in Montauk, where you can also find many rare winter waterfowl visitors who fly down from the Arctic Circle, where they live during the summer months.
In addition to the Atlantic beaches, the southern edge of Long Island features many communities along the Great South Bay, which is the body of water that lies south of Long Island, but north of the barrier islands.  The Great South Bay offers tamer waters to boat in or swim in, but water quality can sometimes unfortunately be an issue in this body of water due to increasing levels of nitrogen in water run-off and other forms of pollution. Depending on the location, many people think it is best to check in with pollution levels before swimming or fishing here, but many others do it regardless.
North Shore Beaches Offer a Different Terrain
The north shore differs significantly from the south shore, most obviously because it travels along the Long Island Sound, as opposed to the Atlantic Ocean.  The sound is more sheltered than the ocean, and you can see Connecticut on clear days when you look north. North shore beaches are generally smaller, rockier, calmer, and quieter than the south shore beaches.
View of the Sound from the North Shore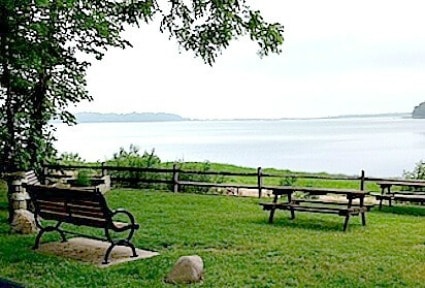 View of the Sound from the North Shore
The geology of Long Island is fascinating, and for those interested in rocks (all kinds of quartz fill the north shore beaches) and landforms, there is much to explore and discover.  Many north shore areas are largely affected by the tidal fluctuations, and appear dramatically different at different times of day.  Low tide reveals an assortment of sea creatures, including horseshoe crabs, sea snails, mussels, and hermit crabs.   Common seashell finds, depending on the time of year, include jingle shells, channeled whelks, moon snails, jackknife clams, shark's eye, mussel, oyster, and scallop shells, with other interesting evidence of sea life such as skate egg cases and sea weed.  There are also waterfowl galore from multiple varieties of egret, heron, and tern in the summer to unusual ducks in the winter. The endangered Piping Plover nest all along the north shore of Long Island, and you can usually catch a glimpse of these adorable beach-colored birds as they zigzag across the rocks, pebbles, and sand.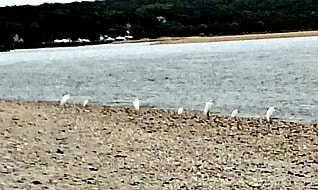 Birds on the rocky shore of Long Island Sound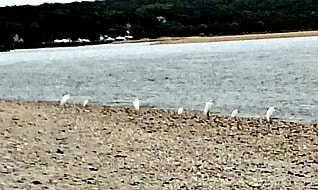 Birds on the rocky shore of Long Island Sound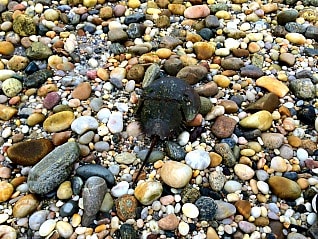 Horseshoe crab on rocky North Shore
Many beaches on the North Shore are owned by townships and are for their residents only..
There are not as many state parks along the north shore, which means most public beaches are owned by local townships, villages, or communities. For locals, this means your local north shore beach is free at any time after you acquire your town or village sticker (sometimes for a reasonable fee), or even walking or biking to the water if you are lucky to live close enough to the north shore.  If you would like to go to a town or village beach during the summer and you do not have a town sticker, then you pay a small entrance fee. These fees only apply in the summer months, however, and all the north shore beaches are surprisingly empty most other times of year. There can sometimes be water quality issues from run off, especially after a heavy summer storm, but, in general, the Sound is a peaceful place to go for a swim and water quality is relatively decent, especially as you head further east.  There are hundreds of community beaches to explore along the north shore, especially when you consider all the bays and inlets. Some that have large parking areas and are among the more "beachy" options include:
Short Beach (Smithtown Town Beach) 
Long Beach (Smithtown Town Beach)
Bays, Inlets, Rivers, Ponds and Lakes Offer Fresh Water Recreation on Long Island
It might surprise some to learn that Long Island offers a wide variety of opportunities to explore freshwater recreation in addition to saltwater.   Long Island has its own freshwater rivers, lakes, ponds, and marshes. Some Long Island water lovers prefer to avoid the beach in favor of the more quiet fresh water, brackish water (where fresh meets salt water) and salt water bays, inlets, rivers, ponds, marshes, and even a couple lakes. Hikers, kayakers, boaters, birders, and anglers have all varieties of marshes and waterways to explore and discover.  Rivers from west to east include the Nissiquogue, Connetquot, Carmens, and Peconic Rivers.  Mill ponds abound and you can certainly find one within a short driving distance of wherever you are on Long Island, sometimes with historic gristmills, such as the still operational Stony Brook Gristmill, originally built first in 1699, and then rebuilt in 1751. 
Inlets everywhere, along both the north and south shores, provide beautiful views and quiet places beloved by local communities and especially enjoyed by kayakers, picnickers, and fisherman.  The largest lake on Long Island is Lake Ronkonkoma, which is in a kettle hole, a remnant from the last ice age. It is a relatively deep lake, and used to be a popular vacation destination until sprawl and pollution became a problem. Local communities and legislators are now taking charge of cleaning up the area, and now, as of Spring 2017, you can actually walk all the way around the lake to view the sparkling blue water.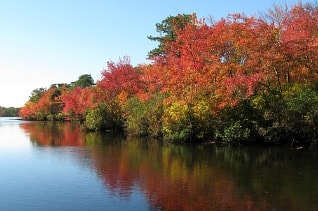 Connetquot River State Park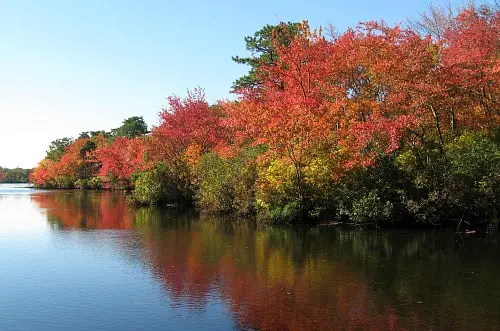 Connetquot River State Park
Some example of activities along Long Island waterways are: 
--Rent row boats, such as along the Carmens River at Southaven County Park. 
--Fish amid historic gaming clubs and hatcheries such as along the Connetquot River at Connetquot River State Park. 
--Take the Ward Melville Heritage Association's Discovery Wetlands Cruise along the West Meadow Creek.
--Take a peaceful walk around the Stony Brook Mill Pond near Avalon Park and Preserve.
--Kayak virtually anywhere you like, although you need to be careful of tidal flows and heavy currents in some inlets.
--Bird watching galore is everywhere.
--Visit the Long Island Aquarium, taking a sunset cruise along the Peconic River, or simply a walk along the riverwalk
Boating, Harbors, and Ferries on the Atlantic or The Sound of Long Island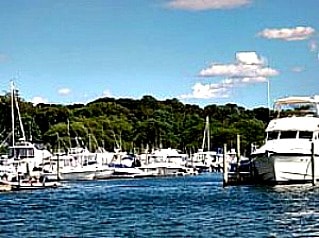 Boats in a harbor on the North Shore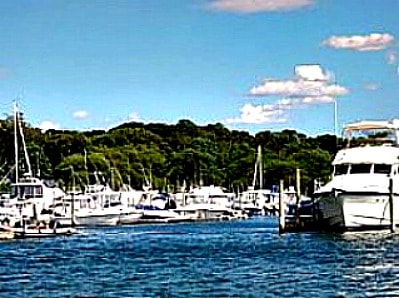 Boats in a harbor on the North Shore
For those who enjoy all forms of recreational boating, Long Island is an ideal homebase. Communities all along the north and south shores have harbors and yacht clubs where people can keep their boats year round. In the spring, summer, and fall, people take their boat out of these harbors and into the Long Island Sound, the Peconic Bay, the Great South Bay, or even the Atlantic Ocean to enjoy the cool breeze, fishing out in open water, or viewing wildlife.
For those who can't afford the upkeep of a larger boat, there are many places all over the island with boating ramps where people can take their smaller boats on trailers and enjoy boating for a day.   For those who would rather not keep any kind of boat at all, there are numerous opportunities to hire a boat for the day at all price levels, either as an individual or with a large group. There are also parks and organizations that offer free cruises at specific festivals and events, such as the cruise around the Great South Bay during the annual Captree Fall Harvest and Seafood Festival at Captree State Park every September.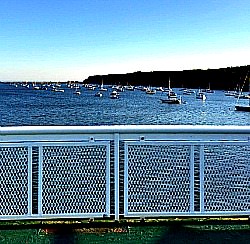 View of Sound from Port Jeff ferry.
Ferries
And, of course, there are ferries that Long Islanders use to travel around either as individuals or with their cars. These ferries can take you to all kinds of destinations and offer not only an easy transportation option, but also a beautiful journey:

The ferries from Port Jefferson and Orient Point offer an easy and beautiful way to travel north from Long Island without having to battle the bridges and tunnels near the city, but to take your car on you might need a reservation and you will need to pay at least $50 per car with additional fees for additional passengers.
Love the Lifestyle and Protect the Beauty of Long Island
If you love any type of water recreation, Long Island is an ideal place to retire, especially if you have a metropolitan streak that would treasure a visit to the greatest city in the world every now and then. Long Islanders who love the water feel that they live in an ideal location to work hard, play hard, and "retire hard." It is very difficult to ever feel bored with so many different locations to explore.

People who live on Long Island their whole lives often talk about how there are many parts of the island that they still have not discovered.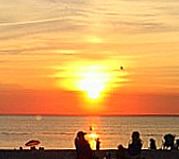 Enjoying a sunset at Westmeadow Beach on Long Island
There are nooks and crannies for every type of water lover, whether your adventures take you to try kite surfing or you'd rather sit on a quiet beach and watch the sunset while feeling the coastal breeze.  And, of course, don't forget about the many options for waterside dining and shopping that come with being surrounded by so much water.  Community members work hard to keep these waterways clean, safe, and beautiful so people of all generations can continue to enjoy all that Long Island has to offer.