Military Retirement Living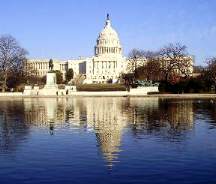 Wondering what military retirement living is like at a community designed just for military retirees?  Look no further than this great interview with our guest:
Carmen Seymour, Marketing Vice President of the largest military community in California, Air Force Village West.
Carmen helps us understand these unique communities: 
"they are like any other retirement community except for one thing: the people -- it's all about the people and the experiences and stories shared in common.
Here are the questions we asked M's Seymour with answers we hope will help you decide if military retirement living is the best choice for you.
BG: Thank you, Carmen, for helping us learn more about military retirement living.  We are so privileged to have someone of your experience answer our questions.  You have had a long career in marketing at AFVW, over twenty years, and we feel we are getting authoritative information.
Tell us how your community, Air Force Village West, began.
General Curtis Le May

CS: General Curtis Le May was instrumental in starting AFVW, and he had a very capable group of officers assist him: Col. A. L. "Bud" Guidera, USAF Ret. who hired me, was the first president of AFVW.
Brig. Gen. Charles Lamb, USAF Ret. secured the property at March Air Force Base, and Maj. Gen. Nick Nichols, USAF Ret. was responsible for the successful completion of the project.
Qualifications at Air Force Village West:

BG: Carmen, are there specific qualifications to be a resident at AFVW.
CS: Up until just a few months ago only officers of the seven uniformed services and their spouses qualified. However, the Board of Directors has approved federal employees grade GS-7 and above, all patriots who served their country.
We are a continuing care community that is dedicated to catering to the military for an active military living lifestyle. Sharing the same life experiences and line of work is what attracts them to these facilities.
All continuing care communities in California are regulated by the Department of Social Services.
How to Choose:

BG: How does one go about choosing the right military community.
CS: The internet is a very good source of information about continuing care communities. That's the first step. Once you have identified those that you are interested in, you request information. The next step is to visit the facility.
I always recommend a two-day visit. Talk to the residents, try the food, ride the bus, find out about the area.
Care communities come in various sizes and configurations. Most are high rise apartments. However, AFVW is apartments, duplexes and single-family homes. AFVW is built on 222 acres of rolling hills with 440 independent units.
BG: What differentiates military communities from regular retirement communities.
CS: Continuing care communities basically offer the same services and amenities.  Military and government officials are attracted to these communities because of similar life experiences they share in common. 
BG: Give us an example of why someone might prefer a military community.
CS: If you could walk among our military and hear their stories,  -- POW's sharing their experiences in camps, or the wives telling how they had to work and raise a family on their own while their husbands were at war, wondering if they would ever come home,  stories that unite them in a very special way – a way that only they can understand.
That's why they choose to live together, not because these communities offer something different, it's not the difference that unites them--it's the oneness.
Locations:

BG:  Where are these unique communities located.
CS: Most try to locate in the general area of a base.
AFVW is adjacent to March Air Reserve Base outside of Riverside. Other military facilities are in Washington state, Texas, Florida and our Nations Capital. 
BG: Are there benefits to being close to a base.
CS: For example, we are close to March Air Reserve Base, it has a commissary, base exchange, visiting quarters and space available flights.
BG: Is it necessary that these communities be near a base.
CS: Not necessarily.  Military people (officers and enlisted alike) use the VA hospitals for service-connected medical problems.  Most of our residents use community hospitals and doctors.
Amenities at AFVW: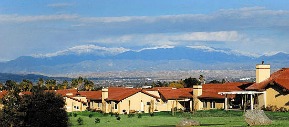 BG: Do they always have assisted living?
CS: If it's a continuing care community, most have assisted living and skilled nursing.  Some also have an Alzheimer's wing.  AFVW offers all of the above and one more level of care called transitional care.
BG:  Is AFVW a gated community.
CS: Providing a secure environment is always very important to our seniors.  AFVW is a gated/guarded community.
Our other amenities include:  Across the street is the General Archie old golf course (open to the general public).  It's a major attraction to our men and lady golfers.  We also have a Wellness Program,  fitness center,  wood working shop,  arts and crafts, religious services,  parties,  military organization meetings,  the national cemetery next door,  planned events,  various libraries including a military library,  television studio, etc.
BG: Are there special benefits to military with permanent injuries.
CS: Not really; the services are similar for everyone in CCRC's. We are fortunate that there are Veterans Administration facilities nearby. But again, it's the people, that makes us different.
BG: What medical amenities and wellness programs are there vs other communities?
CS: Today there are many more CCRC's – competition is growing.  Therefore, we pretty much offer as many services and amenities. 
Our wellness program is divided into six elements:
Social – Physical – Emotional – Intellectual – Spiritual – Vocational
BG:  Yes, this is similar to other assisted living and care communities  programs.
Lifestyle

BG: So we have established that military gain satisfaction in being around other military.  Give us some examples of military retirement living.
CS: Some examples are in sharing stories and experiences, as we said,  attending military organization meetings,  traveling together,  celebrating the various military holidays,  honoring those fallen soldiers at the adjacent Riverside National Cemetery,  flying the flag at their homes,  starting their meetings with the pledge of allegiance and prayer.  All of these are important aspects of military retirement living and very much enjoyed by our residents.
CS: As I said before, that's what makes a military CCRC different  -- it's the people!!
Spouses
BG: Are there single spouses of retired military living at your community and what are the qualifications to do so.
CS:  Yes, qualifications are that they be the widow or ex-wife of either a military officer or federal employee GS-7 or above. People come to enjoy life, and cupid can take some credit, we have had 22 marriages since we opened our doors.
Costs
BG: Carmen, tell us about the costs – regular retirement communities vs CCRC.
CS: The differences are vast – a regular retirement community sells you a home in a community for seniors 55 or older.  A CCRC community sells you a "continuing care contract."  The contract provides a home of choice, 100% maintenance of that home,  grounds maintenance,  housekeeping,  meals,  transportation,  emergency call systems,  nurses on duty,  home care,  activity directors for each level of care, security,  wellness programs,  skilled nursing care,  assisted living,  dementia and intermediate care.
Costs vary according to the size of home/apartment or duplex just as they would vary in a regular community.
BG:  What is a cost breakdown at AFVW.
CS: AFVW offers three refund plans, 0% - 50% and 95%. Cost of health care is offered at a 50% discount from what the general public would pay.
To date only the skilled nursing  and special care are open to the general public.  It has 59 medicare approved beds.  I can only speak to what AFVW offers.   Each facility,  although they offer the same services,  payment of those services are accomplished in various ways.   For example, there are facilities that require you to give them all of your assets in exchange for life care. 
BG:  I've noticed many more regular communities giving good discounts to military.  Can you comment on this.
CS: Due to the economic situation, most seniors have lost some or all investments and their homes have lost considerable value.  To offset those losses almost every community – military or otherwise – is offering discounts/move-in promotions.
Benefits of Continuing Care

BG: What are some reasons people choose continuing care communities.
CS: I have found that most people looking to move into a community that provides care do so because:
They want to make their own decision of where and how they will be cared for when needed – not leave that up to their children.
Couples want to remain together or close by when one of them needs care.
Husbands usually want to make sure their wife is in a safe and secure place should they predecease them.
They have or had family members with Alzheimer's or other disabling disease.
They have been diagnosed with some long term health problem.
They had to care for a parent.
They have no family.
As you can see, there are a variety of reasons for moving to a CCRC.   Each individual or couple comes with a different agenda, but they all have the same thing in common – whether military or not – they look for that long-term care.
Additionally, military looks for military for the reasons given above.  That's like the frosting on the cake.
Your Plan for Retirement

BG: Is there an age where people should begin to look into these communities.  What should someone who is planning their retirement do to get started exploring communities. 
How should they plan for a military retirement.
CS: Ideally, people should not wait until they are sick. Retirement communities are places to enjoy retirement life.  Time to travel, party, join community projects, etc.
If they wait until they are sick, they miss out on life.
I had one couple tell me that AFVW saved their marriage. "How," I asked.  The wife said that most communication between them had deteriorated.  She would fix dinner and they would sit and watch TV with just a few comments here and there based on what they were watching.
"Now," she said, "it's just great!" 
"I've joined the food committee, he's on the maintenance committee, we talk about the people we meet and what's happening, we have dinner with different people in the club dining room or the cafe – life is interesting again--I even feel younger!!
BG: What a great story!
Carmen, there are so many wonderful choices in today's world, how do military plan on what state to retire in.
CS: Some plan on a certain community because it puts them closer to their kids.
Others select a community based on the type units and quality of life they have to offer – people seem to like the homes more so than apartment style living.
Others like the warmer climate as in Arizona, California, Florida.
As many different people there are in this world of ours, that's how many different reasons and opinions you will find on where to live.
BG: So true--and that makes it harder to decide.  What would you say to some one considering to retire in a military community that would help them decide?
CS: The first thing we do is to place the customer in the capable hands of our resident volunteers.  They do tours, have lunch, show them model units and answer questions.  Many of our customers will spend one or two nights at our facility.  In that case, volunteers will invite them to their homes, introduce them to other residents, take them to dinner, etc.
When they come back to the marketing office, we feel very confident that they know what they can expect as residents of AFVW.
The next step is we go over the plan, cost vs type of unit, monthly fees vs services.  Health care discount costs vs community costs.
At that point they will either:
a. select a unit and put a deposit down,

b. decide to go on a wait list,

c. come back with family members,

d. go home and think about it.

e. ask for another stay to check out the area or

f. decide this is not what they were looking for.
This holds true in all communities not just military. The difference is we sell a life time service through the Continuing Care Contract not real estate.
The last thing I like to tell them, if they haven't already done so, is to visit other communities and compare. 
Moving for seniors is difficult enough so we want them to make the right decision.
A California retirement

BG: If someone is not from California, do you think they could make a good transition to a retirement community there.
CS:
Our residents come from all over the country.  We have many people from many places.   Some of the spouses are from foreign countries.   Again, military retirees are all united by that thin almost invisible but very strong military affiliation.
Serving those who serve us

CS: In conclusion, those of us that work for AFVW feel honored to be in a position to serve those that have given so much for our freedom to pursue our dreams.
By serving them, in some small way, we feel we can honor the memory of those that didn't make it home to their families.
We all look forward to serving and caring for the next generation of military men and women that continue to fight for our freedom – yours and mine to write this.
                                "We take care of our own."
Thank you to AFVW for this helpful interview:
Air Force Village West, a military retirement community for 55 and over located at:
17050 Arnold Drive
, Riverside, CA 92518 Phone: (800) 729-2999 or (951) 697-2100
---
I know not what course others may take but as for me: give me liberty or give me death." -- Patrick Henry
No man is entitled to the blessings of freedom unless he be vigilant in its preservation." -- General Douglas MacArthur
Freedom is a fragile thing and is never more than one generation away from extinction. It is not ours by inheritance; it must be fought for and defended constantly by each generation, for it comes only once to a people. Those who have known freedom and lost it, have never known it again." -- Ronald Reagan