Retirement Living Portland Oregon..
In this interview with Krista Houstoun, she speaks out about one of the best places to live for retirement.
Contents:
Portland Lifestyle in Retirement
Co-op Housing
Urban Lifestyle - Pros and Cons

Also see Part 2 of interview:
Cooperative Housing - an economic choice
Who would enjoy a city retirement?
We tend to think that people crave a slower pace and more natural settings as they age, but the recent retirement trend that is popping up, especially among the boomer generation, contradicts this thought: more and more people want to be close to a city heartbeat.
Those who retire in the city are looking to enjoy the benefits of:
public transportation 
health services  
social interaction  
continuing education 
and local shops, restaurants and entertainment 

And, as far as city living goes, it truly doesn't get better than retirement living in Portland Oregon.
It has the nation's best public transit system, which lessens one's dependence on driving and makes it effortless to get around town without a car; it has mixed-area land use and smart urban design, so walkability is optimum; and it has a vibrant, diverse culture, so there is never a lack of extraordinary things to do and see.
It has been listed as:
CNN Money's Top 10 "Best places to retire,"


Portland, Ore. is a Top 10 Best Biking City (look on any top 10 list!),

It is often said to be the United States' most European city.
The most successful aging is a combination of mental stimulation, interpersonal relationships (community), and continual physical conditioning…city retirement, particularly in Portland, provides all of those.
BG: This is exciting news--it confirms my thinking on a city retirement after I was able to spend a month in the city in my daughter's condominium--I was amazed at how stimulating it was--no sleepy doldrums--there was so much to do and see. Just getting out and walking was great exercise. I was ready to move out of my suburban life into a city setting.
Urban living and a walkable community

I think it's important to further mention the benefits of living in a walkable community. It's pretty commonly known that the simple act of walking yields physical and cognitive health dividends. Walking has historically been an organic part of human nature, but with the advent of the automobile and the suburbs (which typically isn't very pedestrian-friendly), many people aren't doing it nearly as much as they should.
Returning to this basic mode of transportation is great for our health, necessary for optimizing interaction and connection with the outside world, and also easy on the environment.
Seniors interested in longevity should be looking for retirement places that cater to this need, and smartly designed urban cities are definitely places to consider.
BG: I agree because that is what I discovered in the month I spent in the city--I walked more and felt more fit. Walking can be very boring, if you see the same thing every day on your walk--but that doesn't happen in the city--the scene constantly changes.
And for those who like to know "what's new," it was very convenient to see the latest new thing in clothes, housewares, etc. in the City stores.
I noticed that Portland received a good walk score on Walkscore.com, a website that rates a city for walkability.
What are the advantages of a city retirement?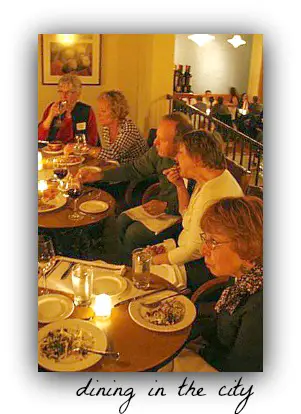 It's so vital to surround ourselves with community as we grow older in order to stay connected. The worst thing that could happen to an aging person is to start feeling purposeless, and city living makes that nearly impossible.
In fact, community engagement is something that's inherent to city retirement, particularly in NW Portland, where, as I've alluded to before, the streets and local businesses are always bustling. I've always said that staying connected to some kind of community is the number one key to aging wisely, and in the city, you will never have a lack of communities to choose from!
What does Portland offer seniors in retirement?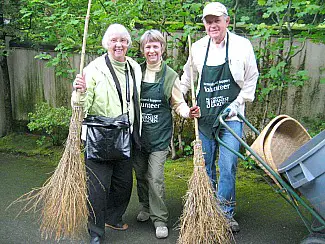 BG: What does Portland, Oregon, offer seniors in retirement?
Portland is great for the active adult. Hiking, skiing, kayaking, cycling and many other outdoor activities can be found right in your backyard. Also, the city has more city parks per capita than any other city in the nation (227 parks, including the 5000+ acre Forest Park wilderness).
Portland also offers abundant volunteer opportunities and arts and entertainment events. From brew fests to ballets to independent bookstores to music festivals, there is something for everyone in the City of Roses. And let's not forget that for gardeners the climate is ideal.
BG: Do you think there are more senior services available in cities?
Yes. Portland's senior scene is thriving. Numerous services exist that aim to improve the quality of life for modern seniors. More and more organizations are emerging to fight the myth that the elderly population is useless, and are demanding a return to the respectful treatment of elders.
The Geezer Gallery, Elders in Action and Life by Design NW are a few of our favorite progressive senior programs here in Portland.
BG: I believe seniors can benefit in a city environment but they need to blend in and feel they belong there. But I am realizing from your report that cities are different and some are more "age friendly" than others.
Is urban lifestyle more sophisticated?
Sophisticated in the sense that there are more cultural activities to keep you stimulated, but Portland has a great mix that keeps you feeling comfortable.   Portland is educated, involved, and progressive, but most importantly, inclusive and relaxed.

You don't get the sense of hurry, hurry, hurry here.
You have the opportunity to dress up for the theater and dining, but you won't be shunned for dressing casual.
It is a walkers' city, so everyone wears comfortable shoes and clothing. One of our biggest events is the farmer's market, where you can imagine heels are not a welcomed sight! However, you'll find world class ballet, symphony, gardens, theater, art and more. Additionally, there is a strong international presence in Portland, like most big cities, that brings a varied perspective and cultural offerings.
The cost of City vs Suburban Living
BG: There is a lot of talk about whether city living is less expensive than suburban living. Do you find a city retirement more or less expensive for senior retirement?
That's hard to say as everyone has diverse living styles, and from city to city the housing markets differ. But I can say that there are city-life financial advantages like zero or less reliance on your car (and therefore less maintenance and gas expenses), no home maintenance and a plethora of free entertainment options. Portland is also very committed to its collective/cooperative endeavors, so you'll find many lower cost options in everything from a "tool library" to a food co-op.
What are the community amenities of city retirement?
BG: Is it true that city retirement communities do not have the luxury amenities of suburban communities, such as pools and tennis courts, due to the scarcity and cost of land?  
Definitely not true. Furthermore, many times you pay for those suburban amenities whether or not you use them.
What does the surrounding area offer for retirees?
Oregon has so much natural beauty to offer. The Oregon coast is one of the most stunning coastal views in the nation, and only an hour from the city. The Columbia Gorge is a mere 30 minutes out of Portland and Mt. Hood, with it's beautiful ski resorts, is an hour away. My personal favorite surrounding areas are the local farms, vineyards and wine tasting rooms scattered all throughout Oregon's countryside.

Additional Resources: Walkscore
Portland Monthly Magazine
World Health Aging Study
---
This is an information only website. We make no recommendations or opinions. Please make your own careful investigations of all retirement communities mentioned on this site. The features of a cooperative community vary according to the community--please check the features of individual communities carefully. Please verify all information on Retirement Living Portland Oregon as it can change.