Retirement Community Pet Policies

pets are usually allowed but there will be Pet Policies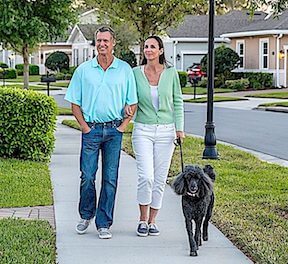 Mary Jones asks "Are Pets allowed at retirement communities." I am attending a retirement community informational meeting and this is usually one of the first questions always asked. Well, the answer is "yes, of course they are allowed at active adult communities." Mary instantly feels better. Of course, there are Retirement Community Pet Policies that tell what type and size of pet is allowed. Assisted living or continuing care communities may not allow pets although many do.
The benefits of owning a pet at a retirement community are many. They include:
Pets have been shown to increase longevity in humans
Pets provide loving companionship.
Pets get their owners out for walks and much-needed exercise.
Most common pets seen at retirement communities:
In walking around my community, these are the ones I most often see:
toy poodles
bichon frise
terriers
less frequently I have seen medium size dogs such as beagles and bulldogs
Are pets allowed?
Pets are usually allowed at active adult communities. However, you always need to ask since there is a chance this is not so. Some communities are concerned about the native wild life so they don't allow pets.  
There often are restrictions on type of pet and size and this is another reason for asking to see the pet policy at retirement communities.  Every pet policy will be different.  However, the chances are good the community you are interested in will take usual domestic pets. 
This article will give you general information on a typical Pet Policy.   Remember every Pet Policy is unique to the community.
Pet Policy at an over 55 community
A list of Pet Categories:
A. Ordinary House Pets are Allowed - these usually are small (under 40 lbs) domestic dogs, cats and birds. Also includes creatures in terrarium or aquarium, but not venomous. (Notice the size limitation.)
B. Unusual House Pets - animals not normally maintained as pets such as large reptiles, felines other than cats, canines other than dogs, anthropoids, rodents, birds and other creatures not mentioned above and not maintained in a terrarium or aquarium. These unusual house pets are prohibited at this community.
Number of Pets Allowed: Members must make a written request to receive approval from the Board of Directors to have more than two pets per unit. 
Pet Registration is Required: All pets having access to the common elements shall be registered with the office. Also must show verification that pets have a current rabies immunization. Applications must show photo of pet, members office and home phone numbers. 
A general statement that Pet owners are responsible for any property damage, personal injury or disturbance their pet may cause or inflict is usually stated. 
This retirement community pet policy says: All residents must abide by local animal control ordinance of the county and the county is given permission to enforce Leash Laws and animal control laws.
A listing of Requirements and Restrictions:
Pets need to be leashed -- no leash longer than ten feet.
Pets shall not create a nuisance.
Pets cannot be unattended.
No pets can be abandoned on property.
Statement on Visiting Pets:
The office must know in advance of visiting pets. If the pet is staying longer than a week, it must be registered and a copy of rules given to the owner.
Pet owners, including guests, must promptly clean up their pet's droppings and dispose of them in a sanitary manner. 
A description of Nuisances:
The following can be grounds for complaints:
pets running at large
pets soiling anyone's private property
pets causing unsanitary conditions
pets making or causing noise sufficient volume to interfere with other resident's rest or peaceful enjoyment of the property.
pets being allowed to molest, attack or otherwise interfere with the freedom of movement of any person on the common elements, to chase vehicles, to attack other pets, or to create a disturbance in any other way. 
pets in heat need to be confined
pets kept in vehicles as a kennel or cage is not allowed
pets cannot be leashed to any object on the common elements
Owners failing to promptly clean up pet droppings and dispose of them in a sanitary manner.
Why have a pet policy
If the pet Rules seem strict, remember that some pets are not managed well by their owners or pets can be destructive to the property.  If there are wild animals frequenting the community, pets may chase them.  If there are garden beds, pets may dig them up.  You want a policy to be there to protect everyone's rights, but make sure you can comply with the Rules.
But warning:  Here are some problems that can occur:
Sometimes the community management doesn't follow through and enforce the policies.  
Watch to see how people handle their pets.  
See if there are pet parks in the area.  
Are the residents friendly to pets in the community. 
 All of this needs to be checked out if you have a pet before you move in so you and your pet can be happy.
Procedures to solve pet problems
This allows any resident to file a written complaint.  Any bites should be reported to the property manager.

Pet owners assume full responsibility and cost of any property damage, personal injury, or disturbance their pet may cause.

Enforcement of Retirement Community Pet Policies:

Any owner found to be in violation of Retirement Community Pet Policies may be directed by the Board of Directors to permanently remove from the property pets which cause violation or to take other action Board deems appropriate.
Forms that may be required:
Pet Registration
Request for Additional Pet
Pet Violation Complaint Form
The above has been edited to make the policy brief.  It is designed to give a general idea of what is required of pets and their owners.