Retirement Planning Checklist


..plan your retirement today




Here's a retirement planning checklist to give you plenty to think about. Of course, all checklist items are estimated:
Monthly Income  
BE SPECIFIC: IRA:$___________
401K:$___________
Investment Income:$____________
Hobby:$__________
Job(PART-TIME OR FULL-TIME):$_________________
Social Security:$____________
Consultant Work:$____________
Other:$________________

TOTAL MONTHLY INCOME AFTER TAXES:$ _____________________
Take Action! Saving for retirement is of the highest priority--do not make it an afterthought.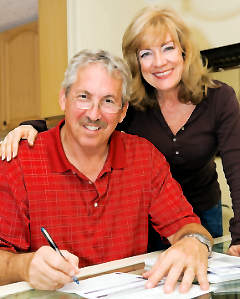 Monthly Expenses
Food $______
Housing: $______________
Travel: $_______________(how many trips a year would you like to take)
Gifts: $_______(How many birthdays/anniv/holidays a yr)
Restaurants: $_______ (how often would you like to eat out)
Clothing/hair/makeup: $________
Entertainment: (movies, theater)_____________
Medical: $_____________
Prescriptions: $ ____________
Food supplements (vitamins): $___________
Support to children/grandchildren (birthdays, college fund): $________
Misc (phone/cable etc): $_____________
(most financial planners will have a detailed list of all items of daily living that you can use)
You will find that food/nutrition become more important and you will spend more money on this.  You will be very concerned with eating the right foods and you won't want to cut back on anything affecting your health.
Expect to spend more money on food.
If you don't have enough money, you may have to cut back on entertainment or dining out.
You also will be very concerned with getting exercise and you want to make sure there are opportunities for exercising--You can see why it may be important to be closer to activities you enjoy and that are free.
TOTAL MONTHLY LIVING EXPENSES:$_________________
---
Retirement Housing--How to Choose
(My method is always to narrow down)

First, decide where you will live:
in your own home
move somewhere else
(pick one option) and add it to monthly costs:
Option 1:

If in your current home:

What is the mortgage/taxes/ins per month: $_________
Total Current Home Monthly Costs:$___________
Other home expenses (upkeep,utilities) $_________

Find out:
How old will you be when your home is paid off________  
OPTION #1: TOTAL MONTHLY COSTS WHEN YOU STAY IN YOUR HOME AT RETIREMENT (taxes,upkeep,mortgage,utilities etc):$___________
---
2.  Option 2: If you move: (How much equity will you have in your home at retirement $_________)
Choose 3 states and compare living and housing costs/features of each:
State #1:______________________


taxes
housing
living costs
other


State #2:_____________________


taxes
housing
living costs
other


State #3:_____________________


taxes
housing
living costs
other


Choose 3 communities from your preferred state and compare living and housing costs of each plus pros and cons:
Community #1___________________


housing
living
crime
taxes
activities in area
medical in area
climate
other


Community #2___________________


housing
living
crime
taxes
activities in area
medical in area
climate
other


Communitiy #3___________________


housing
living
crime
taxes
activities in area
medical in area
climate
other


Now take the preferred choice from above and apply the following:
(Contact a Realtor to find out how much new home you will qualify for.)

Equity in your home
(What is equity?  Equity is the amount your home is worth (or what you get for it when you sell) minus what is left on your mortgage--no mortgage? Great!  In that case, when you sell you will receive all equity--of course minus your fees and closing costs.)

How much equity in your  home currently/or how much you anticipate in the future (the market at the time you sell may be different) $______________
(Will you sell or rent your home to move into a new home--this is determined by various factors such as how much you need to move into a new home, do you want to leave your home to your children, do you need the rent you could get for monthly income, etc.)


How much will you apply to your new home (how much will you have to use to qualify-- interview mortgage lenders, financial planners, attorneys, tax accountants, Realtors and other professionals to determine this)  Many people pay all cash for their retirement home. $______________


How much will you use for moving expenses, pay off debts etc $_____________ How much is left over for retirement savings. *$_________ *Please check with your financial planners and experts as above to determine a financial plan for your retirement monies.
Costs to move to another state:$__________________
What type of home do you prefer/afford:
single family home $________
Condo $____________
Mobile $___________
Co-op $________


Assisted living apartment $___________
Continuing Care Community $___________


Choose one of each type and compare housing and living costs:
Single family home:


Condominium:


Mobile/Manufactured Home:


Co-op:


Assisted Living/CCR:


Other:


OPTION #2: TOTAL NEW HOME MONTHLY HOUSING COSTS:$_____________
Can you save here. How much can you save each month if activities are in the area, if shopping and restaurants are walkable, if entertainment you like is nearby etc. Is there a farmers market in the area. How close is medical, bookstores or library etc - you can save a lot by having things you do on a daily basis nearby the community. Y's and senior centers in the area are good too.
---
Health Insurance
How much will it be in retirement? Check with your current health care provider and medicare (if over 65).  
Current Monthly Health Insurance: $____________
After medicare kicks in:$___________
Prescriptions: $_____________

How far to doctor visits and expenses: $____________


TOTAL MONTHLY HEALTH INSURANCE/MEDICAL COSTS:$_____________
Auto
How many cars will you have in retirement?  Some retirement communities have such good transportation options that some people give up their family car, but this is not for everyone.  At some point you may have to give up driving for health reasons/aging.  (will your insurance be lower or higher if you have only one car):  $________

Auto Insurance (any discount after 55):$___________

Gas, oil, repairs: $____________

TOTAL MONTHLY AUTO COSTS:$_____________ TOTAL
Debt
Debts: $_________ (you may wish to not have any consumer debt going into retirement) Pay off credit card debt first and then pay a little extra on your mortgage if you have one each month--even $30-50 a month extra helps.


Credit Card Balances:

#1:$___________
#2:$___________
#3:$___________


Question: Can these be paid off by retirement. If not, then you must add them into your total monthly expenses.   Remember, these are just estimates as you may have more or less credit card debt at retirement.
TOTAL MONTHLY DEBT PAYMENTS:$___________
MONTHLY INVESTMENT AND SAVINGS CONTRIBUTIONS $___________
Two websites about investments and savings: www.dolans.com www.irahelp.com Savings
Monthly Charitable Giving Contributions:$___________________
Inheritance
How much do you want to leave to your heirs
Do you have a will
Do you have a living trust
How much is your total net worth: $_________
Is there a possibility of receiving an inheritance.
Additional questions to explore

How will you make your money last

Will you need long term care insurance.

Monthly contribution for grandchild's education or helping adult children
TOTAL MONTHLY GIFTS TO ADULT CHILDREN/GRANDCHILDREN:$__________
Retirement Planning Checklist: Total Long-term Care Insurance Payment:$_______
Living Longer than Expected

Option #1: Will you live with your adult children
(Have you discussed this with your children)


Questions: Will it mean another move for you.
Where do your children live now.  Where will they live in the future.
Will it be another costly move to relocate to where your children live. Many elderly move to where their children live.  See multigenerational housing on this website.

Option #2: Will you go into assisted living.
How will you pay for assisted living or home care.   

TOTAL MONTHLY EXTRA COST FOR ASSISTED LIVING/Home Care:$___________
Now add the totals from above:
TOTAL MONTHLY INCOME:$__________
TOTAL MONTHLY EXPENSES:$_____________


DIFFERENCE BETWEEN THE TWO PLUS OR MINUS:$_____________


Some things you can do now to prepare:

Read and visit websites like this about retirement, places and communities.

Visit retirement communities.
Increase your knowledge about retirement living, places and communities to live. Managers at assisted living facilities are good sources of information.

Increase your income or cut back your spending - SAVE FOR RETIREMENT

Assess where you are at now--have a realistic picture of what retirement will cost


YOUR NOTES ON THINGS TO TAKE ACTION ON NOW OR IN THE FUTURE:




We believe retirement can be better with the more income you have.  Better to err on the plus side because you do not know what retirement will be like until you experience it.
You can cut back on expenses in retirement in many creative ways but there are some things you will not want to cut back on or cannot cut back on.  Some costs will get lower and some higher.  Decide what your highest priorities are.


Some people are more financially prepared and better off than others for retirement and need estate planning advice.   But even those with plenty of retirement savings can see their money disappear as in the recent case of Ed McMahon whose home was in danger of foreclosure in his retirement years after a long and lucrative career in television. How prepared you will be is a very individual and personal thing.


I have made mistakes like everyone and most often when I don't see the forest for the trees.  Bottom Line:  What will make you happy in retirement.

We hope this checklist helps to give you a better picture.  No one knows the future but all we can do is plan for it as best we know how.
---
(We are not financial planners and this general checklist is not intended to take the place of advice from experts. Please do your own checking and consult with experts into how best to plan for retirement.
This is general information only which we hope can be helpful but is not intended as advice or even opinion.
This is not intended to be a complete checklist and is very general as you may have expenses that are not on this list.
This is a personal checklist from our own "been there done that" experience that you may or may not experience when you retire. Your own experience will be unique to you but this gives you some advance ideas.  We hope it has been helpful in some way.)