RV park life
becoming more popular
Contents
(click on them if you want to drop down to that topic):
---
The Interview
BG: Hello, Lee.  RV park life is becoming of great interest to more people today due to retirement of the baby boomers and our current real estate market where people are looking for affordable living options in retirement.
I am so happy to have someone with your knowledge and experience talk with us and reveal more information for our readers about parks, park models and what it is like to live in a park whether for a second home, getaway retreat, or as a permanent retirement home.

Snowbirding in retirement
One of your rv parks, Lee, Park Place East RV, located in Apache Junction, Arizona, is for over age 55, and, of course, is of most interest to us. What is it like to reside in an RV park for retirement or "snowbirding."

(Snowbirding is a popular term used to describe one moving seasonally to another warmer area during winter to get away from the cold.  It can also be used to describe moving temporarily from a hot climate to a cooler one seasonally as well.) 
A person doing this is called a "snowbird."  RV parks can be crowded "in season" and less crowded when "snowbirds" leave.  The snowbird season can be anytime between October to May usually for a six-month term.  Arizona, California and Florida are the most popular snowbird states. 
LEE: I've had a lot of contact with snow-birds over the years, and although I am involved with the park buying and operations side of the snowbird rv resort (and mobile home park) business, I am not one myself. 
Perhaps I can best express what it's like by telling you about my wife's mother (Jean), who ventures down to Mesa, Arizona, from Washington State each year:
Jean leaves from Spokane to her spacious rv park-model at the end of October, very enthusiastically anticipating renewing seasonal friendships and activities for the coming winter season.  Jean and her husband used to drive a very nice Beaver RV to Arizona each year, but liked the idea of a rv park model with attached Arizona room, for its more spacious accommodations, and to avoid the drive to and from Spokane each year.  
She completely enjoys the activities, visits from neighbors and friends, and entertainment that abounds for the winter visitors at RV parks.   Most of all, for a single person (she is now a widow) the avoidance of loneliness and solitude are key elements of happiness.
BG: Yes, I, too, with my study of retirement lifestyles, am finding more and more that having activities you enjoy nearby to keep you busy is very important to your happiness and well being in aging.  It is interesting that a single woman can enjoy these parks and find companionship with others like herself.
Park models
BG:   What kind of park do you call yourself. Are you a mobile or an RV park? I picture an RV (recreational vehicle) as a vehicle on wheels yet I see in the photos they look like mobile homes. Can you clarify what type of homes are in your rv park.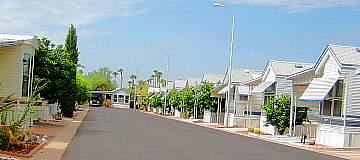 RV park model 55+ community
LEE: The Park we're talking about today - Park Place East RV for over 55 is an RV park, but it is comprised of rv park models (park cottages), on the vast majority of lots -- over 90% are sited in the park. These are 400 square foot homes, although many have an attached "screen room" or Arizona room (depending on what State you're in, this "room" has a tendency to take on the moniker of the State).
BG: And this is typical in Arizona?
LEE: It is quite typical, particularly around the Phoenix metro area (Maricopa and Pinal counties) and the Tucson area. This is becoming more and more popular as a winter-getaway in the valley of the Sun.
Costs
RV Park Models Costs Vary Depending on Age, Park, Lot size, and Features:

BG: What are the costs of "rv park models."  They are generally the least expensive of manufactured homes. Is this why they are popular in Arizona as second homes.
LEE: The cost varies, Carol -- for an older rv park model, let's say a 1990 rv park-model in good condition, all set up with awnings and covered carport and a nice porch, the price can be in the range of $10,000 or so.
Newer units can be bought in the $20,000 range.  The new rv park models in large parks with sizeable lots and higher rents, can run to close to $100,000...They can be very customized. There really is a price point for every budget.
Florida or Arizona
BG: Are there any differences in being a "snowbird" in Arizona and, say, being one in Florida.
LEE: There are obvious climactic differences, and proximity to certain states of the country tends to have people going to the place that's closer for them, but over-all, the Arizona market has more high-quality parks.  This is a result of the development of the resorts in Mesa in the early 80's and the developers behind the dream.
BG: If people in the Northeast usually go to Florida, what would you say to them to get them to try out Arizona for a permanent or second home residence.
LEE: Good question ... Try it, You'll like it ...
BG: How many residents are snowbirds only at your park.
LEE: It's fairly typical for the region -- usually 90% or more are snowbirds; the other 10% are year-rounders.BG: Do snowbirds rent at your park or own.
LEE: The residents own their own RV, and rent the space from us.
We do keep one or two homes available for renters to check out the lifestyle and the park.  If they like it, they buy their own RV park model.
Resident-owned: Term for RV parks where you can own your lot
BG: Yours is a land lease park.  Are there also parks similar to yours in Arizona where one can buy a piece of land in a park--resident-owned parks.
LEE: Most of the rv resorts in Arizona are land-lease parks. There are a few parks that sell the lot with the home. The better known are Venture Out RV Resort in Mesa, Greenfield Village in Mesa, and Carriage Manor RV -- all are very nice.
BG: Well, thanks for that, since these are hard to find for people looking to own their lot.
BG: What types of homes do you have in your park.
BG: Most all homes are park-models, with just a few 5th wheelers and a few Class A motor coaches.
Getting Started is easy
BG: So, if someone comes to your park and wants to live there permanently, what would you tell them to do.
LEE: The folks that come to the park meet with the on-site manager and can get that sorted out. There's not much to it-- just let the manager know your wishes.
BG: If someone wants to be just a snowbird, what would you tell them to do to get started.
LEE:  Depending on how they want to live, say in a Motor home, or an rv park-model or 5th wheeler, certain decisions need to be made as to how they want to spend the winters. Gas prices as they are, more and more people will opt to stay in one-park rather than venturing about to different facilities in the Sun-belt.
If a park-model is the choice, take a flight down or drive down and go visit a few parks --or visit a snow-bird they already know....they'll soon discover what a pleasant, active, friendly and neighborly environment these parks are.
Take the plunge on your visit
LEE: Bring your check book and buy one...take the plunge --- I can't imagine someone not really enjoying all that sun and warm weather and action, while its dismal and cold up north.
BG: Do you have a rental office to help people who want to rent their homes out part of the year when they aren't using it.
LEE: We don't, although it is done on a small scale by the individual owners...  
BG: Lee, what do snowbirds do when they come to Arizona and your park. Activities?
LEE: There are so many activities, not only in our park, but many others....Some activities include barbeques, hoedowns and jam-sessions, special entertainment nights in the club-house, tours to local attractions, many near-by malls, shuffle-board tournaments, theme dinners, cards, billiards, golf groups, hiking, pool exercise, and the list goes on.
BG: Sounds a lot more fun than shivering all winter in the cold. The advantage of an active adult park like yours are the same as with a community--more quiet when you want it and more activities for adults. What other advantages would you say over 55 communities have.
LEE: I think it is a great getaway environment .. and seems to find great favor with the thousands that seek this option at over 55 communities.
BG: What exercises do people like to do. Swimming is probably one. Golf. Fitness room. What about walking. Is it too hot in summer to exercise.
LEE: All of the above -- Frankly, if you are there in the summer, you get somewhat accustomed to the hot weather, and you can get out, but mostly in the early morning....it gets really toasty by 10 or so in the morning.
The pool feels really good and you may want to hop in for a swim or head to a local club for exercise.
Climate
BG: I am of the opinion that climate is a big factor for people when deciding where they want to retire. What is the climate like where you are in Arizona. How does it compare with other parts of Arizona. What is special about your area.
LEE: The Phoenix metro area has a really wonderful winter climate --- lows in the high 40's and 50's, with highs in the 60's and 70's, and an occasional 80+ day now and then. It cools off nicely at night, which is wonderful.... Similar to Tucson or Yuma, but considerably warmer than Prescott, and Flagstaff is a mile up, so you can have real winter there.
Medical Facilities in the Phoenix area
BG: Are there medical facilities in the area and Senior centers.
LEE: Many, many facilities with easy access .....Phoenix's streets are laid out on a grid system, and the names of the roads don't change every 2 miles or so, ..makes it easy to know where you are.
BG: Would you say the main reason people come to Arizona is for the sun--or is it the dry air--cleaner environment--allergies--what is the main reason.
LEE: I'd say all those you mentioned are reasons to attract many of the snowbirds.
Affordable Lifestyle
BG: how do people maintain their homes. Are utilities expensive. Do you have a homeowners fee. For seniors, is it a low maintenance and easy lifestyle. There seems to be no yard work--does anyone have any type of garden. Are there any other exterior maintenance chores that the park does for its senior residents.
LEE: This is a very affordable lifestyle; costs are reasonable, there is no Homeowners' Association fee..If you want a small garden, people do have small landscape areas in proximity to their homes....there really is no yard work.... The park maintains all the common areas, the rec facilities, in and out.
BG: Is it possible for the average person to have a second home in Arizona cost-wise.
LEE:  Sure - an rv park model home can be in the $20,000 range (less or much more) -- rent for the year in the $2,500 - $5,000 range, plus utilities. Very much so. You will find people can have 2 nice rv park-model homes - one up north and one rv park model down south - for a total cost of about $50,000 for the units, then, the rent and utilities -- probably amounting to $8,000 a year, give or take.
Attractions in the Phoenix Area
BG: What about the area--attractions in your area.
LEE: The Mesa-Apache Junction area has very picturesque surroundings...to the east are the Superstition Mountains and Gold Canyon -- lots of nature and hikes and artifact hunting -- much Native American heritage.....Many superb shopping malls, restaurants, movie theaters, playhouses, swap-meets, flea-markets, golf, trips to see the Spring-training games for Major League baseball, and more.
Where to buy an RV park model
BG: Where do we buy rv park models, set them up etc. Do you help or where do you refer.
LEE: We have models for sale in our park - furnished - ready to buy and move into. Also, there are several retail outlets along Main Street (the Apache Trail) in Mesa and Apache Junction.
BG: Do these park models get old and lose all value and have to be removed. What is rent for space and are there any other fees to consider, and, can this type of second home be considered an investment (equity increase after a number of years--does that work in a land lease development at all or do the mobiles lose all value).
LEE: Some do - it depends on how well they're maintained and how well the community itself is maintained...a pride of ownership resort will have a tendency to have higher demand and support home prices in the community.  Space rent for the whole year is under $250 per month. Its really quite a deal.
BG: And, of course, location is important in real estate.Just a couple more questions now. You've been so generous with your time and information--Do people need to live in air conditioning in summer.
LEE: Oh yes...that is a necessity..
BG: And, of course, there is a mysterious beauty to the desert and healthy lifestyle even if it does get so hot in the summer.Is there a manager on site.
LEE: Yes, we have a manager on-site year-round.
BG: What are some rules. Can residents have their pet. Is there RV storage.
LEE: Rules for living are mostly common sense, so that people can enjoy themselves, but not infringe on others....based on courtesy and respect for one another.  There is a pet section, too, and there is a storage section.
Gated communities
BG: Is your community gated. What would you say to people who are concerned about crime in Arizona.
LEE: We're not gated.....the community residents keep quite an eye out for anyone coming in the park....crime here is not much of an issue....there are, of course, areas of Arizona where it is a problem, like any place of sizeable population.
Resident lifestyle
BG: Are the residents from all walks of life--sporty, elegant, casual?   Describe the lifestyle?
LEE: It is quite a cross-section -- there are people from many walks and many areas:  Canadians, upper Midwest, the Northwest, the Midwest....its very interesting in that regard.
BG: Lee, I can't tell you how much I appreciate your time. So, again, thank you. It has been wonderful to have so many questions resolved concerning RV parks.  This will be helpful to so many people.
Back to Top
RV Parks article