Social Distancing Features at 55 Plus Communities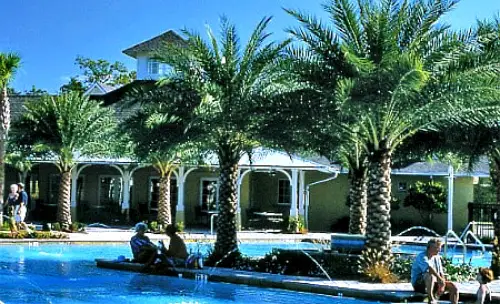 Social distancing at 55 plus communities at first seems strange, since these communities are known for their availability of activities to socialize.   Studies regarding socializing show more social activities in ones' later years is good for seniors. 
We decided to take a look at ways to social distance at retirement communities for many reasons.  As one ages, immune systems may weaken diminishing our ability to fight disease.  No matter your age, masks during flu season may become desirable.  Shaking hands may become taboo.  People with chronic health issues may find the new ways of doing things to be beneficial for their health and longevity. 
I would assume it would be inevitable for communities to make some permanent adjustments.  The question becomes is it easy to socially distance at a retirement community and are you more comfortable knowing this option exists.  Is there a demand for features to social distance at over 55 communities even when Covid-19 goes away.
realtors report more demand for rural areas
Rural areas and suburban areas are becoming more desirable in general.  Chances to get away from crowded city streets are welcome.  Realtors are reporting a rush for rental properties in these areas since no one knows how long this current crisis will last.  We are encouraged to open up our businesses as long as it is done safely depending where you live, but even as that happens we will be looking at our living areas differently. 

What features to look for when you visit
When we visit a retirement community as a prospective purchaser, we will want to know how the community is handling the situation for our health in general, and Coronavirus specifically, and we will want to probe the real estate reps with questions.
Here are some social distancing features we looked for or ones we found, that you may wish to ask questions about when you visit a 55+ community, if you are interested in social distancing as a priority or concern:
Does it have large areas of open space or acreage.
Is it gated to minimize traffic in the community to residents, guests and service people.
Are there parks and water features to exercise alone without crowds.
Does it feature extensive walking trails.
Is neighborhood walkability to shops, groceries and restaurants available.
Are there large floor plan options with spacious rooms.
If needed, does it have floor plan options for a home office.
Does home design include outdoor living areas.
Do homes and amenities have fresh air and sunshine (ventilation, large windows and other features).
Are there spacious layouts (or is there overcrowding) like large pools with private areas for seating and sunning, large amenity rooms so people can spread out, and open and airy fitness centers.
What the home features like extra large pantries for storage.
Smart options for sensors to not touch objects like door handles, water faucets, and thermostats. 
some "TEMPORARY" CHANGES WE SEE NOW MAY BECOME PERMANENT
It will be interesting to see how communities may change and adjust to this new environment.  I believe builders  will be flexible and act quickly.  Temporary ways of doing things often lead to permanent changes.

We may see more sensors for opening doors so that you do not have to touch them.  There may be more online activities to be enjoyed virtually including entertainment, classes, and education, already happening at 55+ communities.
four communities with features helpful to living in this new world
Here are 4 55+ communities that just happen to have many of the above features.  It wasn't planned by them for Covid-19 I'm sure since these communities started before the pandemic.  But somehow they have achieved a great balance between socializing and staying physically healthy, and it just happens naturally by knowing customer wants as they grow into their senior years.

Community In Texas: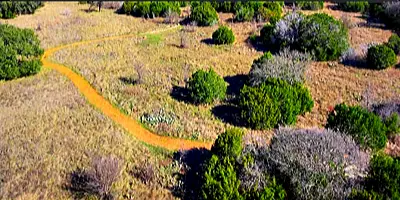 Sun City Texas view of walking trails
Sun City Texas - This new 55+ community by Del Webb in Georgetown, Texas, has 3 golf courses and numerous types of walking trails including nature trails, large resort pools and tranquil koi pond.  The homes have flexible living space for an office and separate spaces for gathering and dining.  The Martin Ray plan has a very large pantry. 1501 Sun City Blvd., Georgetown, Texas

Georgia Coming Soon 55+ Community
Cresswind Georgia at Twin Lakes by Kolter Homes known for beautiful award-winning communities in the Southeast.  This is their third community in the Atlanta area.  This one is on 940 acres in the master community of Twin Lakes.  Opening soon, they will  feature a Pickle ball Complex with planned 30+  courts for residents only with plenty of room to spread out.  Pickle ball is one of the most popular sports among seniors today.  There are also miles of scenic trails and lake fishing and kayaking in two lakes.  They will feature outdoor events and opportunities to connect with nature.  There will be 15 floor plans, 7 of which are over 2000 square feet of luxury living with top quality brands used for a comfortable and beautiful home.  You can virtually tour on their website or visit by appointment only with CDC Guidelines in place.  118 Hartwell Court, Hoschton, Georgia
In california a "spread-out" community with smart features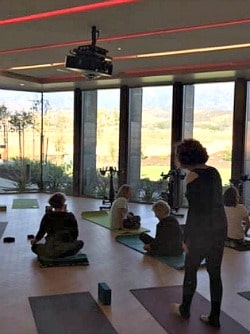 Large yoga studio at Altis
Altis  - By Pardee Homes, it's anything but ordinary, so unexpected, a fresh vision.  It's all about spacious and good for social distancing even though it's all about being social.  It's open sky.  It's an indoor/outdoor experience.  Altis features "smart" home amenities.  New materials, technologies and features in their Living Smart program for health, energy, water and home.  Healthsmart aims to improve the home indoor air quality. In the "smart" home temperature and lighting can be controlled through a smart phone or tablet.  You can activate this when you purchase.  Separate rooms for amenities including large rooms for a yoga studio and fitness center.  It's huge pool complex with many separated places to sit and it's swim-up cabanas and separate lap pool.  It's high-ceiling clubhouse, with plenty of separate seating, and an event lawn with mountain-view backdrop.  1555 Skyestone Way, Beaumont, California
Besides the above communities, there are many more like these listed on our website. 
Not all of these features, or even none, may be ones you seek, depending on your individual needs and desires, and there may be others not listed here.

Social Distancing at retirement communities