Summit Homes-PA...

an active adult community in Gettysburg

The Preserves at Cumberland Village: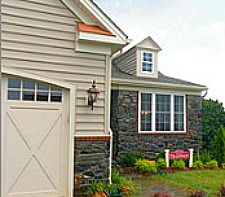 Summit Homes-Pa - our review of a lifestyle active adult community by Summit Homes: The Preserves at Cumberland Village in Gettysburg, PA.
Recent update:   Sold Out - Check for resales.

Meaning of Active Adult Community:
First, what does an active adult or lifestyle community mean. This can be confusing and not clear until you take the time to visit the community and find out what they mean by using this term. 
Most of the communities on our site are for over-55, meaning it is age-restricted.   But some developers choose to make their communities active adult instead of over 55.  This means they are not age restricted.
This community is a little different in that it has rules that if you comply with, you do not have to be 55.  So you need to read the rules and ask the community about qualifying.
In general active adult communities are more amenable to seniors due to the amenities available and some of the rules of these communities.  Communities must follow its state's requirements.  In general, over-55 restricted communities do allow a certain percentage of their community to be not age restricted while active adult communities are open to all ages but in this case you need to comply with the rules. (Please verify all information.)

Check with the individual community when you visit as to what type of community they are.   Always read the By Laws and rules of the community when offered to you and before purchase.
Calling itself an Active Adult 55+ Community is The Preserves at Cumberland Village.  Now if that is still confusing, you need to go visit them (Open Daily) and ask them directly.  We visited and it was clarified.   The other community by Summit Homes in Pennsylvania is the Villas at Cattail in Hanover, PA.   We did not visit this community.
Gettysburg

We enjoyed our trip out to Gettysburg. Most people have heard of Gettysburg and the historical value to our country. It is known as the "most famous small town in America." The battlefields are there, a very historic downtown nearby with quaint shops and restaurants, and, of course, the beautiful scenic backdrop of the Blue Ridge Mountains. This means you get a little city and a lot of country.
Summit Homes-PA: History Is Not an Option
The community and the surrounding countryside is beautiful even without the history of Gettysburg. We went on the hottest day of the year 2011--hopefully we will not get many days like this. We wanted to get out of the heat of the suburbs to the country where the air is cleaner and maybe a little cooler. Although on this day it was hot everywhere.
Developer Purchases Battlefield
The Preserves at Cumberland Village is interesting in that it recently purchased a battlefield! Yes, the previous land of the Gettysburg Country Club was in financial trouble and the town was worried about what would happen to the hollowed ground.
Well, yes a developer purchased it but what a wonderful thing the developer did for the town--he didn't develop it but turned it back over to be preserved. Impressive! The developer: the same that developed the Preserves at Cumberland Village, Woodhaven.   Summit Homes is the Builder.
Area Amenity
The developer saved a part of this land that had the buildings on it such as the clubhouse, pool and tennis courts for The Preserves community and now the residents and the public have a nice area amenity. There is an annual homeowners fee which includes the use of the clubhouse and amenities, maintenance of common areas and more. (Please verify all information with the builder.)
Details Make a Difference to Summit Homes
Summit homes prides itself on its attention to detail and flexibility of options. These are customized homes with many options.
Model Home Photos
The following photos include many options that are not included in the base price: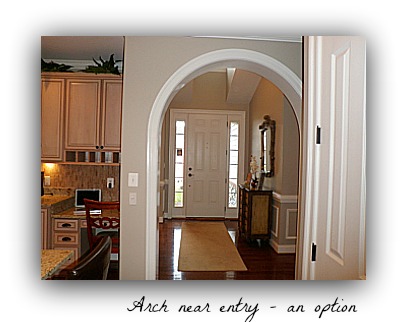 This beautiful arch, here in the entry, is an optional feature which can be included in a customized home with additional pricing to base price.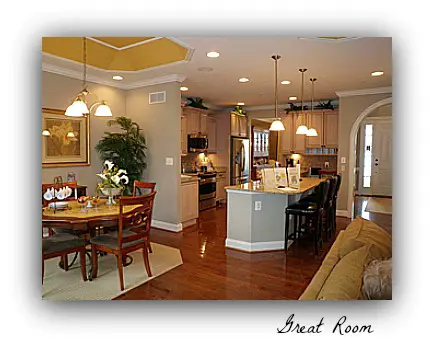 Again, there are optional features shown here but the Tilghman floor plan features a beautiful "Great Room" which opens to the kitchen and breakfast area. (Some example features not included in base price and shown in this photo are hardwood floors, granite counters, crown moulding. This is not the entire list of options.)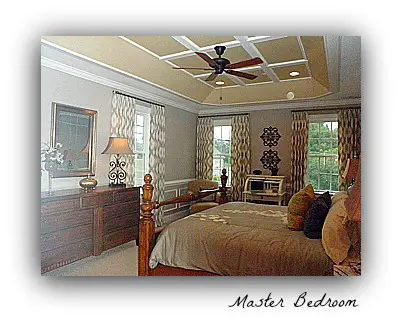 This master bedroom in the model was filled with beautiful country views and lots of light. (Optional items such as tray ceiling shown not included in base price. There may be other options in photo not included.)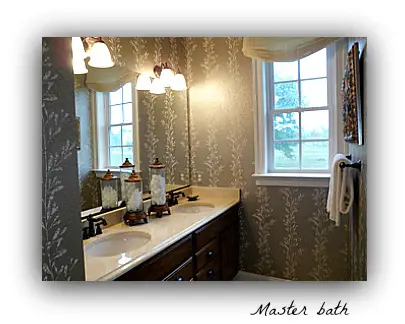 This master bath features an extra large shower but there is an option to add a bath tub also in here.  Standard features include cultured marble vanities. (verify information)

Summit Homes-PA: Villas
In addition to the luxury single-family homes on large lots, there are six luxury villa buildings (2 units each).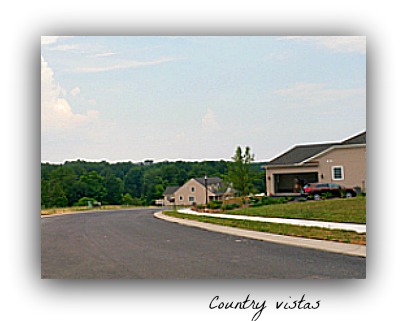 Amenities:
A few of the amenities include: sidewalks are in the community; basement options; garages; curving roadways; wide doors for handicapped. The starting base price would be the villas units in $270's and the single homes in $290's (update: 12 left at this writing 7/2014).
The travel time to DC and suburbs is approximately one hour to 1 1/2 hours. (Please verify information.)
The Preserves at Cumberland Village by Summit Homes in Gettysburg, Pennsylvania--Active Adult Community--sold
More by Summit Homes in Pennsylvania: The Villas at Cattail in Hanover (sold out)
We are not associated with the builder or developer.  We do not give recommendations, opinions or advice.  This is an information only website.  See local Realtors and real estate professionals for advice.  Always do thorough investigations of communities and verify all information for Summit Homes-PA.  We are not responsible for third party information and refer links to you for your convenience.