Trilogy Lake Frederick by Shea Homes
...

Northern Virginia's new playground for the over 55 lifestyle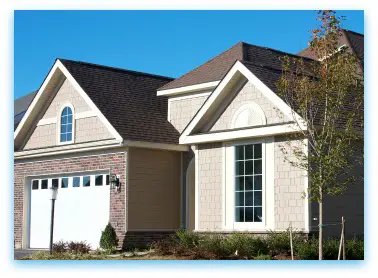 Trilogy Lake Frederick model home
Trilogy Lake Frederick is an interesting community by Shea Homes in the foothills of the Blue Ridge Mountains.  If you live in the Washington, DC area you probably have taken the one hour or more drive to this area known as Shenandoah Valley. 
The Skyline Drive, 105 miles of scenic beauty, running north and south along the Blue Ridge is a popular visitor's attraction.   Most people visit here in Fall when the leaves turn color.  One of the entrances to Shenandoah's Skyline Drive is from nearby Front Royal where Shea Homes has just begun their community Trilogy Lake Frederick in Virginia.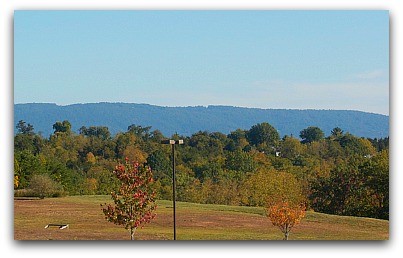 View of Blue Ridge mountains from Trilogy Lake Frederick
Lake Frederick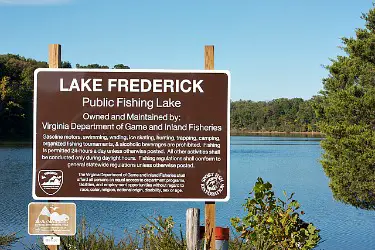 Lake Frederick, Va. signpost
Lake Frederick is a 117-acre man-made lake owned by the Virginia Dept. of Game and Inland Fisheries.  You can actually see peeks of it from the clubhouse and from some homes at Trilogy Lake Frederick.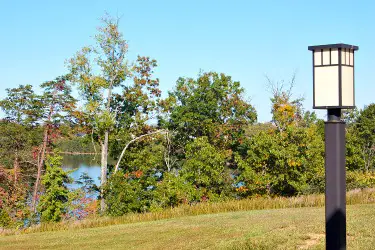 Peeks of Lake Frederick from clubhouse area
Boat Launch
You can also use the lake and a public boat launch which is easily accessed from the Shea development.   When we visited on a Saturday, the boat launch had a dozen cars laden with canoes and kayaks or pulling electric-motorized motor boats, which are the only types allowed. 
You can also fish here.   I guess you can call this a mountain lake.  It certainly looked like one since the water looked clean and that day was a bright crystal blue color.
There is no storage for boats at Trilogy but you can keep your boat in your garage.
---
The Visitor Center at Trilogy Lake Frederick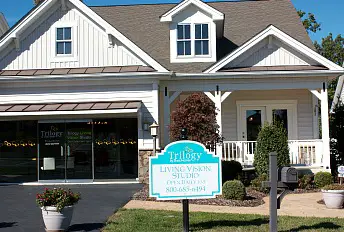 A Friendly Greeting at the Visitors Center
We arrived rather late in the day, around 3:30 PM.  With GPS the visitor center was easy to find.  I went in and a very friendly representative greeted me with a big smile.  He wasn't a Realtor.  He was there to give us an overview.  If we had questions he wasn't able to handle then we were referred to the Realtors.  There were 2 on site.
Signing in to the Guestbook
The first thing he did was get me to sign in to the Guest Book.  He was very pleasant so I didn't mind doing this.  However, when visiting you need to say that you are represented already by another Realtor if you have your own Realtor, otherwise they will not be protected for their commission should you buy.

I was given a good overview.  He showed no impatience or hurry to close up even though it was near that time.  He offered us refreshments as well.  After the long 2-hour trip the water and soda was especially welcomed.
The first thing I noticed wasn't the few homes scattered around or how quiet and peaceful it was, but how blue the sky was.  The air was so much fresher, too, with city pollutants just a foggy dream.  This may be what most people come for.  
After our overview, we walked around, brochure in hand, to see the clubhouse, outdoor pool and lake views.  Suddenly a fragrance of smoky pork wafted through the air.  Someone was outdoors barbecuing pork for a party later on!  Somehow the odor of food cooking was sweeter and more delicious than in a suburban backyard.  All my senses were keener.

---
Two Clubhouses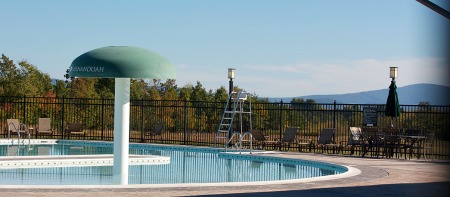 Pool with mountain view
There was a huge Fitness Center with exercise equipment, rustic but elegant clubhouse furnishings, and a large outdoor pool with a backdrop of the mountains.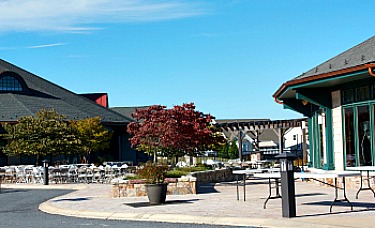 Patio can be used for outdoor dining
There is a huge patio between the two clubhouses with a peek of Lake Frederick through the trees.
More clubhouse views: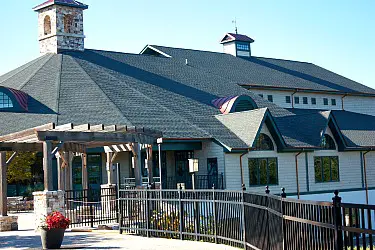 Clubhouse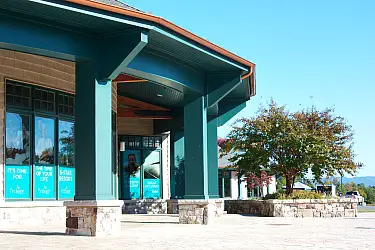 Another clubhouse view
---
History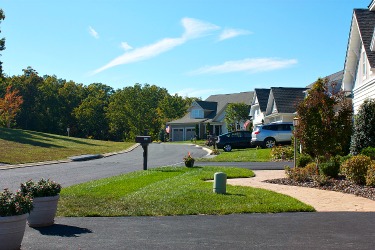 Street scene and other neighborhoods
Before Shea Homes came here, the development was owned and started by someone else, went bankrupt in the downturn, and was bought out by Lansdowne Development Group.  The project around Lake Frederick, started seven years ago, had other builders.  (This is why there is already a built clubhouse and social and recreational facilities.)  Some of the previous builders were Centex, Beazer and Winchester Homes, all builders of the highest quality and prestige.  You can see these existing homes. 
These were not over 55 homes.  Shea, the current builder, is the only builder for over 55.  They opened approximately June 2014.  *UPDATE: The community now has models for you to view, 14 floorplans and 4 collections.
---
Social and Recreational Activities
As mentioned, there already are social activities, clubs and organizations formed.  Some of these are cooking club and desserts club.  Bunco, a game, is especially popular. 
In addition to the indoor and outdoor pools and Fitness Center, there is planned to have two tennis courts, pickle ball and bocce ball courts.  There are several golf courses in the nearby area at Front Royal and Winchester.
An interesting group called Caring Neighbors Committee is there for residents who may need help of some kind.  You can find out more from the representative in the visitor center who, incidentally, has resided in the community since its beginnings seven years ago.  This sounded like a wonderful addition to their community. (verify information)
---
Some features I liked (some may be options):
Electronically-gated
Some solar included with the option to be completely solar
Option for an outdoor fireplace
Sliding glass wall to exterior
3 exterior designs: Country French, Craftsman and Hampton
Open floor plans
---
Floor plans 

Medium to very large starting low $600's. (verify as prices can change without notice).
---
Area Amenities 
Where Will You Play:

Lake Frederick
Canoeing and Kayaking
Shenandoah National Park
Area golf courses
Horseback riding in area
Museums
Wineries

Where Will You Dine:

Dozens of quality and casual dining restaurants in the area.
Where Will You Stay:
Holiday Inn Hotel & Suites - Front Royal - 540-631-3050
Fairview House at Shenandoah - Front Royal - 540-635-3588
 
Healthcare:
Warren Memorial Hospital - 8 Miles
Urgent Care: 9 Miles
Winchester Medical Center - 13 Miles

---
Community Information 
104 Hawthorne Court, Lake Frederick, Virginia
Office Phone:  800-685-6494
5 New Model Homes to See
Shenandoah Lodge Now Open
Call for appointment before going to make sure someone is available to help you when you arrive
(We are not affiliated with Shea Homes or Trilogy Lake Frederick in any way - Please verify all information as it can change.  Seek information from local Realtors or builder.)