Encore Lake Grove
by WCI

I visited Encore Lake Grove by WCI, a luxury, resort-like retirement community.   If you love Long Island and want to retire there, you may like Encore Lake Grove because there aren't too many active adult retirement communities on Long Island that offer luxury, high-end quality, good value, location, so many outstanding amenities and experienced construction.
The community sold out quickly and you need to consult with a local Realtor.   According to the front desk, they do not allow renting of your home.  Please verify.
(See our more recent photos at the end of this page.)
Front Desk Phone: Encore Lake Grove does not allow renting of your home according to the front desk administration. Please verify this information with them. or see their association website at: www.encorelakegroveny.com
At this writing they said there was possibly one home for sale but no renting. (See my Review of Encore Atlantic Shores)

The Encore Lake Grove fountain at entrance...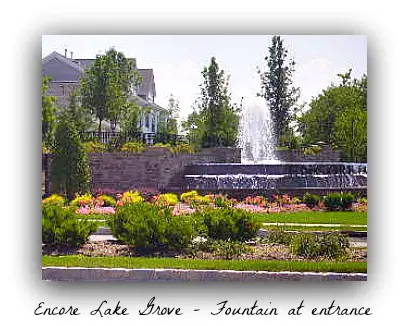 This is a photo of the beautiful Lake Grove fountain the way it looked shortly after construction of the homes began, and it is still an impressive, well-kept entrance to this day.  Besides the dramatic fountain entry, there is a long road off the main road so that the gate is back off the road about a city block.
The location on Long Island couldn't be better.  There is the Lake Grove shopping mall within walking distance across the street with major stores and restaurants including Cheesecake Factory and California Pizza. Right adjacent to the community is another large shopping area containing Whole Foods, which is walkable.  There is a large food bar and seating area.

The photo below is now a thing of the past but interesting to see the early stages of construction:


Construction Site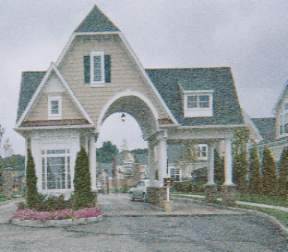 Gated Entrance

There really aren't many high-quality luxury communities like this readily available on Long Island.
Every experience I have had with WCI reps has been a positive one. I love to hear how the reps talk about WCI--the genuine enthusiasm for their community shines through every time. They are thoroughly knowledgeable and always mention the smallest details about the communities they represent that make a big difference.
I was told about the lake pool! I had never heard of a lake pool before. The pool wasn't built yet when I visited but they had a realistic video that showed the undulating and curving design that was unique. I loved it and knew I would want to spend lots of time at this inviting and picturesque pool.
WCI has a 60-year history. They have years of experience and awards in customer service and quality. The landscaping is gorgeous and always beautifully maintained.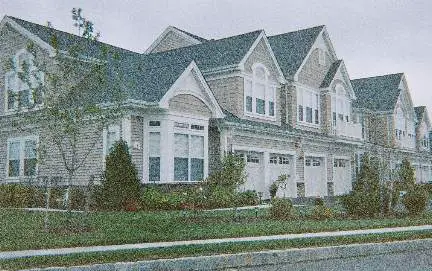 Completed attached homes

Resort-Like Atmosphere
My rep stated that their focus was on providing a carefree, resort-like atmosphere.
Homes are two bedroom, 2.5 bath townhomes from approximately 1390 to 1986 SF. There are 4 townhome designs and the clubhouse is the heart of the community.
Some of the many amenities for over age 55 are that it is gated and there is an activities concierge where the rep will determine what activities people are interested in.
They have an indoor and an outdoor heated pool, an 8000 SF elegant and luxurious resort-like clubhouse, shuffleboard, tennis courts, putting green, Fitness Center, spa, and catering kitchen.
In addition to being a "stone's throw" from one of the best shopping areas on Long Island (and recently adding more new upscale stores), the community is just 50 miles to New York City and 25 miles to the Hamptons.
You can actually walk to Whole Foods next door which has a huge food bar and seating--an outstanding area asset for seniors.
Even though there is excellent shopping nearby that you can walk to, it is very private and exclusive within its gates.
It is a very central upscale area near Stony Brook University, which also has activities for seniors, and 16 miles to Fire Island. This area still maintains a relaxed, country-like feeling. Perfect!
---
Update: Recent Photos of the sold-out community...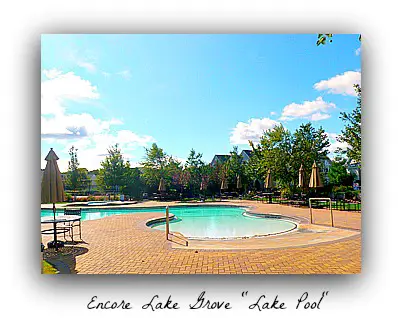 The beautiful pool area includes a "lake" pool, spa and cozy outdoor seating arrangement--there is also an outdoor fireplace next to the seating. The pool area is immediately adjacent to the clubhouse where a variety of classes and activities are held.
For grandchildren there are selected summer pool hours. Check with them for pool rules, months of operation, ages, etc for children.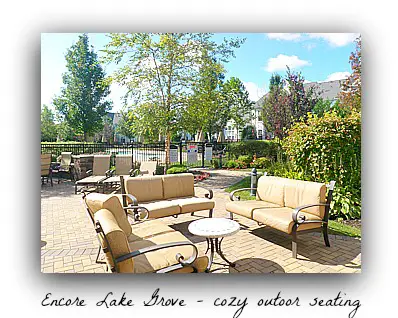 Adjacent to this seating area is an outdoor fireplace.

Encore Lake Grove does not allow renting of your home according to the front desk administration. Please verify this information with them.

Map and directions to enter:

You can find the Lake Grove community at Encore Blvd., Lake Grove, NY, but you will need permission at the gate to enter, therefore, you may wish to consult a Realtor for access.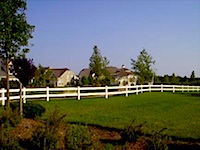 You may also like our review of another WCIC community further to the East end: Encore Atlantic Shores