Rv Resorts-Arizona
for over age 55
RV Resorts-Arizona can be a place to get away to in the cold winter months--or any time of year.  The Arizona desert can get extremely hot in the summer months.  The northern part of the state has a cooler temperature range.  
Contents: 

The off season rates are cheaper and include April and May, months that have good Arizona weather.
Daily rates are the highest and usually decrease the longer you stay.
Listings on this page include RV permanent sites and daily site rentals for RVs and for park models.  Park models are becoming more popular and are sometimes referred to as "tiny homes" since they are under 400SF. However, an enclosed porch or sunroom are sometimes added on if more square footage is needed.  Land may be leased or owned.
Please verify rates and all information.
Arizona offers many options for exciting RV excursions. See Arizona Tourism.  
Most parks offer annual stays.  Rates are usually by length of stay and number of people.  Most RV parks:
are more economical than renting a home or condo 

offer a variety of activities and amenities   
Rental RV's are available at most resorts.  This is a good way to try out the lifestyle.  Many people start out renting an RV park model and then decide to buy and make it a permanent home for their retirement or use it as a snowbird.
---
Phoenix Area - North
Phoenix Metro RV Park

- 20 Minutes north of Phoenix - Heated pool, small pet ok - $39. daily - see rules - also discounts available.


22701 No. Black Canyon Highway, Phoenix - 623-582-0456





Desert Shadows

- 19 miles north of Phoenix in Deer Vally - heated indoor pool, highly rated RV and park models park.


19203 N. 29th Ave.,  Deer Valley, Phoenix - 623-869-8178





Zane Grey RV

- North of Phoenix at Camp Verde - 3200 elevation
Phoenix Area - Northeast
Scottsdale
Road Runner Lake Resort

  Age 55+ - Scottsdale - 23 minutes northeast of Phoenix - This park has 2 pools, 2 heated spas, freshwater lake for visual enjoyment, computer lab, many activities, health club and more. 600 sites.   A Mayo Clinic is located in Scottsdale.   Lists rates on site for daily, weekly, monthly, and annual.  

1149 N. 92nd St., Scottsdale - Ph: 480-945-0787
Phoenix
Area
- Southeast
Mesa (25 minutes to Phoenix):
Resident-Owned
Venture Out RV Resort in Mesa

  

Resident-Owned and some overnight

- Own your own lot and home at Luxury RV Resort - large community of 1750 homes with numerous activities and amenities - lush landscaping and west of the Superstition Mountains. Also, 20 RV overnight spaces.  No pets. Some home rentals - 

Summer season rates: Bargain! $35. daily - Winter season: $65.+/day plus tax (verify) -  No pets. 

 5001 E. Main Street - Ph: 480-832-0200
Land-Leased
Towerpoint Resort 

- Hometown community atmosphere with activities. Two heated pools, 2 hot therapy pools, tennis courts, shuffleboard, woodshop, exercise and more. Wi/fi service available. Lounge and big screen TV. Health services nearby: Mayo Clinic, Banner Health and Nextcare. Park patrol. Lot rental by day, week, month or year. Download monthly magazine. Daily: $40+

  4860 E. Main St., Mesa - Ph: 480-832-4996; 800-444-4996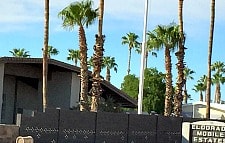 More in Mesa:
Aztec Travel Trailer Resort - Mesa
4220 E Main St. - Ph: 480-832-2700


Desert Vista - adult park and RV
124 South 54th - Ph: 480-663-3383


Monte Vista Village Resort - Open all year
8865 E Baseline Rd. - Ph: 480-833-2223


Orangewood Shadows RV Resort - RV Park of the Year - No pets - heated pools - 5 Stars
3165 E University Dr. - Ph: 480-832-9080


Silver Sands RV - Open all year - Views - East Valley
9252 E Broadway Blvd.  - Ph: 480-984-6731


Silveridge RV Resort - Pool, tennis, luxury
8265 E Southern Ave. - Ph: 480-373-7000


The Resort RV Park - Superstition Mountains area
1101 S. Ellsworth Rd. - Ph: 480-986-8404
Gold Canyon
Land-Leased
Permanent Sites (land leased):
East of Phoenix
Apache Junction
Land-Leased
Park Model Spaces to enjoy seasonally or permanent: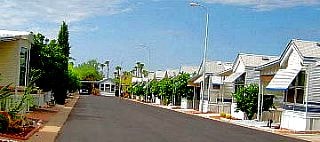 Park Place East RV - Apache Junction - 40 minutes east of Phoenix - Popular resort in the Mesa/Apache Junction area of the Valley of the Sun.  Smaller 55+ RV park community of 173 sites,   It has a full array of amenities, including clubhouse with a large meeting room, kitchen for residents' use, billiard room, exercise equipment, outdoor pool and spa, shuffle board, horse shoes and more.

All of this is set in a desert landscape environment just minutes to shopping, banking, health-care, golfing and other attractions. Mostly park models and some rentals and RV sites.  Call first before going.
The owner told me they desire to "make it a wonderful winter home for their snow-bird residents."  146 N. Merrill Rd., Apache Junction - Ph: 480-986-2378
For more information on Park Place East RV, see our article on RV Park Life.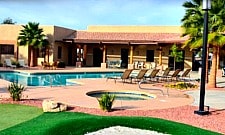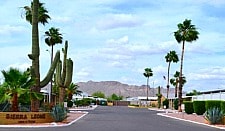 Sierra Leone MHP and RV - For RV'ers or permanent mobile homes or park models - A relaxing pace with a family feeling.  Resort amenities including lap pool, spa, social activities, recreation and more.
1804 W. Tepee St., Apache Junction - 480-982-5962
Lost Dutchman Retirement and RV Resort - Large community with RV park models and RV's mixed in throughout.  Social Director, 2 pools, Jacuzzi, Lapidary and wood workshop, recreation and more. Leases start monthly in $600's (additional persons charged fee). Also, add electricity. Decreasing rate with longer terms stay (see website for more detailed information.
400 North Plaza Dr., Apache Junction (Manager) - 480-982-4173

More Apache Junction:
La Hacienda Retirement RV Resort
1797 W. 28th Ave. - Ph: 480-982-2808



Superstition Lookout RV

- Full hookups only - Open all year - Big rigs okay - resort amenities include pool and spa, recreation, social activities and more. 188 sites with large patios.
1371 E. 4th Ave. - Ph: 480-982-2008


Superstition Sunrise - Open all year - luxury RV park - views
702 So. Meridian - Ph: 480-986-4524
Owned Lots Apache Junction
Roadhaven RV Resort -  RV park models on owned lots - Listings on their website.  Many amenities.  1000 S. Idaho Rd., Apache Junction. 
West of Phoenix
Cotton Lane - Goodyear - 21 miles west of Phoenix - Affordable luxury in the West Valley of Phoenix.
Northwest of Phoenix
Pueblo El Mirage in El Mirage  - 26 miles northwest of Phoenix - The heart of the Sonoran Desert - RV and golf resort by Roberts Resorts -Near Phoenix - 55+ gated active adult retirement community - Land Lease - Close to shopping and medical facilities. Home sales and RV Resort.  High season is $49+/daily.


11201 N El Mirage Rd, El Mirage - Ph: 623-583-0464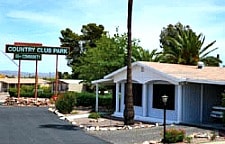 Country Club Mobile and RV
South of Phoenix
Casa Grande
Fiesta Grande RV Resort

Within city limits. 

Many activities planned by social director - pool, clubhouse, fitness center and more.  Call for availability if you wish to stay longer than 30 days.  No tents.  Cabins and Rentals available. Pets are allowed (see rules).  

1511 East Florence Blvd., Casa Grande - 877-864-2728
Sunscape RV Coop Resort

- RV permanent homes and rentals - Listings on their website.  Many amenities. 1083 E. Sunscape Way, Casa Grande - 866-678-6722 
More Casa Grande:
Casita Verde - Big rigs acceptable
2200 N. Trekell Rd. - Ph: 520-836-9031


Las Colinas RV - Full hookups only - Open all year
7136 S. Sunland Gin Rd. - Ph: 520-836-5050


Foothills West RV - close to casinos
19501 W. Hopi Dr. - Ph: 520-836-2531

Other Areas: Northern Arizona Areas 
Prescott
Pine Lawn Ranch

 -

Prescott - Be in town but feel a part of the country - 55 resort but during certain times open to all ages. Many options for renting. Also mobile homes.

  910 West Gurley St., Prescott - Ph: 928-445-3924 - Office closed Sunday
Pioneer RV Resort

- North Valley of Phoenix near Prescott, good for big rigs - Activities - heated pool/spa -

36408 N. Black Canyon Highway, Phoenix -

623-465-8000



Northeast Arizona
Show Low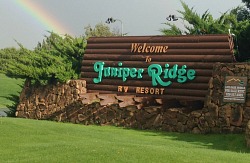 Juniper Ridge RV Resort

- Show Low -  White  Mountains - approx. 3 hours drive to Phoenix - Gated 55+ RV Resort features many amenities all year including executive 18-hole golf with pro shop on site, craft building, clubhouse, pool, spa, tennis, lakes, fishing nearby, more golf nearby, library, and more.  Elevation: 6100 ft
529 privately owned lots, many with RV park models for sale or rent year-round.   Minimum rental is 3 days.  1911 Juniper Ridge Dr., Show Low, AZ - 928-537-4805

Waltners Mountain Crest - Show Low - 8000 foot elevation - Open May 1-Oct 15 - White Mountains
4800 S 28th St., Show Low - 928-537-4611
Pine view - Star Valley - 94 miles NE of Phoenix - country area - Clubhouse with some recreation, laundry room, WIFI available. Daily, weekly, monthly, annual rates.
3933 E. Highway 260, #500, Star Valley - 928-474-5028 
Houston Creek - 
Casa Malpais - Springerville - summer senior park (summer temperatures mid-80's)
Northwest Arizona 
Bullhead City
Southeast Arizona:
Tucson (116 miles SE of Phoenix)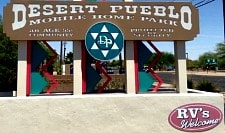 Desert Pueblo Mobile and RV Park
Pato Blanco Lakes RV Resort - Benson (Southwest of Tucson)
635 E Peral - Ph: 520-586-8966


Pueblo del Sol - Sierra Vista - South of Tucson - Pool, spa
3400 Resort Dr. - Ph: 520-378-0213
Western Way - near Tucson oasis setting near Sonoran Desert Museum

Rincon Country RV Resorts - East (of Tucson)  and West (of Tucson)
 2 top-rated RV parks - Daily, Weekly, Monthly, Seasonal and Annual rates:

Rincon Country Tucson
Rincon Country East

- Tucson - Gated top-rated Good Sam parks - pool, spa, tennis, wood shop.  Rent park cottage - bring your own RV or buy a park cottage.  Lavish recreation, heated pool and spas, activities and entertainment (in season). 460 spaces.  Shuttle to Tucson attractions. Reasonable rental rates.  Land-leased.


8989 E Escalante - Ph: 1-888-401-8989

- Models open daily (in season)



Rincon Country West

- West of Tucson - 1100 spaces - Rent a site or park model. Gated entry, pool and spas, activities, recreation and more.   

4555 S. Mission Rd. - Ph: 520-294-5608
Southwest Arizona:
Yuma
Rolle's Lynda Vista - Yuma - family-owned, pool, clubhouse, laundry, in-town


2900 W Fifth St., Yuma - 928-782-9009, 888-847-9009




Del Pueblo RV Park and Tennis Resort - Open Sept-May, views, pets ok - 

14794 Ave 3E, Yuma - 928-341-2100




Villa Alameda - full hookups only


3547 S Ave., #5E, Yuma - 520-344-8081



Most Popular on this page:
Roadrunner
Apache Junction

Venture Out
Mesa

Greenfield Village
Mesa 
Guide:
Tips:
Most parks give a small break on price the longer the length of stay.  Some have minimum stays. 

Rates may be lower depending on the season.

Always check the park's terms, conditions and policies as they vary.   Some do not allow pets.

Verify prices and check what each park will include in price. Electric may or may not be included. Tax is added. 

Always call first to verify availability and amenities. 

Information and prices can change without notice.

Some parks only accept certain types of vehicles.

The high season is usually Nov-March and rates are higher.
(Verify rates as they change annually.)
---
Map of locations for Cal Am and Roberts Resorts:
View
Arizona RV parks for seniors by Cal Am and Roberts Resorts
in a larger map
Resorts with Rentals:
Best to make advance reservations if coming for the Season (Oct-April).

Mesa:
Greenfield Village
Carriage Manor
Mesa Regal
Sunlife
Val Vista Village
North Valley Phoenix:
Desert Shadows - 2 RV 1-BR park models $450/week - no pets in rentals - no smoking

Apache Junction:
Park Place East RV (check for availability)
Desert Sky
Casa Grande:

Palm Creek Golf and RV
Prescott:
Orchard Ranch
Pine Lawn Ranch
Tucson:
Rincon Country East and West
Show Low:
Juniper Ridge RV Resort - 529 lots in the White Mountains area - 10 miles to Show Low.

Best Winter Resorts:
Mesa Regal in Mesa

Sunrise RV in Apache Junction

Pueblo El Mirage in El Mirage

Gold Canyon RV in Gold Canyon
Back to top for more pages on Arizona.
This is where you are:
RV parks in Arizona