Caliente Springs Resort for 55+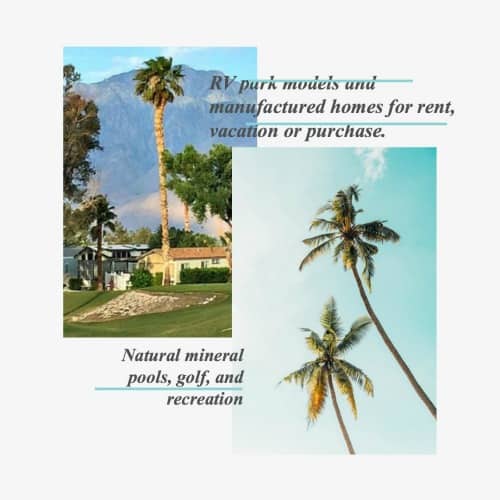 Caliente Springs Resort is a popular 55+ community in the land of hot mineral waters for snowbirds or anyone wanting a getaway to a warm climate with a full social calendar, recreation, healthful air and water and beautiful scenery year-round.  It is both a land-lease community of  manufactured homes and RV Park models and an RV Park.
Located only a 20-minute drive to the world-famous city of Palm Springs for  restaurants, shopping, entertainment and cultural events.
    Caliente Springs Resort
70200 Dillon Road
    Desert Hot Springs, California
    760-329-8400
Book your getaway today for:
Vacation in a park model home
Rent a park model for the season, daily or weekly
Purchase your "tiny home" for year-round or snowbird living or any time you need to refresh and rejuvenate. There is a Discovery Tour for those considering a purchase.  
It is an ideal lifestyle for retirement.  Breathe the desert air, enjoy desert sunsets, wonder at the stars in a clear night sky, swim or soak in natural mineral pools, stay active with the amenity offerings, or join in the friendly social activities that this community is known for.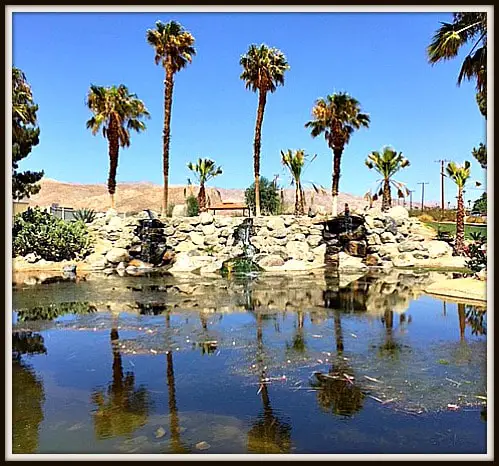 A trio of waterfalls greets you at the electronic gated entry and welcomes you back each time you leave the soothing and refreshing retreat you have chosen for: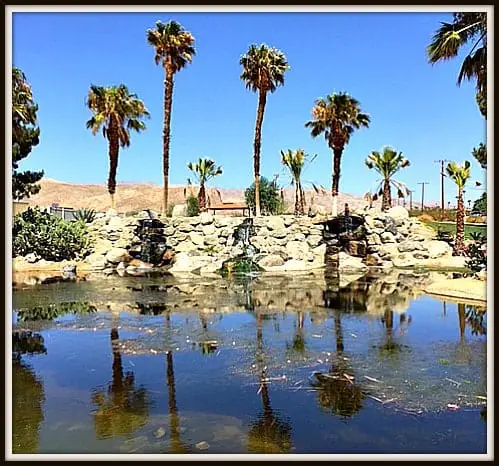 At the entrance, the sound of soothing and refreshing waterfalls welcomes you.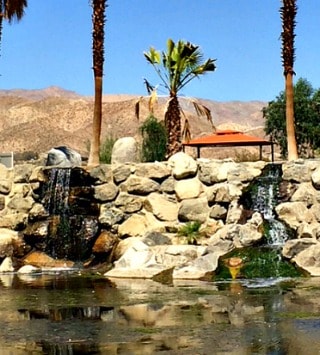 At the entrance, the sound of soothing and refreshing waterfalls and splashing water welcomes you.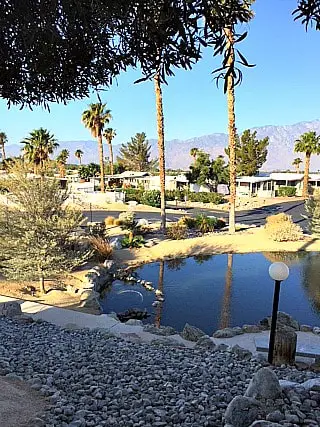 One of many beautiful views in Caliente Springs Resort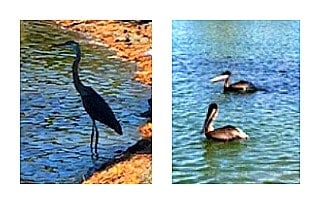 In the pond: An egret and pelicans
The environment is peaceful, invigorating, social, calming or whatever you want to make it or it can be all of those things.  It is as natural as the private owners can keep it.  Flocks of quail roam undisturbed.  One also enjoys seeing the rabbits, hummingbirds during their migrations, a variety of birds, hawks, owls, and doves and an occasional lizard.

Colorful bougainvillea thrive here.
The landscape is filled with plantings native to the area.  Beautiful and colorful flowers abound at every season.

Spa Atmosphere
The spa atmosphere pervades as people are drawn to the natural hot to cool pools, of which there are 4, wearing their spa robes, if they wish.  The locker rooms contain a sauna, private dressing rooms and mineral showers.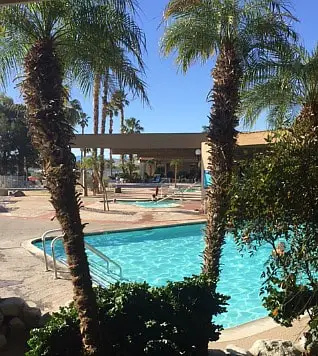 Large outdoor pool and separate Jacuzzi spas.
Sections of the largest pool are reserved at certain times for lap swims, a lively game of water volleyball or free water aerobics classes.  If you prefer choose one of the Jacuzzi spas of varying temperatures.  Usually you can have one all to yourself.  Aches and pains?  Hot mineral waters are known to give relief and rejuvenate you.  Caliente Springs Resort spa has multiple pools at varying temperatures.  After your soak, choose a lounge chair facing the rays of the warm desert sun and relax.   
Plenty of social and recreational activities to keep one busy
During the season, stop off at The Atrium Lounge for a cup of coffee and grab a video to watch later.  Have a workout at the Fitness Center then cool down with a mineral shower.  Check the social calendar.  There's usually something going on to enjoy from crafts and cooking classes, hiking groups to fitness and free yoga classes.  The season from September to April the activity calendar is full.  Activities are free or at very little cost.
Golf is popular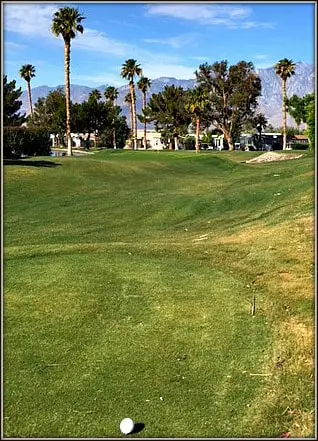 9-Hole golf course at Caliente Springs Resort is a challenging Par 3
Caliente Springs golf includes a challenging par-3 course, driving range, putting green and Pro Shop.  
 (Please verify what activities are available when you are visiting.  While most are, during summer (May-August) the very full In-season Activity Calendar is not, but, of course, the property facilities with golf, recreation and pools are always available. (Golf may be closed at certain times for renovation--please check.)

Recreation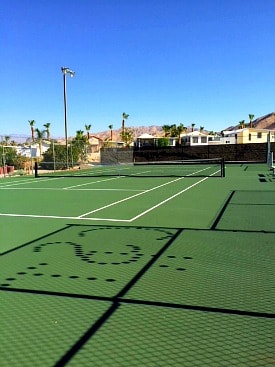 Bring your racquet--tennis courts and backboard.
Did I mention the huge variety of recreation?  9-hole golf, tennis courts,   pickle ball, water volleyball, pool, ping pong, zumba, yoga, water exercises, and more, or less active pastimes like card games pinocle, poker or bingo.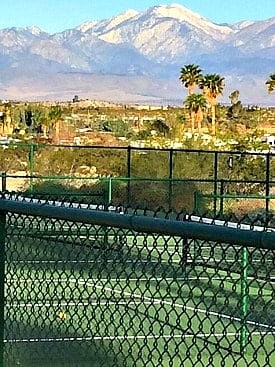 The pickle ball club is very active in the season.
The pickle ball courts and club are especially active in the high season November through April.  Photo shows Mt. San Gorgonio snow-covered in March.
There is a shuffle ball court and join in the fun of very active water volleyball games.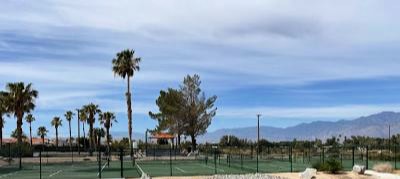 Multiple new pickle ball courts have been installed.
During "the season," Nov.-April, there are so many things to do including the following:
Live entertainment January-March
Christmas and New Years Dinners
Craft Fairs, 4-5 a year, from vendors from the entire Pacific Coast region and the Valley - this is huge!
Woodshop at the sister community of Sky Valley
Movies
Clubs, classes, numerous scheduled activities.  Ask for a calendar!
And so much more.   You can choose to get involved or not!
The Homes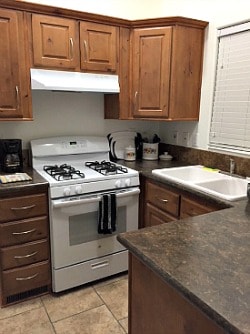 "Tiny homes" aka park model home kitchen--Many styles of homes throughout the community.
The Homes - There is nothing typical about the homes at Caliente Springs. Walk around the well-cared for streets and you will never see any two exactly alike.
Each home has its own personality due to model, brand, year built, upgrades, landscaping and views.  Some are professionally landscaped while others reflect the owners personality.  They range from 400 Square Feet to approximately 900SF.  The prices go from less than $45,000 up to $100,000.  They are on leased land so they are affordable without the high cost of land, which might be more than people in retirement might want to pay. 
Park models are now called "tiny homes" due to the recent popularity of this term and their desirability that people wanting a small-home lifestyle are becoming aware of.  Great for one or two people.  No high staircases, park your car steps from your door, easy to clean and maintain, and fewer things to create clutter.
So much for so little.

Most people pay all cash for a new or resale park model or manufactured home then their only obligation is the lot lease fee which varies mostly depending on view plus their separate utilities, internet, phone, etc. (No garbage/sewer fees.)  (Loans may be available on new homes.)
There is a laundry room with laundry card for those who don't have a laundry hookup or don't wish to install one.
Some amenities have small fees but many are free or by small contribution.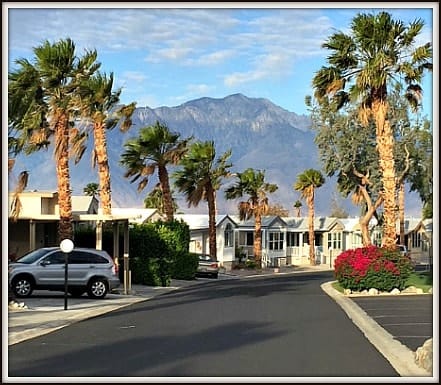 RV park models each with a unique design and view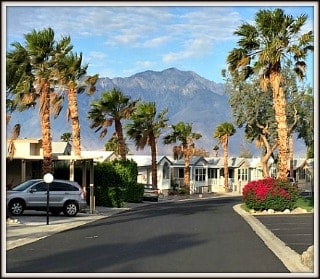 RV park models each with a unique design and view.
For Purchase Sales or More Information on Resort Homes to Buy or Rent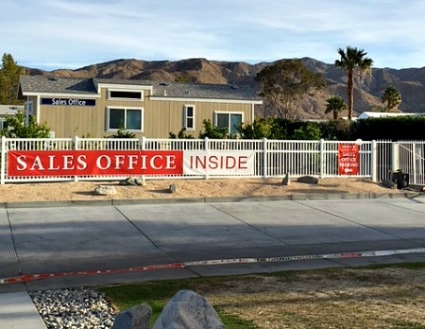 The Caliente Springs Resort Sales Office is easily accessible just inside the entrance. Sales persons are highly professional, informative, hard-working and want to make your visit enjoyable.  There is a Discovery Tour for those considering a purchase to try out the homes, the community and the lifestyle.  
This can only be a great experience for you with the helpful and personable representatives of this community.  Get on Caliente Springs 55+ community mailing list for brochures and updates.  Call for appointment to sales consultants 760-329-8400 x206

---
For RV'ers
Adjacent to the homes is an RV Park which becomes filled with "snowbirds" during the season, October through April, and open year round.  Call or visit the office to reserve your spot.  760-329-8400 
---
We have only skimmed the surface of what this community offers.  Go visit them now.  
(We are not associated with Caliente Springs Resort.  This is a review only, and we do not recommend communities on our site.  Always do your own research when purchasing homes. Check times that various activities are available.  Please check all information as it can change.) 
Caliente Springs Resort