Independent Living Communities
Independent living communities may be what you are looking for in retirement...the perfect choice for some.  Let's look at some of the reasons:
You do not want a long-term lease
(most are month-to-month)
You do not want to pay a large entrance fee (unless it's a life care community where most but not all charge an entry fee)
You do not need a lot of extra amenities
You may have a chronic disease and you are thinking of the future when you might need more assistance
You want to have more services available to you like meals and housekeeping
You do want:
a caring community
a little more help
to live around more people your age
in some cases an economical solution to senior housing
meals and housekeeping included in your monthly fee
lots of extra services like transportation and activities
Does this sound like what you are looking for. Yes, these communities do exist--they are called Independent Living Communities. They don't put many demands on you yet they give a lot to make your life easier.  They are usually apartment-styled but there are single home ones as well.
We have been listing them under senior apartments so check there also, but these communities are a little different. There are many senior apartments that do not offer housekeeping or meals but many independent living communities do.
Holiday Retirement Communities
One of the most popular and largest organizations is Holiday Retirement Communities.

A Holiday retirement community in Portland, Maine
There are over 300 Holiday communities. They offer you an independent senior apartment lifestyle. Downsizing to their homes is alot like moving into a condominium--there will be adjustments. You will be downsizing your life but I find that is a huge advantage in retirement. You will have more time to do the things you want to do rather than house maintenance. You will be aware of people around you more. But they will probably be helpful and caring.
Holiday says they have:
Live-In Management Teams
Chef-prepared Meals - 3 a day
Housekeeping and Linen Service
Activities and Outings 
Dietary Options
One of the things I like about Holiday Retirement is that they not only have meals but they have dietary options: Low sodium meals, Low sugar diet, Vegetarian meals and ethnic meals (please verify all information with the community.)
They have on-site services such as beautician/barber, exercise equipment and library (please verify with individual community.)
If personal care assistance is needed, contract with an outside agency but ask the manager of the community your questions about this matter. They may have suggestions. 
Pets aren't always allowed at apartment communities but they are allowed at Holiday (please verify with the community.) They also have a travel program that lets you stay at other Holiday Retirement Communities. See their website for information.
---
Tennessee Independent Living Community
Another example of independent living is this one in Tennessee.
Colonial Hill Retirement Center - Johnson City, Tennessee - A retirement living center with one meal provided in rent amount - additional meals extra cost - weekly housekeeping - extra services such as reminders about taking your medication, activities and much more. Studio, one and two-bedoom apartments.
Some extras include hair salon, free internet, $10 cable, full kitchens, transportation, tray service to your room (additional fee), weekly linen service, laundry facilities. (please verify as fees and services can change)
This community will provide services for additional fees that are usually obtained at an assisted living community but less costly. They cannot administer the medicines, for example, but will give reminders. They will assist with dressing, bathing, meal preparation and more for slight additional fees. 
Example: If you are a couple and only one person needs additional help, this type of community could be your solution to making life easier.
They are a boon for a single man, for instance, who is not able to cook for himself. All types of scenarios to make life easier would fit this type of community.
Colonial Hill Retirement Center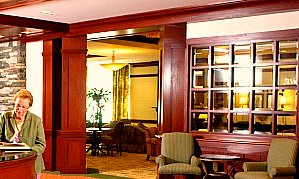 Edgehill in Connecticut
Read more about assisted living on this site.