Leisure World of Maryland
Review Leisure World of Maryland, a 55 plus community with something for everyone.  Enjoy the photos and descriptions.  LWMD is an example of a classic amenity-filled 55+ community and a retirement community like no other.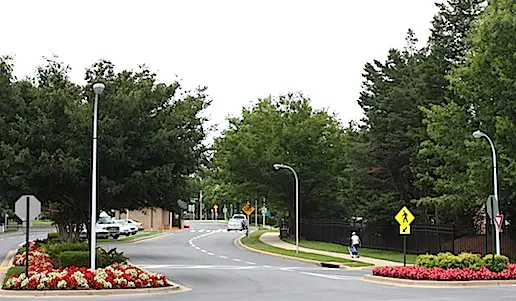 Main Georgia Ave entrance looking from inside toward gatehouse.
Address and phone numbers
More recent communities still use this same concept:
Keeping people physically and socially fit as they age with recreation, arts, discussion groups, and much more.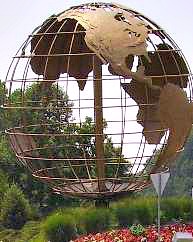 The globe symbol stands at the entrance
Leisure World of Maryland, located in Silver Spring, Montgomery County, and a suburb of Washington, D. C., was built in the early 60's by developer Ross Cortese and was a pioneer of large retirement communities.
It has a great deal of amenities including a brand new Fitness Center, 2 clubhouses, administration building, pools, tennis and more.  The homes are everything from condo to townhomes to co-op apartments and single family homes. 
Today it is a classic and still is one of the best age-restricted retirement communities in Maryland--if not the best. Some say one of the top in the United States.
LWMD offers so much activity and recreation it would be hard to describe here.  Another nice thing is that it is close to suburban areas where families live in Maryland, Virginia and Washington, DC., so it maintains a family feeling for such a large community.
A good way to find out more is through the Leisure World Maryland newspaper.  You can pick one up on the  campus or have it mailed to you.
This active retirement community offers the classic amenities and lifestyle that people need more as they age:
Contents:
---
Clubhouses 1 and 2

Amenities


Clubs

Restaurants (3)

Recreation

Types of Homes

Landscaping Photos

Jobs

Visiting

Shopping Center and Area

Real Estate

Rentals
Clubhouses 1 and 2
---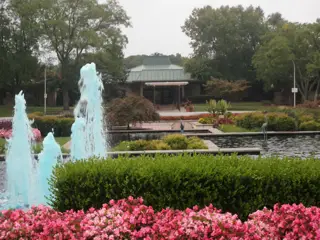 Aqua Blue Fountain near Clubhouse 1
See scenery photos, below.
Entrance to Clubhouse 1: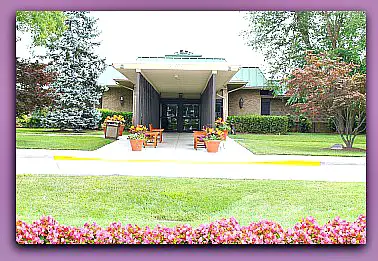 There are 2 clubhouses - Clubhouse 1 is next door to the Administration building and close to the main entrance. It has:
Post office 

Offices 

Real Estate Offices 

and more 
Clubhouse 1 has
Clubhouse 2: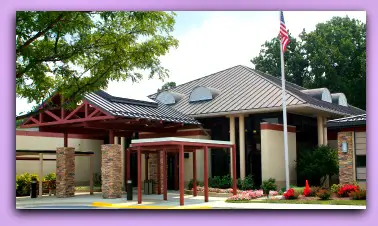 Further west is clubhouse 2 with:
Amenities, activities and clubs (too numerous to mention)
---
* Quiet and serenity * services * medical center * ease of living *security features (24-hour guard-gated and patrolled)--Leisure World Maryland has all of them.
*Large glassed indoor pool *Large jacuzzi *Outdoor pool * Indoor lap pool *2 clubhouses With Restaurants/bar Overlooking golf course 

*Activity/meeting rooms *Wood workshop (the equipment available is unbelievable *Art/pottery studio
*Private,18-hole golfcourse (reasonable fees) *Tennis
*Yoga classes *Exercise room with state-of-the-art equipment and a personal exercise trainer on duty 

* Medical center *Fire dept. and emergency services adjacent to
*Community bus, bus to major shopping areas 

*Adjacent shopping center *Post Office and Bank inside Clubhouse *Daily activity schedule is broadcast on TV. *24-hour security gates and patrol
*Garden plots *Bi-weekly newspaper.
Clubs
---
Amateur Radio
Amateur Needlepoint
Art Guild
Arts in Motion
Baby Boomers
Ballroom
Billiard
Bocce
Book Club
Bowling
Bridge
Camera Club
Ceramicrafters
Chess
Chinese Club
Comedy and Humor
Computer Learning Center
Croquet
Democrats
Theatre Group
Garden Club
Going It Alone
Golf
Lapidary
Model Trains
Republicans
Stamp and Coin
Table Tennis
Tennis
Vegetarian
Wood Shop
Writer's Workshop
And many more organizations and groups.
Restaurants Inside Clubhouse 1 
---
The Terrace Room (for casual dining restaurant and buffet)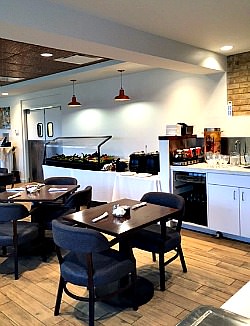 The Terrace Room
The very popular casual buffet area.  They serve classic American cuisine, soups, desserts and salad bar.  The pricing is very reasonable and there are specials on select days.  Cocktails, wine and beer also available.

Relaxing views and country club ambience from the casual dining restaurant and buffet at Leisure World. Serving breakfast, lunch and dinner.  Open every day 9-9 

The Stein Room at Leisure World Maryland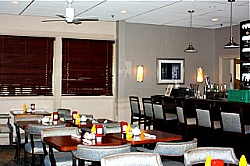 Casual dining and bar area--lots of fun times here. Cocktails, beer and wine available (as well as great fudge sundaes and cheesecake made in-house).  Occasional entertainment and piano.  You may order from buffet or restaurant-style.  Open every day 9-9 301-598-1331
A third restaurant is the Cascade Bistro for a more elegant dining experience.  It is open Friday and Saturday evenings.
Recreational Activities
---
While browsing around one day, we saw people participating in all types of activities to stay active.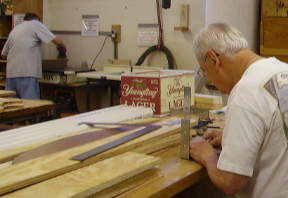 Large and very active Woodshop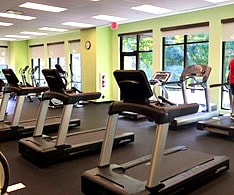 Fitness Center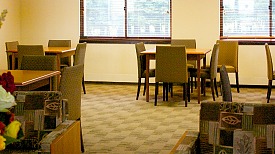 An area for card tables - card playing is popular at LWMd
and more:
Garden Club
Chinese Club
Chorale
Theatre Group
Writer's Workshop
Camera Club
and many, many more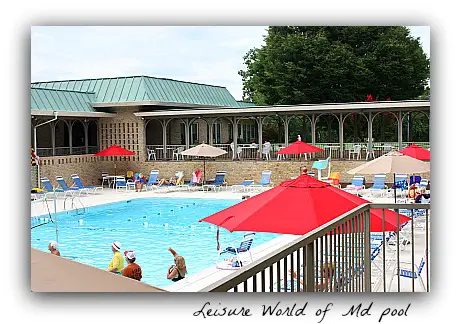 ...scheduled time for a hot game of volley ball at the outdoor pool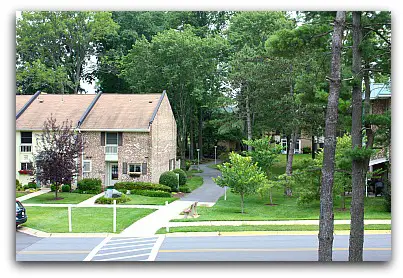 One of many walking trails, this one through forest and stream..ask for a trail map to find the many walks you can do at Leisure World. 
Types of Homes
at leisure world maryland*
---
condo
houses
4-plexes
duplexes
Town Homes 
garden apts
co-op
single family homes
*Outright purchase - ranging in price from $100,000-$700,000 (verify with Realtor). Rentals also available from private owners.
Luxury Condos for sale at LWMD 
---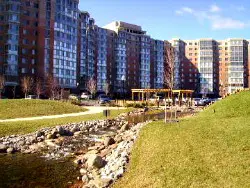 The Overlook Condominiums - Spacious units in high-rise elevator buildings - nice patios and balconies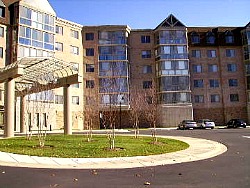 Leisure World's Newest Condominium - Creekside
Fresh, new but sold out now - look for resales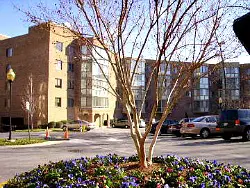 Turnberry Courts Condominiums (Low-level high rise)
Entry to Vantage Point with elegant entry - High Rise Condominiums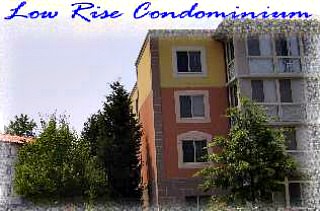 Villa Cortese
Stylish condos with an Italian theme.  Added a new phase which is also sold out.
Montgomery Mutual Co-op Homes
---
Many duplex patio homes throughout
Two homes side by side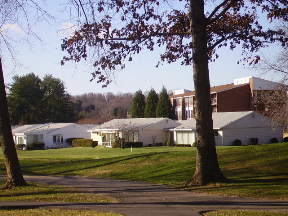 Leisure World Town Homes
In a row; stairs to upstairs bedrooms; good square footage, co-ops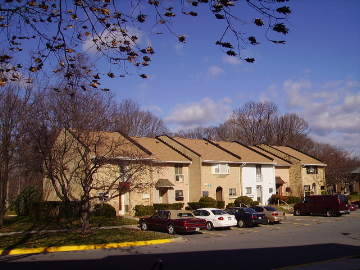 The Pines - Large Apartment-Style Homes
These are ideal for those wanting lots of space and
apartment-styled resale homes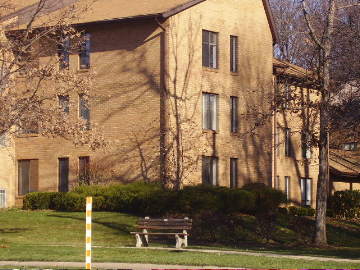 Leisure World Co-op Apartments
Studio, One, and Two-bedroom Garden Apartment-style Homes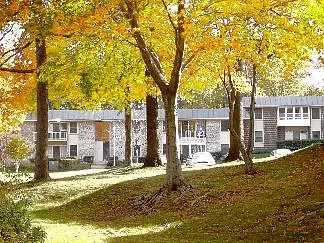 Leisure World Co-op Apartments
Luxury Single Homes
---
Luxury Single Family Homes
An enclave of large, upscale single homes - many styles to choose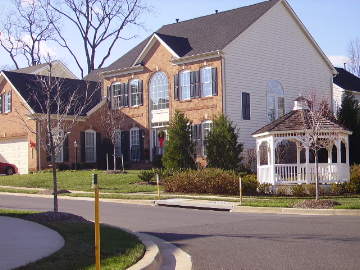 ---
Landscaping
---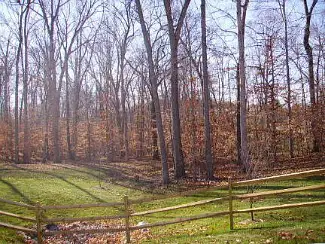 Leisure World has preserved the woodsy feeling of Maryland. This part of Maryland was once all creeks and woods.
The Amazing Entrance to Leisure World
The entrance to this retirement community in Montgomery County is particularly beautiful with a reflecting pool and large fountains surrounded by an artistic arrangement of colors from plant foliage and flowers. The large world globe, Leisure World's symbol, adds to the dramatic appearance of the entrance.  
Immediately upon entering you are in a different world.  A world especially good for seniors.  Surrounded by seniors, you can feel the    peacefulness, see the attractiveness and enjoy the positive energy.  Your friends will marvel at this serene haven. We only wish every place for seniors was like this one.

The landscaping is one of the best things about Leisure World, and, of course, the smiles of happy residents. This happy demeanor seems to be catching as everywhere you go people are friendly and reach out to help but not too friendly as they pursue a smorgasbord of activities. 

In case you are not familiar with the beauty of Leisure World, here is

A medley of the garden design and plantings you would enjoy at Leisure World: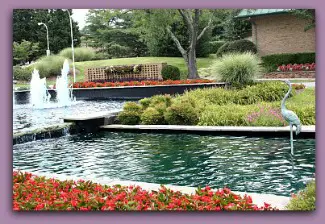 Fountain at Entrance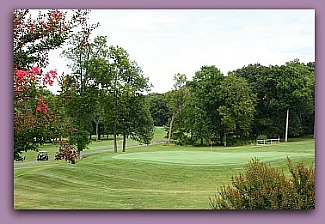 18-hole golf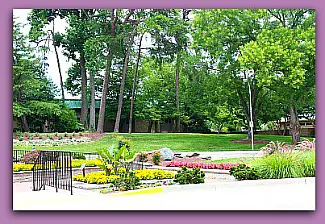 Landscaping near Admin Bldg and Clubhouse 1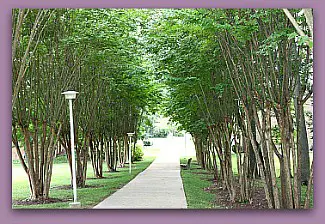 More scenery from LW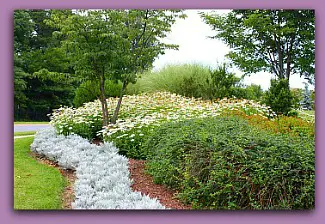 A planting of daisies
Aging can sometimes be difficult but this classic Leisure World design and plan seems to have come from some master builder who really did get it!  
---
LWMD Jobs
There are about 225 full and part-time jobs.  The jobs are in categories like maintenance, security, administration and property management.  Go here to read about current job openings at Leisure World.
Visiting  

You need authorization at the security gates to visit (3 entrances).  You may contact these Realtors to gain access:
Real Estate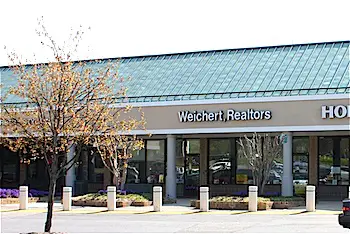 Weichert Realtors Md - occupies the LW Administration Building -  Their main office is the office in the shopping center next door.  This is a large realty office and national franchise.   Now also with an office inside the Leisure World campus.   Ask the LW gate attendant for directions to the office.   Always ask for an authorized Leisure World Specialist at Weichert.   This is the Aspen Hill office (main office) in adjacent shopping center: 301-681-0558 for more information. 
Adjacent Leisure World Shopping Center
Adjacent to Leisure World is the Leisure World Shopping Center for a nice variety of shopping conveniences.  It is walkable for many LW residents or you can go by car or LW bus.
In addition, you can find these long-standing restaurants in the LW shopping center: 
Also, there is a large Giant, post office, 2 liquor stores, jewelry store, shoe store, Honey Baked Ham store and more.

Neighborhood Amenities and Activities
---
In the immediate area there is:
There are plans for even more area shopping development.
In the other direction nearby off Georgia Ave. there is a smaller shopping center with a Roots Market (Natural foods), Starbucks, Sisters Sandwiches, and a large pet store. 
There is also Olney Yoga & Wellness with a nice selection of classes.  Of course, there are Tai Chi classes at Leisure World, but this gives you more variety of wellness offerings, an intimate camaraderie and outstanding instructors.
There is also a Montgomery County Swim Center, very nearby. a complex for indoor pools, sauna, and steam.  Great for the grand kids.   It's finding little places like this that gives you things to do and makes the surrounding area interesting and fun.
For fresh country air, you needn't go far: 
Nearby country areas going out Rte 108 towards Ashton:  Blueberry Gardens for a Wellness Center, massage and activities.  These can be enjoyed by grand kids as well.  
Approx. 5 miles going south on Connecticut Ave:  Kaiser Permanente Clinic in Kensington.

Outdoor blueberry picking
For fresh country air, you needn't go far: 
Nearby country areas going out Rte 108 towards Ashton:  Blueberry Gardens for seasonal blueberry picking, a Wellness Center, massage and activities.  These and other childrens activities can be enjoyed by grand kids as well.  
Rentals
---
Short-term or long-term rentals are available and listed in the Leisure World Newspaper classifieds or Weichert Rentals Md.  Prices are reasonable considering all the outstanding amenities here.  There is a maximum of 3-year leases in the co-ops section but condominiums are not regulated for length.   Verify all information.
---
Related Maryland pages: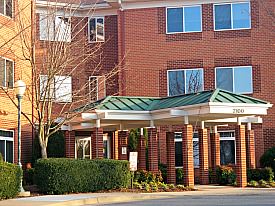 Low income housing in Olney, Md.