Leisure World Rentals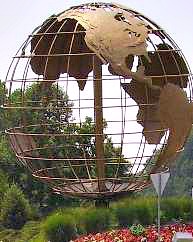 The Globe at entrance to Leisure World Md
Welcome to Leisure World rentals at Leisure World of Maryland, a retirement community at 3701 Rossmoor Blvd. in Silver Spring, Maryland (Admin Office).  In addition to purchasing, there are a variety of homes, co-ops, apartment-style homes and condos available to rent.  These are privately owned and rented from the owners.  Most are listed with Realtors. 
You can find rental listings by visiting or calling local Realtors.
Nearest Real Estate office to Leisure World: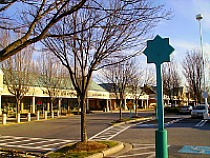 Leisure World shopping center
Weichert Realtors
Weichert is located in the adjacent Leisure World Shopping Center.  Weichert Realtors also has a 2nd office in the Administrative building inside Leisure World.  They have rental listings.

Weichert Realtors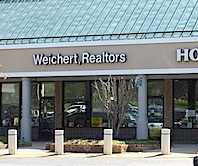 Weichert Realtors - a large brokerage with many offices throughout Maryland has 2 offices near to Leisure World.  One is located in the Leisure World shopping center adjacent to Leisure World and the other is in the Clubhouse within the LW community itself. Some of their agents specialize in Leisure World and have rentals. Call their office and ask for a Leisure World specialist. 301-681-0558
---
The Classified Ads for Leisure World Rentals:
2) Reading the classifieds in local newspapers

There are two Local newspapers with the most LW rental listings:
1)  Leisure World Newspaper classifieds:
This is the official newspaper for Leisure World residents.  It is a multiple page newspaper with articles, news and features of interest to its residents.  It also has a large classified section intended for its residents including a real estate rental category.  Both private individuals and real estate offices advertise here.

You can reach Leisure World News at 301-598-1310.
Recent Leisure World Rentals as seen in these newspapers range from $900. to $2300 for one and two-bedroom townhomes, apartments and condominiums.  They may or may not include utilities in the rent.
2) The Beacon Newspapers  regularly has rentals listed in their classifieds. Phone number is 301-949-9766 to order a paper.
Not all rentals are advertised so it is best to contact the real estate offices listed above for more listings.

The reliability of classified advertisers as above is not guaranteed and we make no recommendations.
3) Other real estate offices:  There are some other real estate offices that have Leisure World Rentals.   They will usually advertise in the classifieds of the Leisure World newspaper or The Beacon newspaper.   You can pick up free copies scattered in various places in the community or clubhouses.
Gated Entrance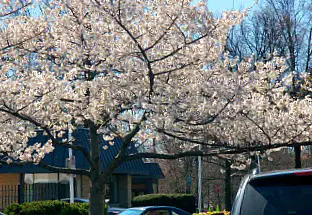 The Gated Entrance at Leisure World Md in early Spring
Cars are lined up awaiting entrance to Leisure World at the front gate.     You must gain permission to enter when visiting.  Call the gate at 301-598-1044.   
Rental Rules and Regulations

Leisure World has some strict rules for owners about renting.   Stop by the Administrative Office (during weekday office hours) for information on rental regulations.  The Admin building is next door to Clubhouse 1 near the main entrance. 
The term of your lease may be restricted in the co-op (currently it is a maximum of 3 years in the co-ops).    Other areas of Leisure World (the condominiums) have different rules and no restriction on lease length.   You can inquire at the Leisure World offices or at the local Realtors.  Verify all information. 

Rental Rates

Rental rates vary from approximately $900/mo for a studio in the co-op to $2500/mo for large apartments in the newer condominiums.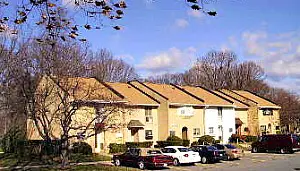 Co-op townhomes at Leisure World Md
Rental Fee Example: A 2-bedroom co-op town home rents for around $1550/mo. more or less (utilities are usually included in the co-op).   Rental rates have recently increased.
If it is a snowbird rental, it would be for only six months and usually begins in November.

Renting at retirement communities can be a good way to find out if you like the particular community. 
A Review of Leisure World: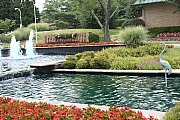 Leisure World offers its residents many outstanding amenities that cannot be found anywhere else in Montgomery County.  For more thorough information about this highly-rated community, see our review of Leisure World.